For "Scripture Sunday" and Thanksgiving Day:
5 Traits Women Should Look for in a Godly Man
"A godly marriage requires a godly man and a godly woman. What are the essential traits a woman should look for in a man she would consider dating or marrying? 
Today most stores employ surveillance cameras. It's common to see a camera mounted in the corner or the ominous black half-spheres embedded in the ceiling. Whether or not the cameras are on and recording, they are designed to make the general public a little more careful, knowing someone may be watching. But, of course, security cameras still often catch people doing all sorts of illegal things.
These cameras reveal something we know already: People's character is revealed by what they do when they think no one's looking. That's not a new concept. Thomas Macaulay (1800-1859) once wrote, "The measure of man's real character is what he would do if he knew he would never be found out."
If you are a single woman and are looking for a godly man to date and possibly marry, what should you look for? How do you measure a godly man's character?
If you are a man who desires to faithfully follow God, what aspects of your character should you work to develop?
Let's look at five basic character traits of a godly man.
1. Whom does he follow?
An important consideration is to look at those who have influenced his life. Is Jesus Christ the primary influencer in his life? A godly man will make it his highest priority to follow the example of Christ (John 10:27; 1 Corinthians 11:1). Whether he does so will become evident as you observe his daily conduct. No matter his cultural background, his level of education or his depth of experiences—if he follows Jesus Christ first, you will recognize it.
What about the people who have influenced him? This may include his father or grandfather, a mentor at school or work or even his buddies. Any of those influences can be positive or negative. But once you understand who those influences are, evaluate the character of these people and how they have rubbed off on him. The apostle Paul wrote, "Evil company corrupts good habits" (1 Corinthians 15:33).
2. Is he humble?
Sometimes, humility is (incorrectly) viewed as a mind-set of weakness and self-loathing. But that is neither a biblical nor a healthy frame of mind. True humility is a strength, not a weakness (Philippians 2:3-4).
Proper humility is an important element in the heart of a man who will build and nurture strong and positive relationships. It means he's willing to listen and not arrogantly step on the feelings of others. Peter admonishes us to "be clothed with humility, for 'God resists the proud, but gives grace to the humble'" (1 Peter 5:5).
You see, a humble man will be a good husband because he will forgive more easily, will be more patient and will work toward being a peacemaker.
3. What does his communication say about his character?
Is he careful with the type of language he uses? Profanity and taking God's name in vain are all too common today. Rather than allow dirty language to infiltrate his own speech, a godly man will be careful with his words and follow the biblical advice to "let no corrupt word proceed out of your mouth" (Ephesians 4:29).
A rather easy measure of a man's words is to take note of how he speaks to his mother, to children or to someone he doesn't even know (like a waiter or waitress at a restaurant). Solomon noted that a soft answer can turn away wrath (Proverbs 15:1), and also that the right words at the right time are like valuable artwork of silver and gold (Proverbs 25:11). Does he show appreciation, or is he sharp and critical, viewing other people as existing only to serve him?
Or does he have no words for them at all, simply ignoring them? Walt Bettinger, the CEO of Charles Schwab, related one of the most stinging experiences in his life. He had maintained a 4.0 GPA in college and wanted to graduate with a perfect GPA. The final exam for a business strategy course was a blank piece of paper. The professor said he had taught them everything he could about business, so he only had one more question: What is the name of the lady who cleans this building?
Mr. Bettinger said that was the only test he ever failed. He had seen her, but never taken the time to speak to her or find out who she was. He learned the lesson to always get to know the people who can seem insignificant to us.
4. Is he generous?
Generosity is not necessarily tied to how wealthy someone is. Some of the most generous people I've known have been those who have the least, but who willingly share what they have with others. I once knew a widow who didn't have a great deal, but she always told visitors if there was anything she had that they needed, just say so and it was theirs. Her offer was genuine!
But generosity is far more than just money and possessions. A godly man needs to be generous with his time as well as with his praise and encouragement. Is he willing to give the time and effort to help where there is a need?
5. Does he get angry easily and frequently?
Another thing to watch for is how he handles frustration or difficult situations. Does he have a temper? It is difficult to overestimate the damage caused when we lose our temper. Feelings can be hurt, relationships destroyed, property damaged—all due to uncontrolled temper. Solomon warned, "Make no friendship with an angry man, and with a furious man do not go" (Proverbs 22:24).
A godly man works to maintain control of his emotions and applies the wisdom written by James: "So then, my beloved brethren, let every man be swift to hear, slow to speak, slow to wrath" (James 1:19).
Of course, a woman who wants to marry a godly man must be developing godly character herself—becoming a Proverbs 31 woman.
And if a man wants to marry such a woman, then he needs to become a Proverbs 31 man. These five aspects of godly character are a good start and are essential ingredients of a Christian man of character."  From: https://lifehopeandtruth.com/relationships/marriage/5-traits-women-should-look-for-in-a-godly-man/?
To learn more characteristics a godly man will exhibit, read "3 Characteristics That Define a Real Man" and "Jesus Christ: The True Model for Manhood."
Romans 1:21
"Because, although they knew God, they did not glorify Him as God, nor were thankful, but became futile in their thoughts, and their foolish hearts were darkened.
In the early chapters of Romans, Paul shows the sinfulness of all men, gentiles and Jews. This verse follows the powerful statement that "His invisible attributes are clearly seen, being understood by the things that are made, even His eternal power and Godhead, so that they are without excuse" (verse 20). God's creation itself is proof that God exists, so even those without any biblical background are without excuse.
But the gentiles of Paul's day put God out of their minds and didn't give Him glory or show Him thanks. Many people today follow this same poor example. Ingratitude is a hallmark of human nature and especially of this end-time perilous age (as Paul mentions in 2 Timothy 3:2).
Psalm 100, "a Psalm of Thanksgiving," provides the cure for this common ailment. "Know that the LORD, He is God; it is He who has made us, and not we ourselves. … Enter into His gates with thanksgiving, and into His courts with praise. Be thankful to Him, and bless His name"" (Psalm 100:3-4)."  From: https://lifehopeandtruth.com/bible/blog/unthankful-to-our-creator/?
For more about gratitude, see "In Everything Give Thanks. below.
________
In Everything Give Thanks
1 Thessalonians 5:18
In everything give thanks; for this is the will of God in Christ Jesus for you.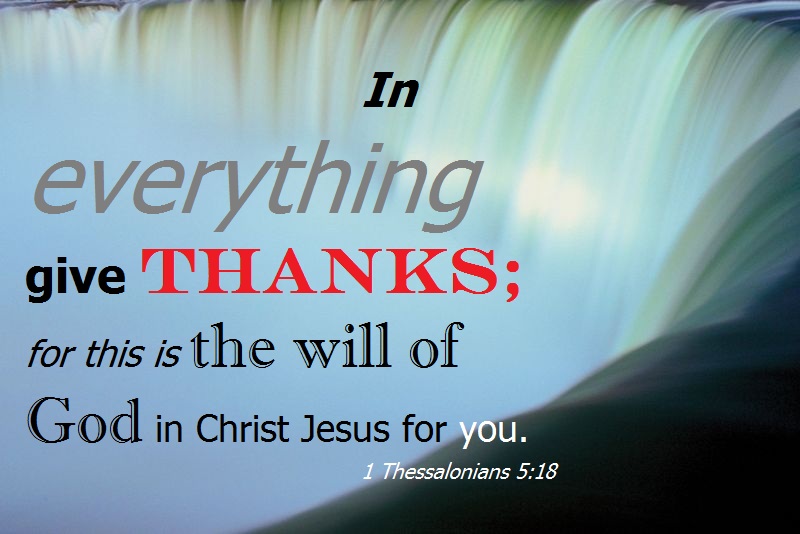 This week on the Daily Bible Verse Blog we have been looking at the importance of thanksgiving. Thankfulness is a hallmark of a true Christian. Almost anyone can be thankful when everything is going well, but Christians are to be growing in an attitude of thanksgiving in every situation.
This takes a spiritual perspective—the ability to see things more as God sees them. Though not everything that happens is something to be thankful for, a Christian is learning to see beyond the present suffering and to thank God for His eternal goodness and the end result of His great purpose and plan. This allows us to give thanks in everything.
When we truly believe that "all things work together for good" (Romans 8:28) and that "the testing of [our] faith produces patience" that makes us "perfect and complete," we can "count it all joy" (James 1:2-4) and give thanks even when we face various trials.
An Old Testament example of this was when Job lost his money, his children and his health. He blessed the name of God in spite of his personal tragedies, not because of them. Nothing speaks more powerfully of a walk with God than continuous thankfulness" (The NKJV Study Bible, note on 1 Thessalonians 5:18).
Why is it God's will that we give thanks? Because it helps us to become more like God and helps us develop His perspective and His character. Ingratitude and covetousness are the antithesis of God's nature. Thankfulness grows out of a godly mind-set." From: https://lifehopeandtruth.com/bible/blog/in-everything-give-thanks/
For more about the meaning of life that helps give us God's perspective, see our article on the "Purpose of Life."
________
Update.
There was the usual Bible study in the Community Room at the apartments on Sunday, which is always interesting.  Then on Monday, Joe, my helper/ neighbor and I went to Conroe, to pick up his glasses at America's Best.  They advertise 2 pairs of glasses and a FREE eye exam for $69.95, and that is what Joe got, BUT not the frames that he had picked out.  He ordered one pair for distance/driving, and one pair for reading, but both pairs had the same frames, not what he wanted.  He had picked one pair with a metal insert on the "wing", so that he could differentiate between them. But as we live so far away, we didn't ask for them to be remade.
The next day Joe and I emptied my little upright freezer and put it outside to defrost.  While that was going on we cut the legs shorter on an old wooden drawer cabinet so that it would fit under, and help hold up, a long cabinet that I had put in my bedroom.  So that enabled me to empty and get rid of two more plastic chest of drawers.  I had given away all my saws except an old jigsaw, so we had to use that.  With the sun shining on it, it didn't take long for the freezer to defrost, it didn't make a mess in the kitchen, and the grass welcomed the water.
Sheila, a resident here at the apartments, offered to go with me to Brenham because she knows how scared I am of getting lost in this new area, and she knows the way.  Brenham's Social Security and Drivers License offices are not crowded like the other places.  The SS office copied my papers and said that they would fax them to the Bryan office, because they were handling my claim.  So I might have to try to find my way to the Bryan office again.  Joe passed the eye test, and then missed the written test by one point!  He later got his nephew to take him to Bryan and passed, so he will have his road test on the 11th.
While we were there in Brenham we went to the HEB store and I bought a lot of veggies, including a spaghetti squash.  Sheila had never had any, so I cooked it and invited her over to eat some.  We couldn't decide which topping to make, so just had garlic butter on it.  She liked it and said she would make it for her son who needs to eat more veggies and less pasta.
The apartment handyman installed a new faucet at my kitchen sink, now I can have hot water again.  The one he took out was very old and all clogged up by the hard water. 
My dear friend DD of Conroe, http://dizzydick.blogspot.com/ , lost his wife of over 50 years this week, and prayers go out to him for adjusting to his new life without her.  Tragedy seems to happen to us all at some time or another, and we just have to pick ourselves up, dust ourselves off, and carry on because they would want us to be happy.   Yes, you miss them terribly, but life goes on, and there are other relatives to focus on, and life is good even on your own.  We should be grateful that we had them in our life and that we are still on this side of the grass.  The sudden or untimely death of a loved one—is there anything that rocks human emotions more? Here's a look at grief and how to deal with loss.  See: https://lifehopeandtruth.com/life/evil-and-suffering/how-to-deal-with-grief/
Still with a big block of cheese, I took more Nacho Cheese Dip to the church potluck, and also more Cheese Chipotle Salad, both are very popular there. The Bible study is still in Nehemiah, about the covenant, and the theme this week was "I Can Do All Things Through Christ Who Strengthens Me" Phil. 4:13. God's Word given by our pastor was "Remember".  Remember to keep his Commandments.  Do not forget the Sabbath.  Don't be proud of where you are now, lest you forget where you came from. Remember the LORD your God as it is He who gives you power to get wealth…. you get the idea.
We still have see-saw weather.  First it's the furnace getting a workout, then the AC the next day.