Just an extra post for Thanksgiving Day. 
In Everything Give Thanks
1 Thessalonians 5:18   In everything give thanks; for this is the will of God in Christ Jesus for you.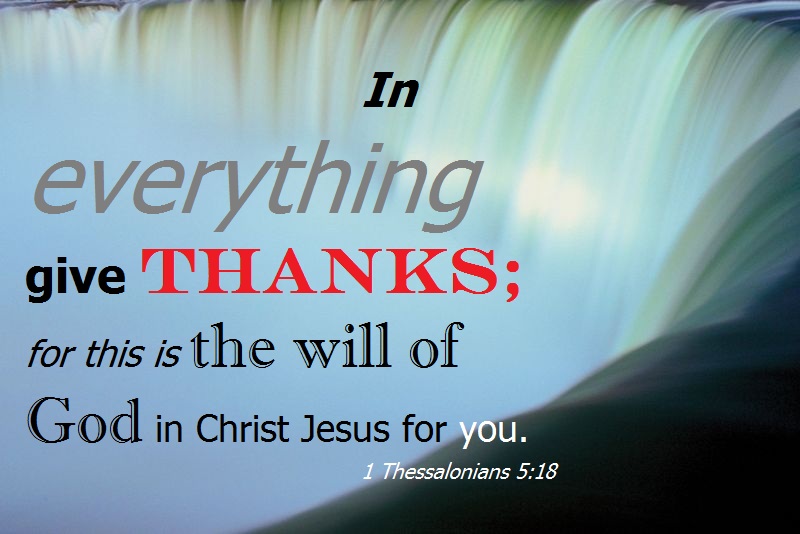 "We have been looking at the importance of thanksgiving. Thankfulness is a hallmark of a true Christian. Almost anyone can be thankful when everything is going well, but Christians are to be growing in an attitude of thanksgiving in every situation.
This takes a spiritual perspective—the ability to see things more as God sees them. Though not everything that happens is something to be thankful for, a Christian is learning to see beyond the present suffering and to thank God for His eternal goodness and the end result of His great purpose and plan. This allows us to give thanks in everything.
When we truly believe that "all things work together for good" (Romans 8:28) and that "the testing of [our] faith produces patience" that makes us "perfect and complete," we can "count it all joy" (James 1:2-4) and give thanks even when we face various trials.
"An Old Testament example of this was when Job lost his money, his children and his health. He blessed the name of God in spite of his personal tragedies, not because of them. Nothing speaks more powerfully of a walk with God than continuous thankfulness" (The NKJV Study Bible, note on 1 Thessalonians 5:18).
Why is it God's will that we give thanks? Because it helps us to become more like God and helps us develop His perspective and His character. Ingratitude and covetousness are the antithesis of God's nature. Thankfulness grows out of a godly mind-set.
For more about the meaning of life that helps give us God's perspective, see our article on the "Purpose of Life.""  From: https://lifehopeandtruth.com/bible/blog/in-everything-give-thanks/
________
Psalm 107:22
Let them sacrifice the sacrifices of thanksgiving, and declare His works with rejoicing.
Leviticus 7 describes a "sacrifice of thanksgiving" that involved offering grain and an animal sacrifice (Leviticus 7:12). This offering was not for sin, but for rejoicing and showing thankfulness to God.
We know from the book of Hebrews that the system of animal sacrifices has been superseded, yet Hebrews still talks about a "sacrifice of praise to God." This is defined as "the fruit of our lips, giving thanks to His name. But do not forget to do good and to share, for with such sacrifices God is well pleased" (Hebrews 13:15-16).
Praising God, doing good and sharing are sacrifices that continue to please our Creator today.
For more about thanksgiving, see "In Everything Give Thanks." (above)
________
Revelation 7:12
Saying: "Amen! Blessing and glory and wisdom, thanksgiving and honor and power and might, be to our God forever and ever. Amen."
This scene of praise by the angels before God's throne follows a proclamation by an innumerable multitude of forgiven humans who say: "Salvation belongs to our God who sits on the throne, and to the Lamb!" (Revelation 7:10). By saying "Amen," the angels agree to this, but add much more.
The Jamieson, Fausset and Brown Commentary notes that the angels' "doxology is sevenfold, implying its totality and completeness." God's perfection, wonders and loving-kindness are worthy of all praise for all time.
For more about praise and thankfulness to God, see "In Everything Give Thanks." (above)
_________
1 Chronicles 16:34
Oh, give thanks to the LORD, for He is good! For His mercy endures forever.
On the joyous day that David brought the Ark of the Covenant into Jerusalem, he "delivered this psalm into the hand of Asaph and his brethren, to thank the LORD" (1 Chronicles 16:7). This theme of thankfulness for God's goodness and mercy is found throughout the Psalms (see Psalms 106:1 and 107:1, for example).
Psalm 107 goes on to give examples of how God displays His mercy to sinners who cry out to Him: "Then they cried out to the LORD in their trouble, and He saved them out of their distresses. He brought them out of darkness and the shadow of death, and broke their chains in pieces. Oh, that men would give thanks to the LORD for His goodness, and for His wonderful works to the children of men!" (Psalm 107:13-15).
For more about God's mercy, see "Mercy and Grace: Are They the Same?"
_________
We are going to have our Thanksgiving dinner at church on the Sabbath, so I have been cooking most of the day.    Hopefully you all had a great Thanksgiving Day.  God Bless.  Penny