For "Travel Tuesday" here are lots of National Parks to consider, let's give them our support.
Thanks for making your voice heard.
NATIONAL PARKS PROTECTION PROJECT
STRONG SUPPORT
"People across the nation have joined NPCA and signed our petition urging Congress to stop cutting critical funding for our national parks."
YOUR STORIES
"Redwood and Sequoia National Park images are
popular with medical center clients for the soothing effect their scenery has on clients dealing with health problems." Read more.   
and http://www.sequoia.national-park.com/info.htm
"National Parks have become a big part of our lives. Every year since, we have visited a national park for vacation." Read more.
"My father, Carlos (Tex) Davis, was a park ranger in Yellowstone, assigned to the Old Faithful area of the park, which he patrolled on his horse, Midnight." Read more.
Article at: http://www.npca.org/protecttheparks/
________________
Featured Park Profiles
Cuyahoga Valley National Park
The Cuyahoga River, or "crooked river", winds through the park, surrounded by lush forest and gently rolling hills.
Learn more about Cuyahoga Valley >
Everglades National Park
Eco-Mariner, developed by Florida Bay users and NPCA, is a resource protection-based boater education course that works to combat damage from boating activities through education.
Fort Davis National Historic Site
Park staff, along with the Friends of Fort Davis National Historic Site and local volunteers, are currently restoring and refurnishing portions of the 1876 Post Hospital.
Klondike Gold Rush National Historical Park
At Klondike Gold Rush National Historical Park, you can tour the historic districts of Skagway and Dyea, which date to the gold rush.
Learn more about Klondike Gold Rush >
_______________
Ring of Fire
Should scientists be concerned about what lurks beneath our first national park?
"But a shifting ground isn't the only mystery. Heat flows out of Yellowstone's surface 30 times faster than at any other place on the continent, thanks to the layer of magma just below. But does that mean the park is getting hotter or cooling off?
That question is the main focus of the park's geology studies, according to Yellowstone geologist Hank Heasler. And rightfully so: If the park is getting hotter, the magma chamber might be expanding, and the volcano would likely become more active. If the magma chamber is cooling off, it could signal a period of relative calm."         Rest of article at: http://www.npca.org/magazine/2010/fall/ring-of-fire.html
_______________
Muir Woods National Monument
"Nestled just 15 miles north of San Francisco, California, Muir Woods National Monument harbors one of the last remaining old-growth coast redwood forests in the world.
The park was established in 1908 to save these giant trees from the timber companies' axes and saws; by the early 20th century logging had already decimated redwood forests along the Pacific Coast.
Today the park's forests, wildlife, creeks, and cultural resources draw more than 750,000 visitors each year to amble through the redwood groves; watch for wildlife, including several federally listed species; and  jog along the oldest cross-country running trail in America; among many other activities. Staff at Muir Woods also preserve and interpret the history of the area and monument, which includes American Indian use, Euro-American settlement, and the development of the American conservation movement. "
More at:http://www.npca.org/stateoftheparks/muir_woods/
and: http://www.nps.gov/muwo/index.htm
________________
A Stone's Throw from Extinction
How Glacier's stonefly can help fight climate change.
"The polar bear may be the biggest, most charismatic animal threatened by global warming, but odds are it won't be the first species the federal government recognizes for that reason. That honor could go to an unassuming insect: a stonefly, located in the remote alpine streams of Montana's Glacier National Park."
More at: http://www.npca.org/magazine/2010/summer/a-stones-throw.html
_____________
 Joshua Tree National Park
Pinto Basin Road Flooded

"Torrential rains caused widespread flooding in the Pinto Basin and Cottonwood Spring areas of Joshua Tree National Park on Tuesday morning, September 13. Extensive flood damage occurred to the Pinto Basin Road, with loss of pavement in numerous areas.
The Cottonwood Visitor Center was flooded and parts of Cottonwood Campground were washed away. It is estimated that at least three inches of rain fell during the morning storm.
Pinto Basin Road from Interstate 10 on the south boundary to White Tank Campground. Cottonwood Visitor Center and Cottonwood Campground are also closed. Park crews are continuing to assess the full extent of the damage though it may be some time before complete damage estimates are available.
Other park roads including the scenic Park Boulevard between Twentynine Palms and Joshua Tree remain open for visitor use. Other park campgrounds, picnic areas, and trails are also open for normal summer use, although travelers should pay close attention to local weather reports for current updates on storm and flash flood warnings. The Oasis Visitor Center in Twentynine Palms and the Joshua Tree Visitor Center in the community of Joshua Tree remain open for regular operations from 8 am to 5 pm every day."
More at: http://www.nps.gov/jotr/parknews/sep13flooding.htm
-----------------
"Flash flooding on September 13 closed Cottonwood Campground and Visitor Center at Joshua Tree National Park in California. Three inches of rain tore up roadways and washed away portions of the popular campground."
_____________
Fall Travel: The Best Spots For Foliage
"It's that time of year again. Fall is officially, if not really, upon us and that means brisk weather, pumpkins and, of course, leaf peeping."
9. Camden, Maine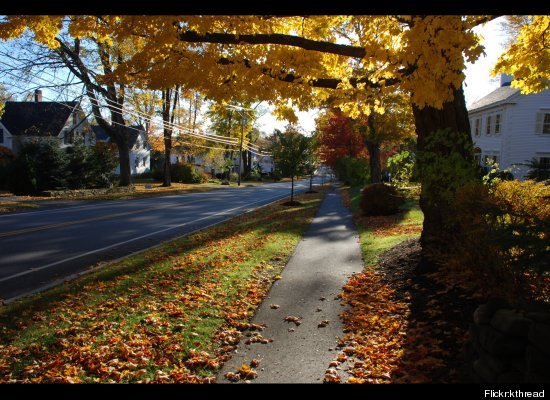 "In the spirit of the season, TripAdvisor put together a list of their favorite destinations to spot fall foliage.
See the slideshow here: http://www.huffingtonpost.com/2011/09/26/fall-travel-the-best-spot_n_970663.html?icid=maing-grid10%7Chtmlws-main-bb%7Cdl5%7Csec1_lnk3%7C99116#s347270&title=8_Shenandoah_National
But what about last year's list? Check out HuffPost's picks for 14 best fall foliage spots. "
__________________
Yesterday:
Misty and I drove down to get Jay, so she had her walk-about in that area.   While I was there, I cut the Yorkie Maddie's toe nails and put her monthly Revolution on the back of her neck.
Jay helped me put some heavy things away, and get the place ship shape for the HMO lady's visit today.  While we were at it, we vacuumed the ceiling fans, and air conditioner filters.  But I forgot to vacuum my desktop computer, so I need to make sure that gets done, with all this cat hair around.
Jay and I installed the wooden slat blind in the grooming room, after I spent 20 minutes sorting out the tangled up strings,  with Pebbles help, of course.  But I could see what was going to happen with that kind of blind with these kittens around.  It is the type where a cord goes all around the bottom at each end for raising and lowering.  If the kittens could slide that off the side, they could hang themselves, so we took it down. 
I had a kitten get a cat toy string around her neck one time and the other end was stuck in a slat.  I only just saved her before she fell off the table and hung herself, so I don't want the kittens anywhere around any cords or strings.
As usual, when someone comes to the door Misty, my old blind poodle, is so pleased to see them, even strangers, that she barks until they pet her.  Then she will lie down quietly in her bed in the living room while we conduct our business.  The HMO lady was happy to oblige, as she is a foster mom for Chihuahuas.
The HMO lady finally got it straightened out about my co-pays and I will be getting my updated card soon.  But it is not retroactive, unfortunately.
Still no word from the lady that wants to meet Pebbles.
I hope she is still interested and that we hear something today.