Some news items: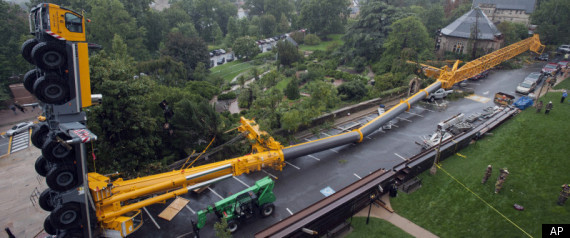 "After the toppling of a massive crane at Washington National Cathedral on Wednesday, two major events planned for this weekend's commemoration of the tenth anniversary of September 11 have been forced to change venues while another has been postponed to a later date.
In a press release Thursday, Cathedral Dean Samuel T. Lloyd III said that Friday night's "A Concert to Honor" and Sunday's "A Concert for Hope" have been moved to Washington's John F. Kennedy Center for the Performing Arts.
"We are grateful that there were no serious injuries in the crane accident, and while we are disappointed that we will not be able to host our 'Call to Compassion' commemoration in the Cathedral itself, we are determined to live out our mission to serve as the spiritual home for the nation as we remember the tragic events of September 11, 2001. The safety of our visitors and the staff of the Cathedral is our top priority, and we will make no compromises when it comes to that responsibility. At the same time we will not let obstacles put in our way stop us from fulfilling our mission as the spiritual home for the nation."

More at:  http://www.kansascity.com/2011/09/08/3128941/2-workers-injured-by-crane-at.html
_________________
The Next AAA Countries Headed For A Downgrade
"When Standard & Poor's took away the United States' prestigious triple-A rating in August, it sent stock markets into a tizzy. Concerns surfaced about whether the country was heading right back into recession. Moody's reaffirmed the U.S.'s AAA but gave the country a negative outlook, due to the continually rising debt. (To read more on debt ratings, check out The Debt Ratings Debate.) "
Read more: http://financialedge.investopedia.com/financial-edge/0911/The-Next-AAA-Countries-Headed-For-A-Downgrade.aspx#ixzz1XUeXHvlp
________________
Tropical Storm Lee Drenches Northeast, Prompting Evacuations Due to Flooding
Published September 09, 2011
Derry St. resident Greg Williams is taken to safety on a boat by members of Swatara Twp. Fire Company due to flooding on the street from Spring Creekin Swatara Township, Pa.
WILKES-BARRE, Pa. –  "President Barack Obama formally declared an emergency in Pennsylvania early Friday, adding to a previous declaration covering New York state, authorizing federal agencies to coordinate disaster relief efforts in order to "save lives and to protect property and public health and safety," according to a White House statement.
The remnants of Tropical Storm Lee poured water on top of the already soaked Northeast on Thursday, closing hundreds of roads and forcing evacuation orders for more than 100,000 people from the Susquehanna River's worst flooding in nearly 40 years.
Related Video
Historic Flooding in Northeast
Remnants of Tropical Storm Lee dumps rain in areas struggling to recover from Hurricane Irene
Most of the evacuations were ordered in and around Wilkes-Barre, where the levee system is just high enough to hold back the river if it crests at the predicted level. Even if the levees hold, 800 to 900 unprotected homes were in danger. If they fail, thousands of buildings could be lost.
"This is a scary situation," said Stephen Bekanich, Luzerne County's emergency management director. He and other officials were confident the levees would work but sought volunteers to lay sandbags on both sides of the river." "
Read more: http://www.foxnews.com/weather/2011/09/08/remnants-lee-bring-fresh-flood-worries-to-east/#ixzz1XUitp6gA
-------------
Tropical Storm Lee Remnants Soak Northeast
Susquehanna River reaches record high in Wilkes-Barre
River waters toxic mess after washing out sewage plants
Pennsylvania, Virginia and Maryland struggle with floods
WILKES-BARRE, Pa., Sept 9 (Reuters) - "The Susquehanna River, swollen by rainfall from the remnants of Tropical Storm Lee, reached record levels in Pennsylvania on Friday and submerged some towns amid worry that flood waters had been turned toxic by swamped sewage processing plants.
Rainfall eased in the region from the powerful weather system that earlier drenched the U.S. Gulf Coast. Rising rivers and stressed dams and levees presented a stern challenge to Pennsylvania as well as Virginia and Maryland, states socked by flooding in late August after Hurricane Irene.
One Pennsylvania college town, Bloomsburg, was under water and closed to all but emergency workers.
The Susquehanna reached a record high of 42.6 feet (13 meters) in hard-hit Wilkes-Barre early on Friday but the levee system held in the northeastern Pennsylvania city, meteorologists said. The river topped the 40.9-foot (12.5 meters) level in flooding caused by Hurricane Agnes in 1972.
By later on Friday, Susquehanna had receded a bit to 41.4 feet (12.6 meters).
A levee system protected Wilkes-Barre but remained under heavy pressure and had sprung a few small leaks, Luzerne County engineer Jim Brozina said at a news conference.
"It is under extreme stress right now. I mean, we are well beyond our design for this system," Brozina said. "Every hour is a benefit to us as that river starts to recede."
Pennsylvania Governor Tom Corbett earlier told residents to steer clear of the river waters, which were turned into a toxic mess after flooding washed out 10 sewage processing plants." More at: http://www.reuters.com/article/2011/09/09/usa-flooding-idUSN1E7880XA20110909

"At least 14 deaths have been blamed on Lee and its aftermath: six in Pennsylvania, three in Virginia, one in Maryland, and four others killed when it came ashore on the Gulf Coast last week."
--------------
Howard and Linda got caught up in it, too: http://rv-dreams.typepad.com/rvdreams_journal/2011/09/witness-to-flooding-dover-pa.html
--------------
Pennsylvania Sloshes through Flood Waters, Scrambles to Help Animals
Severe flooding has put many animals at risk. Stock.xchng
Seemingly endless pounding rain has flooded many counties in Pennsylvania, and no county was hit worse than Luzerne County. When people suffer in a natural disaster, chances are good that animals will suffer, too, as pet owners face evacuation or get cut off from their pets.
Preparation can make all the difference in a crisis, and it's never too soon to get ready for the next one. The Humane Society of the United States offers disaster tips for pet owners.
From: http://www.humanesociety.org/news/dispatch/2011/09/pennsylvania_flood_090911.html
----------------
Northeast Residents Affected By Flooding Urged to Take Pets With Them if Evacuating
More at: http://www.humanesociety.org/news/press_releases/2011/09/northeast_flooding_Evacuation_tips.html
________________
New Shellfish Poison Found In U.S. Waters Caused By Algal Bloom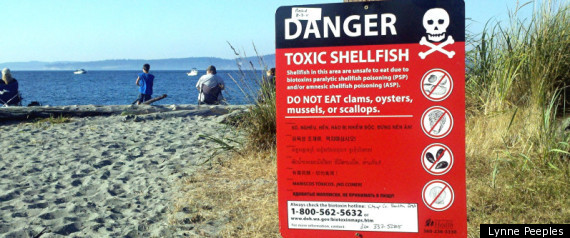 Point No Point Park on Puget Sound, Hansville, Wash.
"The bright red skull-and-crossbones signs are hard to miss and increasingly common on Pacific Northwest beaches. A whole new fleet just popped up along the shores of a small bay between the Pacific Ocean and Puget Sound.
Although the culprit biotoxin hadn't been previously detected at unsafe levels in U.S. shellfish, thousands of people in Europe, Asia and South America have reportedly suffered its unpleasant gastrointestinal symptoms in recent years. The long-term health effects from DSP are not yet clear; some experts think they might include an increased risk of cancer.
Excess nutrients entering the waterway, including fertilizers, pet waste and sewage, might also contribute to the proliferation of the microscopic marine plants. "A heavy rainfall could produce the last slug of nutrients for algae to start blooming in mass," said Moore.
What does seem clear is that the Pacific Northwest in particular is getting flooded with the toxins and their consequences: DSP joins the region's potentially fatal PSP and amnesic shellfish poisoning (ASP) strains.
His research lab has also found that the nutrients associated with man-made activities, such as sewage and agricultural fertilizer, only cause certain species of algae to become more toxic. "We cannot generalize to all toxin-producing species," said Cochlan."
Complete article at: http://www.huffingtonpost.com/2011/08/14/algal-blooms-shellfish-poisoning_n_926643.html
________________
Cargill Turkey Linked to Salmonella Sparks Second-Biggest U.S. Meat Recall
"Cargill Inc. initiated the second-biggest meat recall in U.S. history, pulling almost 36 million pounds (16,300 metric tons) of ground turkey after a salmonella outbreak linked to one death and 79 illnesses in 26 states.
Cargill Inc. is pulling back almost 36 million pounds (16,300 metric tons) of ground turkey -- one of the biggest recalls in U.S. history -- after a salmonella outbreak linked to one death and more than 70 illnesses in 26 states.
Salmonella bacteria are common to poultry and can be eliminated with proper cooking practices. In a July 29 public- health alert, the USDA reminded consumers that ground turkey should always be cooked to an internal temperature of 165 degrees Fahrenheit (74 degrees Celsius) to kill food-borne bacteria, including salmonella."
More at: http://www.bloomberg.com/news/2011-08-04/cargill-turkey-salmonella-link-spurs-second-biggest-u-s-recall.html
Second recall: http://www.huffingtonpost.com/2011/09/11/cargill-turkey-recall_n_957316.html
______________________
National Beef Recalled From Grocery Stores Due To Possible E.coli Contamination
DODGE CITY, Kan. -- "At least three major grocery store chains are recalling certain packages of ground beef due to possible E. coli contamination.
The recalls at Winn-Dixie Stores Inc., Publix Super Markets Inc. and Kroger Co. mainly in the southeastern U.S. stem from meat from National Beef Packaging Co. of Dodge City, Kan.
The U.S. Department of Agriculture announced that National Beef was recalling more than 60,000 pounds of beef after the Ohio Department of Agriculture found the bacteria.
The recalls affect products sold mainly in Florida, Georgia, Alabama, Mississippi, Louisiana, South Carolina and Tennessee, but the meat could have been distributed nationwide.   The recall includes ground beef chubs produced on July 23, 2011, with a freeze date of Aug. 12, and product codes 483, 684, 782, 785, 787. Also recalled are ground beef chubs produced on July 25, 2011, with a freeze date of Aug 14., bearing product codes 431, 471, 494."
More at: http://health.yahoo.net/news/s/nm/us_food_beef_recall
________________
Wildfires in TX:
UPDATE: "Magnolia Fire Chief Randy Vincent said he anticipates the Riley Road Fire to last another week without significant rainfall.
The fire is currently less than 50 percent contained, but Vincent could not give a more specific estimate.
Crews are currently concentrating on the eastern and southeastern flanks of the fire as it heads south down FM 1774 toward FM 1488. The fire flared again because the winds picked up, Vincent said.
Heavy aircraft from California, including a DC-10, are dropping a "slushy mix" of water and flame retardant in an effort to slow or stop the blaze, he said, aided by bulldozers and ground crews.
Currently, the fire has burned over 22,000 total acres in Montgomery, Grimes and Waller counties. Vincent said he believes several more homes in Montgomery County have been lost, but he could not say how many."
Riley Road Fire 090911
A thick haze of smoke hangs over Magnolia Friday as crews battle a massive wildfire in Magnolia, Grimes and Waller counties.
DC-10
A DC-10 holding 11,000 pounds of fire retardant makes a pass over the Riley Road Fire in Montgomery, Grimes and Waller counties.
The wildfire in Montgomery County is shown from a helicopter Thursday.
Evacuees wait outside the fire shelter at Wildwood Methodist Church in Magnolia. They have been evacuated from their homes in Grimes County since Monday.
More at: http://www.yourhoustonnews.com/courier/news/magnolia-fire-chief-fire-may-last-another-week/article_bf027e2c-1839-592c-892b-67990f3f4ff8.html
-------------------
Central Texas Residents Urged to Take Pets with Them If Evacuating
AUSTIN, Tex. — "The Humane Society of the United States reminds residents of Bastrop, Grimes, Montgomery, Travis, Waller, Williamson and other counties in Texas who may be in the path of multiple devastating wildfires to take their pets with them if they evacuate. 
Fires have broken out across the drought-stricken state from East Texas to the Houston area, but the latest round of fires is concentrated in central Texas and has already burned hundreds of thousands of acres and destroyed hundreds of homes in the area east of Austin. There could be additional evacuations as the wildfires continue to burn.
"It is crucial that residents are prepared to take pets with them when evacuating in the face of these destructive fires," advised Nicole Paquette, Texas senior state director for The HSUS.
"If it isn't safe for you, it isn't safe for your pets. This is especially important to remember as this summer's long drought and extreme heat have lengthened the already destructive wildfire season into September." "
More at: http://www.humanesociety.org/news/press_releases/2011/09/texas_pets_wildfire_evacuate_090611.htm
_____________
Yesterday:
When Shay called me to say she saw smoke in our subdivision, I drove around but could not pin point a fire.  The smoke was blowing from elsewhere. 
Then Dick left the comment that there was a lot of smoke in the air 10 miles south of here at the Conroe Walmart, for a while.  Houston has the haze of smoke over it from Magnolia, too.  Now the firefighters have to cope with a change in direction of the wind.
Jay's sister is still unable to go back to her house, and there have been more evacuations. 
Roni, the gal down the street called me at 10.30 AM wanting to know if I had any work.  I knew she was pretty good at sewing, so I drove down to get her.  It was mostly 'prep' work, no sewing yet.  She wanted to take some of the work home, but I have gone to great lengths to keep the foam and fabric 'pet free'.  My animals are not allowed in the sewing area.
It's a start, as we did get something done on the upholstering of the dinette cushions for the cargo trailer yesterday.