A few news items.
The Mortgage Fix That Can Save the Economy
"The loan modification programs have been a joke. You have a house that has tanked in value and the best the banks can come up with is a plan where they sort of delay what you owe long enough for you to get back on your financial feet -- if that -- based on the flawed logic that the housing market is certain to improve in just a matter of months.

The real answer for what ails us is a Third Rail solution that banks don't want to touch: Erase some of the amount we borrowed, a process known as a principal reduction.
To do so would share the burden of the housing crash with the lenders who helped create it. It would also allow us to get on with our lives, and, according to The New Bottom Line, save the economy in the process. Got your attention now, didn't we?
 
Banks would rather poke out their proverbial eyes with sharp sticks than offer principal reductions. Only 2.8 percent of all loan modifications in the first quarter of 2011 involved any actual sort of principal reduction, according to the ratings agency DBRS. And that number is actually up a full percentage point from the same time last year.

But some analysts believe that the industry-wide reluctance to perform principal reductions on a wide scale is actually what is holding back the housing recovery.
The plan says that the money that homeowners would save on their mortgage payments each month would be spent instead on groceries, clothing, and household necessities.
As consumer demand increased, businesses would start hiring again."
More at: http://realestate.aol.com/blog/2011/08/25/the-mortgage-fix-that-can-save-the-economy/
_______________
Another good suggestion to help the economy, comes from "Bad Nick":
"The bleeding hearts at the American Civil Liberties Union (ACLU) are suing the state of Florida over a new law that Governor Rick Scott recently signed into law that requires welfare recipients to submit to drug testing. According to the ACLU, this  is a violation of the right against unreasonable search and seizure.
Of course, some Florida politicians, eager to get face time in front of the TV cameras, have jumped on the bandwagon, claiming the measure is demeaning and an invasion of privacy.
Give me a break! You can't even get a job in a fast food joint these days without being required to take a drug test. So why shouldn't people receiving public assistance have to do the same thing that the working folks who are supporting them must do?
If you are on welfare and are not abusing drugs, what's the problem? And if you are on welfare and do use drugs, why should the taxpayers foot the bill for your addiction?
To the folks who are on welfare and are whining about the new requirement, here's a news flash for you – the world doesn't owe you a damned thing! If you don't think you should have to pass a drug test to get welfare, the answer is real simple. Get of your butt and get a job! End of story!
I hope Florida wins the ACLU's lawsuit, and then I hope the other 49 states follow in Florida's footsteps and enact the same laws. We have become a nation of whining, sniveling entitlement-minded wimps who are too lazy and too stupid to stand up on our hind legs and accomplish anything. And it's lawsuits like this, and politicians like those who are criticizing Governor Scott's actions, that have allowed us to become that way.
It's way past time that we stop the nonsense and bull crap in this country, and that the American people take control of it again. My dad always used to say that as long as he  paid the rent and bought the groceries, he made the rules. Isn't it time for those of us who are paying this country's bills to start making the rules? "
From: http://badnickblog.com/2011/09/one-down-49-to-go/
_____________
Poverty rate rises in America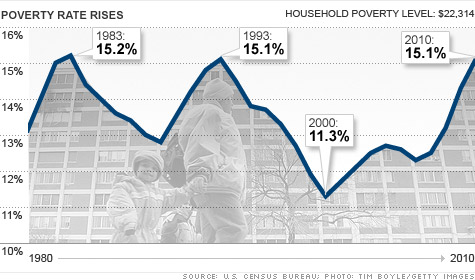 Lots of interesting facts here:
http://money.cnn.com/2011/09/13/news/economy/poverty_rate_income/index.htm?iid=HP_LN&icid=maing-grid10%7Chtmlws-main-bb%7Cdl10%7Csec3_lnk3%7C95211
__________________
Missing tech CEO found after 20 years... and now he has '$100m in unpaid tax bills' to sort out
William H. Millard, 79, founded ComputerLand in 1970s
Last seen by tax authorities on a Pacific island in 1990
But he has been tracked to Caribbean by investigators
Linked to 50 shell companies, trusts and bank accounts
"He was one of the world's most-wanted tax exiles and allegedly totalled astonishing unpaid tax bills of more than $100million over 20 years.
William H. Millard, 79, founder of retail chain ComputerLand, was last seen by tax authorities on the remote Pacific island of Saipan in 1990.
But despite vanishing soon after selling his firm, he has now been tracked down to the Grand Cayman Island in the Caribbean, court papers said.
Located: William H. Millard, 79, founder of retail chain ComputerLand, was last seen by tax authorities on the remote Pacific island of Saipan in 1990
The astonishing news about the man once listed as one of America's richest men was revealed by the Wall Street Journal on Saturday.
The U.S. Commonwealth of the Northern Mariana Islands, which includes Saipan, is now using a law firm and investigators' help to get the money."
Read more: http://www.dailymail.co.uk/news/article-2036072/Missing-tech-CEO-William-Millard-20-years-100m-unpaid-tax-bills.html#ixzz1XmwFHVKh
______________
Horses Wearing 9, 1 And 1 Are NYC Winners On 9/11
NEW YORK -- "What are the odds?   On the 10th anniversary of the Sept. 11 attacks on Sunday, horses wearing the numbers 9, 1 and 1 won the first three races at Belmont.
The New York City track served as one of the staging areas for workers and emergency vehicles in the days following the destruction of the World Trade Center.
Actually, the pick three paid $18.60 for a $2 bet.
From the New York Post:
"The fact that it happened at a local track that served as one of the staging areas for workers and emergency vehicles in the days following the destruction of the World Trade Center made the outcome even more stunning.
"The odds were probably about a million to one," said David Jacobson, the trainer at Drawing Away Stable, which owns Say Toba Sandy and Wishful Tomcat, the day's first two winners.
"It's unimaginable," he said. "We were amazed." "
______________
Here are some interesting statistics, like the world's population, how many computers were sold this year, or how much is spent on medical care:
_________________
This video is about an 88 year old delightful, energetic lady MAYOR OF MISSISSAUGA, ON. She could show everyone how a government should be operated. An AWESOME LADY. More Mayors should be like her.
Now at 90 years old, Hazel McCallion is still mayor.  http://www.garynorth.com/public/6791.cfm
--------------
"Mississauga Mayor Hazel McCallion is uniquely positioned to opine on the recent turmoil in Egypt, where ardent protests just recently forced the president to resign and allowed democracy to, hopefully, flourish.
The political stalwart, who is now 90, is, after all, the only standing Canadian civic leader who was in power when Mubarak's regime took the reins in Cairo almost 30 years ago.
McCallion has been re-elected 11 times since she became mayor in 1978, each time by acclamation or by a wide margin of support. And all through actual democratic elections, no less.
"You've got to consult the people. You are a representative of the people. You may not be able to do everything they ask, but you certainly have to give them the chance to voice their opinion. Excellent suggestions come forward," McCallion told ctvtoronto.ca in an interview.
"When you get the people involved, they buy into your programs. They feel connected in a major way. And that is not happening in Egypt. The people unfortunately have to demonstrate. They are not given the opportunity to voice their opinion."
Perhaps Mubarak, exiled at the age of 82, should listen to his elders."  More at:
http://toronto.ctv.ca/servlet/an/local/CTVNews/20110211/mississauga-birthday-110212/20110212?hub=TorontoNewHome
________________
"A cryogenic tank from the Space Shuttle Columbia was discovered in an evaporating lake bed on the shoreline of Lake Nacogdoches in east Texas, part of debris from the 2003 Columbia disaster, on August 3, 2011."
(NASA/Nagodoches Police Department/Reuters)
__________________
This is how important it is to Microchip your pet:
Willow, Missing Colorado Cat, Found In New York City Streets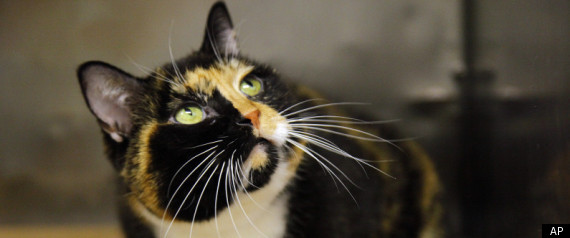 NEW YORK — "A calico cat named Willow, who disappeared from a home near the Rocky Mountains five years ago, was found Wednesday on a Manhattan street and will soon be returned to a family in which two of the three kids and one of the two dogs may remember her.
How she got to New York, more than 1,600 miles away, and the kind of life she lived in the city are mysteries.
But thanks to a microchip implanted when she was a kitten, Willow will be reunited in Colorado with her owners, who had long ago given up hope."
More at: http://www.huffingtonpost.com/2011/09/14/willow-missing-cat-nyc_n_963304.html?icid=maing-grid10%7Chtmlws-main-bb%7Cdl12%7Csec3_lnk1%7C95697
_____________
Yesterday:
This is the online copy of the Dr. Oz show that I had wanted to see last Wednesday when I was stuck in the 5 car pile-up traffic:
"A shocking investigation by The Dr. Oz Show has revealed that some of the best known brands of apple juice may contain arsenic. See the shocking results.
"Arsenic in Apple Juice"     Click here to watch Part 1, 
Click here to watch Part 2   Click here to watch Part 3
Then: http://www.doctoroz.com/videos/dr-oz-answers-your-questions-about-arsenic-apple-juice"
Click here to read all of the information regarding juice safety.
The FDA has limits for arsenic in Pear Juice, and Grape Juice, but not Apple Juice. http://www.webmd.com/food-recipes/news/20110914/tempest-in-an-apple-juice-box
---------------
The day after the show, MSNBC had Dr. Oz talking about the FDA's comments:
Visit msnbc.com for breaking news, world news, and news about the economy
"The host of the nationally-syndicated "Dr. Oz Show" is standing by his report on arsenic levels in store-bought apple juice, saying the levels found in some brands made them unsafe for consumption.
But the U.S. Food and Drug Administration refutes the show's report, calling it "irresponsible," and says drinking all brands of apple juice is safe. "
Dr. Oz said: "Our show today demonstrates that there is in fact arsenic in some juice products and advocates that allowable levels should be equal with tap and bottle water standards."
More at: http://www.msnbc.msn.com/id/44520025/ns/health-diet_and_nutrition/
While I was watching the show, researching the above articles about it, and getting it written down here, I puttered around doing critter related jobs.  The blankies were laundered, the litter boxes were washed and sanitized in the workshop sink.  I have spare boxes, so that makes it easy.
The weather was so nice that the foster cats could stay on the screen porch until noon.
The show made me more determined to use my juicer more, and make my own juices.  I wish mine wasn't the centrifugal kind as it is more time consuming to clean, and is not the best type to make the most nutritious juices: http://bestjuiceextractorreviews.com/
Maybe I will have an Omega one day.