Just some news items, in case you missed them,
Afghanistan Deaths: August Is Deadliest Month Ever For U.S. Troops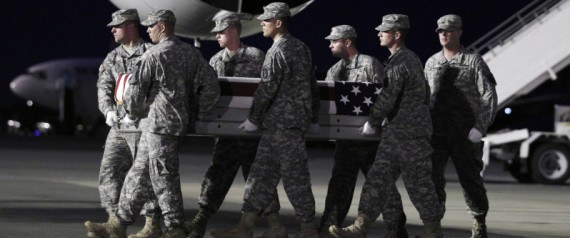 KABUL, Afghanistan -- "August has become the deadliest month for U.S. troops in the nearly 10-year-old war in Afghanistan, where international forces have started to go home and let Afghan forces take charge of securing their country.
A record 66 U.S. troops have died so far this month, eclipsing the 65 killed in July 2010, according to a tally by The Associated Press.
Aside from the 30 Americans killed in the Chinook crash, southwest of Kabul, 23 died this month in Kandahar and Helmand provinces in southern Afghanistan, the main focus of Afghan and U.S.-led coalition forces. The remaining 13 were killed in eastern Afghanistan.
Besides the 66 Americans killed so far this month, the NATO coalition suffered the loss of two British, four French, one New Zealander, one Australian, one Polish and five other troops whose nationalities have not yet been disclosed. One of the five was killed in a roadside bombing Tuesday in southern Afghanistan, the coalition said. No other details were released.
So far this year, 403 international service members, including at least 299 Americans, have been killed in Afghanistan."
More at: http://www.huffingtonpost.com/2011/08/30/august-deadliest-month_n_941608.html?1314708803&icid=maing-grid10%7Chtmlws-main-bb%7Cdl17%7Csec1_lnk3%7C90730
Though the figures are a bit different here: http://icasualties.org/OEF/ByMonth.aspx
_____________
Widespread Waste and Fraud in War Spending
WASHINGTON –  "As much as $60 billion in U.S. tax dollars -- or $12 million a day -- has been squandered through waste and fraud in Iraq and Afghanistan over the past decade from lax oversight of contractors, poor planning and corruption, according to an independent panel."
Read more: http://www.foxnews.com/politics/2011/08/31/panel-widespread-waste-and-fraud-in-war-spending/#ixzz1WcsuuTOh
"Waste Not, Want Not".  Ben Franklin (1706-1790)
______________
Irene causes Lower Bartonsville Covered Bridge to collapse into the Williams River in Vermont
"This covered bridge built in 1870 could not survive the raging water of the Williams River in Lower Bartonsville village in the town of Rockingham, Windham County, VT. We were hoping all day the water would not reach the top of the abutment but the bridge lost its battle rather gracefully as it floated a bit down stream before breaking into pieces.
Our town has set up a fund to rebuild our historic bridge go to http://www.rockbf.org for more information."
-----------------
Some areas may have been spared from severe damage by Tropical Storm Irene, but inland areas of New York and Vermont are seeing their worst flooding in decades.
____________
Threw son overboard:
NEWPORT BEACH, Calif. -- 8/29/11.  "A Southern California man was arrested after authorities say he threw his crying 7-year-old son off a sightseeing cruise boat during an argument that shocked passengers on the boat.
Sloan Briles, 35, his girlfriend and two sons from a previous marriage went on an afternoon cruise around Newport Harbor on a boat carrying 85 people. Briles argued with the girlfriend and then with his 7-year-old son before throwing the boy overboard, the child was not an expert swimmer.
"The father hit him several times and then threatened to throw him overboard if he didn't stop crying," Amormino said. "The crowd on the boat became very angry at the father for hitting the kid and extremely angry when he threw him overboard."
The boy was rescued by another boater, and the father also jumped in to save him. The boy and his brother were returned to their mother's care."
From: http://www.ktla.com/news/landing/ktla-father-throws-son-overboard,0,5330823.story
Follow Up: http://www.huffingtonpost.com/2011/09/01/christin-briles-mom-of-bo_n_944412.html?icid=maing-grid10%7Chtmlws-main-bb%7Cdl13%7Csec1_lnk3%7C92157
__________
Michael Vick Contract: Not Worth $100 Million As Originally Reported
"When news broke on Monday night that Michael Vick had signed a six-year deal worth $100 million, it ignited a firestorm of stories about the Philadelphia Eagles' quarterback. In some, he was celebrated for regaining his place among the game's top players. In others, he was derided for the crimes that forced him away from the field for so long.
When it came to this controversial figure, it seemed the only thing that everyone could agree on was that Vick was going to get paid $100 million.
Well, it turns out that those financial figures may have also been the only thing that everyone got wrong.
Mike Florio of ProFootballTalk reports that Vick's deal is really only for five years as the sixth year is voided if he completes more than 35% of the team's snaps in any year of the deal. That brings the deals total value down to $80 million.
Vick was declared an "exclusive" franchise player in February and agreed to a one-year deal that will pay him at least $16 million for 2011.
Sporting News named Vick its NFL Comeback Player of the Year for 2010.
Vick missed the 2007 and 2008 seasons after pleading guilty to federal dogfighting charges and serving a two-year prison sentence. NFL commissioner Roger Goodell suspended Vick for the first two games of the 2009 season. "
______________
Is Your Bag Hurting Your Back?
"Carrying around pounds of possessions jammed in a heavy bag can lead to disabling back pain symptoms. Choosing the best bag for your back — and wearing it the right way — can help you avoid that pain.
We're a nation obsessed with stuff, and today we're carrying around more and more of it in our backpacks, briefcases, computer bags, and purses. The result — back pain.
"It's an epidemic," says Scott Bautch, DC, "The number one disabler of people 45 and younger in this country is lower back pain."
When Dr. Bautch talks to people about bags and back pain causes, he asks them to empty their own bags. And they pull out pounds and pounds of stuff — several water bottles, three or four books, sets of keys they thought were lost, $20 in coins.
People are also carrying much more technology than ever before, from smartphones to laptops. "They seem like little things, but they add weight," Bautch says.
Avoiding Back Pain Symptoms
The next time you head out the door with a bag, try these ideas to lighten your load and spare your back:
Pick the smallest bag you can. The bigger the bag, the more you put in it, Bautch says. Do yourself a favor and carry the smallest bag filled with only what you really need and leave the rest at home. Keep in mind that it's usually not one single item that leads to back pain symptoms, explains Bautch. More likely, it's the accumulation of smaller items, such as loads of loose change, that causes pain.
Aim for symmetry. Putting extra weight on one side of your body is one of the biggest back pain causes. Any time you carry weight on one side of your body for an extended period of time, it causes your spine to curve, and that leads to back pain symptoms, Bautch says.
With that in mind, it's better to choose a messenger bag that you wear diagonally across your body rather than a single-strap bag that rests on one shoulder.
Designate different bags for different uses. Rather than trying to carry everything in one bag, designate a briefcase for business, a gym bag for exercise clothes, another bag for your kids' items, and so on.
Aim to carry less than 10 percent of your body weight. Ideally, you shouldn't carry around more than 10 percent of your body weight, so put your bag on a scale and see how it measures up. If it's too heavy, see if there's anything you can do without.
The best thing you can do for your back is to be a minimalist. Don't carry what you don't have to, but when you need to take a bag with you, choose the right one and wear it the proper way to eliminate back pain causes.
More at: http://www.everydayhealth.com/back-pain/is-your-bag-hurting-your-back.aspx?xid=aol_eh-pain_20-_20110829&aolcat=ESO&icid=maing-grid10%7Chtmlws-main-bb%7Cdl8%7Csec1_lnk3%7C90528
_____________
Russia approves tunnel to Alaska under Bering Strait
"The Russian government has given the go-ahead on an ambitious new tunnel project that could connect Siberia with Alaska via an underground rail line. If completed, the $65 billion project will be the longest underwater tunnel in the world, besting the Chunnel between England and France by twice the distance. The planned course would stretch over 65 miles and would snake beneath the Big and Little Diomede Islands.
According to Inhabitat, the project will be funded by a private and public partnership. So why build it?
Aside from being a civil engineering marvel, the tunnel would also provide an efficient way to move 100 million tons of freight per year. In addition, the tunnel could provide an easy transmission route for electricity developed by tidal energy stations and wind plants in Russia to Alaska and Canada. In addition, the rail system would complete a high-speed network that could stretch from London to New York City. Unfortunately, the project doesn't seem to be geared toward passenger travel. At least, not for now. From:
http://www.autoblog.com/2011/08/26/road-trip-russia-approves-tunnel-to-alaska-under-bering-strait/?icid=maing-grid10%7Chtmlws-main-bb%7Cdl6%7Csec3_lnk3%7C90236
_____________
Drama from Mother Nature as Sicily's Mount Etna volcano erupts, spewing out ash and shooting lava into the air.
"According to the Osservatorio Vulcanologico dell'Etna: "On the early morning of 29 August 2011, the 12th paroxysmal eruptive episode of this year occurred at the New Southeast Crater, almost 8 days after its predecessor. This event generated tall lava fountains and an eruption column that caused ash falls in the southeast sector of the volcano, as well as various lava flows down the western slope of the Valle del Bove.
"During this paroxysm, the southeastern flank of the pyroclastic cone of the New Southeast Crater fractured, with the opening of several eruptive vents down to the base of the cone, which produced lava fountains and a broad lava flow that advanced to the Valle del Bove, too. The acme of this episode lasted less than 40 minutes." "
"Mount Etna is one of the most active volcanoes in the world and is in an almost constant state of activity. On  12-13 January 2011 lava fountaining occurred from the vent on the east flank of Etna's Southeast Crater cone, lasting more than 1.5 hours. Italian Authorities were forced to temporarily close airports for a couple of hours while the ash cloud cleared."
From: http://www.irishweatheronline.com/news/earth-science/geology/volcano/mount-etna-in-sicily-puts-on-a-natural-fireworks-show/35308.html
________________
Something is wrong with this picture:
Highest-Paid CEOs Often Earn More Than Company Pays In Income Taxes, Study Finds
WASHINGTON - "Twenty-five of the 100 highest paid U.S. CEOs earned more last year than their companies paid in federal income tax, a pay study said on Wednesday.
It also found many of the companies spent more on lobbying than they did on taxes.
At a time when lawmakers are facing tough choices in a quest to slash the national debt, the report from the Institute for Policy Studies (IPS), a left-leaning Washington think tank, quickly hit a nerve.
After reading it, Democratic Representative Elijah Cummings, ranking member of the Committee on Oversight and Government Reform, called for hearings on executive compensation.
In a letter to that committee's chairman, Republican Darrell Issa, Cummings asked "to examine the extent to which the problems in CEO compensation that led to the economic crisis continue to exist today."
He also asked "why CEO pay and corporate profits are skyrocketing while worker pay stagnates and unemployment remains unacceptably high," and "the extent to which our tax code may be encouraging these growing disparities."
More at: http://www.huffingtonpost.com/2011/08/31/unemployed-illinois-man-f_n_943167.html?1314799023&icid=maing-grid10%7Chtmlws-main-bb%7Cdl1%7Csec1_lnk3%7C91492
_______________
Bezos-Funded Spaceship Misfires
"An unmanned spaceship funded by Internet billionaire Jeff Bezos veered out of control and had to be destroyed during a recent test flight, highlighting the dramatic risks of private space ventures.
The spacecraft, developed by closely held Blue Origin LLC, was on a suborbital flight from the company's West Texas spaceport last week when ground personnel lost normal contact with the vehicle. Investigators are looking at remnants of the craft recovered on the ground to determine the cause.
After The Wall Street Journal reported on the failure, Blue Origin Friday posted a brief note on its website stating the spacecraft, while going faster than the speed of sound, suffered a "flight instability" at an altitude of 45,000 feet and the company's automated "range safety system" shut off all thrust and led to its destruction.
The note, signed by Mr. Bezos, said it was "not the outcome any of us wanted," but "we're signed up for this to be hard."
The mishap, which industry officials said occurred last Wednesday, dealt a potentially major blow to the ambitions of Mr. Bezos, the founder and chief executive of Amazon.com Inc., to develop a reliable system for blasting tourists and astronauts out of the atmosphere.
The failure also could set back White House plans to promote commercially developed spacecraft to transport crews to the international space station by the second half of this decade.
Read more: http://online.wsj.com/article/SB10001424053111904716604576546712416626614.html#ixzz1WqFoNtw8
________________
Around 1969 Starcraft bought Venture's Class A motor home fiberglass mold.

This is a 1970 Starcraft fiberglass MH.  Isn't it a beauty?
http://cgi.ebay.com/ebaymotors/HOTROD-RV-1970-Starcraft-Customized-RV-Reserve-Lowered-/170687844927?pt=RVs_Campers&hash=item27bdc9d23f#v4-45
Starcraft bought the fiberglass mold from Venture, Banning CA.
My "Pugsy", the vintage MH, is a 1968 Venture.  You can see the resemblance:
Mine has a complete big kitchen with stove/oven, fridge, 2 daybeds, a side and rear door, more cabinets and closets than a motor home twice it's size.  But I won't be doing anything like they did to their Starcraft, I will just replace the carpet, and wash the drapes before I sell mine!! 
That is, when I get around to it…
Oh I forgot, I already have one!
_____________
Yesterday:
If you get a chance read Froggi Donna's account of their America's 911 Foundation memorial ride to honor those lost on 9/11 in Shanksville PA, at the Pentagon and World Trade Center.   http://2takinga5th.blogspot.com/2011/09/10th-anniversary-ride-to-remember-911.html 
It brought me to tears again, even after 10 years.  My late DH Johnnie was still alive then, very sick, but alive. 
I remember that morning well, it was so hard to believe that it was really happening.   Then, in less than 2 months Johnnie was gone, too.
Jay and I had already agreed to work.  He was at the doctor's the day before. 
Misty had a good walk-about when we went to pick him up, and even met a little Min-Pin.
We got several things knocked off the To-Do List.
First we had to take the duffle bags that I had brought down for someone to choose one to buy, back up to my attic. That person never showed up.  I am keeping them for now, as they have come in handy before.
Most of the things that I have for sale are kept in my hall, as that is the only place where the cats don't go.  Mostly to keep them from playing with the items, but some people are allergic.  I have to keep computer-type stuff for sale there, too, as it can't be out in the storeroom.
The un-reupholstered foam cushions for the cargo trailer are there too, to keep the cats away from them, so the stack on the hall's bookcase was really high.
I had an inquiry about the exact measurements of an RV water heater door that I have for sale, but I had to find it.    First Jay had to get all those cargo trailer cushions out of the way. 
Then we boxed up some clothes that I didn't want anymore that had been put in the hall, sealed the boxes with tape to keep dirt dobbers out, and took them up to the 'Yard Sale Dept.' in the guest house attic.  We moved all the coffee makers that I had bought, before I settled on the Kitchen-Aid one, and put them in the store room.  Now we could see what was in the hall, and found the water heater door and frame.
While I was on the phone for half an hour dealing with Jay's cell phone carrier, Net 10, he cut a piece of thin plywood to zip-tie on to the top of the cat's cage in the dining area. 
His only cost to have that phone is to buy $20 worth of minutes, (200 minutes) a month online, but he has to do it by a certain date each month, or the phone is de-activated.  Then he gets me to go through all the rigmarole of getting it re-activated.  He hardly ever uses the phone, so now he has over 800 minutes to use up!
If the kittens had jumped up on that cage, they could have got a leg caught, and broken it.  BTDT!
It didn't take long for Precious to take a nap up there.
With this drought, my house has shifted a smidgeon, and one of the sliding mirrored closet doors was difficult to open and made a screeching sound.  Jay adjusted it, as it was at the top, and I couldn't reach it.
A 'free' Premiere account for a year with www.bookoo.com comes with the purchase of a decal for $5.00 if it is displayed on a car.  This saves a fee of $8.00 a month for a Premiere account so that you can post more than one picture of your item for sale, and have the ad in bold. The Puddle Jumper gets this 'honor', so we applied the new decal, took the picture and submitted it to Bookoo.  The decal is slightly different each year.
Tropical Storm Lee is impacting Louisiana:
"Governors in Louisiana and Mississippi, as well as the mayor of New Orleans, declared states of emergency. Officials in several coastal Louisiana communities called for voluntary evacuations. Sandbags were being distributed in some Louisiana parishes.
Louisiana Gov. Bobby Jindal said he was concerned about the serious threat of flash flooding in his state, leading to his emergency action. After devastating Hurricane Katrina in 2005, nothing is taken for granted.
Louisiana needs rain -- just not that much, that fast. Both Texas and Louisiana have been suffering through drought. New Orleans, which was least affected by the drought, already was being pelted by sporadic rain. More of a problem is a stubborn marsh fire that has blanketed the city with smoke, though the rain will help extinguish it.
"Louisiana can wipe out their drought completely with this one storm," Yanez said.
"Sometimes you get what you ask for," New Orleans Mayor Mitch Landrieu said. "Unfortunately it looks like we're going to get more than we needed.""
From: http://www.click2houston.com/weather/29059137/detail.html
They don't want all that rain there, but we are on the "Lee"-ward side,  http://www.myfoxdfw.com/dpp/weather/090211-rain-packed-ts-lee-won't-hit-texas so it is unlikely to share any with us today.