For "Winged Wednesday":
Royal Cinclodes
"The stocky, dark-brown Royal Cinclodes is an extreme habitat specialist, found only in the moss-covered understory of
Polylepis
woodlands high in the Andes of southern Peru and northern Bolivia. This
Polylepis
habitat is severely threatened by local inhabitants, who harvest the trees for firewood, while their grazing animals and fires inhibit the natural regeneration of these slow-growing trees.
In Bolivia, ABC has worked with partners Asociación Armonia and Insituto de Ecologia to plant 10,000 trees and install hundreds of improved wood-burning stoves in order to reduce two communities' dependence on
Polylepis
for fuel.
In Peru, ABC and partner ECOAN have worked with over 20 communities in the Vilcanota Mountains near Cuzco to restore and protect
Polyelpis
forests. An estimated 127 Royal Cinclodes live in these mountains, comprising the majority of the species' distribution.
Vilcanota project successes include the creation of seven community-owned reserves totaling over 15,635 acres over 400,000
Polylepis
saplings planted to restore natural forests. Beginning in 2012, the project will receive
funding from an endowment fund created in 2010
benefiting local communities and the Royal Cinclodes, along with other
Polylepis
specialists such as the White-browed Tit-Spinetail.
ABC is working with local partners and communities to protect
Polylepis
woodlands where the Royal Cinclodes lives in both Peru and Bolivia and is helping to create a binational conservation plan for this species."
Support ABC's efforts to protect this and other birds and their habitats!
____________
Irene No Match for Chinquapin: Whimbrel Flies Through Hurricane During Canada-Brazil Migration
"This whimbrel named Chinquapin is reportedly resting in the Bahamas after journeying through the toughest part of Hurricane Irene during his annual migration from Canada to Brazil." (Georgia Department of Natural Resources)
"A
whimbrel
named Chinquapin that flew through Hurricane Irene during its annual migration from Canada to Brazil last week is resting up for a few days in the Bahamas before continuing on its way,
researchers
told ABC News today.
Fletcher Smith, a research biologist at the College of William and Mary's Center for Conservation Biology in Williamsburg, Va., said that he and a team of scientists had been tracking Chinquapin -- a shorebird that breeds in the high Arctic and spends its winters in Brazil -- since the spring of 2010 to learn more about its migratory routes.
Last week, the bird -- outfitted with a satellite transmitter backpack that allowed those at the center to note his movements -- flew right through Irene and then disappeared from the monitors as scientists watched helplessly.
"We were all walking around on pins and needles hoping that the bird made it through," Smith told ABC News today. "We had to wait a full 48 hours before the next set of data points came in."
Thankfully Friday, they got a single signal from the bird. He was apparently alive and well -- and in the Bahamas.
_________________
These two whimbrels didn't make it, they were SHOT:
Two Shorebirds Tracked by Satellite Over Thousands of Miles, Killed by Hunters at Unregulated 'Shooting Swamps' in Guadalupe
(September 21, 2011)
"Unregulated and unmonitored recreational shooting swamps in the Caribbean have claimed perhaps their most notable bird victims, two Whimbrels. 
One, named Machi, had been tracked by satellite for two years over a distance of 27,000 miles.
The other, named Goshen, had been tracked for about one year over nearly 14,000 miles.
The birds were likely exhausted after navigating through severe weather – Machi having navigated through Tropical Storm Maria, and Goshen through Hurricane Irene,  and were forced to land in Guadalupe, an area they had avoided in previous recorded migrations.
Both Goshen and Machi were born in the Arctic, and were part of a collaborative tracking project involving The Center for Conservation Biology, The Nature Conservancy, The U.S. Fish and Wildlife Service, Georgia Department of Natural Resources, the Virginia Coastal Zone Management Program, and Manomet Center for Conservation Sciences.
More at:
http://www.abcbirds.org/newsandreports/stories/110921.html
________________
A project of
The Center for Conservation Biology
in conjunction with the partners and sponsors detailed below.
Subscribe to receive daily project updates
Name
Species
Life Stage
Release Date
Last Location
Days Transmitted
Cobb
Whimbrel
Adult
2011-05-17
2011-07-15
59
Willy
Whimbrel
Adult
2008-08-14
2008-11-17
95
Miller
Whimbrel
Adult
2010-05-19
2010-10-13
147
Ramsey
Whimbrel
Adult
2010-05-19
2010-08-23
87
Machi
  Was shot!
Whimbrel
Adult
2009-08-20
2011-09-22
754
Winnie
Whimbrel
Adult
2008-05-20
2008-08-29
102
Chinquapin
Made it through Irene.
Whimbrel
Adult
2010-05-22
2011-09-25
491
Ann
Whimbrel
Adult
2010-05-19
2010-09-10
64
Boxer
Whimbrel
Adult
2009-05-18
2009-07-25
69
Pongo
Whimbrel
Adult
2009-08-20
2010-06-14
165
Fowler
Whimbrel
Adult
2009-05-19
2009-06-07
19
Elki
Whimbrel
Adult
2009-05-21
2009-06-28
38
Hope
:  She rode out Hurricane Irene
Whimbrel
Adult
2009-05-19
2011-09-26
860
Indi
Whimbrel
Adult
2009-05-22
2009-07-25
64
Webb
Whimbrel
Adult
2009-08-24
2010-10-13
276
Kitt
Whimbrel
Adult
2009-09-05
2010-02-27
175
Goshen
  Was shot!
Whimbrel
Adult
2010-08-14
2011-09-24
395
Click on an animal's name for maps and more information.
Their stories are interesting.
More at:
http://www.wildlifetracking.org/index.shtml?project_id=369
________________
Whimbrels
"One of the most wide-ranging shorebirds in the world, the Whimbrel breeds in the Arctic in the eastern and western hemispheres, and migrates to South America, Africa, south Asia, and Australia. It uses its long, down-curved bill to probe deep in the sand of beaches for invertebrates, but also feeds on berries and insects.
Cool Facts
Some migrating Whimbrels make a nonstop flight of 4,000 km (2,500 miles) from southern Canada or New England to South America.
Four distinct subspecies of Whimbrel are recognized: one breeds in North America, one from Iceland to northwest Siberia, one in southern Russia, and one in eastern Siberia. The American form was formerly considered a separate species, the Hudsonian Curlew. Whereas the Eurasian forms have white backs, and some white rumps, the American form has a brown rump and back.
In many regions, the primary winter food of the Whimbrel is crab. The curve of the Whimbrel's bill nicely matches the shape of fiddler crab burrows. The bird reaches into the crab's burrow, extracts the crab, washes it if it is muddy, and sometimes breaks off the claws and legs before swallowing it. Indigestible parts are excreted in fecal pellets. "
More at: http://www.allaboutbirds.org/guide/Whimbrel/lifehistory
____________
The Gulf Oil Spill: This must NOT happen again:
This is what they did to steer the birds away from the Gulf Oil Spill: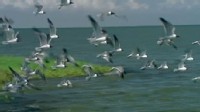 Steering Migrating Birds Away From Gulf Oil: http://abcnews.go.com/WNT/video/steering-migrating-birds-gulf-oil-11068408

________________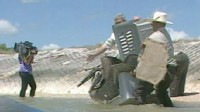 Rescue and Release: Trying to Save the Birds : 
http://abcnews.go.com/WNT/video/rescue-release-effort-save-birds-10975727
________________
Yesterday:
Misty had her walk down by Jay's house when I went to pick him up, as we were going to Conroe.  It was moved from our usual Wednesday to yesterday as Jay's renter needed a ride there, too.  He was supposed to pick up his car from the repair shop where it has been for ages.   Anything I could do to get him mobile so that he could move out of Jay's house would help.  Then he said that he couldn't go as he was expecting a conference call.  That was his excuse, and he was sticking to it.  Maybe he doesn't have the money to pick up his car?

Jay and I were all geared up to go, so we went anyway.

We missed going to our favorite thrift shop as they are only open from Wednesday to Saturday, but we went to another one.   I bought a brand new box of activated carbon filter material for 75¢, which I can cut to fit my air filters.


I couldn't resist buying an as-new lovely little cream suede purse with lots of compartments. 
Pebbles wants to show you how small it is.


There is no way it will hold all my everyday stuff, but it will be great for special times.   As if I don't have enough purses already! 
Jay just bought a T-shirt.


We happened across a Valero station that had gas at $3.18, so I bought some.  The gas prices are down from last week.  Never thought we'd see some cheaper, but it was $3.15 at Kroger's.  According to the news it will be even cheaper by Thanksgiving.  Why do gas prices go down, but food and utilities don't.

At Kroger's I bought some snow pea shoots to try them out, but I won't bother with them again.  If I had an auger type juicer, they would be good in a juice, but stir-fried they weren't so great.  Misty liked them, though.
I do add a little fresh parsley in several of my juices, but the other stuff helps it through the juicer.
Also, as I don't have an auger juicer, I thought I would try one of the many Kale Crispies recipes.  We all know that kale is very good for us, so I bought some to try out this recipe: http://www.food.com/recipe/kale-crispies-390961.  This is the only recipe which tells you to use a baking rack, and that might be an advantage to get them crisp.  But they didn't tell you that it is best to use the curly kind of kale, which the other recipes recommend.

Then I came across this, for all you 'Old Country' fans:
AT THE GEM THEATRE:   Welcome to the best little museum in Texas!   Located at 120 Trice street - one block north of the courthouse in downtown Claude, Texas.   The Armstrong County Museum includes the museum, the historic Gem Theatre, the Art Gallery, and the Goodnight House.
"October 1, 2011 - 96th Year at the Gem and we celebrate with the Almost Patsy Cline Band.
Yes, all the way from Bandera, Texas, The Almost Patsy Cline Band will be at the Gem to celebrate the 96th anniversary of this historic theatre. The Almost Patsy Cline Band is known for preserving country music's past with stirring, heartfelt renditions and stories about the best of yesteryear like Patsy Cline, Bob Wills, Johnny Cash, Ray Price, Mel Tillis, Merle Haggard, Connie Smith, and other superstars of the Opry."
More at: http://armstrongcountymuseum.com/news.htm

The doctor's office called with the results of my blood test.  My total cholesterol is a little high, but my triglycerides and Vit. D levels are great.  All my family had high total cholesterol, but lived until their mid 90's, no heart attacks, so I don't know how much faith I put in these numbers.  Sometimes I think it is a Big Pharma ruse to sell more statins.  http://www.fitday.com/fitness-articles/nutrition/healthy-eating/food-myths-debunked-all-saturated-fats-raise-blood-cholesterol.html

Tonight is the start of The Feast of Trumpets:
http://www.ucg.org/holidays-and-holy-days/gods-holy-days/feast-trumpets/
---------------
Rosh Hashanah etiquette guide

In a Monday, Sept. 26, 2011 photo, Harel Cohen, 6, blows a shofar, in Myrtle Beach, S.C., which is an instrument, typically made out of a rams horn, that is blown on the Rosh Hashanah. (Steve Jessmore - AP) It's that time of year again.
Article at: http://www.washingtonpost.com/blogs/guest-voices/post/rosh-hashanah-ettiquite-guide/2011/09/27/gIQA8JrM4K_blog.html

-------------------

Probably won't happen, but the forecast is for 30% chance of rain today.