Just a few news items, in case you missed them:

Here we don't have enough moisture, and others have too much.
The latest conditions across NZ

Posted by wwadmin on Wed, 17/08/2011 – (That's 8/17/2011 in US!)
"As we hit day four of our winter storm many areas are still facing bitterly cold winds, sleet rain and even snow to sea level - but many others are seeing the sun.
In Christchurch some snow is falling off and on across the city with heavier falls well inland.  Weather analyst Richard Green says there have been a few power outages too across Canterbury as a result of the snow.
WeatherWatch.co.nz says the temperature right now in Christchurch is 2 degrees with a wind chill of minus 4.
But, despite the snow flakes, conditions are generally improving. 


The intensity of the showers has significantly eased across more than 80% of New Zealand and while sleet and rain/snow showers are continuing to affect some coastal parts of Canterbury the centre of the storm is moving away.
 
Head weather analyst Philip Duncan says the centre of the low is now 2500kms south east of Christchurch and moving eastwards away from New Zealand.  He says a secondary low will form just east of the Chatham Islands tomorrow causing conditions to linger a little longer.  "The main event has well and truly passed now but we're still being affected by the tail end, so more heavy snow down to a few hundred metres from Canterbury to Hawkes Bay and wintry, sleety, conditions to sea level".
He says the secondary low won't add too much more to the weather here but will just keep "today's weather in place until Thursday".

In Wellington the snow level has lifted but a gale force southerly continues to blast through.  It's currently 7 degrees with a feels like temperature of zero in the wind.
In Auckland a thin veil of high cloud and a fairly light southerly are the only signs that a winter storm was nearby. 
Similar weather is expected tomorrow across New Zealand with significant improvements spreading into more regions by Friday. 
By the weekend the large high partially responsible for the winter blast will move in and settle across New Zealand for the first half of next week.
WeatherWatch.co.nz says by the end of next week temperatures will be back to average or even above average if a warm northerly air stream from the sub-tropics eventuates.  This is currently being predicted by some long range models - we'll keep you posted!'   From: http://www.weatherwatch.co.nz/content/latest-conditions-across-nz
__________________


Hamster Killer Spared Jail Sentence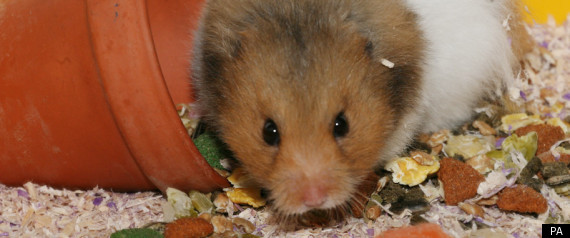 First Posted: 15/8/11 13:37 GMT (That's 8/17/2011 in US)

PRESS ASSOCIATION -- "A man who killed his ex-girlfriend's hamster by throwing it out of a window during a row has been given a suspended prison sentence.

Ryan Goodwin, 23, hurled the pet, Kaya, in its cage from the first-floor window of his council flat during a furious argument with Sarah Symons during their break-up.
Goodwin, who has a £70 per week cannabis habit and receives £800 a month in benefits, was sentenced at Plymouth Magistrates' Court after admitting animal cruelty and being found guilty at an earlier trial of using threatening behaviour during the row in January.
District Judge Paul Farmer also banned him from keeping animals for seven years, telling him: "If you had been sent to prison today you could have no complaint. What you did was disgraceful."
Miss Symons was talking to police on her mobile phone when the incident occurred, and her horror was captured by the police 999 recording. ( That's like 911 here)

Judge Farmer was told they had since reconciled and were again living together.
http://www.huffingtonpost.co.uk/2011/08/15/hamster-killer-spared-jai_n_926970.html?icid=maing-grid10%7Chtmlws-main-bb%7Cdl1%7Csec3_lnk3%7C86643
----------------------
If someone did that to my hamster, they wouldn't see me again!
_________________


As He Turns 75, Thoughts on the Legacy of Robert Redford
Still smiling at 75
"Robert Redford, seen here in 2011, is one of Hollywood's iconic actors. He's received two Oscars, one for directing "Ordinary People" and a second for lifetime achievement. He's also known for his environmental work and for founding the Sundance Film Festival."

"I think I'll stay home and watch the blu-ray of All the President's Men again. It is one of my favorite movies, bar none. There's so very little wrong with it... it recreates a momentous event in history, it's smart, suspenseful, well-acted and yes -- still incredibly entertaining -- a film that never gets old.
Speaking of never getting old, did you all note that the star of that film, Robert Redford, turned 75 on August 18th?
I saw no mention of this amongst all the pop dreck and trivial news items that seem to capture people's attention these days... (Brad and Angie rent Scottish castle... Pippa's love life... and please, please -- someone tell me why people keep talking about Kim Kardashian?)
So -- I am going to mention it, and even attempt a tribute of sorts, as I can think of few people in the entertainment field more deserving. Redford is in fact an object lesson in how to handle fame... one that many younger stars could learn from, if they cared."
_______________________


A No-Fingerprint Disease? Scientists Discover The Rare Genetic Mutation Responsible For Adermatoglyphia   
Posted: 8/16/11 06:58 PM ET

"Imagine being born without fingerprints.



Well, it's a real occurrence for at least four extended families throughout the world affected by a rare disease called adermatoglyphia, and researchers say they might have found the cause: a small genetic mutation, according to a study published in The American Journal of Human Genetics on Aug. 4.
Researchers studied the DNA of 16 members of a Swiss family affected by the disease. Nine of the 16 members did not have normal fingerprints, according to National Geographic. After examining several genes, researchers found that all nine members affected by the disease had mutations in the short version of the SMARCAD1 gene, found in the skin.
Those with the disease are born without the ridges on fingerprints. Adermatoglyphia also affects palms, toes and soles and might lead those affected to have an unusual number of sweat glands but isn't harmful, Health Day News reports.
Oddly enough, this isn't the only disease that results in irregular fingerprints. Similar conditions have been nicknamed "immigration delay diseases," because of the trouble those affected by the diseases face when they want to cross international borders. Two other diseases, Naegeli syndrome and dermatopathia pigmentosa reticularis (or DPR), have left some frustrated when it comes to travel or basic employment procedures, the National Geographic reports.
In a 2006 interview, Cheryl Maynard of Fairfax Virginia told National Geographic that technicians were perplexed after she applied for a job at a jail facility.
"I kept hearing, Of course you have fingerprints. And five or six different technicians were telling one another, You're doing this wrong, let me do this. I have to tell them I was born without them," she said."
___________________


Anna Cullen Sues Bathtub Company After Stuck In Tub For 30 Hours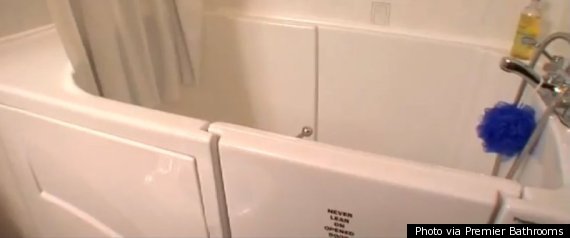 First Posted: 8/16/11 03:03 PM ET

"Anna Cullen had a less-than-leisurely bathing experience in her newly-installed walk-in tub after a fall left her inescapably wedged for more than 30 hours, according to a lawsuit filed in Cook County Monday.
In the suit, Cullen claims that the second time she used her Premier Care in Bathing walk-in tub on September 4, she became stuck as the tub filled with water, according to the lawsuit. A pull-chain attached to the drain stopper broke when she tried to unplug it, causing her to be submerged in water, to which the lawsuit attributes significant skin injuries.
"That was the lousiest $12,000 I ever put out," Cullen told the Chicago Sun-Times, referring to her recent purchase of the walk-in tub, which had been installed just a few days earlier. "I ended up in the hospital for four days, and then in a nursing home for three months."
Cullen's daughter found her in shock and unconscious more than 30 hours after her fall, UPI reports.
The lawsuit claims a "failure and/or malfunction of the drain," is seeking "in excess of $50,000 plus the costs of suit." "
___________________


Driver Shoots Himself In Both Legs With 'The Judge
"A 23-year-old driver scrambled to pick up his handgun, and grabbed it by the trigger:

A driver was shot in both legs when his handgun slid out from under the seat (Whizzers's Place, Blogspot).
A 23-year-old driver accidentally shot himself in both legs while driving, after his handgun (which he calls "The Judge") slid out from under the seat.
Justin Newberry was driving west on I-24 in Clarksville, Tenn., when the gun started sliding across the floor, according to the Clarksville Leaf-Chronicle. He reached down to pick it up, and grabbed it by the trigger.
It shot him in the right thigh, then the bullet passed through and hit him in the leg above his left ankle.
Not surprisingly, police found drugs in Newberry's car. He's in stable condition, and likely facing charges."
___________________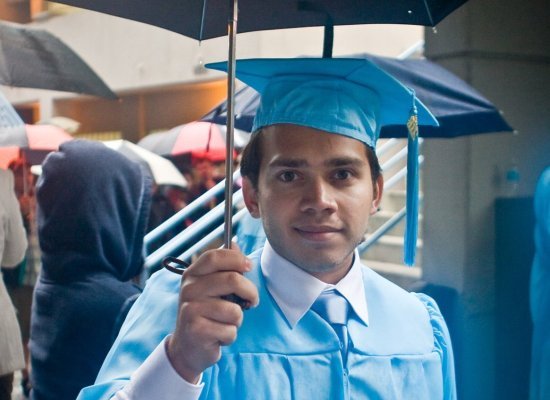 New Policy On Deportations Allows Some Non-Criminal Undocumented Immigrants To Stay
"Undocumented young people who want to go to college or join the military could see their cases closed by DHS in light of the announcement. Immigration agents are instructed to factor "the person's pursuit of education in the United States, with particular consideration given to those who have graduated from a U.S. high school or have successfully pursued or are pursuing a college or advanced degrees at a legitimate institution of higher education in the United States." This could help DREAM Act supporters who are in deportation proceedings, such as Monji Dolon, a 25-year-old born in Bangladesh who is slated for deportation."
Sen. Dick Durbin (D-Ill.), one of the key supporters of the DREAM Act, applauded the administration's decision Thursday.
"The Obama Administration has made the right decision in changing the way they handle deportations of DREAM Act students," Durbin said. "These students are the future doctors, lawyers, teachers and, maybe, senators, who will make America stronger. We need to be doing all we can to keep these talented, dedicated, American students here, not wasting increasingly precious resources sending them away to countries they barely remember."
More and slideshow at: http://www.huffingtonpost.com/2011/08/18/officials-change-deportation-policy_n_930688.html?icid=maing-grid10%7Chtmlws-main-bb%7Cdl17%7Csec3_lnk1%7C87663#s332934&title=DREAM_Act_Students
_______________



Yeah! We will see how that goes!

________________
Yesterday:
Just local scuttlebutt!!  A drunken Jay had called me during the night, thank goodness I have the ringers turned off on the phones in my bedroom and bathroom, so it didn't awaken me, and the answering machine got it.  He wanted me to help him pack up his renter's stuff, so that he could move back into his own house.  Claudia called in the morning, and she had a bad night with him, and she was absolutely stressed and worn out, not good for a liver recipient.  She told Jay that he had to move back into his house whether the non-paying renter was there or not.  Claudia has been feeding Jay, and even the renter, until she said "enough is enough".   But she always gives in, and feeds Jay again.
They had given the renter notice some time ago, but he is broke due to car repairs, and says he can't move right now.  Jay sure wasn't thinking when he rented out his house, too cheap at that, and only thought of the extra income as extra beer money.  Now it is going to bite him in the arce, as the renter has run up some big electricity and water bills.
The renter is trying to help, I am sure, but he has been leaving the sprinklers on all night, most nights, and that is not the way to take care of grass here in a TX drought.
http://www.ehow.com/how_2366341_care-lawn-summer.html
  Watering at night can cause fungus, and it is best to have a few deep waterings, and let it dry thoroughly in between. 
http://www.dannylipford.com/summer-lawn-care-guide/
  Then on top of that Jay has his mower set too low, nearly scalps it, and doesn't use the mulcher attachment.  By the way, he had bent the shaft on his other mower, ran it low on oil, and had to buy a new one.
Muffie arrived to be groomed at 8.00 AM, and her 'Dad' wanted me to leave her a smidgeon longer this time.  She settled down in the house, and rested, while I fed my animals.  She can't be rushed or she gets cranky.
The kittens were locked up in their big cages, in the Middle Room, as Pebbles tries to 'help'.
The Middle Room is between the Grooming Room and the Entry Hall.
This is their view of the Grooming Room, from the Middle Room:
They can watch me groom, watch TV, watch out the back windows, or watch the front road through the hall windows, for the short time that they are locked up. That's what they do, so they are not deprived, or mistreated.
First, I clipped any excess length of hair off Muffie's body and legs, or it would take too long to dry.  I always clip the bottom of feet too, to make sure there are no cockle burrs or other foreign objects, and so I can thoroughly wash between the toes.
I took Misty and Muffie out for a bathroom break, as it would be a while before Muffie could go out again.   Then Muffie had her shower in the little bathroom off the Middle Room.   She 'told' on her 'Dad', I could tell that he had bathed her and let water go over her nostrils, that's a scary thing for animals.  Then she remembered that Penny doesn't do that, and settled down.
After she was dry, I let the kittens out of their cages, and Muffie took a nap on my bed until after lunch.   Then the final grooming started.  Her 'Dad' likes her done with 'poodle feet', so as soon as I had shaved her feet with the clippers, the dogs went outside again.  Her feet have to have their final clip after her bath, but before she can walk outside again, as the dirt/sand would ruin my feet finishing blade.
Now to finish her body, legs, tummy, head and tail.  I left the kittens loose, so Pebbles was very interested and kept on getting on the grooming table, but Muffie didn't mind.  After her nails were cut, and I had trotted her up and down the stone pathway to the back yard to get the 'sharp' off, her 'Dad' came and picked her up about 3.00PM.  (She doesn't like the electric nail file.)  That's why I have to take nearly all day to groom troublesome Muffie.
The lady who adopted my orphan kitten's orange brother and was looking for a playmate for him, adopted one of my SPCA boss's foster cats, Vinnie. He is also an orange little boy, so now she has a matched pair.
There is thunder rolling all around, but still no rainfall for the day.