Just a few items that you may have missed:
"A nun walks in front of a line of wreaths during the commemoration of the 50th anniversary of the construction of the Berlin Wall at the Berlin Wall Memorial at Bernauer Strasse in Berlin Aug. 13. Germany marks the 50th anniversary of the day communist East Germany sealed itself off behind the Wall.
Germany had been divided into capitalist western and communist eastern sectors after the end of World War II. At the height of tensions between the United States and the Soviet Union, the East German regime started building the wall through the capital on Aug. 13, 1961. "(Markus Schreiber/Associated Press)
_______________
Leaning Tower Of Pisa Restored
"Restoring the Leaning Tower of Pisa, a monument renowned for its imperfection, was a complicated business for the Italian government, which had to be careful to straighten up the famed tourist mecca without straightening it out.
Several years ago, the Leaning Tower of Pisa was in danger of becoming the lying down Tower of Pisa - the ground beneath it was giving way. The building was listing, pushed over by a million tourists in a million snapshots.
Now, Pisa has been restored to its crooked glory and travelers can visit without fear of being smushed."
________________
Russian Client Offers British Nanny An Annual Salary Of $200,000
Everett Colletion
Mary Poppins
"If you think
Linda Evangelista
is over-paying for child care in New York, imagine what she would be paying in London.
According to an article in The Times of London by Fiona Neill
, the mega-rich Russians, Sheikhs and Chinese pouring into London in recent years have jacked up the cost of a British nanny.
A British staffing agency called Imperial Nannies cited a Russian client who wanted to poach a nanny from another family. Their salary offer: $200,000 a year.
Then there was the Imperial Nanny client with three kids who employed a nanny for each child — at around $130,000 a year.
These aren't the norm, of course. More typical in Britain are salaries of $75,000 a year – with free room and board. Usually that means a "a flat that is self-contained or on a separate floor, or at least a room with en-suite bathroom — in a desirable Central London borough, and almost always includes a car," according to the article.
Some British nannies specify that they only fly business class — though many have use of the family planes. One nanny was given a new wardrobe by her Italian employer, while another was given a house by her Saudi patrons.
According to Imperial, the financial crisis hasn't hurt demand for top nannies, because they super-rich haven't been effected by the crisis. (Which is what staffing agencies always say, true or not). The big demand is for teachers-turned-nannies, who can help the kids with increasingly demanding school work.
Yet according to a British "manny" named "Nick,"all that costly coddling can be better for the nannies than the rich kids. The wealthy parents, he said, give too little time and attention to their kids."
By Robert Frank of the Wall Street Journal
http://blogs.wsj.com/wealth/2011/08/22/the-200000-a-year-nanny/
_____________
Holliday OK after having moth extracted from ear
St. Louis Cardinals trainer Barry Weinberg helps Cardinals left fielder Matt Holliday as Holliday leaves Monday night's game. A moth landed in Holliday's ear and had to be extracted with tweezers. (AP Photo/Jeff Roberson)
ST. LOUIS
• "Cardinals outfielder Matt Holliday had to leave Monday's game in the eighth inning after a moth flew into his right ear and became lodged in the canal.
Holliday rushed off the field in clear pain and tugging at his right ear after the event.
A team official who spoke with the Cardinals' trainers said the left fielder was taken into a dark room in hopes that the moth would "seek light" and fly out of the ear on its own. That did not work. A trainer then had to use tweezers to reach deep into Holliday's ear and remove the insect.
Team trainer Greg Hauck told a club spokesman that he had had a similar event in the minors.
Holliday was not available for comment after the game, and the team official was not sure if Holliday would see a doctor or a specialist to determine if the moth did any damage while wedged inside his ear. The moth was still alive when they removed it from the left fielder's ear. Holliday was said to be feeling fine when he left the ballpark. He took the moth with him." Read more:
http://www.stltoday.com/sports/baseball/professional/cardinal-beat/article_3a899ffe-cd43-11e0-bdba-0019bb30f31a.html#ixzz1VszuTJWq
_____________
Resupply Craft Lost While Crew Focuses on Departure and Science
The ISS Progress 44 resupply craft launches on time from Baikonur Cosmodrome before a loss of communication a few minutes later. Credit: NASA TV
International Space Station Program Manager Michael Suffredini discusses the loss of the ISS Progress 44 resupply craft during a news conference at Johnson Space Center. Credit: NASA TV
"The ISS Progress 44 spacecraft and nearly 3 tons of supplies for the International Space Station were lost Wednesday when the launch vehicle experienced a failure during the climb to orbit.
The launch took place as scheduled at 9 a.m. EDT Wednesday from Baikonur Cosmodrome (7 p.m. Baikonur time). However, Mission Control Moscow reported communication with the Progress 44 was lost 5 minutes, 50 seconds after its launch.
"At 1300 (GMT), we lifted off, following 320 seconds of flight there was a failure in the upper stage of the launch vehicle. We lost comm(unications) after a while with the launch vehicle and we did not report stage separation," said Maxim Matuchen, the head of the Russian Mission Control Center." More at:
http://www.nasa.gov/mission_pages/station/living/index.html#.TlUR10dFDAI.twitter
-----------
August 24, 2011 18:40
Progress spacecraft wreckage falls in unpopulated area in Altai
MOSCOW. Aug 24 (Interfax) - "The wreckage of the Progress resupply spacecraft came down in the Republic of Altai, causing no destruction.
"The Progress resupply vehicle that failed to reach the target orbit crashed in the Choisk region of the Republic of Altai," a source in the regional law enforcement agencies told Interfax.
The crash caused neither loss of life nor destruction. There are no populated areas near the crash site, he said."
__________________
Hurricane Irene 2011: New Yorkers Stock Up On Supplies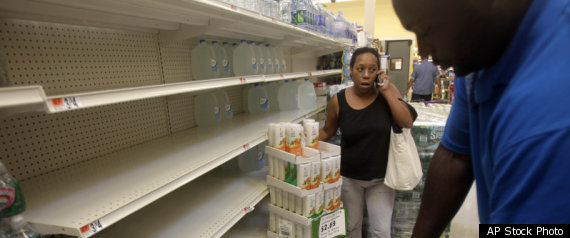 "As the first major hurricane to approach New York City in a quarter-century gets closer, Manhattanites more practiced at handling blizzards and brunch lines are gathering supplies -- and steeling their nerves -- for a foreign threat.
Unlike residents farther south who might be more practiced with weathering hurricanes, the crowd in Manhattan didn't seem to know what to do.
Instead of buying generators and gasoline, as many coastal homeowners routinely do, apartment dwellers were thinking less about protecting their property, more about protecting themselves.
The hunt was on: Water? Check. Liquor for hurricane parties? Check. Flashlights? If you can find them."
More at:
http://www.huffingtonpost.com/2011/08/26/hurricane-irene-new-york-supplies_n_938174.html
_____________
Wallow Fire, charges filed.
Unattended campfire pinpointed as cause of Arizona's largest-ever wildfire
PHOENIX (AP) -- "Federal charges have been filed against two cousins accused of causing the largest forest fire in Arizona's history.
The charges were announced Wednesday by the U.S. attorney's office against Caleb Joshua Malboeuf and David Wayne Malboeuf. They include leaving a fire unattended and unextinguished, and failure to maintain control of a fire that was not a prescribed fire that damaged a National Forest System.
The Wallow fire burned more than 538,000 acres in eastern
Arizona and New Mexico last spring."
More at:
http://summitcountyvoice.com/2011/08/26/two-men-charged-with-starting-arizonas-wallow-fire/
-------------
Navajo Hotshots lining numerous spot fires in the Diamond Mountain area at the Wallow Fire in Arizona. PHOTO COURTESY KARI GREER, U.S. FOREST SERVICE.
______________
Yesterday:
The foster cats were getting low on dry cat food. The kittens get four meals a day of canned food, and Prime and BobbieCat get two. But they like to graze on dry food too.
Our local feed store on the freeway feeder road had closed down. When they widened the freeway, the road crews did not put the new exit before their store, where it was proposed, but after it. Then the new Kroger's store construction made that feeder road so busy that it was a mess.
Yes, I could get their "Taste of The Wild" at Tractor Supply in Conroe, but I couldn't get their "Exclusive" brand of dry food any where except on Main Street in Conroe, which sells both brands.
Jay wanted to go with me, so Misty had her walk-about down there. He wasn't ready, so she sniffed places she had never sniffed before, a little farther away from his house. That must be quite an adventure for a blind dog. She keeps me on her leash, so that I won't let her run into things!
Ray was already working on the rear of the cargo trailer by the time we returned here. Jay raised the extension ladder in the workshop, went up to the storage in the rafters and brought down a length of decorative metal. Ray and I are going to use it on the back of the trailer.
Twelve years ago, when all those lengths of different metal and wooden trim were stored up in the rafters, Pugsy the vintage motor home, was in that tall carport.
All we had to do was climb Pugsy's ladder, walk on her roof and choose what we needed.
But when the contractors made that carport into a garage ten years ago, they didn't put a tall enough door in there, so poor old Pugsy has been outside since then. Thank goodness she is made of molded fiberglass, so doesn't leak.
That garage had a car in it one night, then we made it into a workshop, as I had other carports.
We helped Ray re-install the piece of newly painted metal trim that was on the front of the cargo trailer, before we took off for Conroe.
First stop, Jay wanted to get some rolling tobacco again, he's got tired of paying the high prices for ready-made cigarettes. Then a stop at the cable company's store as he needed to get a new TV digital cable box. It won't do him any good, as he can't program the last one.
Then off to St. Marks Thrift Shop, to offload some paper and boxes to be recycled. He bought four shirts and a robe, and I bought a pretty red and white smocky-type top and a pink tank top. Oh, and Aquage hair spray which costs $20 on Amazon, for 25¢.
We got the cat food on Main Street and as it is close to three of our favorite thrift shops, we stopped at two of them. Jay bought a long cushion for his mother's porch swing, and I was given two nice big area rugs, as they have no way to clean them to offer them for sale. Thrift shops have to abide by certain rules. That's OK, I will clean them, as I have the equipment.
We both needed to make bank deposits, so we opted to go to the brand new Kroger's on the way home, as our bank has a branch in there. It meant we had to cross over the freeway twice, as the new store is on the West side of the road, and we live north of there. We hadn't done it on the way south, as we didn't know how much money we would need to have with us. The store is still celebrating it's opening, and there were samples everywhere, so that was lunch.
Jay helped me hang the rugs over the horizontal poles in the RVport, to let them air out, and then I took him home.
The grass on my side lot which never gets watered by me, so is dependant on Mother Nature, is turning brown, but it will come back. The hedge at the back of the house along the road, gets most of my attention, as I don't want to lose it after all these years of molly-coddling it.
I closed up the Grooming Room/Middle Room and turned that AC off, after Mindi's dogs had gone home on Wednesday evening.
The kittens are really good in the house and they like being part of the every day routine.
Now they are only in the great big cage in the dining area, for eating and sleeping.
Hoping to avoid rolling black-outs, I'm trying to do my part to conserve electricity on these record 100° days.