By
Sam Griffin: "
Doug Dubrouillet
, my grandfather passed away early this morning. He suffered from terminal cancer for four and a half years. During his last months that I was able to experience, Doug was one in a million. He had an atmosphere of goofiness and jolly fun, even on the edge of life. His tradition of ice cream hour is one of my favorites."
A memorial service will be held Sunday at Unity of Panama City at 1:30 p.m.
"Don't cry because it's over, smile because it happened."
http://doug-dubrouillet.last-memories.com/
We all new that his passing was imminent, but it is still a shock when it happens. Poor Fillmore, probably didn't realize that Doug was losing his battle with cancer, and he will miss his Dad.
Picture 'borrowed' from Ellie,
http://justravelin.blogspot.com/
it was the only one I could find with Joanne, Doug and with Fillmore in it, too.
__________________
"After a month of heavy rain saturated mountainsides, a fresh deluge sent landslides sweeping into Seoul last week, killing 59 people. Ten were still reported missing. In a strange compounding of the misery, the landslides and flash flooding washed away landmines buried near an air defense unit in Seoul. Soldiers were searching for those landmines as well as North Korean landmines washed away near the border. A total of 76 landslides of different severity struck after the most intense rainstorm in Korea in the last century. Ten university students lost their lives while volunteering at a summer camp for kids when a landslide struck in Chuncheon. "If it keeps raining like this, no country in the world can endure this," South Korean President Lee Myung-bak said. --
Lane Turner
(
25 photos total
)"

______________________
Heat And Humidity Conspire For Discomfort, Danger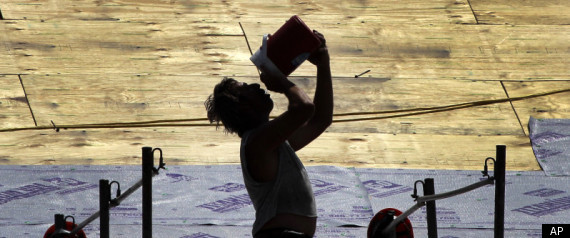 WASHINGTON -- "When it comes to the discomfort and health risks of the current heat wave, it's not just the heat or the humidity – it's both.
The temperature conspires with the amount of moisture in the air to make it hard for the human body to cool itself.
When people get hot, the body tries to cool down by moving extra blood to the skin and by sweating.
Blood in the tiny vessels near the skin can dissipate heat into the air, if the air is cooler than the body. But that doesn't work if the air is as hot as the body or hotter.
Sweat helps, because when water evaporates it removes heat. But the more moisture already in the air – the higher the humidity – the less evaporation can occur.
Those two processes account for more than 90 percent of the body's ability to dissipate heat, and when they aren't working, trouble can come from heat exhaustion, heat stroke and even death.
Heat exhaustion, or heat prostration as it's sometimes called, is a common condition caused by prolonged exposure to intense heat, and marked by symptoms like dizziness and weakness. It has no race or age boundaries and can strike anyone who's spent some time in the sun. Once noticed, it's easy to fully recover from this sunny ailment, but not unless you know the signs and treat immediately -- untreated, heat exhaustion can turn dangerous fast, leading to heat stroke and other serious weather-related illnesses.
If you're brave enough to stand the steamy summer heat wave of 2011, have fun, but remember to keep an eye out for excessive sweating, sunburn, panting and chills, and even nausea.
For tips on how to stay hydrated in the heat, check out our article,
Summer Hydration Mysteries, Solved
."
____________________
'Our Government Has Now Given Up The Concept Of Right And Wrong' (VIDEO)
First Posted: 8/2/11: "Keith Olbermann excoriated Washington for the
debt ceiling deal it struck over the weekend
--and called for a protest movement to rise up against it.
In a Special Comment on his Monday show, Olbermann did not mince words about the deal, which
passed the House on Monday
and is headed for a vote in the Senate.
"Our government has now given up the concept of right and wrong," he said. "...Those who defend [the deal] have called it a credit to a pragmatic president who wins some sort of political 'points' because, having stood for almost nothing here, he gave away almost nothing for which he stood." " More at:
http://www.huffingtonpost.com/2011/08/02/olbermann-debt-ceiling-special-comment-protests-obama_n_915957.html?icid=main%7Chtmlws-main-n%7Cdl3%7Csec1_lnk3%7C220756
_________________________
Royals Fly Commercial Airlines Home After Zara Phillip's Wedding
Getty Images
After the
wedding of his cousin, Zara Phillips
, this past weekend, Prince William didn't take a private flight back to Manchester.
Instead, he whisked his
new bride, Catherine Middleton
, on a budget airline jet for the hour-long jaunt from Edinburgh to their new home in Anglesey (Manchester is the closest airport),
the Daily Mail reports
.
The royal duo hopped on a Flybe flight and sat with everyone else on the plane (the airline doesn't offer a first class section). The couple reportedly went through security (see, they ARE just like us!) and sat with bodyguards on the flight. Cost of a one-way ticket? A thrifty $62.
A Manchester Airport spokesman told the
Daily Mail
: "With the Duke and Duchess of Cambridge living not too far away in North Wales, we were hoping to seem them more often and become their local international airport of choice and we are looking forward to welcoming them through out doors over the coming years."
Meanwhile, Prince Harry took to the skies with easyJet for the hour-long hop from Edinburgh to London,
the Telegraph reports
. His ticket price? $36.
This isn't the first time Kate and Will have flown commercial. The
couple flew back to London from Los Angeles on a British Airways jet
following their North American tour. Prince William
flew a commercial Air New Zealand flight
from Auckland to Christchurch back in March.
___________________
10 Technologies That Will Change the World in the Next 10 Years
Posted By Dr. Mercola | August 01 2011 |
Dave Evans is Cisco's chief futurist, and the chief technologist for the Cisco Internet Business Solutions Group. He outlined what he believed to be 10 technological trends that will change the world in 10 years. Here are some of them:
The Internet of Things: There are now more things are connected to the Internet than people. By 2020, the number of Internet-connected things could be more than six devices for every person on Earth.
The Data Flood: About 5 exabytes of unique information were created in 2008 -- the equivalent of a billion DVDs. In 2011, it will be 1.2 zettabytes (one zettabyte equals 1,024 exabytes.)
The World Gets Smaller: With always-on connectivity, social influences will continue to move rapidly between cultures. A smaller world also means faster information dissemination.
The Power of Power: As the human population also continues to grow, more efficient methods to provide power are becoming a necessity, particularly solar energy.
Another Family Tree: Virtual humans, both physical (robots) and online avatars will be added to the workforce. By 2025, the robot population could surpass the number of humans in the developed world. By 2035, robots could completely replace humans in the workforce.
To read the rest, you can click on the link. Sources:
Network World July 19, 2011
______________________
Here's one way to deter illegal immigrants!
Australia Uses YouTube To Deter Boatpeople
First Posted: 8/2/11 08:30 AM ET Updated: 8/2/11 11:54 AM ET
SYDNEY (Reuters) - "Australia will film boatpeople being sent to Malaysia under a new refugee swap deal and post the video on YouTube in an effort to deter future boatpeople, the immigration department said on Tuesday.
The 54 boatpeople, intercepted last week and the first to be sent to Malaysia, will be filmed arriving at Australia's Christmas Island detention center, boarding a plane to Malaysia and arriving in camps in Kuala Lumpur for processing.
Border protection is a high priority with Australian voters, although U.N. figures show Australia receiving just under 0.5 percent of the world's asylum seekers.
The YouTube video was aimed at dispora communities in Australia, such as Iranian, Iraqi, Afghan and Sri Lankan, to discourage family and friends from supporting boatpeople, said immigration department spokesman Sandi Logan.
"We don't want them funding, we don't want them in any way suggesting an option for coming to Australia is getting on a rickety dangerous boat, for a highly risky voyage across the open ocean north of Australia," Logan said.
"But of course we know that YouTube is not restricted to people in Australia. It will be a very potent message that demonstrates the futility of engaging with the people smugglers...risking your life at sea, only to be put on a plane to be flown back to Malaysia."
____________________
"Muslims around the globe have begun their holiest month of the year by giving up food, drink, smoking and other physical needs from dawn till dusk each day. In many communities, large dinner gatherings are held each evening to break the fast. The month also marks a time for Muslims to reexamine their lives through the prism of Islamic teachings." --
Lloyd Young
(
38 photos total
)
Photo: A Pakistani Muslim prepares food stuff for 'Iftar' a time to break their fast, on the first day of holy fasting month of Ramadan at a mosque August 2 in Karachi. Muslims across the world are observing the holy fasting month of Ramadan, where they refrain from eating, drinking and smoking from dawn to dusk. (Shakil Adil/Associated Press)
_______________________
Yesterday:
Having had enough of feeling bad, I went to the doctor. He prescribed a "steroid pack" and some antibiotics. He also wanted me have an "Inhalation Aerosol", I had never had one of those before.
After we left the doctor, we went straight to the Angelic Thrift Shop , as Jay wanted to buy a motor cycle helmet for the 3-wheel ATV that he had bought from someone in this subdivision. I thought those dangerous 3-wheel things were outlawed. That was why Jay went with me, and also as back-up as I didn't feel right about driving by myself.
As I didn't have the energy to crawl out of a wet paper bag, we didn't go anywhere else, except to our local Kroger Pharmacy, because they should have my info as I had my last prescriptions filled there, years ago when I had the sinus infection. They said it would take an hour to fill the prescriptions, but I didn't feel like walking around shopping, so I didn't even look at my list. With me hacking and coughing in their waiting room, they had it ready in 35-40 minutes.
After I had dropped off Jay and given the kittens their lunch, I took two of these, and two of those, turned off the phone and doorbell ringer, and laid down. I didn't want to be bothered by anybody. When I woke up an hour later, I felt better, the achiness and cough had gone.
The rest and meds renewed my strength so I cooked some of my Nolan Ryan's beef from Krogers,
http://www.nolanryanbeef.com/quality/all_natural.aspx
, a sweet potato and some veggies. To conserve power I cooked it on my propane cooktop, instead of my electric pressure cooker. TX has been having 'rolling blackouts', due to the excessive use of electricity. The news media said that to avoid the blackouts, we should all cut down on our usage during the peak hours. I brought the kittens into the house and turned off the AC in their room, raised the temperatures in the other rooms, and didn't use any hot water from my electric water heater. I'd rather have a little AC, than no power at all.
So at least I did something constructive yesterday.