EPA to Bar Fluoride-Based Pesticide
"For decades, people who raised concerns about fluoride being added to tap water or food were dismissed as crazy," said Ken Cook, President of Environmental Working Group. "All of a sudden we have two federal regulatory actions, announced just days apart, that tell us what was really crazy all those years: a government bureaucracy that ignored strong scientific evidence and clear warning signs of the threats fluoride has posed to public health all along. We commend the Obama administration for these actions, which begin, at long last, to put the use and regulation of fluoride on a sound scientific footing.
The Environmental Protection Agency released two new reviews of research on fluoride Friday. One of the studies found that prolonged, high intake of fluoride can increase the risk of brittle bones, fractures and crippling bone abnormalities.
Citing concerns about children's health and noting their current overexposure to fluoride through tap water, EPA's decision is the second major federal action in three days to address the safety of fluoride for children. On January 7, the U.S. Department of Health and Human Services proposed to reduce its recommended maximum level of fluoride in tap water from 1.2 to 0.7 parts per million (ppm), a 42 percent decrease." 
From:  http://www.ewg.org/release/epa-bar-fluoride-based-pesticide
________________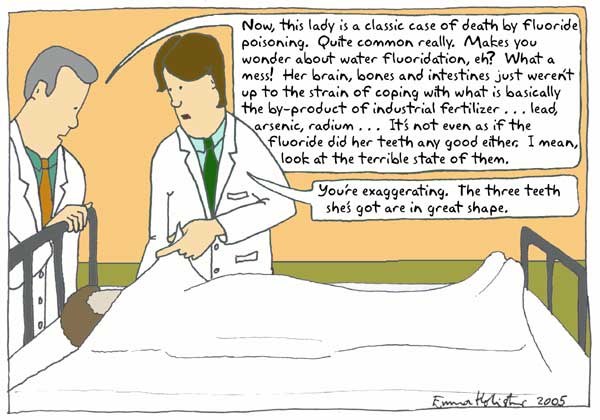 Revised January 2011
http://www.nccn.net/~wwithin/fluoride.htm
________________
Dr. Mercola Interviews Dr. Paul Connett on Fluoride (Part 1 of 5)
Fortunately the EPA has finally listened, after all this time, and come out with new recommendations.
______________________
Want Smarter Kids? Then Make Sure They Avoid This Widely Regarded Preventive...
Fluoridegate" Expected
"Things are definitely getting interesting now as fluoride is suddenly getting some well-deserved attention. For 50 years, US government and health agencies have refused to engage in a dialogue about fluoride, let alone reevaluate its position on the purported health benefits of fluoride.
The public will have an opportunity to submit their own comments to the DHHS. Public comments on the proposal to lower fluoride in drinking water to 0.7 ppm are due on February 14.
You can easily submit your comments by using the Fluoride Action Network's online comment form. I urge you to take a moment and do so right now!
First it is Ridiculed, then Violently Opposed, Then...
When I was on Dr. Oz earlier this month, he asked me why I was so controversial, and I told him I operate in a different model than conventional medicine and then I shared Arthur Schopenhauer's observation on the shifting of human views on truth:

First, it is ridiculed.
Second, it is violently opposed.
Finally, it is accepted as self-evident

I then discussed the major victories discussed in this report, but unfortunately, it was edited out of the program that eventually aired.

I believe we're now finally beginning the final stage of this shift, and it's just a matter of time before the dangers of water fluoridation will become "self-evident." Meanwhile, the truth has always been that fluoride is biologically active in the human body and plays havoc with enzymes. We have known for decades that fluoride crosses the placenta and we now know it enters the fetal brain. More than a hundred published animal studies reported on fluoride's harm to the brain and in the last 10 years there have been 24 published studies associating fluoride exposure to a lowering of IQ in children.

On April 12, 2010, Time Magazine included fluoride in its "Top Ten Common Household Toxins" and described fluoride as "Neurotoxic and potentially tumorigenic if swallowed".
Water Fluoridation Lowers IQ
In December 2010, a study reporting an association with exposure to fluoride and lowered IQ in children was pre-published in the Journal of Hazardous Materials. "

More at: http://articles.mercola.com/sites/articles/archive/2011/02/05/breaking-news-us-finally-admits-too-much-fluoride-in-the-water.aspx
Today:
The new-to-me Mr. Coffee turned out to be a keeper.  It doesn't take 10 minutes to make 2 mugs of coffee, like my old one did.
This morning, when I took the black lab out, the grass was crunchy underfoot. Not from summer heat, but from ice.  But the roads should to be clear now, as it is 41 deg., so I don't mind going into the next town.
It is Adoption Day, and I have to take Misty to get her stitches out today.