"Without Egypt, they would find their options for shipping air and sea cargo, refueling and repairing aircraft and consolidating troop movements narrowed to those along the Persian Gulf. The loss of landing rights in Egypt, for example, might mean that in a crisis, wide-body jets, each carrying hundreds of troops, would have to fly directly into congested Persian Gulf airfields, rather than into Cairo West, from which smaller transports would ferry troops into action."
More at:
http://www.politicsdaily.com/2011/02/05/at-risk-in-egypts-turmoil-u-s-military-access-to-the-middle-e/?icid=main%7Chtmlws-main-n%7Cdl3%7Csec1_lnk3%7C199536
_________________
100 years ago, on Feb. 6, 1911.
"President Ronald Reagan shares a laugh with singer Ray Charles at the conclusion of the Republican National Convention on Thursday, August 23, 1984 in Dallas. Charles sang "America the Beautiful" in the finale.
Ronald Wilson Reagan -- actor, governor of California and 40th president of the United States -- was born in Tampico, Ill., 100 years ago, on Feb. 6, 1911. "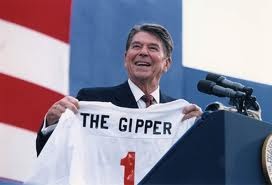 "Why Do They Call Ronald Reagan The Gipper?
Ronald Reagan starred in many movies before beginning his political career. He got the nickname of "the Gipper" when he played the leading role in "Knute Rockne, All American" in 1940, portraying George Gipp, a college football player."
________________
Michael Vick Named AP's NFL Comeback Player of the Year
DALLAS (AP) -- February 5 2011. "
Michael Vick
took a most unusual path to The Associated Press 2010
NFL
Comeback Player of the Year award he received Saturday night."
From:
http://nfl.fanhouse.com/2011/02/05/michael-vick-named-aps-nfl-comeback-player-of-the-year/?icid=main%7Chtmlws-main-n%7Cdl5%7Csec3_lnk1%7C199605
So, what about the Vicktory dogs:
When the President Calls About the Vick Dogs
December 29, 2010 - By Francis Battista -
"Now that President Obama has jumped on the Michael Vick bandwagon with an official call to Eagles' owner Jeffrey Lurie to congratulate him for giving the quarterback another chance, all of us here at Best Friends are waiting for a call from the White House to congratulate us for giving Vick's dogs a second chance. I'm quite sure that the other organizations that also took on some of the canine survivors of the football star's dogfighting operation are similarly poised.
While we no longer wait by the phone for a call from Mr. Vick asking after his dogs, the likelihood of a call from the president has brought new esprit to the switchboard team and I've put together some notes on those we call the Vicktory dogs in case someone puts the historic call through to me by mistake. The conversation will go something like this:
"Mr. President, what a surprise! Thanks for taking the time out of your busy schedule to commend us for giving the Vicktory dogs a second chance. Sure, I've got a few minutes to fill you in … kind of a presidential briefing, I guess.
"To be quite honest, sir, it's kind of a mixed bag as far as how the dogs are doing. After all, these critters were right there when Michael Vick and his friends were body slamming some of their doggie buddies to death and electrocuting, drowning and hanging others. Unlike Mr. Lurie and the NFL, Bad Newz Kennels wasn't into second chances. What's that, sir? Yes, he's having a great year … yeah, a terrific arm."
More, and an update on the dogs at:
http://blogs.bestfriends.org/index.php/2010/12/29/when-the-president-calls-about-the-vick-dogs/
_____________________
You think you had it bad during this cold spell, then read this: Joe fell in his driveway during a powerful blizzard and couldn't get up. Then a snowplow buried him:
http://www.aolnews.com/2011/02/05/buried-in-snow-for-hours-wisconsin-man-saved-by-neighbors/?icid=main%7Chtmlws-main-n%7Cdl6%7Csec1_lnk3%7C199472
__________________
Today:
I will be grooming Maddie. Her 'Mom' wants me to leave her hair long, but have her ears, face, butt and feet trimmed. Then she wants to put her in a topknot, like this: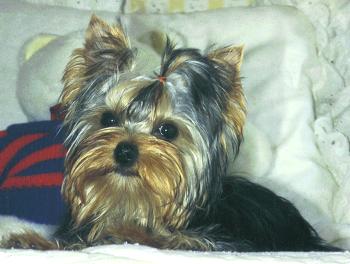 It is is still chilly, but a cheery, sunshiny day.