News, Some New, Some Old:
March 5, 2012 - "Tornadoes swept though the Midwest last week leaving behind destruction and death. A reminder of what can be learned at a time of calamity."
Transcript at: http://www.ucg.org/beyond-today-daily/christian-living/when-winds-blow
_____________
The Hunger Site has given over 821,089,594 cups of food since June 1999.*
The Animal Rescue Site has given over 524,663,430 bowls of food since 2002!*
Please click to help the people and animals in the devastated areas.  It's FREE.   Advertisers pay for the clicks. http://www.theanimalrescuesite.com/clickToGive/home.faces?siteId=3&link=ctg_ars_home_from_vet_thankyou_sitenav
____________
Tree Huggers
Washington D.C.'s tourists were loving its cherry trees to death, until a beaver showed them the way.
"This year, a million visitors are expected to descend on the Tidal Basin, in the shadow of the Jefferson Memorial, for the two weeks when those clouds of blossoms seem to hover just overhead.
But years ago, park rangers started noticing there weren't as many blossoms as there used to be. And the thick gnarled trunks of older trees were now outnumbered by fragile trees that never quite reached maturity. The problem? People plucking the flowers, kids climbing the trees and scraping off fragments of bark with every clumsy step, and parents propping their children on low branches for photo-ops—sometimes snapping off limbs in the process.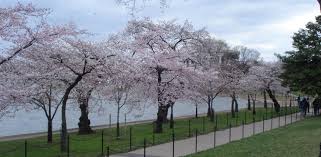 "The Park Service's mission is inherently difficult in that we want to preserve forever, but at the same time we want to welcome people to experience our amazing natural and cultural resources—the cherry trees may represent one of the best examples of that challenge," says John Kirkpatrick, a park ranger with the National Mall and Memorial Parks. "Each year, the Cherry Blossom Festival brings 1 million people to our park in about two weeks. And picking a blossom is the most natural thing in the world. Most people think, 'Oh, it's just one flower,' but if you pick just one flower, you've done some damage—you've opened a wound, and that lets in viruses and insects. And if you climb a tree, you're damaging the living part of the tree, which lies just under the bark."

If it were just one person, the tree would probably do just fine, but add a million other visitors to the equation, and you've got a problem. Given the Park Service's budget woes and the simple arithmetic involved, rangers are wildly outnumbered during the two-week festival, and their duties include far more than policing cherry blossoms. Something had to change.

For years, rangers posted signs urging people not to pick the blossoms or climb on the trees, to little effect. Some rangers suggested more forceful language along with a liberal sprinkling of capital letters and exclamation points. But in the end, the park opted to go the other way. In 2006, Kirkpatrick introduced a friendly cartoon character called Paddles—a beaver armed only with a smile and a stop sign. Paddles made his debut on a trail guide, then progressed to a standing wooden cut-out. Finally, the agency purchased a costume and teamed Paddles with rangers and volunteers to carry his message on foot.
"The response was remarkable," says Kirkpatrick. "The year before we introduced Paddles, it took me hours to walk from the FDR Memorial to the Washington Monument, because I'd have to stop every time I saw someone with a blossom in their hand. The very next year, all the rangers noticed that people weren't picking the blossoms nearly as much. Soon, I had to go out of my way to find anyone with a blossom in their hand. It was a dramatic change."
Of course, not all the rangers were thrilled with the idea of a character in a costume. Some thought the approach crept dangerously close to Disneyland, and many thought it was inconsistent with the dignity that should be afforded to Jefferson, Lincoln, and Washington. But Kirkpatrick's colleagues came to recognize that it wasn't a silly device designed to entertain—it was a tool designed to send an important message regarding the agency's mission. And it was hard to argue with the results.
Some visitors have brought up more scientific concerns—namely the selection of a beaver as a protector of trees, given their predilection for chopping them down. But Kirkpatrick points out that beavers' activities generally improve environmental conditions—their dams help form wetlands that support other species. Sure, beavers harvest some trees for specific purposes, just like humans, but even beavers know that there are some trees you don't touch.
As the cherry blossoms approach their 100th year in the nation's capital, the message seems to be taking root. This year's Cherry Blossom Festival begins at the end of March, and the park has already started signing up volunteers to escort Paddles around the Tidal Basin. And that's good news for the gift that keeps on blossoming." By Scott Kirkwood. From: http://www.npca.org/news/magazine/all-issues/2011/spring/tree-huggers.html
___________
Rosie the Riveter/World War II Home Front National Historical Park, California
"March 8th was International Women's Day—a perfect time to learn about one of the few national park units devoted to women's history: Rosie the Riveter/World War II Home Front National Historical Park. The park boasts an impressive memorial to the estimated 18 million women who joined defense and support industries during World War II. Park officials also continue the mission of empowering young women through a special outreach program connecting middle school girls with park history, female role models, and a range of skill development opportunities, including workshops in male-dominated trades. More at: http://www.npca.org/parks/rosie-the-riveter-wwii-home-front-natl-hist-park.html
___________
AMERICA'S GREAT OUTDOORS: Secretary Salazar Designates Thirteen New National Historic Landmarks
WASHINGTON, D.C.—03/06/2012.  "Secretary of the Interior Ken Salazar today announced the designation of 13 new National Historic Landmarks in nine different states, including a site associated with the famed Apache scouts, the largest collection of Frank Lloyd Wright buildings in the world, and an early 18th-century parish church.
"Each of these landmarks teaches us about the history of our land, our people, and our nation - from pictographs dating back two millennia to a World War II warship," Secretary Salazar said. "By designating these sites as National Historic Landmarks, we are ensuring that future generations will know these important chapters in our nation's story and expand opportunities for tourism that generate economic returns for our local communities."
National Historic Landmarks are nationally significant historic places that possess exceptional value or quality in illustrating or interpreting the heritage of the United States. The program, established in 1935, is administered by the National Park Service on behalf of the Secretary of the Interior.
These new listings will join approximately 2,500 other sites in the National Historic Landmark Program," said National Park Service Director Jonathan B. Jarvis. "These places not only showcase our rich and complex history – from prehistoric time right up to the modern era – but they help drive tourism and boost local economies."
The new National Historic Landmarks include the following sites:
Among seacoast lighthouses still in existence, the Montauk Point Lighthouse (Long Island, New York) was the most important for the nation's foreign trade during the first eight decades of the United States lighthouse service;
Located in Midtown Manhattan, the Town Hall (New York City, New York) represents the history of American radio broadcasting during the golden age of network radio from the 1930s through the 1950s;
The destroyer escort USS Slater (Albany, New York) is a rare and extraordinarily intact example of an important class of mass-produced warships designed for convoy protection during World War II;
Constructed in 1888-89 by a wealthy Troy couple as a memorial to their only child, the Gardner Earl Memorial Chapel and Crematorium (Troy, New York) is the most architecturally sophisticated example of early public crematoria in the United States. The building is an example of Romanesque Revival architectural composition with a rich detailed interior design that reflect its memorial nature;
Built in 1888-1889, the Braddock Carnegie Library (Braddock, Pennsylvania) is the oldest intact library building in the United States funded by Andrew Carnegie;
The Fort Apache and Theodore Roosevelt School (Fort Apache, Arizona) was one of the 14 former U.S. Army forts redeveloped as a school as part of Federal Indian policy that sought to assimilate Native Americans through education following tribes' confinement on reservations. Today the school district a unique resource that reflects several decades of highly complex and dynamic interactions between the U.S. federal government and Native Americans throughout the 19th and early 20th centuries;
Deer Medicine Rocks (Rosebud County, Montana) is a sandstone rock formation in Montana's Rosebud Valley that is associated with the Great Sioux War of 1876-1877. Numerous Native American petroglyphs cover the walls, including a representation of the Battle of the Little Big Horn, as well as various anthropomorphic and religious drawings;
The akima Pinšiwa Awiiki (Fort Wayne, Indiana) is a rare surviving example of a treaty house in the U.S. Built as part of the terms of the 1826 Treaty between the Myaamia (Miami) and the United States, it is associated with Pinšiwa, the akima (civil chief) of the Myaamia, a nationally significant American Indian statesman and leader;
St. Peter's Parish Church (New Kent County, Virginia) is an exceptional example of early 18th-century brick architecture from the Chesapeake Region;
Eyre Hall (Northampton County, Virginia), a rare vernacular architectural ensemble and rural landscape of the Colonial and early Federal periods, is a significant physical remnant of Chesapeake society, which was economically and socially based on slavery;

Meadow Brook Hall (Rochester, Michigan) is a large early twentieth-century country estate which includes a large mansion inspired by British architectural precedents along with smaller residential buildings constructed in the same style;
The campus of Florida Southern College (Lakeland, Florida) contains the largest "integrally designed" grouping of buildings by Frank Lloyd Wright on a single site anywhere in the world; and
The Carrizo Plain Archeological District (San Luis Obispo County, California) represents a unique concentration of pre-contact sites, art, and artifacts, the outstanding significance of which has been recognized for almost a century by anthropologists, archeologists, artists, and novelists."  Slide show at: http://www.nps.gov/nhl/
More at: http://www.doi.gov/news/pressreleases/AMERICAS-GREAT-OUTDOORS-Secretary-Salazar-Designates-Thirteen-New-National-Historic-Landmarks.cfm and for complete list: http://en.wikipedia.org/wiki/List_of_U.S._National_Historic_Landmarks_by_state
___________
It's Not Easy Breathing Green
THURSDAY, March 8, 2012 — "A new study brings discouraging news for even the most label-conscious consumers. Many everyday household products, from shampoos to laundry detergents, contain hormone disruptors and chemicals associated with asthma. Some of which aren't even listed on the labels.   Compounds associated with asthma for which the researchers tested included phthalates, fragrances, glycol ethers, and ethanolamines. But as this study revealed, you might not always find these compounds listed on the labels.
Researchers found potentially harmful chemicals in all 42 conventional product samples and in 32 of the 43 alternative product samples. They recorded the highest concentrations in vinyl products like pillow protectors and shower curtains, fragranced products like air fresheners and dryer sheets, and sunscreen.
The substantial amounts of the phthalate DHP found in pillow protectors is especially worrisome for people with asthma, says study author Robin E. Dodson, ScD, a research scientist at Silent Spring Institute.  "Asthmatics may try to use pillow protectors, including vinyl pillow protectors, to try to reduce their exposure to dust mites," she says in a video released by Silent Spring Institute about the study. "Unfortunately these phthalates, or DHP, has also been linked to respiratory symptoms."   This isn't the first time household products have been linked to respiratory problems.
First of order of business: Swap your vinyl pillow protector for a cotton one and see what happens."  More at: http://www.everydayhealth.com/asthma/0308/its-not-easy-breathing-green.aspx
______________
Paraprosdokians (Winston Churchill loved them) are figures of speech in which the latter part of a sentence or phrase is surprising or unexpected; frequently humorous. See some at: http://www.englishforums.com/content/humour/paraprosdokians.htm
______________
On This Day:
Montana vigilantes hang Jack Slade, Mar 10, 1864:
"Local hell-raiser Jack Slade is hanged in one of the more troubling incidents of frontier vigilantism.
Slade stood out even among the many rabble-rousers who inhabited the wild frontier-mining town of Virginia City, Montana. When he was sober, townspeople liked and respected Slade, though there were unconfirmed rumors he had once been a thief and murderer. When drunk, however, Slade had a habit of firing his guns in bars and making idle threats. Though Slade's rowdiness did not injure anyone, Virginia City leaders anxious to create a more peaceable community began to lose patience. They began giving more weight to the claims that he was a potentially dangerous man.
Not long after the questionable execution of Slade, legitimate courts and prisons began to function in Virginia City. Though sporadic vigilante "justice" continued until 1867, it increasingly attracted public concern. In March 1867, miners in one Montana mining district posted a notice in the local newspaper that they would hang five vigilantes for every one man hanged by vigilantes. Thereafter, vigilante action faded away."
_____________
Speech transmitted by telephone, Mar 10, 1876:
"On this day, the first discernible speech is transmitted over a telephone system when inventor Alexander Graham Bell summons his assistant in another room by saying, "Mr. Watson, come here; I want you." Bell had received a comprehensive telephone patent just three days before.
On March 10, Bell successfully tested his telephone for the first time in his Boston home. In May, he publicly demonstrated the invention before the American Academy of Arts and Sciences in Boston, and in June at the Centennial Exposition in Philadelphia. In October, he successfully tested his telephone over a two-mile distance between Boston and Cambridgeport."
_____________
Yesterday:
Misty and I went to get Jay in our raincoats, early again, as he had to go with his mother to her doctor around 1.00pm.
We started the cleaning of the house ready for Passover. http://en.wikipedia.org/wiki/Passover_(Christian_holiday) and: http://thezephyr.com/bible/bibleah.htm
Jesus and the apostles were celebrating Passover at the Last Supper, because they were Jewish men with Jewish observances:
"This is a day you are to commemorate; for the generations to come you shall celebrate it as a festival to the Lord - a lasting ordinance." (Exodus 12:14)
It rained on and off all day.