For "Winged Wednesday",
Most Birds rely on Trees for their Homes:  Redwoods National and State Parks.
Growing Is Forever from NPCA on Vimeo.
________________
Planting Trees by Air:
______________
Bahama Oriole
"The Bahama Oriole was recently given full species status by biologists, having previously been regarded as a sub-species of the Greater Antillean Oriole. This taxonomic split brought to light the critical situation faced by this species, since fewer than 300 individuals are thought to exist.
The Bahama Oriole's preferred breeding sites are tall coconut palms, often planted as part of human settlements. As settlers brought these palms to new communities, the orioles followed closely behind and thrived on this relationship.   Unfortunately, on North Andros Island, where the largest population of Bahama Orioles remains, coconut palms have been nearly wiped out by Lethal Yellowing disease, dramatically reducing suitable nesting sites.  Luckily the disease has not yet crossed to South Andros Island or Mangrove Cay.
Other threats to this species include loss of suitable forest  for non-breeding habitat to small-scale agriculture, and the arrival of Shiny Cowbirds, which parasitize oriole nests.
Possible solutions include working with local communities to begin a cowbird trapping program, programs to educate people about the importance of broadleaf coppice forest, and nest and population monitoring; as well as programs to inoculate palms to help prevent the spread of the disease, and captive breeding of birds for subsequent reintroduction to Abaco."
Help ABC conserve this and other birds and their habitats!
_______________
Wetland Birds Thrive
"While nearly a third of North American bird species are in decline, many birds that depend on wetlands are thriving. Duck breeding populations in 2009 were an estimated 25% above historical averages. Conditions on the breeding grounds have improved since the drought years of the 1980s, but human action has also made a huge difference. You can help by encouraging your elected representatives to protect wetlands. And you can buy a duck stamp every year.  Birders and other frequenters of National Wildlife Refuges purchase a $15 Federal Duck Stamp each year in order to gain free admission to refuges.  Whether you are an artist or an interested citizen, you can participate in the Federal Duck Stamp Contest.  The 2011-2012 stamp features these White-fronted Geese.      Play MP3 Download MP3 View Transcript
______________
Little Blue Heron, Light and Dark
"Two herons, one dark, the other white, feed at the edge of a wooded pond in the South. Both birds are Little Blue Herons. What's going on here? Well, the white bird is a juvenile. These young herons forage with flocks of Snowy Egrets, which stir up prey. The white immatures mix readily with the white egrets and, by this mimicry, gain a better chance of getting a meal. By arraying the immature Little Blue Heron in white, nature helps the young bird survive the vulnerable early years of its life. The Little Blue Heron is one of Audubon's Top 20 Common Birds in Decline."   Play MP3 Download MP3 View Transcript
______________
The Nightingale
"From Hans Christian Andersen... Long ago, in an emperor's garden, lived a Nightingale. The emperor ordered the bird to be brought to him, and she was locked in a golden cage. When the emperor received a mechanical Nightingale, the real Nightingale was banished. Years later, the emperor lay dying. At the window appeared the Nightingale, and she sang 'til Death slunk away. The emperor asked her to stay with him, but she knew her song sounded best in the green wood. Still, she visited him often, and sang and sang." Play MP3 Download MP3 View Transcript
_____________
Dangers of Arsenic fed to Chickens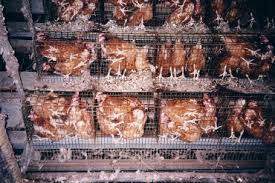 "I first heard about the hazards of factory farming from Robert F. Kennedy Jr., whom I got to know through my writing on autism. Kennedy described a tragic situation in a small town called Prairie Grove, tucked in the hilly country of the poultry-packed "Chicken Belt" of Northwest Arkansas. Giant chicken companies had fed their birds arsenic—a growth promoter and intestinal disease treatment—and local farmers had then spread arsenic-laced chicken litter as fertilizer on many of the fields surrounding Prairie Grove.
After visiting the quiet, shady town, I realized how desperate things are there. Arsenic traced to chicken feed has been found in the air filters of local homes. Dozens of cancer cases, including at least 20 in children, have savaged Prairie Grove. Three 14-year-old boys came down with the same extremely rare form of testicular cancer. "  From: http://www.humanesociety.org/news/magazines/2010/07-08/from_homeland_to_wasteland_1.html
______________
Eagle Cam is Back! Watch Iowa Bald Eagle Eggs Hatching Live   from Wildlife Promise
"Did you join us last year as we watched two Iowa bald eagles care for newly hatched eagle chicks? Thanks to the Raptor Resource Center, the eagle cam we all came to love is back!  Join the National Wildlife Federation family again this year as we watch the eagles hatch and grow!   Update: The eggs are expected to start hatching March 23-24. For more about the process, read this RRC blog.
Feb. 17, 2012: First egg is delivered (watch video)
Feb. 20, 2012: Second egg is delivered (watch video)
Feb 24, 2012: Third egg is delivered (watch video)"  More at: http://blog.nwf.org/2012/02/eagle-cam-is-back-watch-iowa-bald-eagle-eggs-hatching-live/
------------------
Watch this eagle swim to get this nutria!  Fascinating!"
"Someone had shot a nutria, and it was floating dead in the water. Watch what this eagle did in an effort to fetch the nutria.  Ever seen an eagle doing a breast-stroke?"
Footage was taken at Mallard Lakes subdivision in Baton Rouge, LA
_____________
One of My Favorite Birds is Facing Extinction in Asia.
"Several species of vulture on the Indian subcontinent are in extreme danger of extinction. The problem is cattle contaminated with diclofenac. This veterinary drug is lethal to the vultures whose job it is to clean up livestock carcasses in places like India, Pakistan and Nepal.
Three species of Old World vultures are almost entirely extinct thanks to diclofenac poisoning. Unintended consequences beyond the death of millions of vultures include a growing population of feral dogs with the potential to carry rabies, and decomposing animal carcasses dotting the landscape of south Asia.
Conservation efforts are underway, but captive breeding of vultures is an incredibly slow process. Other efforts involve clearing out all supplies of diclofenac.
Vulture safe havens are also being developed. These are locations in the wild where populations of vultures can live in their natural habitat, while protected from exposure to diclofenac-contaminated carcasses. Diclofenac-free carcasses are the main course at the 'vulture restaurants' located in vulture safe zones.
Vultures aren't everyone's cup of tea. But no one can deny the fact that these magnificent birds of prey have their own special place in the ecosystem, and help keep our natural world clean and disease free." By Dr. Becker.     More and video at: http://healthypets.mercola.com/sites/healthypets/archive/2012/03/26/vulture-restaurant.aspx
_____________
Amazing! Bird sounds from the lyre bird
"David Attenborough presents the amazing lyre bird, which mimics the calls of other birds - and chainsaws and camera shutters - in this video clip from The Life of Birds. This clever creature is one of the most impressive and funny in nature, with unbelievable sounds to match the beautiful pictures."
_______________
The Beauty of Pollination.
"Lovely hummingbirds.   We are all dependent to each other." Taken from TEDTalks
_______________
On This Day:
Eisenhower dies, Mar 28, 1969:
"Dwight D. Eisenhower, the 34th president of the United States and one of the most highly regarded American generals of World War II, dies in Washington, D.C., at the age of 78.
Born in Denison, Texas, in 1890, Eisenhower graduated from the United States Military Academy in 1915, and after World War I he steadily rose in the peacetime ranks of the U.S. Army. After the U.S. entrance into World War II, he was appointed commanding general of the European theater of operations and oversaw U.S. troops massing in Great Britain. In 1942, Eisenhower, who had never commanded troops in the field, was put in charge of Operation Torch, the Anglo-American landings in Morocco and Algeria.
As supreme commander of a mixed force of Allied nationalities, services, and equipment, Eisenhower designed a system of unified command and rapidly won the respect of his British and Canadian subordinates. From North Africa, he successfully directed the invasions of Tunisia, Sicily, and Italy, and in January 1944 was appointed supreme Allied commander of Operation Overlord, the Allied invasion of northwestern Europe. Although Eisenhower left much of the specific planning for the actual Allied landing in the hands of his capable staff, such as British Field Marshall Montgomery, he served as a brilliant organizer and administrator both before and after the successful invasion.
In November 1952, "Ike" won a resounding victory in the presidential elections and in 1956 was reelected in a landslide. A popular president, he oversaw a period of great economic growth in the United States and deftly navigated the country through increasing Cold War tension on the world stage. In 1961, he retired with his wife, Mamie Doud Eisenhower, to his farm in Gettysburg, Pennsylvania. He died in 1969 and was buried on a family plot in Abilene, Kansas."
___________
Reactor overheats at Three Mile Island, Mar 28, 1979:
"The most serious nuclear accident in United States history takes place at the Three Mile Island plant near Harrisburg, Pennsylvania, on this day in 1979, when one of the reactors overheats. Fortunately, a catastrophic meltdown was averted and there were no deaths or direct injuries from the accident.
The Three Mile Island plant had begun operations just months earlier on December 28, 1978. Very shortly after operations began, problems arose. It was 3:58 a.m. on March 28 when a pump that directed steam to the plant's electric turbines stopped working, causing a water circulation pump to break down. Without the water, the temperature of the reactor rose dramatically and a relief valve opened to stop the pressure from building to dangerous levels. Unfortunately, the valve then would not close.
The plant operators, with no experience in emergencies, made key errors. Another valve was opened to allow water from the nuclear system into a waste tank. But this water ruptured the tank and radioactive water flooded into the reactor. Even worse, an operator shut off the automatic core-cooling system. The result of all these events and mistakes was that radioactive steam poured out of the plant. Additionally, radioactive water had to be released into the Susquehanna River. However, area authorities were not notified of these events until nearly three hours later.
Even when news of the accident was released, it was downplayed. But within days, radiation levels were elevated over a four-county area. Furthermore, the plant's operators were still trying to get the situation under control. Pennsylvania Governor Richard Thornburgh directed that pregnant women and small children be evacuated from the area. Finally, on March 31, plant workers were able to address the problems and ended the threat of a meltdown. The area was deemed safe on April 9.
A subsequent investigation and report blamed a combination of human error and faulty design for the accident. In March 1984, the Metropolitan Edison Company pleaded guilty to knowingly using inaccurate test methods at the plant before the incident. The Three Mile Island accident also exposed the lack of an appropriate evacuation plan for the area.  In the years following this accident, there has been an ongoing controversy over whether the increased radiation released at Three Mile Island led to an increase of cancer and infant mortality in the surrounding areas."
______________
Yesterday:
Ray and I re-attached the gutter and top trim to the side of the
cargo trailer.  The rubber roof had shrunk, so we had to roll Eternabond tape over the original screw holes.  Each end has had problems, and they took the longest time. 
We had two delays when the neighbor came to show me that her little dog had blood on her paw.  Little 'Puggy' wouldn't let anyone touch it, so it was difficult to see if she had ripped off a toenail, or if it was a cut.  All I could do was spray it with an Novocain anti-bacterial spray.    Then Shay came to borrow my matt-splitter, as Orange Glow had managed to get a big matt on his chest, which wasn't there the previous day.