For "Mammal Monday":
First, please click for the people, it's FREE:
The Hunger Site has given over 821,089,594 cups of food since June 1999.* http://www.theanimalrescuesite.com/clickToGive/home.faces?siteId=1&link=ctg_ths_home_from_ths_thankyou_sitenav
Thank you for clicking! Your free click gave the value of
1.1 cups of food to the hungry.
________
Then, please click for the animals:
The Animal Rescue Site has given over 518,496,709 bowls of food since 2002!*
*http://www.theanimalrescuesite.com/clickToGive/home.faces?siteId=3&link=ctg_ars_home_from_vet_thankyou_sitenav
Please click, and the advertisers will contribute .06 bowls of food for your FREE click.  Thank you.
__________________
I honestly do not understand (to the point of suspicion), those who do not appreciate a dog....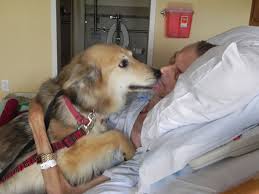 A terminally ill patient's last wish was to hold his dog!
___________
Stolen From Al's (http://thebayfieldbunch.com/) journal.
A dog thinks: Hey, these people I live with feed me, love me, provide me with a nice warm, dry house, pet me, and take good care of me ... They must be gods!
A cat thinks: Hey, these people I live with feed me, love me, provide me with a nice warm, dry house, pet me, and take good care of me ... I must be a god!
____________
Dog Rescued from the Rubble
"Our team is helping animals affected by the recent tornadoes in Kentucky which destroyed many buildings—and lives. When The HSUS and Fur Ever Friends received a report of a dog buried alive in rubble for days, our Animal Rescue Team was there to help."
"Our Animal Rescue Team is on the ground in hard hit Laurel County, Kentucky, where they're working with local officials to help animals who are injured or distressed. Most recently, we set up an emergency shelter for animals who have been displaced because of the storm; residents who have lost everything will be able to bring their pets to our shelter while they work to recover. Meanwhile, HSUS field responders are in the community to provide much needed pet food, distribute flyers about our emergency shelter, and let residents know we are able to care for animals in need."    Please help: https://secure.humanesociety.org/site/Donation2?idb=1600737975&df_id=2120&2120.donation=form1&s_src=ha030912&autologin=true&JServSessionIdr004=fphv6piqb3.app306b  "Your donation will be used exclusively for our relief work to help animals during this and other disasters. Thank you for your support."
____________
On This day:
FDR gives first fireside chat, Mar 12, 1933:
"On this day in 1933, eight days after his inauguration, President Franklin D. Roosevelt gives his first national radio address or "fireside chat," broadcast directly from the White House.  Roosevelt began that first address simply: "I want to talk for a few minutes with the people of the United States about banking." He went on to explain his recent decision to close the nation's banks in order to stop a surge in mass withdrawals by panicked investors worried about possible bank failures. The banks would be reopening the next day, Roosevelt said, and he thanked the public for their "fortitude and good temper" during the "banking holiday."
At the time, the U.S. was at the lowest point of the Great Depression, with between 25 and 33 percent of the work force unemployed. The nation was worried, and Roosevelt's address was designed to ease fears and to inspire confidence in his leadership.  They reached an astonishing number of American households, 90 percent of which owned a radio at the time.
Roosevelt took great care to make sure each address was accessible and understandable to ordinary Americans, regardless of their level of education. He used simple vocabulary and relied on folksy anecdotes or analogies to explain the often complex issues facing the country.  The success of Roosevelt's chats was evident not only in his three re-elections, but also in the millions of letters that flooded the White House. Farmers, business owners, men, women, rich, poor--most of them expressed the feeling that the president had entered their home and spoken directly to them. In an era when presidents had previously communicated with their citizens almost exclusively through spokespeople and journalists, it was an unprecedented step."
____________
Yesterday:
Misty won't go out in the rain, but with her water-repellant barn coat on, she doesn't hesitate. I have the Velcro neck strap pre-set, so I just have to slip it over her head, then secure the Velcro waist band.  Every time I put on her, she looks at me as if to say "I love my coat, and I love you for putting it on me".  Now that's love and gratitude.  We both had to wear our coats for our walk when we went to get Jay, as it was drizzling.  Later on, there was a deluge!  After Jay had changed the time on all the clocks that are high up, we pulled my fridge out to vacuum the coils and mop the floor under it.   We quit early as it was another rainy, muddy day.