For "Winged Wednesday":
Flammulated Owl
"This tiny, sparrow-sized owl (it measures just under seven inches long) is notable for its dark eyes and short, feathered ear tufts.  Flammulated Owls are strictly nocturnal and most active in the hour after sunset and the hour before sunrise.
Interestingly, this owl preys almost entirely on insects, which may explain why it is migratory (one of the few migratory owl species in North America). The Flammulated Owl retreats to southern parts of its range, and even as far south as Guatemala and El Salvador in the winter.
Flammulated Owls generally nest in old woodpecker holes or cavities in dead trees (snags), but will use nest boxes where provided. They have one of the lowest reproductive rates of North American owls, which may limit population size. Habitat loss is a potential threat, particularly the loss of nesting cavities due to logging and removal of snags.
ABC has conducted ponderosa pine habitat management  in Oregon, Washington, Montana, and Idaho, and leads landowner education and outreach efforts for priority cavity-nesting species such as the Flammulated Owl, Lewis's Woodpecker, and White-headed Woodpecker.  ABC has also produced Landowners Stories in Bird Conservation: Managing for Cavity-Nesting Birds in Ponderosa Pine Forests, which highlights the work of private landowners to incorporate conservation measures for cavity-nesting birds on their properties.
Find out how you can help the Flammulated Owl and other threatened cavity-nesting birds of the West!  Listen to a two-minute broadcast on this bird! "
Photo: Michael Woodruff; Range Map, NatureServe
______________
Why are these swallows overwintering at a Northeast Philly sewage plant?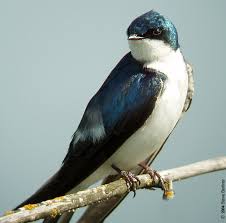 "Swallows usually go south in winter.  But in recent years, a particular group seems to have picked one place in all of North America, aside from a slim edge of the balmy Gulf Coast, to spend the coldest months.  It's not a pristine forest. Or a pretty field.
Hard by Delaware Avenue, in a heavily industrial area where 18-wheelers rumble by and power lines crisscross the sky overhead, is the spot they've picked: the sewage-treatment plant in Northeast Philadelphia.  Sewage-treatment plants tend to attract birds - at least part of the time - but apparently this one is way off the charts.
Why they are there is a mystery that has remained unsolved for eight years.  Meanwhile, the birds have become a local phenomenon. Birders stop along Delaware Avenue, hoping for a glimpse through a chain-link fence.  One clue: The birds seem to be well-fed."    Read more: http://articles.philly.com/2012-02-21/news/31083387_1_sewage-plant-winter-bird-counts-rough-winged
__________
Texas Drought Disrupts Bird Migrations Roseate Spoonbills, pink, and white ibis graze in the reeds of Mad Island, Texas.  In a typical winter, the Texas Gulf Coast is packed with tens of thousands of birds -- songbirds, waterfowl, catbirds, gnatcatchers, warblers and other migrants. But this year, an annual count done just before Christmas found the population had dropped steeply. (AP Photo/Pat Sullivan)
MAD ISLAND, Texas (AP) — "Strange things are aloft in the bird world.  Endangered whooping cranes flew 2,500 miles from Canada to Texas, where they usually spend the whole winter. Instead, they pecked around for a short time and flew back. In Nebraska, other cranes never left.   Some ducks just kept flying south — all the way to Belize in Central America.  And a snowy owl was spotted near Dallas, only the sixth time that's ever happened.
Throughout the winter, scientists have noticed these and other examples of bizarre bird migrations — a result, they believe, of flocks becoming desperate for food and habitat becoming increasingly scarce because of the stubborn drought in Texas. The unusually mild winter in the Northeast and Midwest has even persuaded some birds they could stay put, fly shorter distances or turn back north earlier than normal.
"We have birds scattered all over the place looking for habitat right now," said Richard Kostecke, a bird expert and associate director of conservation, research and planning at the Nature Conservancy in Texas.
The concerns go beyond a few lost flocks. Migratory birds often use the winter months to rest, eat and gain energy for the long journey back to their nesting grounds, so biologists can only guess at the effects of this season's peculiar movements.  What will happen if the birds' diets are altered or if they expend too much energy? What if they fail to migrate at all? Will they still be able to breed after a stressful winter?"  More at: http://hosted.ap.org/dynamic/stories/U/US_DROUGHT_MIGRATORY_BIRDS?SITE=AP&SECTION=HOME&TEMPLATE=DEFAULT
____________
Albatross that may have stowed away on ship released at sea
Call it the case of the stowaway seabird.
"A man was driving down a Los Angeles street Friday when onlookers flagged him down, alerting him to an enormous bird that had hitched a ride in the back of his pickup truck.  With its white body, dark wings and curved yellow beak, it might have been mistaken for an oversized seagull.  But the bird, it turns out, was thousands of miles from home. It was an Laysan Albatross, a seabird with a 7-foot wingspan that normally nests on remote islands and atolls in the North Pacific Ocean.
International Bird Rescue took custody of the bird after the driver handed it over to lifeguards at Cabrillo Beach. The group held the albatross for four days at its wildlife rescue center in San Pedro and gave it a clean bill of health.  On Tuesday they released the bird from a boat off San Pedro to let it set off on a flight back home to Hawaii or beyond."  More at: http://latimesblogs.latimes.com/lanow/2012/01/albatross-that-stowed-away-to-los-angeles-released-offshore.html
____________
Causes of Bird Mortality
A chart showing estimated numbers of birds killed annually by each of several different causes. Data from various sources.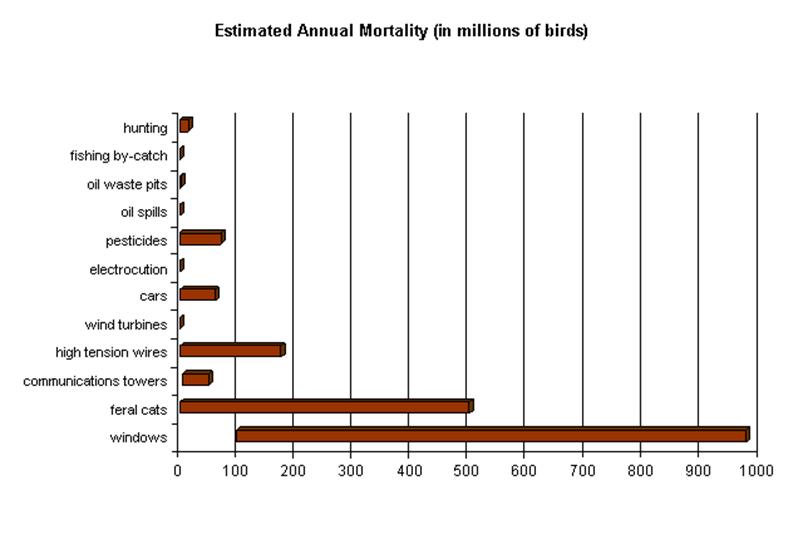 _____________
Eagles making comeback in New Jersey
"The recovery of the American bald eagle has reached a milestone with more than 100 nests now recorded in New Jersey – and experts are confident that the raptor's population in the state will only continue to grow."
This bald eagle was sighted recently in Pompton Lakes.
"A recently released survey by the New Jersey Department of Environmental Protection's (DEP) Endangered and Nongame Species Program counted 102 pairs of actively nesting eagles, plus 11 more pairs in the process of establishing nesting territories. The 2011 analysis documented a record 22 new nests, of which 16 are in southern New Jersey, four in northern New Jersey, and two in central New Jersey.
"The recovery of the bald eagle from one nesting pair in an isolated swamp in southern New Jersey in the early 1980s to more than 100 pairs today is a truly remarkable success story that is a testament to the excellent work that has been done to manage the species, and to how far we've come as a state in restoring and protecting our environment," DEP Commissioner Bob Martin said in a press statement.
The species' recovery from the edge of local extinction is directly related to a ban on DDT, a once widely-used pesticide that caused egg failure, as well as decades of restoration and management efforts by the DEP, which released 60 eaglets from Canada into New Jersey in the 1980s and early 1990s to rebuild the population."       More at: http://www.northjersey.com/ringwood/138306869_Bald_eagle_population_soars_to_new_heights.html
____________
Third Bald Eagle Shot In Tennessee, Cash Reward Offered
DOVER, Tenn- "Bald Eagles are a national symbol and still a protected bird, but that doesn't seem to stop some Tennessee hunters from gunning them down. A TWRA official confirmed that a third eagle has been shot and killed, this one in Dover.
The eagle population near Fort Donelson has grown since two American Bald Eagles nested there in 2004.
"It's a testament  to how the eagles have come back after almost being extinct 59 years ago," said one local photographer, Luther Cole.   The eagle is no longer extinct, but still federally protected and that means bald eagles are still illegal to hunt.
"99% of hunters respect that and would never think about shooting an eagle," said Clay Riley with the TWRA.
That one percent has been rearing its ugly head in Dover. TWRA officials confirmed a bald eagle was shot and killed here during duck hunt season in December." More and video at:  http://www.newschannel5.com/story/16773775/third-bald-eagle-shot-in-tennessee-cash-reward-offered
__________
Sandhill Cranes Up Close and Personal
"They got so close I couldn't even focus."
_____________
"Like their cousins, jays and crows, the Yellow-billed Magpies of California were hit hard by West Nile virus. The disease reduced magpie numbers by half. Habitat loss and poisoning also threaten the birds. They're now on Audubon's watchlist of species of concern. Whether the magpies will develop immunity to West Nile, as some other birds have, is still not clear. In 2009, volunteers from Audubon California started conducting surveys of the bird's population. Citizen science can help keep a close eye on the Yellow-billed Magpie, whose future remains in question. "
Listen to this Show (MP3)   Download MP3 Read the Transcript
_____________
Also For "Winged Wednesday", let us not forget the fish that 'fly' through the water:
"Underwater footage shot whilst scuba diving in the Fiji islands and Tonga. Featuring colorful coral reefs, huge schools of tropical fish, sharks, humpback whales, underwater caves, scuba divers and much more marine life from the south Pacific."
___________
100% of site advertising goes to our charitable partners.
Your FREE click will help these weather victims:  http://www.theanimalrescuesite.com/clickToGive/home.faces?siteId=1&link=ctg_ths_home_from_ars_home_sitenav
_____________
Yesterday:
Jay and I took Misty and Maddie for their walk-about when I went to get him.  Then Ray came over to roll back the last panel of vinyl on the screen porch, so that the summer breezes can blow through.  Then he re-potted all the aloe vera that the kittens had squashed, and Prime had been eating.
Jay and I cleared out some more stuff in the RVport.  My neighbor has finally got rid of one pile of cut branches and logs from when the five pine trees were felled last July.  My motor home is parked in my side driveway near this other big pile, so I need to move the MH back into the RVport.  I tried to start it, but the new battery that was installed just a few months ago, failed. 
We have the battery in my van and we will exchange it when I go to the physical therapist today.