A few news items, in case you missed them, mostly about TX:
Thailand Floods 2011: Water Swamps Two-Thirds Of Country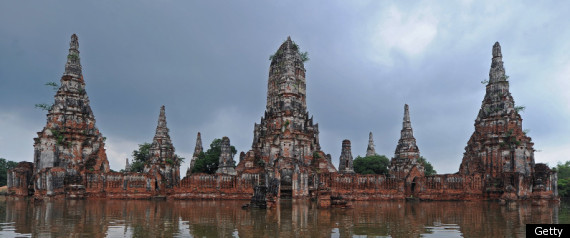 This general view shows the flooded World Heritage site Chaiwattanaram Temple in the ancient Thai capital of Ayutthaya, 80 kms north of Bangkok, on October 12, 2011.
TAYUTTHAYA, Thailand — "The lucky ones traverse this flood-submerged Thai city in navy boats and motorized canoes. The rest float on whatever they can find – inner tubes, swan-shaped pedal boats, even huge chunks of muddied white plastic foam.
With large sections of Ayutthaya buried under a sea of one-story high water, rescue workers and volunteers are still crisscrossing town to pluck stranded residents from waterlogged ruins. Others are staying to protect what's left. One boy donned a snorkeling mask to inspect his house, its corrugated roof faintly visible below the murky brown waves.
"Nobody ever thought the water would rise this high," 54-year-old Pathumwan Choichuichai told The Associated Press in the city of ancient temples just north of Bangkok, minutes after a Thai navy team snatched her family from an apartment building where they were stranded for five days."
More at: http://www.huffingtonpost.com/2011/10/12/thailand-floods-2011_n_1007093.html?icid=maing-grid10%7Chtmlws-main-bb%7Cdl12%7Csec3_lnk3%7C103921
________________
People can be seen on the receding shoreline of Lake Conroe at Lake Conroe Park.
LAKE CONROE – "The city of Houston increased its demand for water Friday, ordering an additional 10 percent from Lake Conroe.
The release rate from the Lake Conroe dam has be raised to 165 million gallons per 24-hour period. The previous rate has been 150 million gallons a day since the withdrawal began on Thursday, August 15.
The new release rate begins today.
The engineering staff for the city of Houston announced the purpose of the increase is so the city can fully utilize its 66,667 acre-feet of water allowed by the agreement between the San Jacinto River Authority and the city of Houston."
From: http://www.yourhoustonnews.com/courier/news/houston-increases-lake-conroe-drawdown/article_fd686e3f-f8ce-5044-ac74-c601b7df01df.html
________________
COLLEGE STATION, Texas — "More than one-third of the nearly 36 million cubic feet of timber killed earlier this year by wildfires in Grimes, Jasper, Trinity and Polk counties has been salvaged, according to Texas Forest Service analysts.
The salvaged timber was collected through August from the Bearing Fire in Trinity and Polk counties, the Powerline Fire in Jasper County and the Dyer Mills Fire in Grimes County, all of which burned in June.
The timber will be used to produce up to $110 million worth of forest products like homes, furniture and paper, the creation of which will spur roughly $241 million worth of total economic activity in East Texas.
"This effort is a testament to the hard work and cooperation of logging contractors, foresters and forest owners to mitigate timber losses from these devastating wildfires," said Burl Carraway, Texas Forest Service Sustainable Forestry Department Head. "These positive impacts would have been lost had salvage not occurred.""
From: http://montgomerycountypolicereporter.com/?p=33708
_______________
Lots going on at Palo Duro State Park:
Calendar of Events
October 15, 2011 -- 27th Annual Palo Duro Trail run - Annual trail fun run/walk once again scheduled in canyon. 50 mile, 50 K races begin at 7:00 am and 20 K race begins at 7:30. Click on Ultra Race in menu bar of palodurocanyon.com site for details.

October 15, 2011 -- Chryslers in the Canyon - Mopars of Amarillo will once again sponsor Chryslers in the Canyon. Come view all the cars on the Pioneer Amphitheater parking lot and visit with the proud owners. Car enthusiasts are welcome. Accessible for the mobility impaired. For more information, visit www.amarilloareamopars.com. 9am-5pm

October 16, 2011 -- Black Squadron Hot Air Balloon Lift-off - Watch beautiful hot air balloons inflate and ascend from the overflow parking lot in the canyon; weather permitting. Gates open at 6:00 am.

October 30, 2011 -- Pirates of the Canyon Hot Air Balloon Lift-off - Once again the Pirates of the Canyon hot air balloons will inflate and ascend from the canyon floor, weather permitting. Gates open at 6:00 a.m.

November 1, 2011 -- Lunch with the Longhorns - Meet the park Longhorns as the Park Interpreter gives them their daily ration. Learn about this legendary breed of cattle and the part they played in Texas history. Daily at 1:30 p.m. across from the Headquarters building.

November 10, 2011 -- Full Moon Hike - Join the Park Interpreter for a full moon hike on the Juniper Riverside Trail. Listen to park history and stories. No guarantees of what one will see, but expect to have a good time. Group size limit of 25.Park in the large dirt parking lot on Park Road 5. No pets, please. Reservation required, deadline Nov. 8. 5-6 pm 806 488-2227x106 email: Bernice. blasingame@tpwd.state.tx.us
--------------
 

 

 

 

 

 

 

 

 

 

 

 

 

 

 

 

 

 

 

 

 

Chryslers in the Canyon Oct 15, 2011 from 09:00 AM to 05:00 PM — Palo Duro Canyon SP.

"History:  Amarillo Area Mopars was established on April 26th, 2007.  We are a humble group which grew from a few optimistic members into the organization we are today.  From the beginning we have always been the "different" car club, and proud of it.  We are open to ANY Mopar or Mopar fanatic.  Membership has been and always will be FREE.  So come ride with us!  Remember...  "You're Either With Us, or Behind Us""

--------------

 

27th Annual Palo Duro Canyon Trail Run Oct 15, 2011 from 09:00 AM to 05:00 PM — Palo Duro Canyon SP.
Course:

99% dirt trails on floor of Palo Duro Canyon State Park.
50 mile:
Four 12.5 mile loops
50K:
One 6 mile loop & two 12.5 mile loops
20K:
One 12.5 mile loop
No pets allowed on course or at start finish area.
-------------------
 

Bird Walk and Talk Oct 22, 2011 from 08:30 AM to 10:00 AM — Palo Duro Canyon SP.  

Interested in the birds?  Want to know what is arriving for the fall season?  Meet at the Wildlife Viewing Blind at the Palo Duro Trading Post at Palo Duro Canyon State Park, 11450 Park Road 5, Canyon, TX 79015 to begin your birding adventure. No pets, please.
-----------------
Pirates of the Canyon Oct 30, 2011 from 06:30 PM to 10:00 PM — Palo Duro Canyon SP.

Public Welcome - Palo Duro Park Fees may apply
Sunday, October 30th, 2011 at Sunrise (7:30 AM)
Palo Duro Canyon State Park, Amarillo/Canyon
Come join us as the sunrises over the Palo Duro Canyon and 30 Balloons lift off from the Amphitheatre Auxiliary Parking Log. Please come early as the traffic flow into and out of the canyon does get congested. Park Officials will open the gates at 6:00 AM for early entry and balloons will start inflating shortly after 7:00 AM

______________
Yesterday:
First thing, the kittens made a big mess when they were out on the screen porch, dumping big pots of aloe vera onto the floor.  Repotting plants at 6.00 AM, isn't really on my schedule!  So I didn't let them out there for the rest of the day, and made them stay in the grooming room.  Prime and old Bobcat enjoyed the rest of the day out there in peace and quiet, as the weather was so nice. No AC needed yesterday.
Ray sanded and primed the last shelf for the cargo trailer.  There were a few old and new screw holes where we had countersunk the screws to add the lip to the shelf, so that took a while.   Also there was a 'holiday' in the bed's plywood, so he filled that and will paint it another day.
I was trying to get a lot of industrial strength 'sticky' off one of the RV cushions that I got from Sam.  I couldn't store it until it didn't cling to anything around it.  The sticky was from the Velcro someone had taken off the vinyl cushion back.  I tried acetone, WD 40, Goof Off, denatured alcohol, and finally paint thinner removed the stickiness.  I don't know why there was so much of it on there, and I'd love to know the brand they used.  Some of the remnants of Velcro I could hardly remove even tugging with pliers to pull it off.  I have never seen Velcro stick like that, or leave such a sticky residue.
The cable TV/Internet went out in the afternoon, for the second day in a row.  The day before it didn't come back on until about 9.30 at night.  That meant that the folks who "bundled", didn't have a working phone either. At least with my regular landline, I can still use my phone and dial-up.
So I busied myself taking care of a few business "Please hold" phone calls, dusting, and vacuuming the back of the computer.  While my desktop was idle I used that time to run Malwarebytes and Ccleaner. 
I was hoping that I wouldn't have to plug the phone line into my laptop and use dial-up for another evening, but it finally came back on around 5.00PM.
Around noon, off we go again to Conroe Petco.  I sure hope Pebbles gets a 'furever' home this Adoption Day.