A few news items, in case you missed them:
National Parks Conservation Association
"Restoring Elwha River is in full swing! Check out this photo of the new diversion channel! To learn more about the importance of this project and to get up to date information follow Elwha River Restoration. For those who don't know Elwha River is located in Olympic National Park."
The new diversion channel around Elwha Dam is finished, and the river is starting to flow through it. Check the latest at http://www.nps.gov/olym/photosmultimedia/elwha-river-webcams.htmSee More
_______________
Former U.S. Ambassador to Morocco
Gaddafi's Gone -- All Hail the TNC!
"The Libyan people have paid a heavy price to bring about this day of euphoria since their uprising began in mid-February. Tens of thousands of Libyans are dead and wounded, or homeless."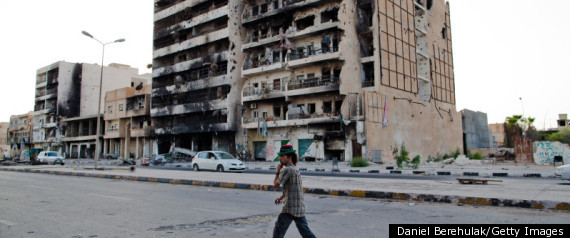 "Most of Libya's cities abutting the Mediterranean between Tripoli and Benghazi have been destroyed. The country is awash in militias, self-anointed revolutionaries, and a population thirsting for justice and a better life in a free society.
All tall orders for Libya's triumphant governing Transitional National Council (TNC). Libya's celebration will be fleeting unless the TNC can transform this popular anti-Gaddafi force into a "pro-Libya" force which marshals the goodwill of all Libyans, for all Libyans."
______________
Fisker Motors Facing Fresh Scrutiny Over Government Loan Guarantees.
Made in the U.S.A. ... Er, Made in Finland?
Image: ABC News
"The Fisker Karma looks sleek. But it's behind schedule and manufactured abroad.
President Barack Obama's backing of green companies is getting fresh scrutiny, with an ABC News report out that questions $529 million in loan guarantees for Fisker Automotive, which is developing a high-end electric-gasoline hybrid sedan called the Fisker Karma.
Fisker, which is based in Anaheim, California, had promised to rehab an abandoned factory in Delaware and provide "thousands," of jobs. But this "made in the U.S.A." story actually has a "made in Finland" twist, ABC News discovered, as the Karma (a year behind schedule in development, by the way) was being manufactured in the Scandinavian country. Henrick Fisker, the head of auto startup, said no taxpayer dollars were going to the Finland operations, and instead was used for U.S. design work and parts manufacturing. As for that Delaware plant? Fisker said it's still in the works and will be used to build a more compact and cheaper version of the Karma.
The news can't be good for Obama's "go green" approach. Already, the administration is facing heat for government loans made to California solar firm Solyndra, which shut down and declared bankruptcy."
Watch the ABC News report here:
Read more: http://www.portfolio.com/views/blogs/daily-brief/2011/10/21/fisker-automotive-took-us-loan-backing-but-builds-cars-in-finland#ixzz1bVvVT8Z0
____________
Sultan Bin Abdel Aziz, Heir To Saudi Throne, Reportedly Dies At 85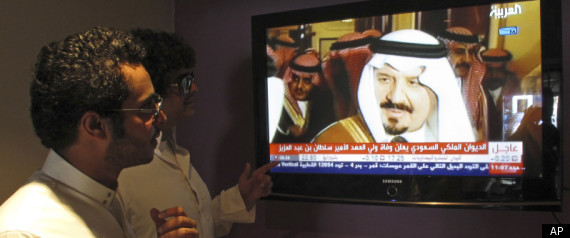 Saudis watch a TV broadcast on the death of Crown Prince Sultan bin Abdul-Aziz Al Saud, in Riyadh, Saudi Arabia.  (AP Photo/Hassan Ammar)
10/22/11,
RIYADH, Saudi Arabia — "The heir to the Saudi throne, Crown Prince Sultan bin Abdul-Aziz Al Saud, died undergoing treatment for illness in New York. The death of the prince, who was in his 80s, opens questions about the succession in the critical, oil-rich U.S. ally.
Sultan was the younger half-brother of Saudi Arabia's King Abdullah, who is has also been ailing and underwent back surgery last week.
The most likely candidate to replace Sultan as Abdullah's successor is Prince Nayef, the powerful interior minister in charge of internal security forces, who is said to be closer to Islamic conservatives than the king. The king gave Nayef – also his half-brother – the implicit nod in 2009 by naming him second deputy prime minister, traditionally the post of the second in line to the throne."
JEDDAH: "Saudi Arabia's gross domestic product (GDP) exceeded the SR1 trillion ($273 billion) mark in the first half of this year compared to SR811 billion in the same period last year on the back of higher oil output and energy prices, the Central Department of Statistics and Information said in its report. "
__________________
"With law enforcement officials wearing out after the long and manual hours this week in the Liberty County, TX marijuana fields they needed help. It was determined that the plant's roots also needed to come out of the ground, with that Captain Rex Evans decided to tap an additional resource. Captain Evans contacted a volunteer fire department to see if they had man power to assist. Unlike some counties now where departments are paid, these departments are all volunteer.
It wasn't long before other departments offered to assist also. By noon Cypress Lakes, Hull-Daisetta, Westlake, Woodpecker and Highway 321 Departments offered their services. 
Manning shovels over thirty firefighters manned shovels and started packing the roots up in plastic bags. By 6 p.m. they had completed the chore and after posing for a photo were on their way home.
Captain Evans said he really appreciated the help they gave him, his officers and the community this afternoon. Evan's stated that this was a prime example of volunteers coming together to help others when in need. He couldn't thank them enough as they rolled down the dusty road as the sun began to set."
______________
Cuban Missile Crisis, Oct 22, 1962:
"In a televised speech of extraordinary gravity, President John F. Kennedy announces that U.S. spy planes have discovered Soviet missile bases in Cuba. These missile sites—under construction but nearing completion—housed medium-range missiles capable of striking a number of major cities in the United States, including Washington, D.C.
Kennedy announced that he was ordering a naval "quarantine" of Cuba to prevent Soviet ships from transporting any more offensive weapons to the island and explained that the United States would not tolerate the existence of the missile sites currently in place. The president made it clear that America would not stop short of military action to end what he called a "clandestine, reckless, and provocative threat to world peace.""
______________
Yesterday:
Ray painted the last shelf and it's supports, to go in the cargo trailer, and primed and painted the bed's plywood.
A lady came by and bought a big pot of aloe plants off the screen porch.  It's kind of difficult to find a pot that the kittens haven't squashed, or chewed off the leaves, but we found one.
It only went down to 52° that night, better than the unusual 36° the night before.  Now we are back to 60's and 80's.  It doesn't bother us how cold it gets as we are cozy in the house at night, as long as it turns into a lovely over 70 deg. day.