News: Old and New.
China to give $5million cash aid to Pakistan for flood affectees
"The Ambassador informed the Foreign Minister of the Chinese Government's decision to give US $ 5 million in cash for flood affectees. He also informed the Foreign Minister that the Chinese had recently supplied 7000 tents. China has already donated US $ 4.7 million for flood victims," the Pakistan Foreign Ministry said in a statement.
"Foreign Minister Khar appreciated China's timely assistance and said that it was testimony to the time tested friendship between the two countries," it added. 
From: http://www.onepakistan.com/news/top-stories/125281-china-to-give-5million-cash-aid-to-pakistan-for-flood-affectees.html
--------------
Pakistan flood victims sell possessions and beg
"Family members, displaced by floods, use a tarp to escape a monsoon downpour while taking shelter at a make-shift camp for flood victims in the Badin district in Pakistan's Sindh province September 14, 2011.
Like many flood victims, the Junejo family are resigned to the fact they will have to fend for themselves.
"I just need two things -- food and a tent to protect my children from the sun and the rain. That's what we need here," said Ahmed, 50.
"Nobody has come to even look at us so we don't know where the relief camps are, and nobody had told us about any aid being delivered anywhere. We are still waiting for someone to come.   It could be a while."
More at: http://www.reuters.com/article/2011/09/18/us-pakistan-floods-idUSTRE78H0VZ20110918
________________
Spectacular Rat Rediscovered after 113 Years – First Ever Photographs Taken
Red-Crested Tree Rat by Lizzie Noble/ProAves www.proaves.org
(Washington, D.C.) "A unique and mysterious guinea-pig-sized rodent, not seen since 1898 despite several organized searches, bizarrely showed up at  the front door of an ecolodge at a nature reserve in Colombia, South America. The magnificent red-crested tree rat (Santamartamys rufodorsalis) stayed for almost two hours while two research volunteers took the first photos ever of a creature the world thought would never be seen again.
The charming nocturnal rodent made his re-debut to the world at 9:30PM on May 4, 2011 at the El Dorado Nature Reserve in the far north of the country. The Reserve was established in 2005 by Fundación ProAves – Colombia's foremost bird conservation organization – with support from American Bird Conservancy, World Land Trust-US, the U.S. Fish and Wildlife Service's Neotropical Migratory Bird Conservation Act, Fundación Loro Parque and Conservation International.
The animal was rediscovered by Lizzie Noble and Simon McKeown – two volunteer researchers with ProAves monitoring endangered amphibians. It posed for photographs – including close-ups –before calmly proceeding back to the forest.
"He just shuffled up the handrail near where we were sitting and seemed totally unperturbed by all the excitement he was causing. We are absolutely delighted to have rediscovered such a wonderful creature after just a month of volunteering with ProAves." "
More at: http://www.npr.org/2011/05/19/136468143/presumed-extinct-red-crested-tree-rat-returns
______________
12 New Frog Species Discovered In India
NEW DELHI (AP) -- "Years of combing tropical mountain forests, shining flashlights under rocks and listening for croaks in the night have paid off for a team of Indian scientists which has discovered 12 new frog species plus three others thought to have been extinct.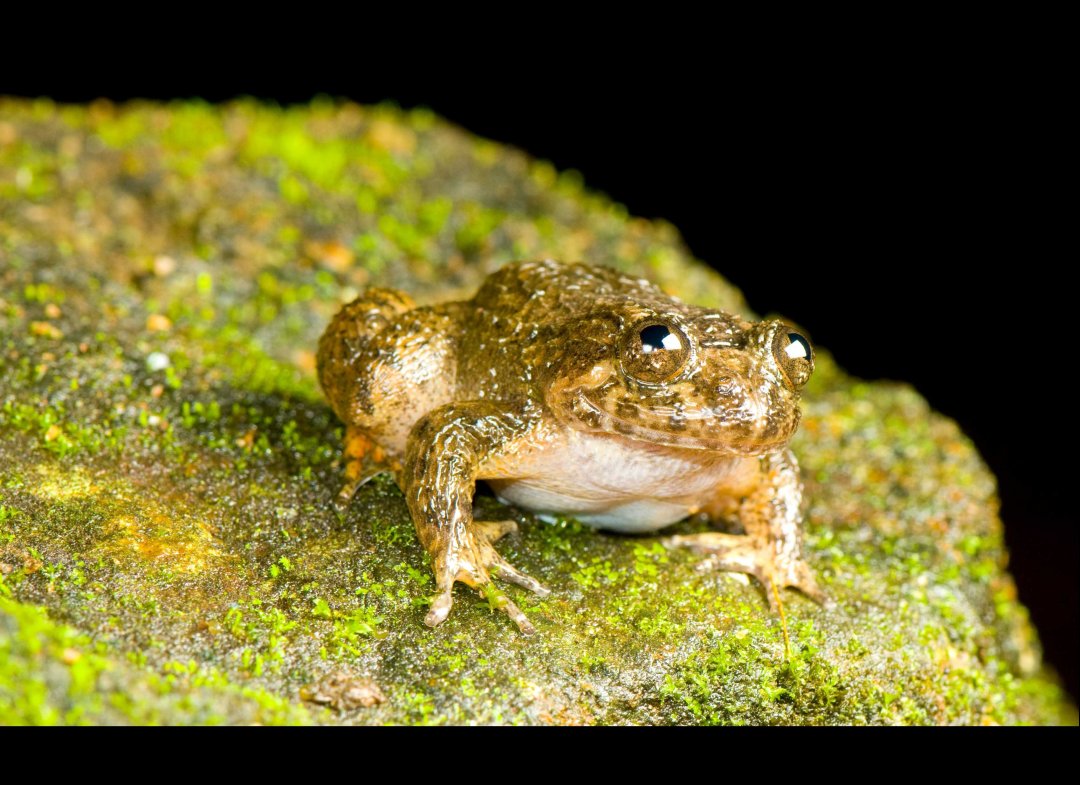 It's a discovery the team hopes will bring attention to India's amphibians and their role in gauging the health of the environment.
Worldwide, 32 percent of the world's known amphibian species are threatened with extinction, largely because of habitat loss or pollution, according to the group Global Wildlife Conservation.
"Frogs are extremely important indicators not just of climate change, but also pollutants in the environment," said the project's lead scientist, biologist Sathyabhama Das Biju of the University of Delhi.:
More and pictures: http://www.huffingtonpost.com/2011/09/17/12-new-frog-species-discovered-india_n_967469.html?&icid=maing-grid10%7Chtmlws-main-bb%7Cdl2%7Csec3_lnk3%7C96588
_____________
Some anniversaries this week.
Britain successfully tests A-bomb, Oct 3, 1952:
Britain successfully tests its first atomic bomb at the Monte Bello Islands, off the northwest coast of Australia.
_____________
East and West Germany United After 45 Years
East and West Germany reunite after 45 years, Oct 3, 1990:  Less than one year after the destruction of the Berlin Wall, East and West Germany come together on what is known as "Unity Day."
SSGT F. Lee CorkranPeople gather as an opening is made in the Berlin Wall near the Brandenburg Gate."
More at: http://learning.blogs.nytimes.com/2011/10/03/oct-3-1990-east-and-west-germany-united-after-45-years/
_____________
O.J. Simpson acquitted, Oct 3, 1995:
"At the end of a sensational trial, former football star O.J. Simpson is acquitted of the brutal 1994 double murder of his estranged wife, Nicole Brown Simpson, and her friend, Ronald Goldman. In the epic 252-day trial, Simpson's "dream team" of lawyers employed creative and controversial methods to convince jurors that Simpson's guilt had not been proved "beyond a reasonable doubt," thus surmounting what the prosecution called a "mountain of evidence" implicating him as the murderer."
_____________
The Great Chicago Fire
"The summer of 1871 was very dry, leaving the ground parched and the wooden city vulnerable. On Sunday evening, October 8, 1871, just after nine o'clock, a fire broke out in the barn behind the home of Patrick and Catherine O'Leary at 13 DeKoven Street. How the fire started is still unknown today, but an O'Leary cow often gets the credit."
"On this day, 8th. Oct. in 1871, flames spark in the Chicago barn of Patrick and Catherine O'Leary, igniting a 2-day blaze that kills between 200 and 300 people, destroys 17,450 buildings,leaves 100,000 homeless and causes an estimated $200 million (in 1871 dollars; $3 billion in 2007 dollars) in damages. Legend has it that a cow kicked over a lantern in the O'Leary barn and started the fire, but other theories hold that humans or even a comet may have been responsible for the event that left four square miles of the Windy City, including its business district, in ruins. Dry weather and an abundance of wooden buildings, streets and sidewalks made Chicago vulnerable to fire."
____________
Afghanistan war marks 10 years
Kabul, Afghanistan (CNN) -- "The U.S.-led war in Afghanistan marked its 10th year Friday having passed two major milestones: The Taliban has been forced out of power and Osama bin Laden is dead.
The U.S.-led war in Afghanistan began October 7, 2011, with an air campaign that was followed within weeks by a ground invasion. President Barack Obama has called it "the longest-running war in the nation's history"."
More at: http://www.cnn.com/2011/10/07/world/asia/afghanistan-war-anniversary/?hpt=wo_c1
_____________
Yesterday:
Ray and I did quite a few jobs on the cargo trailer.  Ray painted where the bumper was welded on, and the little cover for the battery, while I did laundry.  We couldn't replace the trim we made for under the cargo door as we are going to have to cut a decoration board narrower to cover between the bumper and the trailer.  Ray sanded the sides of the bed's plywood, so that we can glue Formica on them.  But both those jobs can't be done until Jay gets here, as Ray doesn't like to mess with the table saw.
It was time for me to take Mikey, Sam's dog to the vet.  Since Sam had that stroke, he can't make himself understood very well, so I do those things for him.  I put Misty's seat belt harness on Mikey, and we took off for town.  We got on the Highway 75 expecting to skiddadle south into Willis, and there was a traffic jam.  It was stop to 15 miles an hour all the way.  There had been a pile up on the I-45, so all the traffic was diverted to the 75.  I hope no one was hurt, but I don't know any more than that.
The Mobile Vet Clinic is held outside the feed store and starts at 4.00PM, but by the time we got there, it was packed, and nowhere to park.  I had to park at the car wash across the street.  I let Mikey drain himself before we got there.  There was a long line with everything from tiny Chihuahuas to Great Danes.  We had to wait quite a while for our turn, so the dog's people got in conversations about their pets.  
Mikey is an energetic dog, and he wasn't used to standing in queue.  As he is not my dog, I had a leash on his collar and another leash to the seat belt harness on him, and he managed to get those braided around better than any hair-braider. 
Then I felt something warm in my shoe, he had peed again, but on me! 
Finally it was our turn, he was weighed, took his shots like a trouper, and the vet looked in his ears with an otoscope.  That is why we had gone there, but he was also due for his shots.  He has a yeast infection in his ears, poor baby.  The vet sold us a bottle of ear medicine, and the total bill was $55.90.
I really needed to go to the store, but with Mikey with me, I went straight home.  There was a tease of 20 tiny raindrops on my windshield, but that is all we got.  I took Mikey into the grooming room, put some of the medicine in his ears, made a copy of his rabies certificate as Sam lost the last one, and took him home. 
I hadn't expected pay for taking Mikey, but Sam paid me too much, and then he gave me the U-shaped dinette cushions that he had taken out of his 5er, when he removed the dinette and put a big or rather, enormous, recliner in it's place.
It was 6.30 by the time I was home again, but it was after 9.00PM by the time I had myself cleaned up, fed the critters, and fixed something for myself.
As the upholstery is in good condition, and the color is just right, we will see how these cushions can be adapted to use in the cargo trailer, today.