This October, many people all over the world will be observing the Feast of Tabernacles—just as our Savior Jesus Christ did when He lived on this earth 2,000 years ago. Find out what this joyous celebration is all about!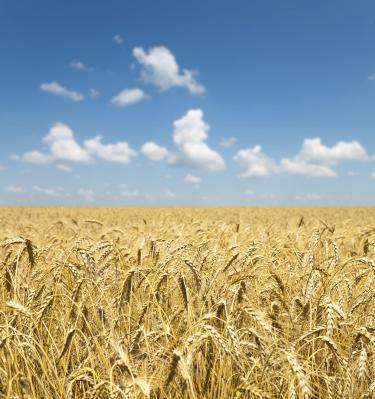 Source: Photos.com
During this month—October—multiple thousands of people, a "little flock" (
Luke:12:32 Fear not, little flock; for it is your Father's good pleasure to give you the kingdom.),
are gathering in designated places around the world, all to observe the same biblical festival that Jesus kept just a few months before His crucifixion.
So what is this special festival, one that the Bible says that your descendants, perhaps even you yourself, will one day observe?
The Bible calls it the
Festival (or Feast) of Tabernacles
(Leviticus:23:34
Speak unto the children of Israel, saying, The fifteenth day of this seventh month shall be the feast of tabernacles for seven days unto the LORD.;
Zechariah:14:16
And it shall come to pass, that every one that is left of all the nations which came against Jerusalem shall even go up from year to year to worship the King, the LORD of hosts, and to keep the feast of tabernacles.;
John:7:2-52
[2]Now the Jew's feast of tabernacles was at hand.[3]His brethren therefore said unto him, Depart hence, and go into Judaea, that thy disciples also may see the works that thou doest.[4]For there is no man that doeth any thing in secret, and he himself seeketh to be known openly. If thou do these things, shew thyself to the world.[5]For neither did his brethren believe in him.[6]Then Jesus said unto them, My time is not yet come: but your time is alway ready.[7]The world cannot hate you; but me it hateth, because I testify of it, that the works thereof are evil.[8]Go ye up unto this feast: I go not up yet unto this feast: for my time is not yet full come.[9]When he had said these words unto them, he abode still in Galilee.[10]But when his brethren were gone up, then went he also up unto the feast, not openly, but as it were in secret.[11]Then the Jews sought him at the feast, and said, Where is he?[12]And there was much murmuring among the people concerning him: for some said, He is a good man: others said, Nay; but he deceiveth the people.[13]Howbeit no man spake openly of him for fear of the Jews.[14]Now about the midst of the feast Jesus went up into the temple, and taught.[15]And the Jews marvelled, saying, How knoweth this man letters, having never learned?[16]Jesus answered them, and said, My doctrine is not mine, but his that sent me.[17]If any man will do his will, he shall know of the doctrine, whether it be of God, or whether I speak of myself.[18]He that speaketh of himself seeketh his own glory: but he that seeketh his glory that sent him, the same is true, and no unrighteousness is in him.[19]Did not Moses give you the law, and yet none of you keepeth the law? Why go ye about to kill me?[20]The people answered and said, Thou hast a devil: who goeth about to kill thee?[21]Jesus answered and said unto them, I have done one work, and ye all marvel.[22]Moses therefore gave unto you circumcision; (not because it is of Moses, but of the fathers;) and ye on the sabbath day circumcise a man.[23]If a man on the sabbath day receive circumcision, that the law of Moses should not be broken; are ye angry at me, because I have made a man every whit whole on the sabbath day?[24]Judge not according to the appearance, but judge righteous judgment.[25]Then said some of them of Jerusalem, Is not this he, whom they seek to kill?[26]But, lo, he speaketh boldly, and they say nothing unto him. Do the rulers know indeed that this is the very Christ?[27]Howbeit we know this man whence he is: but when Christ cometh, no man knoweth whence he is.[28]Then cried Jesus in the temple as he taught, saying, Ye both know me, and ye know whence I am: and I am not come of myself, but he that sent me is true, whom ye know not.[29]But I know him: for I am from him, and he hath sent me.[30]Then they sought to take him: but no man laid hands on him, because his hour was not yet come.[31]And many of the people believed on him, and said, When Christ cometh, will he do more miracles than these which this man hath done?[32]The Pharisees heard that the people murmured such things concerning him; and the Pharisees and the chief priests sent officers to take him.[33]Then said Jesus unto them, Yet a little while am I with you, and then I go unto him that sent me.[34]Ye shall seek me, and shall not find me: and where I am, thither ye cannot come.[35]Then said the Jews among themselves, Whither will he go, that we shall not find him? will he go unto the dispersed among the Gentiles, and teach the Gentiles?[36]What manner of saying is this that he said, Ye shall seek me, and shall not find me: and where I am, thither ye cannot come?[37]In the last day, that great day of the feast, Jesus stood and cried, saying, If any man thirst, let him come unto me, and drink.[38]He that believeth on me, as the scripture hath said, out of his belly shall flow rivers of living water.[39](But this spake he of the Spirit, which they that believe on him should receive: for the Holy Ghost was not yet given; because that Jesus was not yet glorified.)[40]Many of the people therefore, when they heard this saying, said, Of a truth this is the Prophet.[41]Others said, This is the Christ. But some said, Shall Christ come out of Galilee?[42]Hath not the scripture said, That Christ cometh of the seed of David, and out of the town of Bethlehem, where David was?[43]So there was a division among the people because of him.[44]And some of them would have taken him; but no man laid hands on him.[45]Then came the officers to the chief priests and Pharisees; and they said unto them, Why have ye not brought him?[46]The officers answered, Never man spake like this man.[47]Then answered them the Pharisees, Are ye also deceived?[48]Have any of the rulers or of the Pharisees believed on him?[49]But this people who knoweth not the law are cursed.[50]Nicodemus saith unto them, (he that came to Jesus by night, being one of them,)[51]Doth our law judge any man, before it hear him, and know what he doeth?[52]They answered and said unto him, Art thou also of Galilee? Search, and look: for out of Galilee ariseth no prophet.),
literally the Festival of Booths (Sukkot in Hebrew).
This annual festival season represents the capstone of God's plan for humanity. Its modern observance eloquently underscores the temporary nature of our sojourn here as fragile humans, looking always to the magnificent and joyous coming Kingdom of God!
In ancient times the Israelites would take palm and tree fronds and make for themselves temporary dwellings (Leviticus:23:40
And ye shall take you on the first day the boughs of goodly trees, branches of palm trees, and the boughs of thick trees, and willows of the brook; and ye shall rejoice before the LORD your God seven days.).
They would live apart from their typical dwelling for eight days, symbolizing the transient and frail nature of their lives.
A festival that pictures the Kingdom of God on this earth
After Jesus came "preaching the gospel [the
good news
] of the kingdom of God" (Mark:1:14
Now after that John was put in prison, Jesus came into Galilee, preaching
the gospel of the kingdom
of God,),
the spiritual door of deeper understanding was opened to better comprehend what the prophets sought—indeed, "things which angels desire to look into" (1 Peter:1:12
Unto whom it was revealed, that not unto themselves, but unto us they did minister the things, which are now reported unto you by them that have preached the gospel unto you with the Holy Ghost sent down from heaven; which things the angels desire to look into.).
The Bible teaches, even as Jesus and His disciples observed, that the annual Holy Day seasons of God all possess rich and relevant meaning for each one of us. Beginning in the spring season (northern hemisphere) with the Passover and seven Days of Unleavened Bread and proceeding straight through the year to the Festival of Tabernacles and the Eighth Day (sometimes called the Last Great Day), these days herald the grand and awe-inspiring plan that God has for every single one of us.
The phrase "kingdom of God" and the synonymous expression "kingdom of heaven" appear more than 100 times in the New Testament. It was a focal point of Christ's ministry. Time and time again, Jesus commanded His disciples to "seek first the kingdom of God" (Matthew:6:33
But seek ye first the kingdom of God, and his righteousness; and all these things shall be added unto you.).
Why? Because no sorrow, no trial, no obstacle can or could stand up to the wonderful knowledge of what incredible eternal gift that God intends to bestow upon us. This Festival of Tabernacles represents nothing less than a foreshadowing of this powerful Kingdom of God being established on this earth! (Revelation:20:4).
Observed by many now—to be observed by all in the future
This same festival—kept faithfully year after year, decade after decade, century after century—pictures the great hope of all humanity when God the Father will directly engage in "bringing many sons to glory" (Hebrews:2:10
For it became him, for whom are all things, and by whom are all things, in bringing many sons unto glory, to make the captain of their salvation perfect through sufferings.).
It is this same festival that Jesus told His human family to observe (John:7:6
Then Jesus said unto them, My time is not yet come: but your time is alway ready.)
and the same festival of which is prophesied that eventually "
all
the nations…will go up year after year to worship the King, the Lord Almighty" (Zechariah:14:16
And it shall come to pass, that every one that is left of all the nations which came against Jerusalem shall even go up from year to year to worship the King, the LORD of hosts, and to keep the feast of tabernacles.).
Today, as you read this during the days of October 13-20, thousands of members and families of the United Church of God are humbly yet joyously gathering at festival sites across the world to worship God and celebrate this coming divine Kingdom. They are following the example of their Elder Brother and Savior, Jesus Christ as well as the apostles and the apostolic Church. They have temporarily left their homes and are staying in hotels, lodges and campsites, which reflects the transient nature of human life. They are living the vision of what is surely advancing upon this earth, a time when the Almighty God will say openly to all, "Taste and see that the Lord is good" (Psalm:34:8
O taste and see that the LORD is good: blessed is the man that trusteth in him.).
One day soon, "The earth shall be full of the knowledge of the Lord as the waters cover the sea" (Isaiah:11:9
They shall not hurt nor destroy in all my holy mountain: for the earth shall be full of the knowledge of the LORD, as the waters cover the sea.).
This Kingdom is described as "good news" because it brings a final and complete end to suffering and the beginning of God-given eternal joy and gladness.
Yes, Jesus Christ kept the Festival of Tabernacles with an understanding and a deep joy over what it pictures. You too can understand the meaning of that same festival of joy, the festival representing a time when God brings eternal victory to all, the wonderful Festival of Tabernacles."
View more information about the Feast of Tabernacles and find out where the Feast is being observed around the world.
Members of the United Church of God openly celebrate this wonderful Festival. You may even see our members gather in your city or area. If you are near and so desire, you are welcome to sample or "taste" for yourselves a small portent of what this coming Kingdom of God will be like.
If you'd like to know more—and you should—please go online and order (or download) a copy of the free booklet God's Holy Day Plan: The Promise of Hope for all Mankind."
A commentary by
Michael Snyder
Posted October 10, 2011
--------------
"This is Israel's Thanksgiving feast in which they acknowledge the Fall harvest and God's provision for them. It is happy celebration and a time of joy and rejoicing."
Read more at:
http://bible-truth.org/Feasts-Tabernacles.html
-------------
Christ in the Feast of Tabernacles
"Christ in the Feast of Tabernacles aims to enrich the church's understanding of the gospel by going back to the Jewish roots of the Christian faith. We explain how the Feast of Tabernacles (Sukkot) is a vibrant part of Jewish life today, as well as how the holiday offers a wealth of meaning for Christians who value their Old Testament heritage. "
Read more at:
http://jewsforjesus.org/programs/feastoftabernacles
-------------
Festivals kept today
"Jesus Christ set us an example by observing the biblical festivals, not because they were traditions of the Jewish people, but because, from the beginning, they represented His personal role in bringing the children of God into His spiritual family.
His apostles, walking in His footsteps, continued observing the same festivals. A considerable portion of Christianity observed them for centuries after His death. Looking into the future, we find a continuation of the same pattern. The prophet Zechariah tells us that attendance at the Feast of Tabernacles will be required of all peoples after Christ returns (Zechariah:14:16
And it shall come to pass, that every one that is left of all the nations which came against Jerusalem shall even go up from year to year to worship the King, the LORD of hosts, and to keep the feast of tabernacles.).
Today there are still Christians faithfully observing the same festivals Christ kept. These annual occasions were instituted to keep God's people, in all ages, aware of the key aspects of the mission and work of the true Messiah. They are, indeed, Christian festivals."
From:
http://www.ucg.org/doctrinal-beliefs/should-you-keep-festivals-jesus-observed/
_____________
New Dedication Date, 16th. Oct., Announced for Martin Luther King, Jr. National Memorial
"Hurricane Irene didn't stop thousands of visitors from enjoying the Martin Luther King, Jr. National Memorial when it opened to the public in late August. The hurricane did force a change of plans for the formal dedication ceremony, however, which had to be canceled out of concern for public safety. The ceremony has now been rescheduled for Sunday, October 16, to dedicate the impressive 30-foot-tall granite replica of the civil rights leader overlooking the tidal basin, surrounded by a 450-foot wall with quotations by King on justice, democracy, hope, and love."
Washington, D.C.
"The Martin Luther King, Jr. Memorial will be dedicated this Sunday, October 16, in a ceremony hosted by the Washington, DC Martin Luther King, Jr. National Memorial Project Foundation in West Potomac Park in Washington, D.C. The dedication activities will begin with an 8 a.m. hour-long "Morning Joy" program, emceed by Roland Martin. The Dedication program, emceed by PBS NewsHour's Gwen Ifill, will begin at 9 a.m. and pay tribute to Dr. King with the words of noted speakers including civil rights leaders and King family members, as well as musicians and poets. President Barack Obama will deliver the dedication address."
More at:
http://www.dedicatethedream.org/site/c.4nJHJQPoEiKWE/b.6715605/k.BDE7/Home.htm
____________
Yesterday
:
It was Adoption Day, so I puttered around doing odd jobs until it was time for me to leave around noon. Jay came up here on his 3-wheel ATV, with Maddie the Yorkie riding on the gas tank, and loaded the three cat carriers in the van, and seat-belted them in for me. For the first time, the kittens didn't protest a little as we were driving down the freeway. Maybe because I had Pebbles and Precious in separate carriers.
Prime never complains about anything, has never put her claws out, always meows a little 'thank you' when she gets her dinner, and goes along with anything. She is indeed a "Prime" cat, the best I have ever been around.
Once at Petco, I loaded the carriers onto a shopping cart, wheeled them in, and got them set up in the display kennel cages. As it was going to be a short day, most of the foster parents didn't bring their animals, and mine were the only three cats there. There were only three dogs, too. The reason it was going to be a shorter Adoption Day than usual was because our SPCA boss, Kenya had to get to the hospital to see her cancer-stricken husband.
Usually another foster mom takes my animals for me on the third Saturday of the month, but she had traded as she was having a family reunion. Except for a walk down to Hancock's Fabrics to look over their upholstery remnants, I stayed there to talk to Kenya, and the other foster mom, Terry.
A Dad and his two daughters came in looking for a kitten, so I got Pebbles out of the cage, but she acted like a little hissy, clung to me, and didn't want them touching her. Precious was more sociable, but I could tell that she was nervous around the kids.
They just loved Prime, and Prime let the girls hold and pet her, but "Mom would have to make the decision". I think they were just tire-kicking.
Before 4.00PM, we started packing up the folding cages as the dogs were picked up by their foster parents, loaded all the cages and other things in one of our big kennel cage units on wheels, locked it, and turned it to face the wall.
There is another cat rescue that has unattended cats at Petco all the time, and they don't tend to their animals. Their cages are filthy, and we don't want them using our cages. In fact, Petco told them not to use our room anymore, as they would leave it so filthy, so their cages are just outside our room. People see that mess, and think those cats are some of ours, walk away, and won't even come in to look at ours. We were so sorry for a couple of their cats, as they obviously had a 'loose' problem, and their beds and boxes were disgusting, so Petco is looking for a different rescue to replace that one. It had been a long time since anyone had been there, and the cats were out of food, too.
Sometimes I think that it isn't worth taking my cats as long as that rescue is there.
_______________
The program today is about revival, but a real revival:
"Genuine, God-centered revival involves vital changes in one's thinking and actions. Learn how you can experience true spiritual renewal.
In August 2011 an estimated 30,000 Christians gathered at a large stadium in Houston, Texas. Their purpose, was to seek God's help in solving national problems through prayer and fasting. Texas Governor Rick Perry, asked people to join him, "as we pray for unity and righteousness--for this great state, this great nation and all mankind." He urged, "Americans of faith to pray on that day for the healing of our country, the rebuilding of our communities and the restoration of enduring values as our guiding force." From this video:
Watch Beyond Today on WGN America on Sundays at 8:30 AM EST. (Find a station in your area -
http://www.beyondtoday.tv/stations
)"
Because Muffie is going to the vet tomorrow, I am grooming her today.