"Dear Mr. President, I heard you say you will not guarantee SS checks if the debt ceiling isn't raised.
Why not stop your pay, your staff, Congress and the Senate to save more money for our country?
Let's hold those paychecks, then see how fast they resolve the debt ceiling crisis !!!!!
Take the money from those who take no risks and reap the benefits!!"
__________________
Ever wondered what the cockpit of a space shuttle looks like??
Click: http://360vr.com/2011/06/22-discovery-flight-deck-opf_6236/index.html

Here is something worth the couple of minutes to view: a 360 panorama of the Space Shuttle Discovery crew cabin flight deck.
This is pretty cool----and maybe the last time we get to see it before it's stuffed and mounted at the Smithsonian!
ENJOY…… Lighting is from the internal instrument panel lights… 
You can "grab" the photo with your cursor and rotate it to different positions to see the overhead lights and switches.
You can zoom with the scroll wheel.
_______________________
Joplin Tornado Fake Charities Scam Thousands Of Dollars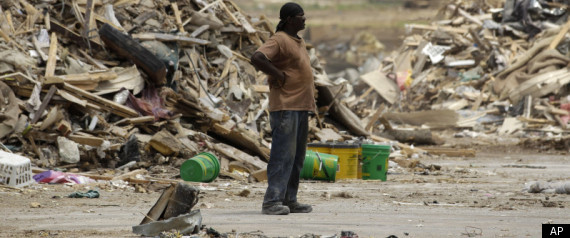 Posted: 7/22/11 02:18 PM ET
Two alleged charities set up to help victims of the Joplin, Mo. tornado have never contributed a dime to the relief effort, according to the state's attorney general.
Chris Koster said that injunctions are being sought against Puerto Rican online group Alivio Foundation Inc. and Georgia online radio operator Steven Blood.
Koster said Alivio began soliciting donations shortly after the May 22 tornado through a PayPal link on the purported charity's website and through an online donation conduit, Crowdrise. He said both websites claimed that donations would go to St. Peter the Apostle Catholic Church in Joplin and to Catholic Charities of Southern Missouri.
But Koster said both charities report that they haven't received any money from Alivio. The attorney general has frozen $9,700 that he hopes will eventually go to the people of Joplin.
Koster said Blood claimed to help tornado victims by selling T-shirts and setting up benefit concerts, according to the AP. The attorney general said Blood used the funds for his own expenses. Blood contends that he never promised the T-shirt revenues would go to tornado victims and the benefit shows had to be cancelled.
Local station KY3 reports that Koster is investigating some 260 total complaints stemming from possible Joplin tornado scams. From: http://www.huffingtonpost.com/2011/07/22/joplin-tornado-charities_n_907182.html?icid=main%7Chtmlws-main-n%7Cdl6%7Csec3_lnk1%7C219928
___________________
We're buying too much stuff made in China.  Another reason why I don't like Walmart:
"Every day, you and I are shooting ourselves in the foot. We're hurting our fellow citizens. We're destroying our economy and our country.
What are we doing? We're buying too much stuff made in China. . . and other far off countries where in some cases people work for slave wages so Wal-Mart and other discounters can shave a few cents or dollars off a product so we will buy from them and not somewhere else.

In his RV Insight column a few weeks ago, Bob Zagami wrote about this. And he got me thinking.
PBS ran a special a few years ago about Wal-Mart's effect on our economy. In one segment, a small U.S. sock manufacturer told how he had been forced, after decades in business, to close his factory, lay off his American employees and start making his socks in Asia to meet the wholesale prices demanded by Wal-Mart. It was that or go out of business. Goodbye American jobs.

I realize that for many people on limited incomes, every dollar counts. If they can buy an imported shirt for $15 that might cost $20 or $25 if made here, they will do it -- and I totally understand. But for those of us who CAN afford to pay a little more by buying a homegrown product (this goes for the USA and Canada), then we should do it. Think about it: buying a product made in our country helps a fellow citizen keep his or her job. And when these Americans have jobs, they pay taxes instead of collecting unemployment or living on welfare.
 
I am as guilty as anyone of buying foreign-made merchandise. And, heavens knows, sometimes we have no choice because nobody in North America even makes the product anymore (just try to buy an American made television). But I believe we should all try harder to find products made at home. Examine labels before purchasing. Buy American. Or if you live in Canada, buy Canadian."      From: http://www.rvtravel.com/issue491.shtml
UPDATE (Sunday, July 23): Here is an online directory of products made in the USA.
-----------------
And on the same note:
Why That "Made In China" Ball Mount Is KILLING YOU!
Most of the typical ball mounts - like the one shown on the left - are made in China. They only do one thing; pull your trailer.  But any fixed or "static" (non-energy absorbing) towing product will increase your risk of whiplash by 22% if you get hit in the rear -- the most frequent vehicle accident. So how about one that will soften the "crash pulse", reduce whiplash, protect your wife, kids, employees, vehicle and your insurance? How much is your neck really worth? Visit Superbumper.com.
__________________
Click Here to Send Your Comments!

In the hot summer days leading up to July 4, 1863, Gettysburg, Pennsylvania and Vicksburg, Mississippi were scenes of decisive Union victories that brought the Confederacy to its knees. While the war continued through 1865, the Confederacy never recovered from these dual defeats.
Today, these sites are protected as national military parks in the National Park System. Sadly, however, many of the Civil War sites preserved in the National Park System only protect a portion of these battlefields.
This spring, Senator Thad Cochran (R-MS) and Senator Roger Wicker (R-MS) introduced S. 265, which would authorize the National Park Service to acquire approximately 10,000 acres of property significant to the preservation of the historic battlefield sites, and would include core battlefield lands at Port Gibson, Raymond, and Champion Hill, for addition to Vicksburg National Military Park.

Take Action: Please contact your Senators today and ask them to co-sponsor S. 265. This legislation is scheduled to be heard in the Senate in late July.
Thank you for speaking up for our Civil War heritage.
Sincerely, Emily Jones
Sr. Program Manager, Southeast Region
__________________
Coronado National Forest, Mount Lemmon Reopens.
US Government photo
"After nearly a month of closure due to high fire danger, the Coronado National Forest is "open for business" once again. All campgrounds and hiking trails are open to the public. It's a big relief for a lot of the locals, Tucson residents have been roasting in high temperatures, and a visit to Mount Lemmon (at it's elevated location) has been a big relief.
Don't get too crazy, though. The fire danger is listed as "High," which means no campfires, no barbeques, no open flames. If you haven't been able to give up the smoking evil, you can smoke--but only INSIDE your vehicle.
The last few weekends the campgrounds throughout the forest saw a brisk business." From: http://rvarizona.blogspot.com/2011/07/coronado-national-forest-mount-lemmon.html
_____________________
Poultry Maker Expands Chicken Recall To Nuggets
GREELEY, Colo. (AP) -- July 29, 2011
"A voluntary recall of thousands of pounds of ready-to-eat chicken has been expanded over concerns that the meat could be contaminated with bacteria that can cause food poisoning.
Colorado-based Pilgrim's Pride on Tuesday announced the recall now includes about 7,000 pounds of Pilgrim's Pride Brand Fully Cooked Chicken Breast Nuggets that were shipped to dozens of Dollar General stores in the following states: West Virginia, Tennessee, Virginia, Ohio, Kentucky, Indiana, Georgia, Florida and Alabama.
The recall began last week over fears that more than five tons of ready-to-eat chicken was potentially tainted by Listeria monocytogenes.
The Center for Disease Control classifies listeriosis as a serious infection that primarily affects older adults, pregnant women, newborns, and adults with weakened immune systems.
Pilgrim's says it is not aware of any reported illnesses.
The newly recalled product was sold in 2-pound bags and carries the best-by date of June 2, 2012, and UPC number 77013 16224. It was produced in the Pilgrim's plant in Mt. Pleasant, Texas. Pilgrim officials say the company is working closely with Dollar General to locate all of the recalled product.
"Food safety is our top priority and we take product recalls very seriously," said Kendra Waldbusser, senior vice president of food safety and quality assurance.
The U.S. Department of Agriculture's Food Safety and Inspection Service announced the recall of two of the company's products Thursday.
The first was nearly 400 pounds of Fully-Cooked Grilled Chicken Breast Fillets with Rib Meat made at Pilgrim's plant in Waco, Texas, and distributed through Columbus, Ohio.
Also, recalled was nearly 11,000 pounds of Sweet Georgia Brand Fully-Cooked Breaded White Chicken Nuggets Shaped Patties produced at Pilgrim's plant in Mt. Pleasant and sent to distribution centers in New Jersey and Texas.
The problem was discovered during on-site internal testing at each plant.
Pilgrim's employs approximately 42,000 people and operates chicken processing plants and prepared-foods facilities in 12 U.S. states, Puerto Rico and Mexico.
Consumers may contact Pilgrim's at 1-800-321-1470."
 http://kfgo.com/agri-business-news.php?ID=9228
___________________
All you have heard about Chicken Nuggets pink goop is not true, but they still have 38 other ingredients, mostly  genetically modified corn, which are not good for you:  http://gizmodo.com/5659271/behind-the-chicken-goop-the-truth-and-science-of-chicken-nuggets
And: http://www.snopes.com/food/prepare/msm.asp
___________________
_____________________
Yesterday:
I did something that I might regret later.  The orphan kittens have been taught NOT to go through any open doors.  This is for their safety.  But, this time I left the grooming room door open, and called them into the house. 
It took a long time for adventurous Pebbles to venture through the open door, and a lot longer for cautious Precious.  They walked all around the house looking at everything, and even met Bobbiecat and Misty for the first time.  The only other times that they have been in the house, they were in that big dog cage that I set up for them. They had never been loose in there before.  I thought it would be good for their transition to their new homes to see how people live, and to see living room couches, the kitchen, and be in places that they had never been before.  After they had investigated everything, they went back in the grooming room.  So it feels more like 'home' to them.
Ray spent the morning putzing around in his garden, weeding Princess' grave (their black lab), re-potting plants, and raking up pine needles off the grass.  He loves to work with his plants, and keeps the front of my little guest house neat and clean.
As there is a storm named "Don" coming through soon, I won't do any raking until it is over.
But Jay and I wanted to take some precautions just in case we had high winds.  In Ray's attic, we checked the new skylight, and replaced a 2x6 where the old skylight had leaked.  While we were up there, we stapled up the cord that we had added for the bug zapper. Then I loaded up the 'bucket on a string' with a hammer, a couple of drill drivers, and some rubber washer metal roof screws.  Jay took it up the ladder onto Ray's metal roof, checked all the screws, and added some to the new 2x6.  
As it was so muggy, it was another short day.