For "Winged Wednesday":
White-throated Sparrow

 
"White-throated Sparrows are a familiar sight in backyards and around bird feeders across the eastern United States each winter. Their sweet whistled song, described variously as "Poor Sam Peabody Peabody Peabody" or "Oh, Sweet
Canada Canada Canada" can be heard throughout the day.
These sparrows have two adult plumage variations: tan-striped and white-striped. On the white-striped birds, the supercilium (eyebrow) and central crown stripe are white; these areas are tan in tan-striped birds. The two color morphs occur in approximately equal numbers, and interestingly, almost always pair with the opposite color morph when breeding.
Although the white-throated is one of our more common sparrow species, it is also one of the most frequent victims of window collisions, according to urban bird monitoring programs around the country. ABC's Collisions Program is working to increase awareness of this problem and offer solutions that will keep even our most common birds safer."  Range Map by ABC
Help ABC conserve this and other birds and their habitats!
_______
The problem of mass balloon releases is GROWING!
Photos: 10,000 pink balloons released during Dubai's annual Breast Cancer Walkathon (Dubai).
Seabird dead after being strangled by a mass of balloons and their ribbons. (Photo courtesy Ocean Conservancy.)
Bloated and dead bird after swallowing fragments of helium balloons.
"Releases are popping up everywhere - fundraisers, memorials, sports and even health events! Marketers have convinced the public that balloons are harmless but admit they take as long as an "oak leaf" - 6 months - to biodegrade! That's plenty of time for wildlife to consume or be killed by the millions of fragments that fall to the ground each year. Plus, Mylar balloons and tethering strings and ribbons are not biodegradable.
The turtle that swallowed 4 kinds of balloons, the seabirds strangled by wads of balloons, ribbons and strings, the dead whale with a mylar balloon lodged in its intestines - this is the reality of balloon releases. Balloons are a large component of the vast field of marine debris assaulting our oceans.
It's time to tell advertisers and event planners around the world "NO MORE BALLOON RELEASES!"    Please sign this petition and forward!http://www.thepetitionsite.com/3/Help-Stop-Mass-Balloon-Releases/  Thank you!
_______
Calif. city turns to birds of prey to solve problems
Avalon, an island harbor town, had polluted beaches and a waterfront with aggressive gulls that harassed visitors. All that has changed, thanks to a hawk, an owl and a falcon.
VALON, Calif. — "For years, this island harbor town has had serious tourism problems: Its beaches were consistently rated among the most polluted on the West Coast, and its waterfront was crowded with aggressive gulls that harassed visitors and stole food off their plates.
All that has changed, and leaders are giving much of the credit to a group of environmental enforcers they hired — Larry the hawk, Chin the falcon and Big Al the owl.
They are raptors, or birds of prey, trained to bloodlessly drive off pests fouling the harbor with waste droppings.
"We brought in a natural solution,'' city manager Ben Harvey says.
Led by licensed master falconer Rocky Post and joined by a few feathered colleagues, the winged residents quickly established rule of the skies over Avalon, clearing the air and water in this resort center of Santa Catalina Island off the coast from Los Angeles.
Larry the hawk stands vigil near the water, looking for pest birds to drive away.(Photo: Robert Hanashiro, USA TODAY)
Post discovered the pigeons were nesting beneath the town's pier — a thousand or more. At night, when the tide was right, he rowed a boat underneath the pier with Big Al, a large brown Eurasian eagle owl, aboard.
Seeing Al, with large orange eyes, unwavering gaze and scary talons, the pigeons froze with fright, Post says. He picked them up, one by one, and placed them in a bag, still alive. He removed all of them over a period of weeks and gave more than 300 healthy ones to pigeon enthusiasts far enough up the state's Central Coast to discourage their return. Diseased pigeons were euthanized."  More at: http://www.usatoday.com/story/news/nation/2013/10/17/city-finds-solution-in-raptors/2963509/
_______
Reports of bullet-riddled raptors increase as bird season opens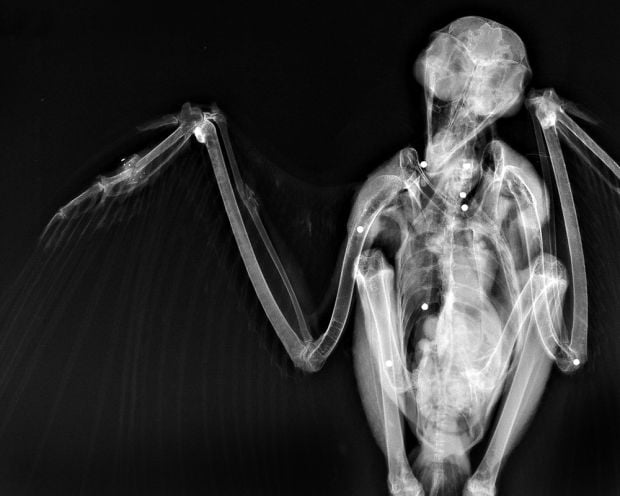 An X-ray image shows the birdshot injuries in a red-tailed hawk found near the Missoula landfill last week. Raptors are illegal to shoot at any time. Courtesy of BROOKE TANNER
"One had bullet holes through its wing feathers, narrowly missing the humerus bone. Another had a body peppered with lead shot. They were the lucky ones.
Red-tailed hawks and other raptors fall as unintended or illegal targets each October as upland game bird season resumes in Montana. Those that survive the blast occasionally wind up in the care of raptor rehabilitators like Rob Domenech of Wild Skies Raptor Center.
"Most of it goes untold because the birds just drop and that's it – end of story," Domenech said. "But last week, I got a call from the manager at the Missoula landfill who had a raptor there. He found it right near the scale house. We think it was shot in that area, because it couldn't have gone too far with those pellets all over its body. It was lead shot, probably for upland game birds."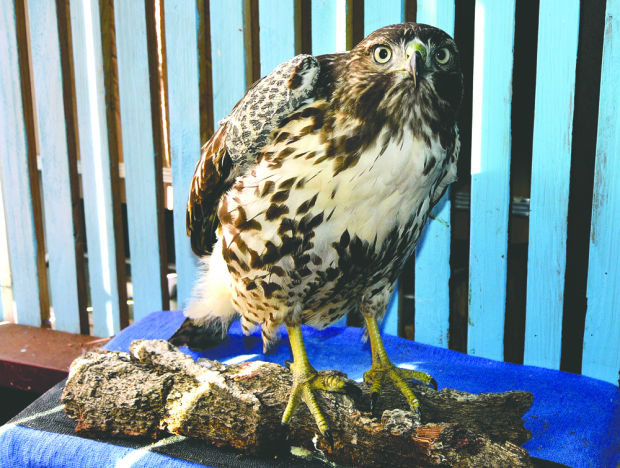 Courtesy of BROOKE TANNER
The female red-tailed hawk now under the care of Brooke Tanner, a licensed raptor rehabilitator at Missoula's Wild Skies Raptor Center, is expected to recover from its birdshot wounds.
"This one was the worst I've seen in all my years doing rehab," Tanner said. "Usually it's one piece of metal, this bird had nine."  More at: http://missoulian.com/lifestyles/recreation/reports-of-bullet-riddled-raptors-increase-as-bird-season-opens/article_6112fe84-36d9-11e3-9db9-001a4bcf887a.html
_______
Man Smuggled 25 Bird Eggs Across the Globe--In His Underwear
"A bird specialist has been arrested by Swiss customs authorities for smuggling across international borders more than 25 rare bird eggs in his underpants while flying around the world, according to reports.
In total, the man smuggled 150 eggs over the course of his travels. Many of the eggs came from endangered species and rare parrots, sold to buyers in Thailand, Mexico and Indonesia, though it was unclear where they had originated. The collected contraband was valued at approximately 65,000 Swiss francs, or about $71,800, reports stated."  More at: http://abcnews.go.com/Travel/man-smuggled-25-bird-eggs-globe-underwear/story?id=20600210
______
BirdNote: What Species Is Woody Woodpecker?
Upcoming Shows
Belted Kingfisher  SUNDAY Bird-friendly Planting in Fall Featuring Joanna Buehler, wildlife gardener  LISTEN NOW ►
Purple Martin  MONDAY Purple Martins Head South To the Amazon by Bob Sundstrom   LISTEN NOW ►
"Woody" and an Acorn Woodpecker  TUESDAY Acorn Woodpecker, Inspiration for Woody by Ellen Blackstone  LISTEN NOW ►
Black-capped Chickadees  WEDNESDAY Clean Nestboxes in October by Bob Sundstrom  LISTEN NOW ►
Cliff Swallow  THURSDAY Swallows and Mud - A Myth? by Frances Wood  LISTEN NOW ►
Snow Geese  FRIDAY Paying Attention To Climate Change Featuring Kurt Hoelting—author, commercial fisherman and wilderness guide  LISTEN NOW ►
American Robin  SATURDAY Is It the Same Robin? by Frances Wood LISTEN NOW ►
_______
On This Day:
Unknown Soldier is selected, Oct 23, 1921:
"On October 23, 1921, in the French town of Chalons-sur-Marne, an American officer selects the body of the first "Unknown Soldier" to be honored among the approximately 77,000 United States servicemen killed on the Western Front during World War I.
According to the official records of the Army Graves Registration Service deposited in the U.S. National Archives in Washington, four bodies were transported to Chalons from the cemeteries of Aisne-Marne, Somme, Meuse-Argonne and Saint-Mihiel. All were great battlegrounds, and the latter two regions were the sites of two offensive operations in which American troops took a leading role in the decisive summer and fall of 1918. As the service records stated, the identity of the bodies was completely unknown: "The original records showing the internment of these bodies were searched and the four bodies selected represented the remains of soldiers of which there was absolutely no indication as to name, rank, organization or date of death."
The four bodies arrived at the Hotel de Ville in Chalons-sur-Marne on October 23, 1921. At 10 o'clock the next morning, French and American officials entered a hall where the four caskets were displayed, each draped with an American flag. Sergeant Edward Younger, the man given the task of making the selection, carried a spray of white roses with which to mark the chosen casket. According to the official account, Younger "entered the chamber in which the bodies of the four Unknown Soldiers lay, circled the caskets three times, then silently placed the flowers on the third casket from the left. He faced the body, stood at attention and saluted."
Bearing the inscription "An Unknown American who gave his life in the World War," the chosen casket traveled to Paris and then to Le Havre, France, where it would board the cruiser Olympia for the voyage across the Atlantic. Once back in the United States, the Unknown Soldier was buried in Arlington National Cemetery, near Washington, D.C."
_______
Beirut barracks blown up, Oct 23, 1983:
"On this day, a suicide bomber drives a truck filled with 2,000 pounds of explosives into a U.S. Marine Corps barracks at the Beirut International Airport. The explosion killed 220 Marines, 18 sailors and three soldiers. A few minutes after that bomb went off, a second bomber drove into the basement of the nearby French paratroopers' barracks, killing 58 more people. Four months after the bombing, American forces left Lebanon without retaliating.
The U.S. Marines were part of a multinational force sent to Lebanon in August 1982 to oversee the Palestinian withdrawal from Lebanon. From its inception, the mission was plagued with problems--and a mounting body count.
Serious questions also arose over the quality of security in the American sector of war-torn Beirut.  On February 26, 1984, the main force of marines left Lebanon, leaving just a small contingent to guard the U.S. embassy in Beirut.
The first real car bomb—or, in this case, horse-drawn-wagon bomb—exploded on September 16, 1920 outside the J.P. Morgan Company's offices in New York City's financial district.  Italian anarchist Mario Buda had planted it there, hoping to kill Morgan himself; as it happened, the robber baron was out of town, but 40 other people died (and about 200 were wounded) in the blast." 
_______
Yesterday:
Misty and I went to get Jay, and we had a pretty good walk down there while we were waiting for him.
The weather was just right for working outside. Back here, I had to send off a couple of urgent emails about foster animals, so I asked Jay to start picking up the pine needles in the back yard.  I keep the pine needles raked off to one side, for Misty's sake, but it was time to get them to the burn pile.  When I got out there we got carried away and raked up pine needles from all over the place!  A lot of them were in our work area on the side of the workshop.
One of our little dog's grave markers (my late Johnnie's "Lil-Bit") needed repairing, so I anchored the flowers back on it, and screwed it back on the wall of the shed.  The shed was built over my lovely white cat "Honky's" grave, and is really a memorial to them all, and there are grave markers all around it.
To get all the pine needles it meant moving some work tables, so we got carried away again.  We uncovered a lumber rack that hasn't been used for years and moved some lumber onto it which had been stacked on a work table. All this used lumber is for making the greenhouse later on.  Any that we won't need was put on the burn pile.
Then we moved the screen molding that is waiting to be re-installed on the screen porch, once all the screen is up.  It was on another work table, so we moved it to a different rack.  All in all, we cleared off three outside work tables, and a mountain of pine needles.
If it hadn't been such a breezy day, we would have had the burn pile going yesterday.