For "Winged Wednesday":
Socorro Dove


"Although closely related to the common Mourning Dove, the Socorro Dove has been called the "Solitary Dove" because only one male and female were normally seen together in the wild on their native Socorro Island.
Typical of many birds on islands without native mammalian predators, Socorro Doves showed little fear of humans or, fatally, cats, which were introduced there during the 1970s. Cat predation, combined with habitat degradation caused chiefly by non-native sheep, is thought to have quickly led to a disastrous population decline.
The last sighting of a Socorro Dove in the wild was in 1972. Fortunately, aviculture has prevented the extinction of the species, with captive populations in the United States and 12 European countries, managed since 1995 under the direction of the European Endangered Species Program (EEP) of the European Association of Zoos and Aquaria.
The Socorro Dove Project, begun by the Island Endemics Foundation in 1987, aims to return these doves to their native island. By 2004, a breeding station funded by the Island Endemics Foundation and the Mexican Navy had been built on Socorro, but in 2005, concerns about the potential for spreading avian influenza from Europe prevented the return of the doves bred by the EEP to Mexico.
In April 2013, the conservation breeding program was successfully extended to Mexico. Plans for the species' reintroduction to Socorro Island are under development by a diverse group of partners committed to securing a future for the bird: the Island Endemics Foundation, the EEP (led by the Frankfurt Zoo), the U.S. conservation breeding program, led by the Albuquerque Zoo and other U.S. zoological parks, Africam Safari, (http://en.wikipedia.org/wiki/Africam_Safari ) INECOL, and Mexico's National Autonomous University. This program's success will largely depend on the conservation breeding efforts in Mexico and a habitat restoration program funded by the Mohamed Bin Zayed Species Conservation Fund." Learn more about the Socorro Dove's return to Mexico.    Range Map by ABC
______
10 Halloween Hazards You Never Knew Could Harm Your Pet
"Halloween is upon us, and as always this time of year, we want to make sure your pet wakes up healthy and happy on November 1st.
Most pet owners are aware of some of the dangers inherent in Halloween, like chocolate candy. But there are other potential hazards you may never have thought of.
For instance, did you know that Halloween costumes can frighten your pet? Or that you should never let a black cat roam the neighborhood this time of year?
Other hazards include certain Halloween decorations, candy and candy wrappers, and even the adorable pet costumes you see in every store.
To make sure your pet stays safe on October 31st, keep these 10 dos and don'ts in mind."   More and pictures at:  http://healthypets.mercola.com/sites/healthypets/archive/2013/10/28/10-halloween-hazards.aspx
______
Atlantic Puffins In Peril In U.S.
PORTLAND, Maine (AP) — "The Atlantic puffin population is at risk in the United States, and there are signs the seabirds are in distress in other parts of the world.
In the Gulf of Maine, the comical-looking seabirds have been dying of starvation and losing body weight, possibly because of shifting fish populations as ocean temperatures rise, according to scientists.
Instead of feeding their young primarily herring, puffin parents were giving them large numbers of butterfish, a more southerly fish that's becoming more abundant in the Gulf or perhaps more accessible to seabirds because they've moved higher up in the water column. But the chicks ended up starving to death because the butterfish were too big and round for them to swallow, Kress said. Piles of uneaten butterfish were found next to some of the dead birds."  Article at: http://bigstory.ap.org/article/apnewsbreak-atlantic-puffins-peril-us
______
Birds Count on Drivers to Obey Speed Limits
"A new study concludes that birds on roadways make decisions about when to lift off to safety based not on how fast an oncoming car is approaching, but on the average traffic speeds of a given road.
Two researchers in Canada recorded dozens of instances of birds taking flight as they approached in a car. Based on their measurements of flight initiation distances and other factors, the pair concluded that birds accumulate traffic speed information over a period of days, weeks, months or longer, and use that information to decide when to fly to safety in the face of oncoming traffic.
This study suggests bird-vehicle collisions are primarily the result of people driving over the speed limit, and birds being taken by surprise by the excessive speed of a vehicle. These results are another reminder of the importance of obeying speed limits."  Article at: https://justonemorepet.wordpress.com/2013/10/26/
______
A Pileated "Roosting Tree"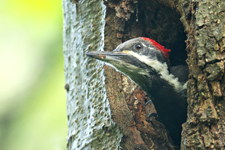 "Photographer Gregg Thompson recently discovered a pair of Pileated Woodpeckers near a cavity, well after breeding season. Looks like he found a roosting tree! See his pictures >>"
______
Calling Wedge-tailed Shearwaters
"The ghoulish nocturnal calls of Wedge-tailed Shearwaters scared the tar out of sailors in the 18th century - they thought they were entering the gates of Hell!" Watch (and listen!) to a shearwater pair courting at night >>
______
BirdNote: Spooky Shearwaters!
Upcoming Shows
Pacific Golden-Plover SUNDAY How Shorebirds Find Their Way by Dennis Paulson   LISTEN NOW ►
Pileated Woodpecker MONDAY  Woodpeckers Carve Out Roost Cavities, Too  by Bob Sundstrom  LISTEN NOW ►
Great Kiskadee TUESDAY  Tropical Wake-up Call  by Bob Sundstrom   LISTEN NOW ►
Blue Jay WEDNESDAY  Meet the Blue Jay by Bob Sundstrom  LISTEN NOW ►
Wedge-tailed Shearwater THURSDAY  The Spooky Shearwaters by Bob Sundstrom   LISTEN NOW ►
Whooping Crane (with Sandhill Cranes)  FRIDAY  The Platte River Crane Plane by Todd Peterson  LISTEN NOW ►
Colima Warbler SATURDAY  Roadside Birds by Frances Wood  LISTEN
______
On This Day:
The city of Helena, Montana, is founded after miners discover gold, Oct 30, 1864:
"On this day in 1864, the town of Helena, Montana, is founded by four gold miners who struck it rich at the appropriately named "Last Chance Gulch."
The first major Anglo settlement of Montana had begun just two years before in the summer of 1862, when prospectors found a sizeable deposit of placer gold at Grasshopper Creek to the west. When other even richer deposits were soon discovered nearby, a major rush began as tens of thousands of miners scoured the territory in search of gold. In 1864, four prospectors spotted signs of gold in the Helena area while on their way to the Kootenai country, but they were eager to reach the reportedly rich gold regions farther to the north and did not to stop. But after striking out on the Kootenai, they decided to take "one last chance" on finding gold and returned. When the signs turned out to mark a rich deposit of placer gold, they staked their claims and named the new mining district Last Chance Gulch.
Eventually, Last Chance Gulch would prove to be the second biggest placer gold deposit in Montana, producing some $19 million worth of gold in just four years. Overnight, thousands of miners began to flood into the region, and the four original discoverers added to their fortunes by establishing the town of Helena to provide them with food, lodging, and supplies. But unlike many of the early Montana mining towns, Helena did not disappear once the gold gave out, which it inevitably did. Located on several major transportation routes, well supplied with agricultural products from an adjacent valley, and near to several other important mining towns, Helena was able to survive and grow by serving the wider Montana mining industry. In 1875, the city became the capital of Montana Territory, and in 1894, the capital of the new state of Montana."
______
Oakland, CA, enacts anti-drug law, Oct 30, 1890:
"Oakland, California, enacts a law against opium, morphine, and cocaine. The new regulations allowed only doctors to prescribe these drugs, which, until then, had been legal for cures or pain relief. Reflecting a general trend at the time, Oakland was only one of the jurisdictions across the country that began to pass criminal laws against the use of mind-altering substances.
In the latter part of the 19th century, opium dens began to spring up. Generally, there was no legal prohibition on these narcotics, although respectable society certainly disapproved of addicts. Due to the growth of the opium problem after the acquisition of the Philippines, the Harrison Act of 1914 was passed, which added a tax to the sale of narcotics. This was intended to stop the easy availability of drugs, and in 1919, the act was extended to prohibit even the use of drugs in small doses for recovering addicts."
______
Welles scares nation, Oct 30, 1938:
"Orson Welles causes a nationwide panic with his broadcast of "War of the Worlds"—a realistic radio dramatization of a Martian invasion of Earth.
Perhaps as many as a million radio listeners believed that a real Martian invasion was underway. Panic broke out across the country. In New Jersey, terrified civilians jammed highways seeking to escape the alien marauders. People begged police for gas masks to save them from the toxic gas and asked electric companies to turn off the power so that the Martians wouldn't see their lights. One woman ran into an Indianapolis church where evening services were being held and yelled, "New York has been destroyed! It's the end of the world! Go home and prepare to die!"
When news of the real-life panic leaked into the CBS studio, Welles went on the air as himself to remind listeners that it was just fiction."
_______
Yesterday:
Misty and I went to get Jay, and had our walk down there.  Ray's back is bothering him again.
Jay was anxious to get into a 'construction mode', so we  worked on the layout of the greenhouse.  Winter will be upon us before we know it. 
But first, we changed out the silver 'pinhole' blind in the van, for a silver one with no pinholes.  It covers the window behind the driver, and keeps the sun off the 12v. cooler.  In case there is a passenger in the second row of seats, it can be opened. The 'pinhole' one was installed on the screen porch, as the blinding sun comes in there just before sunset.  Recently, I have had to clothes-pin a towel over that area, or the sun would just blind me if I was sitting at my computer desk.  The pinholes allow me to see out, and who is coming in the driveway.
We installed some wide roof drip-cap under a seam in the present wall siding in the area where we will be making a lean-to roof on the storeroom.  Z-bar would have been to narrow.  After digging through the lumber pile we found what we needed to start the project, but didn't have any more time.  Rain might stop construction today.