For "Winged Wednesday:
Rufous-headed Chachalaca


"A flock of Rufous-headed Chachalacas—chicken-like, tree-dwelling birds—begin to call together, their loud, raucous voices echoing through the dry forest. It's this characteristic "chachalac" sound that gives the birds their name. As one flock begins to call, it triggers a nearby flock, and then that group's neighbors sound off too in a chain reaction. Soon an entire valley or hillside can be heard "chachalaca-ing" as groups of these birds advertise their whereabouts to one another.
This species, like other chachalacas, lives in flocks of four to 10 individuals. It has a small and contracting range, affected by rapid habitat loss and severe fragmentation. The greatest threat Rufous-headed Chachalacas face is hunting pressure; they are considered a good food source by many rural people and are highly sought-after. The birds are also threatened by loss of forests to agriculture.
One of the healthiest populations of Rufous-headed Chachalaca occurs at Fundación Jocotoco's Buenaventura Reserve in southern Ecuador, which was created with support from ABC. The reserve not only protects this beautiful and vulnerable bird, but also the highly threatened El Oro Parakeet and El Oro Tapaculo."
Help ABC conserve this and other birds and their habitats!  Range Map by ABC
______
Do You Know What This Is?
*  Answer below
______
"How are you sharing the national parks with young kids? We're excited to tell you that we've been working together with our friends at Sesame Street and the National Park Service on awesome multimedia park experiences called "Sesame Street Explores National Parks" and the videos and activities are available online starting TODAY! Check them out at http://www.sesamestreet.org/parks!"
http://www.sesamestreet.org/parents/topicsandactivities/topics/nature
_______
California is first state to ban lead in hunting ammo
"Less-toxic bullets and shot will be required by July 2019 in bid to protect wildlife, the environment and hunters' health.
In a move to protect wildlife and the environment, California on Friday became the first state to ban lead in hunting ammunition.
The measure, signed into law by Gov. Jerry Brown, phases out lead bullets and shot by July 2019, with regulations due by July 2015.
"Lead poses a danger to wildlife. This danger has been known for a long time," Brown wrote in a signing message, noting that a leading conservation wrote about lead poisoning in 1984. The federal government banned lead ammunition from waterfowl hunting in 1991."  More at: http://www.usatoday.com/story/news/nation/2013/10/11/california-bans-lead-from-hunting-ammunition/2969497/
_______
Photo Gallery: Seven "City Birds"
"Hear the words "city birds" and you're likely to picture a handful of common nonnative species such as the European starling, house sparrow and pigeon. But a long-term survey of breeding birds in Baltimore, Maryland, has revealed that a surprising number and diversity of native birds call that city home—from backyard feeder visitors such as blue jays, chickadees and cardinals to elusive warblers and wood thrushes to shore-loving herons, gulls and cormorants."  More at: http://blog.nwf.org/2013/05/photo-gallery-seven-city-birds-2/
_______
BirdNote: Migrating Birds On Radar?
Upcoming Shows
Pinyon Jay  SUNDAY Pinyon Jay by Dennis Paulson  LISTEN NOW ►
Cayenne Tern  MONDAY Columbus's Birds by Ellen Blackstone  LISTEN NOW ►
Mountain Chickadee TUESDAY Yosemite in Fall Featuring the Words Of John Muir  LISTEN NOW ►
Doppler radar image of migrating birds  WEDNESDAY Radar Ornithology Featuring Dr. Cliff Mass, atmospheric sciences professor, University of Washington   LISTEN NOW ►
Redheads THURSDAY Counting North America's Waterfowl by Todd Peterson  LISTEN NOW ►
Red-tailed Hawk  FRIDAY Bird's Eye View I by Bob Sundstrom  LISTEN NOW ►
White-browed Coucal SATURDAY White-browed Coucal by Dennis Paulson LISTEN NOW ►
______
* Do You Know What This Is?
It is a Blue Morpho Butterfly Egg
Blue Morpho Butterfly:
"Under the thick canopy of the rain forests, the morpho butterflies are about the size of a saucer. Its wings are about five to six inches in wingspan. The wings of these butterflies sparkle almost like large blue gems. The wings look this way because there is a microstructure on the upper surface of the wing tat refracts light. This causes them to shimmer as the butterfly flies under the sun."
Interesting notes about the Morpho Butterfly
"The Morpho butterfly has intrigued man for generations with its optical engineering. Today, its dazzling iridescent wings are giving rise to a market to try to mimic its wonder and create a counterfeit proof currency and charge cards. This butterfly may become world famous as its power with light changes the face of money."
More about these beautiful butterflies: http://www.amersol.edu.pe/ms/7th/7block/jungle_research/new_cards/28/report28ms.html
______
On This Day:
The Long March, Oct 16, 1934:
"The embattled Chinese Communists break through Nationalist enemy lines and begin an epic flight from their encircled headquarters in southwest China. Known as Ch'ang Cheng—the "Long March"—the retreat lasted 368 days and covered 6,000 miles, nearly twice the distance from New York to San Francisco.
With defeat imminent, the Communists decided to break out of the encirclement at its weakest points. The Long March began at 5:00 p.m. on October 16, 1934. Secrecy and rear-guard actions confused the Nationalists, and it was several weeks before they realized that the main body of the Red Army had fled. The retreating force initially consisted of 86,000 troops, 15,000 personnel, and 35 women. Weapons and supplies were borne on men's backs or in horse-drawn carts, and the line of marchers stretched for 50 miles. The Communists generally marched at night, and when the enemy was not near, a long column of torches could be seen snaking over valleys and hills into the distance.
The Communist marchers crossed 24 rivers and 18 mountain ranges, mostly snow-capped. Only 4,000 troops completed the journey. The majority of those who did not, perished. It was the longest continuous march in the history of warfare and marked the emergence of Mao Zedong as the undisputed leader of the Chinese Communists."
______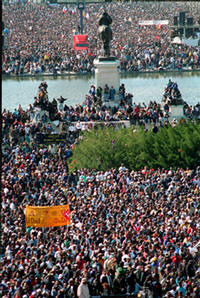 Million Man March, Oct.16, 1995
The Historic Million Man March, 1995
"On October 16, 1995, an estimated 850,000 African American men from across the United States gathered together at the National Mall in Washington, D.C. to rally in one of largest demonstrations in Washington history.  This march surpassed the 250,000 who gathered in 1963 for the March on Washington where Dr. Martin Luther King Jr. gave his historic "I Have a Dream" speech.  Estimates of the number of participants in the Million Man March ranged from 400,000 to more than 1 million, and its success spurred the organization of a Million Woman March, which took place in 1997 in Philadelphia."
______
Yesterday
Ray and I had been putting this off for a long time hoping to do it while Shay wasn't there, as she hates to be around construction. And when Shay ain't happy…..  We had to replace part of the floor in their bathroom, as it had developed a soft spot.  The cause had been fixed a while back. 
Knowing that it doesn't matter how many tools you think you will use, you always need more, so we took what we thought we would need in the little red black wagon.  I made many a trip back to the workshop to get something else, but at least everything could be wheeled back to the workshop in the wagon.  We cut out the bad part to the closest floor joists, and screwed in blocking before we cut the new plywood to fit.  Amazingly it did!
It still needs some floor float to fill in the cracks, then sanded, new linoleum laid, and it will be like new.
It wasn't easy working down on that floor, and Ray and I were both tired and sore by the time we had screwed down the plywood yesterday.