For "Summary Saturday" or News, some new, some old, that you may not have seen:
International Rabbit Day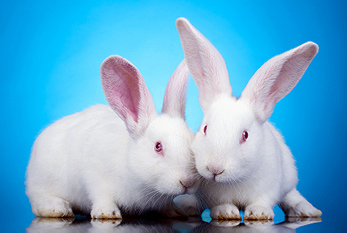 "International Rabbit Day is observed on September 28, 2013. It promotes the protection and care of rabbits both domestic and wild. International Rabbit Day is held each year on the fourth Saturday in September. Rabbit habitats include meadows, woods, forests, grasslands, deserts and wetlands. Rabbits live in groups, and the best known species, the European rabbit, lives in underground burrows, or rabbit holes.
More than half the world's rabbit population resides in North America.
Domestic rabbits can be kept as pets in a back yard hutch or indoors in a cage or house trained to have free roam. Rabbits kept indoors are often referred to as house rabbits. House rabbits typically have an indoor pen or cage and a rabbit-safe place to run and exercise, such as an exercise pen, living room or family room. Rabbits can be trained to use a litter box and some can learn to come when called. Domestic rabbits that do not live indoors can also serve as companions for their owners, typically living in a protected hutch outdoors." 
More at: http://www.smallanimalchannel.com/critter-news/2013/09/23/celebrating-rabbits-on-international-rabbit-day.aspx
The Humane Society of the United States - Animal Testing Campaign
International Rabbit Day is today! Join The Mentalist's Owain Yeoman and musical icon Leona Lewis and sign the #BeCrueltyFree pledge to end cosmetics testing on rabbits and other animals » http://on.fb.me/13LM52P
_______
18 Sept.2013: "The families of nearly 200 people are anxiously waiting for word from their loved ones who remain unaccounted for after the deadly floods in Colorado.
Those raging waters have already taken the lives of six people and left more than 450 stranded for nearly a week with little food and water.
But help is on the way with one of the nation's largest air operations in nearly a decade.
Ana Cabrera is OutFront in Boulder, where teams of unbelievable dogs are now digging through the rubble and mud to save lives."  CNN video at: http://outfront.blogs.cnn.com/category/colorado-flooding/
_______
How One Parent Made Biking a Priority
"When Jeff Anderson requested bike racks at his children's school in the fall of 2008, he had no idea this simple request would lead to him playing a key role in supporting the Safe Routes to Schools initiative in Fairfax County Public Schools (Virginia).
In the spring of 2009 he coordinated a bike to school day that ran in conjunction with National Bike to Work Day. When 40 students turned out for the event Jeff realized that he was on to something.
Bike Train
Students locking up their bikes. Image courtesy of Nike
Since 2009 Jeff has worked with staff at Wolftrap Elementary to establish what is called a bike train. Once a month kids meet at Jeff's house and bike 1.8 miles to school along a predefined route. They pick up additional riders along the way and use back roads to avoid congestion. The bike train has been going strong for four years, with students biking to school on cold January days when it is 18 degrees and snowy, and on hot June days when it is 85 degrees.
Recently Jeff has started working to expand the bike train program to other schools in the district. This past May he coordinated a Bike and Walk to School Challenge (now in its fifth year), encouraging schools to compete against each other by recruiting students to bike to school every day for a week."  More at:  http://blog.nwf.org/2013/03/how-one-parent-made-biking-a-priority-for-fairfax-county-public-schools/
_______
Garlic Beats Best-Selling Blood Pressure Drug In New Study
"A groundbreaking new study published in Pakistan Journal of Pharmaceutical Sciences has revealed that garlic is at least as effective as the blockbuster blood pressure lowering drug atenolol in reducing systolic and diastolic blood pressure in patients diagnosed with essential hypertension, a condition linked to the #1 cause of death in developed countries.
Hypertension is called a 'silent killer,' as it often goes completely unnoticed, along with the decades long subclinical march of atherosclerosis that is largely the cause of elevated blood pressure, often culminating suddenly in a deadly cardiovascular event such as a heart attack or stroke."  More at: http://www.greenmedinfo.com/blog/garlic-beats-best-selling-blood-pressure-drug-new-study
and: http://www.dailymail.co.uk/health/article-4954/Is-garlic-cure-all.html
_______
Bomb Damage at Buckingham Palace.
"The Queen Mother Elizabeth, King George and Winston Churchill inspect bomb damage at Buckingham Palace. Because of her effect on British morale, Adolf Hitler is said to have called her "the most dangerous woman in Europe".
The Most Dangerous Woman In Europe
"Queen Elizabeth speaks to the women of the British Empire 1942.  Queen Elizabeth, consort to King George VI rarely spoke on film.  Here, her soft well bred English manner of speaking is different to the more pronounced manner of that of her daughter Queen Elizabeth ll." 
Video at: http://youtu.be/CQEZPwLOzTo
More at: http://en.wikipedia.org/wiki/Queen_Elizabeth_The_Queen_Mother
________
Technology for Country Folk
Log On:

Making a wood stove hotter.

Log Off:

Don't add no more wood.

Monitor:

Keeping an eye on the wood stove.

Download:

Gettin' the farwood off the truk.

Mega Hertz:

When yer not keerful gettin' the farwood.

Floppy Disc:

Whutcha git from tryin' ta carry too much farwood.

Ram:

That thar thing whut splits the farwood.

Hard Drive:

Gettin' home in the winter time.

Prompt:

Whut the mail ain't in the winter time.

Windows:

Whut to shut when it's cold outside.

Sscreen:

Whut to shut when it's blak fly season.

Byte:

Whut dem dang flys do.

Chip:

Munchies fer the TV.

Micro Chip:

Whut's in the munchie bag.

Modem:

Whacha did to the hay fields.

Dot Matrix:

Old Dan Matrix's wife.

Lap top:

Whar the kitty sleeps.

Keyboard:

Whar ya hang the keys.

Software:

Them dang plastic forks and knifes.

Mouse:

Whut eats the grain in the barn.

Main Frame:

Holds up the barn ruf.

Port:

Fancy Flatlander wine.

Enter:

Northerner talk fer "C'mon in y'all".

Random Access Memory:

When ya can't 'member whut ya paid fer the rifle when yer wife asks.

Mouse pad:

That hippie talk fer the rat hole.
_______
On This Day:
William the Conqueror invades England, Sep 28, 1066:
"Claiming his right to the English throne, William, duke of Normandy, invades England at Pevensey on Britain's southeast coast. His subsequent defeat of King Harold II at the Battle of Hastings marked the beginning of a new era in British history.
William was the illegitimate son of Robert I, duke of Normandy, by his concubine Arlette, a tanner's daughter from the town of Falaise. The duke, who had no other sons, designated William his heir, and with his death in 1035 William became duke of Normandy at age seven. Rebellions were epidemic during the early years of his reign, and on several occasions the young duke narrowly escaped death. Many of his advisers did not. By the time he was 20, William had become an able ruler and was backed by King Henry I of France. Henry later turned against him, but William survived the opposition and in 1063 expanded the borders of his duchy.
With approximately 7,000 troops and cavalry, William seized Pevensey and marched to Hastings, where he paused to organize his forces. On October 13, Harold arrived near Hastings with his army, and the next day William led his forces out to give battle. At the end of a bloody, all-day battle, King Harold II was killed--shot in the eye with an arrow, according to legend--and his forces were defeated.
William then marched on London and received the city's submission. On Christmas Day, 1066, William the Conqueror was crowned the first Norman king of England, in Westminster Abbey, and the Anglo-Saxon phase of English history came to an end. French became the language of the king's court and gradually blended with the Anglo-Saxon tongue to give birth to modern English. William I proved an effective king of England, and the "Domesday Book," a great census of the lands and people of England, was among his notable achievements. Upon the death of William I in 1087, his son, William Rufus, became William II, the second Norman king of England."
--------
From me:  In the USA one just has to remember all the Presidents.  In British schools, they are supposed to be able to remember all the monarchs from 1066!
_______
Yesterday:
Rich, the computer man, called early to tell me that he thought that I would be happier going back to Windows XP Pro, and so he asked me to bring in the e-machine.  There are so many things that I do that Windows 7 just doesn't do the same. It has changed some programs so that they are not user friendly any more.  Jay wanted to go with me as he likes to get out of the subdivision, and he's handy for toting big computers, so I took him!
Ray and I took my Dell outside and gently blew it out with the compressor.  Rich was going to double the RAM.  Ray and I looked at the capacitors after what I had gone through with the HP small form computer, and none of them were swollen.  Then Ray went back to painting my screen porch.
It didn't take Rich long to open up the Dell and put the memory sticks in there.  He didn't charge me much, as I had given him my old Sony Vaio the day before. It had some good parts that he could use, like a new mother board, processor and memory sticks.
Rich said this Dell is a good old workhorse computer, and that I should keep it.  Certainly is heavy though.  It has never given me any trouble.  I bought it from Gary, an old computer guy in Montgomery, TX, and he had rebuilt it.  Gary knew what he was doing.  I don't know why I thought that I had to buy that HP with more RAM, when I could have had more put in this one.  It works like a champ now.  But we had to leave the e-machine with Rich, so I will pick it up later.
Many years ago, my daughter who works with stocks and bonds accounts, found out that she couldn't use Windows 7 on several of her customer's sites, so she had to look for a laptop  with XP Pro.  She still uses it today, so I am not the only one who prefers it.  If it works, don't fix it.
Yesterday, Ray filled in for someone at the Cat Habitat.   He enjoys that, playing with them, and taking care of them.  Then he comes over here and tells me about our SPCA cats there.  Very often they are adopted before their time to leave the Habitat is up, and that makes us all happy.  The adoptable dogs have to rely on our Adoption Days, or www.Petfinder.com to find their 'furever' homes. 
Please spay or neuter your pet, we have trouble finding good homes for them all.  People give away their puppies and kittens, but if the new 'parents' don't get them neutered, then they have even more babies.  Every Litter Bit Hurts!   Foster parents have to feed and care for the animals out of their own pockets, and give them the love and time that the animals often have never had.   Sometimes it takes a long time to get them adopted into responsible homes.  I am getting a new foster kitten who was dumped, next week.  Someone just left her to die. I am doing it for Nala, to keep her company.  I think Nala misses her litter brother who was adopted.
In the afternoon, who should come rolling up in a big truck, but my granddaughter Michelle's older half-brother, Jimmy.  Even though we are not related, he said "Hi Grandma, I came for the things for the yard sale for my mother".  Michelle had told me that they were having a benefit yard sale for their mother Becky, who has cancer, but she didn't tell me it was now!  Most of my yard sale stuff is packed away.  I didn't have anything ready, so I gave him a couple of TV's, a computer monitor, some knick-knacks and clothes. Jimmy said that clothes are selling well, that's unusual.  Michelle's boyfriend was helping him, so I met him too.  Seems like a nice enough chap.
So I got a few more things out of here yesterday!