For "Travel Tuesday", let's visit the Comstock area which is in Big Bend Country
" Named for the Big Bend National Park, the westernmost region of Texas boasts pristine parklands, wide open skies, popular hiking and camping areas, and the beautiful Davis Mountains. Relive the days of the Wild West or experience the international culture of old El Paso. Discover the Park Lands of the Texas Big Bend Country."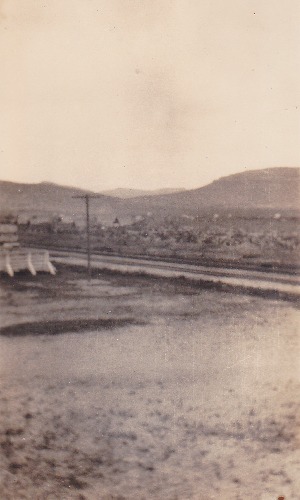 COMSTOCK, TX
Comstock in the 1920s
"Comstock is an unincorporated community in Val Verde County, Texas, United States, about 24 miles (50 km) northwest of Del Rio on U.S. 90. It is the town nearest to Seminole Canyon, which has been a site of human habitation for 9,000 years. Comstock itself was founded around 1883 on the Galveston, Harrisburg and San Antonio Railway as the line drove west toward El Paso. Although first platted as Sotol City, it was later named for John Comstock, a railroad dispatcher.
The town was located near a natural lake, which was used for the town's water supply but is today only intermittent. The town was granted a post office in 1888, but its remote location and limited resources kept the town from growing quickly. Comstock's biggest scene was between 1888 and 1910, when the Deaton Stage Line operated between the town's railroad depot and the city of Ozona some sixty miles (100 km) north. The depot at Comstock did not long outlast the stagecoach line, and although the names on the businesses have changed little has changed in the town in 70 years.
Seminole Canyon, now a state park, has cave drawings and other evidence of settlement dating from the Early Archaic Period, around 7000 BC. Later remains include stone circles and cairns of the Late Prehistoric, and even 19th Century remains from the construction of the Southern Pacific, one of the nation's first transcontinental railroads."
______
Seminole Canyon State Park & Historic Site
"Visitors enjoy hiking, mountain biking, camping, historical study, and nature viewing. Fate Bell Shelter, in the canyon, contains some of North America's oldest Native American pictographs and is one of the oldest cave dwellings in North America. Note:  No hiking is allowed in the canyon area without a guide."    Read more, pictures and 360 deg tour at: http://www.tpwd.state.tx.us/state-parks/seminole-canyon
______
Jim Harrison shows preserve visitors ancient pictographs © Jim Harrison 
______
Fate Bell Shelter
"Fate Bell Shelter is best known for its pictographs, which are among the best documented and best preserved of the Pecos River style. This style, which may date between three and four thousand years before the present, is generally considered the oldest of the types found in the Lower Pecos area. This would place the art in the middle Archaic period."  More at: http://www.tshaonline.org/handbook/online/articles/bbf01
_______
Dolan Falls Preserve
"Fed by powerful freshwater springs, the Devils River and Dolan Creek comprise what many consider to be Texas' most pristine river.
On the arid western border of the Texas Hill Country, halfway between Del Rio and Sonora in Val Verde County, lies one of the jewels of The Nature Conservancy: Dolan Falls Preserve.
The preserve consists of 4,965 acres and is bolstered by an additional 157,994 acres that is either owned in fee or under Conservancy conservation easements along the Devils River. It is located at the intersection of three biological regions: the Edwards Plateau, Chihuahuan Desert and Rio Grande Plain brushland. This combination of terrain creates a landscape of outstanding beauty and diversity supported by the pristine waters of Dolan Springs, Dolan Creek and the Devils River.
The Devils River flows through the preserve's canyons, which support stands of oaks and sycamore bounded by steep cliffs dotted with scrub juniper and mesquite. Rare and endangered species such as the Texas snowbell and Mexican white oak are found on the tract.
The river and its associated springs house rare salamanders and fish, many of which are unique to the Chihuahuan Desert region. The Devils River and other riparian corridors in the region serve as important migration paths for birds and monarch butterflies traversing the dry west. One conservation target is the black-capped vireo, an endangered songbird. Nesting pairs return to the preserve each spring.
The Devils River and Dolan Creek are replenished by freshwater springs flowing from the bases of towering limestone cliffs. It was the environmental significance of the property's springwater flow that initially sparked the Conservancy's interest in the site."  More at: http://www.nature.org/ourinitiatives/regions/northamerica/unitedstates/texas/placesweprotect/dolan-falls-preserve.xml
--------
Dolan Falls Preserve in Texas
"Dolan Falls Preserve—4,800 acres bolstered by a conservation easement on 13,722 acres of adjoining property—is located at the intersection of three biological regions: the Edwards Plateau, Chihuahuan Desert and Rio Grande Plain brushland. This combination of terrain creates a landscape of outstanding beauty and diversity supported by the pristine waters of Dolan Springs, Dolan Creek and the Devils River."
______
Baker's Crossing, "north of Comstock, is more creek than river.
Despite the beautiful setting, a trip down the 47.7-mile stretch of the Devils River from SH 163 at Baker's Crossing to the Rough Canyon Marina at Lake Amistad can be difficult and challenging to plan, exhausting to navigate, and life-threatening if not prepared, even for the most seasoned paddlers.
Public camping for paddlers only is presently allowed at Baker's Crossing, San Pedro Point - Del Norte (river mile 15), and 29 mile Paddler Camp - Big Satan. Camping on islands within the river, while legal, can be extremely dangerous if the river rises. Any other camping along the river bank above the gradient boundary would be considered trespassing if the user doesn't have permission from the private landowner."

Info on paddling Devils River
"Poorly constructed and designed canoes can be dangerous as well as difficult to paddle. Well-designed and constructed canoes can survive where bargain boats will not."
More about the Devils River here: http://www.southwestpaddler.com/docs/riogrande9.html
and
Preparing for a Devils River Trip
"Don't become someone else's problem!
A trip on the Devil's River is suitable ONLY for experienced paddlers only who are prepared to spend at least three days on the river."  More at: http://www.tpwd.state.tx.us/state-parks/devils-river/river-trips
and from a couple who have done it:
http://www.texascooppower.com/texas-stories/nature-outdoors/not-for-the-faint-of-heart
_______
On This Day:
Prince Charles and Camilla Parker Bowles wed, Apr 9, 2005:
"Nearly eight years after Princess Diana's death in a car crash was mourned the world over, Prince Charles, her widower and heir to the British throne, weds his longtime mistress, Camilla Parker Bowles. The marriage, a private civil ceremony, took place at Windsor Guildhall, 30 miles outside of London. The ceremony was originally supposed to take place on April 8, but had to be rescheduled so as not to conflict with the funeral of Pope John Paul II.
After the civil ceremony, which the queen did not attend, Archbishop of Canterbury Rowan Williams blessed the union on behalf of the Church of England in a separate blessing ceremony. An estimated 750 guests attended the ceremony, which was held at St. George's Chapel in Windsor and was attended by both of Charles' parents, Queen Elizabeth II and Prince Philip.
Twenty years earlier, on July 29, 1981, Prince Charles married his first wife, Lady Diana Spencer, who, at 20 years old, was 12 years his junior. Their lavish wedding attracted a television audience of 750 million, making it the most popular program broadcast to that time. Diana's shy manner and beauty charmed audiences, sparking the international admiration she enjoyed for the rest of her life.
It has since come to light that Charles and Diana's "fairy-tale" marriage was less than happy, involving infidelity on both sides, and the pair separated in 1992. In an interview several years later, Diana said "there were three of us in the marriage," likely referring to Charles' drawn-out affair with Parker Bowles. In 1996, about a year before Diana's death, the couple divorced.
Prince Charles met his second wife, then Camilla Shand, at a polo match in 1970. They began dating, but Charles soon joined the navy and the relationship fizzled. Though she married army officer Andrew Parker Bowles in 1973, she remained friendly with Prince Charles and it is widely believed that an amorous relationship continued between the two even after his 1981 wedding to Diana. Camilla and Andrew Parker Bowles divorced in 1995.
Camilla's lack of popularity with the British public made news long before 1999, when she made her first public appearance as his companion. Though she technically became the Princess of Wales with the marriage, Parker Bowles has announced her preference for the title Duchess of Cornwall, in deference to the beloved late princess. Should Charles become king, she will become Queen Camilla, though she has already announced her intention to use the title Princess Consort, most likely in response to public opinion polls showing resistance to the idea of a "Queen Camilla."
After the service, which ended with the singing of "God Save the Queen," Queen Elizabeth hosted a two-hour reception in the State Apartments at Windsor Castle. The couple then left for a honeymoon at the Balmoral Estate in Scotland. Princes William and Harry, who were both said to be happy about the marriage, decorated the Bentley in which the couple left the reception."
_______
Yesterday:
Misty and I went to pick Jay, and had our walk down there. 
When we got back here, we loaded some extra trash that we hadn't put in the local "Clean–Up Day" dumpsters last Saturday, into big garbage bags. It was mostly Styrofoam from the new ACs. Now that it is in bags, it can go out with the trash on Wednesday.
Jay said that at 11.30 we had to go to the store around the corner, as the worker there needed a car, and Jay knew where there was a great one for sale.  We loaded the gas cans so we could fill them while we were at the store, but their register was down, so they couldn't turn on the pumps.  Then that worker wasn't there, so it was a wasted trip.  We could have been searching for that survey stake.
But I thought I might as well look at this 'marvelous' $500 car, as Jay said it was a great car because the AC worked!  If that is his main criteria for buying a car, no wonder his always broke down! It was a Chevy Lumina (1990?) with several parking lot bruises, a windshield that was cracked right across driver's vision, (illegal in TX), broken taillight, and tires that were so outdated that they were cracked.  The tailpipe indicated that it was an oil burner, and we didn't even hear it run.  On top of that, it had AL plates which would entail a special TX inspection to get TX tags.  So the buyer would have about $1500 in it, just to make it street legal.  Not such a bargain.
We didn't get any work done, so the whole morning was a waste of time.   But the afternoon made up for that.
It was overcast, slight wind, with intermittent sunshine. I loaded Terry-cat in his big carrier with a litter box and water, into the van, and drove down I-45 to FM 830 to the Conroe Cracker Barrel.  There, I parked under a tree, and I don't know why I even locked the van as I had the windows down half-way for the cat.  Arlene, Nette, Rob and I had a great lunch.  I had the chicken salad, and a baked sweet potato, but my only complaint is that there was too much lettuce and not enough of the delicious grilled chicken.  We had a great time chatting, and it was great to see them all again.
Then on to the vet again, several towns south.  Terry has lost the 2 lb that I put on him, and is dehydrated again.  The vet said they have given Terry all the different medicines in their arsenal, and asked me if I wanted to have him PTS.  They noticed on his records that when he had been turned in to them, that his previous 'parents' hadn't given him any shots for 6 years, so that is why his immune system is so bad. 
I looked at that darling Terry face, and thought of what it would be like for Terry not to sleep on this Mom's bed any more, his favorite pastime, and I just couldn't let them do it.  Unless he was really suffering that is.  They had tested him for FELV, but not FIV, so I will have to get him tested for FIV, as they don't do it there.  So for one last ditch try, they IV'd a bunch more liquids under his skin, and injected B12 in it.  Hopefully he will stop refusing food and spitting out what I give him with the feeding syringe.  Of course, the vet said, we can go back to the other alternative, if this doesn't work out in the next few days.