For "Summary Saturday", News, Some New, Some Old.
Relief blankets Boston as 2nd suspect caught
CNN) - "Boston can finally rest.  After a five-day nightmare filled with tragedy and grief, fear and anxiety, one suspect in the Boston Marathon bombings is in custody. The other, his older brother, is dead. And residents across Massachusetts are cheering the efforts of law enforcement officers who ended a week of hell."
______
14 bodies recovered after Texas blast
CNN) -- "Two days after a massive fertilizer plant explosion leveled parts of a central Texas town and killed 14 people, residents moved into recovery mode Friday after investigators announced they had nearly finished search and rescue efforts.
The fiery explosion ripped through the heart of the close-knit town of West.  "It's going to be a long recovery for this community," Gov. Rick Perry said.  The death toll included the secretary, who was also a member of the volunteer fire department, said Mayor Tommy Muska.
Felton and Muska joined Perry in thanking volunteers from across the state who came to assist in cleanup. They also expressed gratitude for donations of food and clothes, but said they were running out of places to store them and asked that people instead donate money through the Red Cross and Salvation Army.
We are now hearing that there is a total of 11 firefighters who died in the line of duty in the West, TX explosion. (4 of the firefighters were serving in an EMS capacity). Also, 11 firefighters in the hospital. Basically, the West VFD is without 2/3 or their members at this point."
-------
Fallen firefighters of deadly Texas explosion
WEST, TX - "They were the first running into battle flames at the West fertilizer plant.  With the explosion, firefighters who took those brave steps didn't make it out alive. 
The blast came as the nation remained on edge after the Boston Marathon bombing on Monday that killed three and left about 180 injured. It happened two days before Friday's 20th anniversary of a fire in Waco that ended a federal agents' siege against members of the Branch Davidian sect. More than 80 sect members and some federal agents died.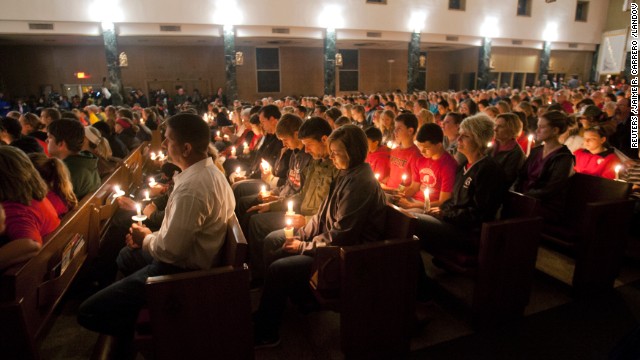 West, Texas: A community mourns.  A candlelight vigil is held at St. Mary's Catholic Church in West, Texas, on Thursday, April 18, in remembrance of those who lost their lives in the massive explosion at the West Fertilizer Co., on Wednesday, April 17."
_______
Quake kills more than 150, injures about 5,500 in China
BEIJING - "A strong 6.6 magnitude earthquake hit a remote, mostly rural and mountainous area of southwestern China's Sichuan province on Saturday, killing at least 156 people and injuring about 5,500 close to where a big quake killed almost 70,000 people in 2008.
The earthquake, China's worst in three years, occurred at 8.02 a.m. in Lushan county near Ya'an city and the epicenter had a depth of 12 km (7.5 miles), the U.S. Geological Survey said."  More at: http://worldnews.nbcnews.com/_news/2013/04/20/17830252-quake-kills-more-than-150-injures-about-5500-in-china?lite
_______
A chemical analysis of early 1900s medicines revealed vitamins and calcium, but also toxic compounds like mercury and lead. The Henry Ford Museum's collection of patent medicines. Image by Mark Benvenuto
"If you suffered from a medical ailment in the year 1900, your treatment options were varied: You could take everything from Dr. Tutt's Liver Pills to Hollister's Golden Nugget Tablets, Dr. Sawen's Magic Nerving Pills or Dr. Comfort's Candy-Covered Cathartic Compound.
Of course, their titles notwithstanding, the creators of these pills weren't always doctors, and the medicines certainly hadn't gone through the controlled randomized trials we have today to ensure safety—they could contain ingredients that were ineffective, or worse, toxic. In many cases, their proprietors might not have known what they were even putting in these so-called "snake oil" medicines (a term that likely stemmed from the sale of actual snake oil to supposedly treat joint pain). 
In an era before rigorously controlled trials, putting a what was commonly believed to be a safe cure into a medicine and simply selling it to people was considered normal practice, and may have indeed led to progress in medicine. "Nowadays, we start by seeing if a drug can kill certain kinds of cells, then we'll try it in mice, then dogs, then humans," Benvenuto said. "Obviously, we have a better system now, but I think this type of medicine was the first step in the road to where we are now. Compared to folk cures, it was a first step at being logical.""  More at: http://blogs.smithsonianmag.com/science/2013/04/whats-in-century-old-snake-oil-medicines-mercury-and-lead/
---------
From me:  Did you see that above? "then we'll try it in mice, then dogs, then humans!"
_______
Boycott L'Oreal For Torturing Animals!
"Isn't it time that cosmetic testing on animals be a thing of the past? Evidently L'Oreal Paris doesn't think so.
L'Oreal continues to use rabbits as test subjects for their beauty products. These tests involve extremely painful procedures that can severely injure or kill the animals. Substances are dropped into their eyes, skin is shaved down in order to test chemicals, and poisons are force-fed. Most of the animals are then euthanized after they have served L'Oreal's purpose.  You, as the consumer, have an opportunity to call L'Oreal out on its disgusting methods. Sign the pledge declaring a boycott of all L'Oreal products until the company ceases to use animals in testing of any kind!" 
______
Nothing to Sneeze At: 12 Easy Ways to Combat Spring Allergies, by Marlo Thomas
"If your nose is itchy and running as you read this, don't just reach for a tissue -- pour yourself a cup of peppermint tea, too. I'll explain.
For all of the wonderful things that come with spring -- the sun, the flowers, the singing birds, even the spring cleaning -- there is one aspect of the season that is not so wonderful: allergies! Every spring, as the trees begin to bloom, clouds of pollen are released into the air and the annual chorus of sniffling and sneezing begins.
One of the recommend remedies is to stay inside, close the windows and sit in front of an air purifier. But who wants to be trapped inside when everything is coming back to life outside? For most of us, a few simple tricks and clever practices are all it takes to prevent, or at least reduce, the symptoms of our allergic reactions.
For example, did you know that the hair products you use could make your allergies worse? Were you aware that certain types of clothing can actually attract pollen? And, yes, peppermint tea can actually clear up congestion and reduce inflammation."  More at:  http://www.huffingtonpost.com/2013/04/10/nothing-to-sneeze-at_n_3052894.html
_______
INFO ABOUT CLOTHES DRYERS
"The heating unit went out on my dryer! The gentleman that fixes things around the house for us told us that he wanted to show us something and he went over to the dryer and pulled out the lint filter. It was clean. (I always clean the lint out after every load clothes.)
He told us that he wanted to show us something; he took the filter over to the sink and ran hot water over it. The lint filter is made of a mesh material. I'm sure you know what your dryer's lint filter looks like. Well...the hot water just sat on top of the mesh! It didn't go through it at all! He told us that dryer sheets cause a film over that mesh and that's what burns out the heating unit. You can't SEE the film, but it's there. It's what is in the dryer sheets to make your clothes soft and static free. That nice fragrance too. You know how they can feel waxy when you take them out of the box...well this stuff builds up on your clothes and on your lint screen.
This is also what causes dryer units to potentially burn your house down with it! He said the best way to keep your dryer working for a very longtime (and to keep your electric bill lower) is to take that filter out and wash it with hot soapy water and an old toothbrush (or other brush) at least every six months. He said that makes the life of the dryer at least twice as long! How about that!?! Learn something new every day! I certainly didn't know dryer sheets would do that. So, I thought I'd share! Note: I went to my dryer and tested my screen by running water on it. The water ran through a little bit but mostly collected all the water in the mesh screen. I washed it with warm soapy water and a nylon brush and I had it done in 30 seconds. Then when I rinsed it, the water ran right thru the screen! There wasn't any puddling at all! That repairman knew what he was talking about!"
______
Sites for Super Deadly Frog, Flying Fox, and Mystery Owl Named to 7 Wonders of Endangered Species
"A two-inch long frog so deadly that its toxin could kill ten people; a bat that is called a flying fox with males that defend a harem of up to eight females; and an enigmatic, fist-sized owl that was discovered in 1976 only not to be seen again for 26 years, are among the unique wildlife species that captured the attention of voters in a just-completed campaign naming the Alliance for Zero Extinction's (AZE's) 7 Wonders of Endangered Species."  More at: http://www.abcbirds.org/newsandreports/releases/130212.html
_______
Vacation Planning? These Park Movies Will Help
"Although we are inching our way toward spring, when I look out my window, it still looks like winter. If you're like me, you're counting the days until spring, dreaming of warmer weather, and making arrangements for summer vacations in and around our national parks. One thing that really helps me get through winter and look ahead is watching films about national parks.
Here are 10 films—in no particular order—that entertain, educate, and inspire me. Perhaps you've seen some of these before, but like many of our national parks, they are worth revisiting."  List at: http://www.parkadvocate.org/vacation-planning-these-park-movies-will-help/
______
On This Day:
New sound process for films announced, Apr 20, 1926:
"On this day in 1926, Western Electric, the manufacturing arm of the American Telephone & Telegraph Company (AT&T), and the Warner Brothers film studio officially introduce Vitaphone, a new process that will enable the addition of sound to film.
Vitaphone debuted in August 1926 with the costume drama Don Juan, starring John Barrymore and featuring an orchestral score by the New York Philharmonic. The following year, Warner Brothers released its second Vitaphone feature, The Jazz Singer, which included classical and popular music, as well as about 350 words of dialogue. The success of these two films led directly to the motion-picture industry's conversion to sound, as the major studios quickly lobbied to gain the rights to use Vitaphone as well. Warner Brothers agreed to give up its exclusive rights to the system in exchange for a share of the royalties, and by the spring of 1928 virtually every Hollywood studio had jumped on the sound bandwagon."
______
A massacre at Columbine High School, Apr 20, 1999:
"Two teenage gunmen kill 13 people in a shooting spree at Columbine High School in Littleton, Colorado. At about 11:20 a.m., Dylan Klebold and Eric Harris, dressed in long trench coats, began shooting students outside the school before moving inside to continue their rampage. By the time SWAT team officers finally entered the school at about 3:00 p.m., Klebold and Harris had killed 12 fellow students and a teacher, and had wounded another 23 people. Then, around noon, they turned their guns on themselves and committed suicide.
In an effort to show the world "that life goes on," Columbine school board officials voted to replace the library where students were murdered with an atrium. The shootings at Columbine stood as the worst school shooting in U.S. history until April 16, 2007, when 32 people were shot and many others wounded by a student gunman on the Virginia Tech campus in Blacksburg, Virginia."
______
Massive oil spill begins in Gulf of Mexico, Apr 20, 2010:
"On this day in 2012, an explosion and fire aboard the Deepwater Horizon oil drilling rig in the Gulf of Mexico, approximately 50 miles off the Louisiana coast, kills 11 people and triggers the largest offshore oil spill in American history. The rig had been in the final phases of drilling an exploratory well for BP, the British oil giant. By the time the well was capped three months later, an estimated 4.9 million barrels (or around 206 million gallons) of crude oil had poured into the Gulf."
______
Yesterday:
After an early lunch, Misty and I went for our walk down at Jay's around 12.30pm, as he wanted to go into town with me.  A couple of things were returned to Walmart and Lowes, and I bought a new doorbell.  Then a few groceries were bought, and put in the 12v. fridge in the van, before it was time to go to meet kitty-kats, Simone and Gumdrop.
Before the foster mom arrived with the cats, I had made up my mind that I was going to get white Simone, but when I met them, I realized that the diluted calico, Gumdrop, would be the better choice.  She was more friendly, outgoing, healthier looking and older.  I didn't know that Simone was only a baby at 1 year old, and she seemed such a dainty, frail, shy, little thing.  She even growled when she was trying to be coaxed out of her carrier, whereas Gumdrop came straight to me.
Jay stayed outside Petco while I was waiting inside for the foster mom, but he must have got some beer from somewhere, because he smelled of it, and acted like a horse's patoot when he came in.  He just wouldn't shut up while the foster mom and I were talking, and kept on taking Gumdrop away from me.    I wanted to take him home before I even unloaded the van, but his ATV was still here, so he unbuckled the cat carrier, and carried it in to my bathroom.  But he didn't even let her out of the carrier, so I did that before I unloaded the van.  That's were Gumdrop will stay for a few days to decompress, and to learn the sounds and smells of this household.
Every time I went in there to check on her, she would roll over and want her tummy scratched.  Ray came over to meet her, and she brushed up against him lovingly.  She seemed to have settled right down, enjoyed looking out of the window, and then ate her dinner.   
But when I went to bed, I opened the bathroom door, Gumdrop saw Misty, so I put Gummie on my bed and she stayed there for a while.  She came from a foster home with big dogs, but she hasn't realized that 17 lb near-blind, old Misty is no threat, and hid in my linen cupboard for most of the night.  She came out this morning and ate all her breakfast, but went back into the linen cupboard.  I hope she feels at home soon.
So it must have been too traumatic a day.