For "Summary Saturday",  News, Some New, Some Old.
Citizen Astronomers Discover Planet with Four Suns
"Imagine if four suns rose and set every day.
That could be the reality on the newly discovered planet, PH1 (Planet Hunters 1)."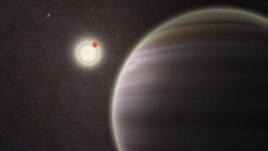 An artist's illustration of PH1, a planet discovered by volunteers from the Planet Hunters citizen science project. PH1, shown in the foreground, is the first reported case of a planet orbiting a double-star that, in turn, is orbited by a second distant planet.
The planet is estimated to be a bit larger than Neptune and, like Neptune, is believed to be a gas giant. PH1 orbits its host stars every 137 days. Beyond the planet's orbit, approximately 900 times the distance between the Sun and the Earth, a second pair of stars orbits the planetary system.
"Anyone viewing the sky from PH1 would have a spectacular view of all four stars," according to a blog post on the Planet Hunters website. "More importantly, this amazing system will help us understand how and where planets can form – producing a stable planet in a system where four different stars are moving about can't be easy." More at: http://www.voanews.com/content/new_planet_with_four_suns/1527441.html
_______
Iran Update
"The Iranian flag. Iran's nuclear threat and Israel's possible response remain important news items to watch. Here are a few recent news reports about the Iranian situation."
"As a follow-up to our posts "Will Israel Attack Iran Before November?" and "Strait of Hormuz: A Dangerous Sea Gate Gets More Dangerous," here are some recent news reports to watch.
New EU sanctions announced
BBC reported Oct. 15:  "EU member states have announced a new package of sanctions against Iran over its controversial nuclear programme.
"Foreign ministers meeting in Luxembourg 'significantly broadened EU restrictive measures,' focusing on Iranian banks, trade and gas exports, officials said.
"The ministers reiterated their 'serious and deepening concerns' over Iran's nuclear activities and their commitment to 'work for a diplomatic solution.'
"They suspect Iran is seeking to develop nuclear weapons, something it denies.
"Analysts say the unilateral sanctions announced by the US and EU, as well as those imposed by the UN Security Council, have done significant damage to the Islamic Republic's economy.
"Earlier this month, riots broke out when Iran's currency, the rial, plunged to new lows against the dollar, according to local currency exchange websites, having lost 80% of its value since the start of the year. …
"'The objective of the EU remains to achieve a comprehensive, negotiated, long-term settlement which restores international confidence in the exclusively peaceful nature of the Iranian nuclear programme, while respecting Iran's legitimate right to the peaceful use of nuclear energy under the Non-Proliferation Treaty,' the EU statement said." More at: http://lifehopeandtruth.com/prophecy/blog/iran-update/
_______
Fidel Castro Stroke Reported: Physician Claims Former Cuba Leader 'Very Close To A Neurovegetative State'
"Fidel Castro has suffered a serious, "embolic" stroke, according to a Venezuelan physician cited by The Miami Herald.
Jose Marquina, who spoke with El Nuevo Herald and claims "firsthand sources and information" about Castro's health, described the former leader's condition as "very close to a neurovegetative state." Castro is reportedly incapacitated, and "has trouble feeding, speaking and recognizing faces," Marquina said."
But…  "Two close family members of Castro have also recently denied he is in grave condition. Juanita Castro, the former leader's sister, told the AP in Miami that reports of her brother's condition are "pure rumors" and "absurd."  Son Alex Castro told a reporter for a weekly Cuban newspaper that his father "is well, going about his daily life."" AP.
_______
Support Malala Yousufzai's Fight For Girls' Education
Islamabad, Pakistan (CNN) -- "A Pakistani teenage activist shot in the head by the Taliban for demanding an education has left her beloved country for specialized medical treatment in Britain.
The Taliban's attempted assassination last week of Malala Yousufzai, 14, has sparked outrage inside Pakistan and around the world, transforming the young blogger into an international symbol of defiance against the radical Islamist group that continues to wield influence in parts of Pakistan.
After Tuesday's attack, Malala was treated immediately by Pakistani doctors who later removed a bullet lodged in her neck. She was airlifted Monday to a hospital in Birmingham, England, that treats the country's war casualties. There she will be treated by neurosurgery specialists. Her recovery could take months, doctors said."
"U.S. Secretary of State Hillary Clinton said the "attack reminds us of the challenges that girls face, whether it is poverty or marginalization or even violence just for speaking out for their basic rights."
Sign the petition: Urge Hillary Clinton to continue supporting young women's right to actively pursue an education without violence at: http://thehungersite.greatergood.com/clickToGive/campaign.faces?siteId=1&campaign=MalalaYousufzai
_______
Miners Fight Back Against Obama TV Ad: "Absolute Lies"
"Coal miners tell Obama to stop the absolute lies in TV ad accusing miners of being props at rally for Romney. Miners held a press conference to release a letter signed by over 500 miners saying they were not forced to attend Romney event. They wanted to attend because their is a war on coal and Obama is leading it. If Obama is re-elected he will put us all out of work permanently."   The long version can be found here:
http://www.youtube.com/watch?v=SzU3oZLV8Hw
_______
Root Canals Can Have Devastating Effects on Health
"Is it wise and prudent to have a root canal? There are issues with root canal therapy that everyone should know before deciding to have one.
There has been recent research that presents valid proof of systemic illnesses that are a direct result from latent infections lingering in filled roots. These conclusions are based on research performed by Dr. Weston Price over a 25 year period in the beginning of the twentieth century.

The research done by Dr. Weston Price discusses how root canals can cause bacteria to become trapped inside the structure of teeth. This can be the cause of many diseases that can be traced to one single source.
A high percentage of chronic degenerative diseases may actually originate from root canals. The most common diseases are circulatory and heart disease. The next common diseases are those involving joints and arthritis."     Learn more: http://www.naturalnews.com/025412_root_canals_bacteria_infection.html
----------
How a Root Canal Can Affect Your Health
"In 1906, the Mayo Clinic in conjunction with Weston Price DDS, MS as head of research for the dental association of that time, announced that root canals were a haven for disease-producing bacteria
Research showed that heart attacks could be induced 100 percent percent of the time, implicating root canals as one of the primary causes of heart disease – currently the number one killer of Americans
Toxins from these bacteria together with mercury from dental amalgam have the ability to alter your DNA and RNA, increasing the potential for disease and/or birth defects in future generations
Diseases that could potentially be dental related include chronic fatigue, heart disease, meningitis, and human papilloma virus (HPV)" Complete article at: http://articles.mercola.com/sites/articles/archive/2012/10/02/dr-huggins-discusses-root-canals.aspx?e_cid=20121011_WNL_art_1
_______
The Noah's Ark of Plants and Flowers
Scientists at a British laboratory are racing to preserve thousands of the world's threatened plants, one seed at a time
"Dozens of shipments arrive weekly from every corner of the globe—seeds air-freighted from far-flung locations: the deserts of Kyrgyz­stan, the Dominican Republic's tropical valleys, the alpine meadows of China, the plains of Oklahoma. In more than 50 countries, hundreds of researchers are engaged in one of the most ambitious undertakings in the history of field science: The goal is to collect 25 percent of the planet's 400,000 plant species by 2020.
Scientists are racing against time: 100,000 species of flora—imperiled by habitat destruction, overharvest­ing and climate change—are threatened with extinction. "Even if we know that plants are being lost in the wild," says Paul Smith, head of seed conservation, "if we can get them into the seed bank, we can regenerate them in the future.""    Read more: http://www.smithsonianmag.com/science-nature/The-Noahs-Ark-of-Plants-and-Flowers.html
_______
US President Chosen by Electors, Not Popular Vote
"While millions of Americans will cast ballots for president in November, their votes do not directly send one of the candidates to the White House. That the selection of the president is actually done by a group called the "Electoral College."
"Americans vote for their next president on November 6. But the real presidential election takes place on December 17, and only 538 people are involved. This small group is called the Electoral College.
When the U.S. Constitution was forged in 1787, no European nation had its citizens directly elect their Head of State.  Therefore, the Constitution's writers devised a two-step system by which people would cast ballots, but their votes would be conveyed to a small group, the Electoral College, which meeting state-by-state about a month after the popular vote, actually selects the president."      More at: http://www.voanews.com/content/us-president-chosen-by-electors-not-popular-vote/1527628.html
_______
On This Day:
Congress investigates Reds in Hollywood, Oct 20, 1947:
"On October 20, 1947, the notorious Red Scare kicks into high gear in Washington, as a Congressional committee begins investigating Communist influence in one of the world's richest and most glamorous communities: Hollywood.
After World War II, the Cold War began to heat up between the world's two superpowers—the United States and the communist-controlled Soviet Union. In Washington, conservative watchdogs worked to out communists in government before setting their sights on alleged "Reds" in the famously liberal movie industry. In an investigation that began in October 1947, the House Un-American Activities Committee (HUAC) grilled a number of prominent witnesses, asking bluntly "Are you or have you ever been a member of the Communist Party?" Whether out of patriotism or fear, some witnesses—including director Elia Kazan, actors Gary Cooper and Robert Taylor and studio honchos Walt Disney and Jack Warner—gave the committee names of colleagues they suspected of being communists.
A small group known as the "Hollywood Ten" resisted, complaining that the hearings were illegal and violated their First Amendment rights. They were all convicted of obstructing the investigation and served jail terms. Pressured by Congress, the Hollywood establishment started a blacklist policy, banning the work of about 325 screenwriters, actors and directors who had not been cleared by the committee. Those blacklisted included composer Aaron Copland, writers Dashiell Hammett, Lillian Hellman and Dorothy Parker, playwright Arthur Miller and actor and filmmaker Orson Welles.
Some of the blacklisted writers used pseudonyms to continue working, while others wrote scripts that were credited to other writer friends. Starting in the early 1960s, after the downfall of Senator Joseph McCarthy, the most public face of anti-communism, the ban began to lift slowly. In 1997, the Writers' Guild of America unanimously voted to change the writing credits of 23 films made during the blacklist period, reversing—but not erasing—some of the damage done during the Red Scare."
_______
Yesterday:
Jay called to let me know that he was going to Houston to work on a roof.  I hadn't had a chance to see the Park Model Trailer that was advertised, so as soon as I had fed the kitten her second breakfast, off I went, out into the boonies of New Waverly.  The trailer was sitting in a horse pasture, so I had to change my shoes before I could get back in my van. 
It had been sitting there for a while, and it needed some work, but I had been warned about that.  I didn't tell them that I have been repairing RV's since 1968!! 
It had a nice floor plan, better than my previous Park Model, as it had nice bay window on the front.  But that can be a disadvantage in the hot TX sun.  Fortunately, if I buy it, I have an awning that could go across the front, and it already has a full length one on the side over the patio door. 
I called the owner who lives in a different town, and found out his bottom dollar, so I am thinking about it.
The weather started out cold, so I left the heat on for the kitten, but when I returned it was 'windows-and-doors-open' for the rest of the day.