For "Winged Wednesday":
Big Bird
"Big Bird is an eight-foot two-inch-tall bright yellow bird. He can roller skate, ice skate, dance, sing, write poetry, draw, and even ride a unicycle. He lives in a large nest at 123 Sesame Street, and has a teddy bear named Radar. His lovable, innocent, and curious personality has helped endear him to millions of children and adults all over the world.
Big Bird is a flightless bird, of indeterminate species and genus, describing himself at different times as a "Golden Condor", a lark, or a canary. Regardless of his species, he is a unique and talented creature who has helped educate generations of children, appeared on countless television shows and movies, and even has his own star on the Hollywood Walk of Fame.
Big Bird's conservation status is perilous. He is likely the last of his species, with no female having been found so far. He is now nearly 43 years old, but it is not known if this is past breeding age, should a mate ever turn up. However, he continues to travel around the world and has been sighted in 140 countries so far, making him perhaps the most migratory bird in history.
Big Bird's popularity is just another example of the positive impact of birds on society and culture."
Help ABC conserve Big Bird's many relatives and their habitats!
---------
From ABC on FaceBook:
     American Bird Conservancy
"We were sorry to hear that a few readers were bothered by our recent Bird of the Week choice of Big Bird. Please know that it was certainly not our intention to be political in any way – ABC remains strictly non-partisan. We chose Big Bird as a light-hearted way to highlight the importance of birds in our culture.
The business of bird conservation can seem discouragingly daunting at times, so we try to lighten the mood now and then and have a little fun with something topical. Similar past efforts on Bird of the Week have included the Turkey at Thanksgiving and Peeps at Easter. If you were bothered by the post, we hope you will accept our apology and remain faithful to ABC while we continue to do our best in helping birds (big and small) throughout the Americas."
_______
Can You Hear Me Now?
"According to some studies, urban noise from sources such as traffic and construction may cause birds to change their songs, forcing them to sing louder than they would typically to be heard so that they can successfully attract a mate or defend territory. Such changes to their songs could be taxing. If the bird is healthy, the increased energy required to sing louder may be no big deal, but what happens when other stressors, like drought or fire, compound the stress of all that urban noise?
To add a little salt in the proverbial wound, noise isn't the only issue. The actual architecture of cities (i.e. skyscrapers, high-rise apartments and the like) can actually reflect and distort a bird's song. Why does this matter? Since birds use song to establish and defend territories and attract mates, a trend of unheard bird calls could lead to any number of consequences, including a lower density of birds, lower nesting success (birds can't reproduce if they miss a potential mate's siren song) and wholesale changes to the entire avian community—in other words, species who cannot adapt their songs may ultimately disappear from cities even if suitable habitat exists."  More at: http://blog.nature.org/2012/09/can-you-hear-me-now/
_______
Birds' Singing Voices Change with the Weather
Story at-a-glance
_______
Popular beach proves essential to Florida's bird breeding
Monique Borboen for Shorelines
"Huguenot Memorial Park is the only breeding colony of royal terns on Florida's Atlantic Coast. This year, the colony fledged more than 2,000 royal tern chicks.
Florida's royal tern population has increased thanks to a successful breeding season at Huguenot Memorial Park.
Despite Hurricane Debby's severe impact on coastal wildlife on Florida's Gulf Coast, the state's royal tern population has increased thanks to a successful breeding season at Huguenot Memorial Park.
"Huguenot is a truly unique habitat. Dozens of species of birds have relied on this one beach for survival for generations," said Monique Borboen, an Audubon Florida policy associate.   Borboen said, thanks to a dedicated park naturalist assisted by volunteer bird stewards, progress is being made in protecting this special place.   "Residents of northeast Florida are fortunate to have such an important and beautiful bird habitat so close to home," she said.
Huguenot Memorial Park is the only breeding colony of royal terns on Florida's Atlantic Coast. This year, the colony fledged more than 2,000 royal tern chicks. These young birds will go a long way in helping statewide populations recover from the rain, wind and storm surge caused from a devastating Hurricane Debby in June. The storm made landfall at the height of Florida's beach-bird nesting season, destroying the eggs and chicks of many beach-nesting birds on the Gulf Coast."   Read more at: http://jacksonville.com/community/shorelines/2012-09-22/story/popular-beach-proves-essential-floridas-bird-breeding#ixzz29VY0zut0
_______
Wind Turbines Take Steep Toll On Birds And Bats
"Wind power is key to efforts to produce clean, limitless energy and to slow global warming. It's one of the world's fastest-growing energy industries.
But there is mounting evidence that expanding "wind farms" are taking a toll on airborne wildlife. Thousands of birds and bats are killed every year by collisions with the the wind towers and their giant blades. Environmental activists are taking the wind energy industry to court to find a solution."  More at: http://www.voanews.com/content/wind-turbines-take-steep-toll-on-birds-and-bats/1524387.html
_______
Thousand-Turbine Wyoming Wind Development on Track to become Country's Biggest Eagle Killer Says Bird Group
"Following is a statement from ABC and the Biodiversity Conservation Alliance on that DOI decision.
"This is a very troubling decision. From the incomplete impact analysis to blatantly bad siting, the Chokecherry – Sierra Madre Wind Project violates a plethora of the most basic principles of environmentally sound wind power production. This project is on track to become the single most deadly wind farm for eagles in the country, an Altamont Pass II," said Kelly Fuller, Wind Campaign Coordinator for American Bird Conservancy.
"This project should be sited elsewhere, such as the High Plains to the east of the Laramie Range, where it would have had minimal impacts on rare and sensitive wildlife," said Erik Molvar, Wildlife Biologist with Biodiversity Conservation Alliance. "Instead, it is being sited on lands that Governor Freudenthal designated as a Sage-Grouse Core Area due to the complex of breeding populations found there, and the projected impacts on Golden Eagles, a bird with a low reproductive rate, will cause far-reaching problems."" More at: http://www.abcbirds.org/newsandreports/releases/121010.html
_______
Are birds and turbines on collision course?
An estimated 20,000 tundra swans including this trio stopped at the Thedford Bog in March of 2011 to rest on their annual migration to the Arctic. OBSERVER FILE PHOTO
"Ontario's environmental commissioner "is hitting the nail on the head" by recommending wind turbines not be allowed in Important Bird Areas, says Lambton Shores Coun. John Russell.  Commissioner Gord Miller's recent annual report says Ontario needs to be "smarter about where we place wind power facilities," adding there are shortcomings in the guidelines for evaluating and reducing turbines' harmful effects on birds, bats and their habitats.
"The Ministry of Natural Resources should rectify these shortcomings and prohibit new wind power development within Ontario's Important Bird Areas," Miller said.  More at: http://www.theobserver.ca/2012/10/10/are-birds-and-turbines-on-collision-course
_______
Great Missoula Flood - Scablands and Plunge Pools
Swept away!
"During the last ice age, a lobe of the ice sheet covering western Canada dammed the Clark Fork River, creating a vast lake in what is now northwestern Montana.
Several times during the past 15,000 years, the ice dam broke, sending hundreds of cubic miles of water roaring across the inland Northwest and down the Columbia River Gorge. It left 100-ton boulders scattered across the land, gorges 1000 feet deep, and enormous potholes.
Now on a quiet, sunny October day, Mallards (like this female), pintails, and Gadwalls bathe and preen in a pool created by one of the greatest floods the Earth has ever known." More at: http://birdnote.org/show/great-missoula-flood-scablands-and-plunge-pools
________
Peregrines and Pigeon Plumages
Deceptive -- and protective!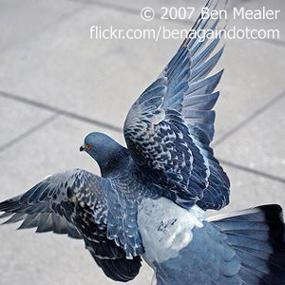 "Urban Peregrine Falcons rely on Rock Pigeons for much of their diet. But some pigeons appear harder to catch than others. Pigeons with white rumps evade pursuing falcons more often than those with dark rumps.
When scientists took dark-rumped pigeons and colored their rumps white, their survival rate improved.
The white rump, contrasting sharply with dark wings, may deceive the pursuing falcon, perhaps just long enough to give the pursuer the slip."      More at: http://birdnote.org/show/peregrines-and-pigeon-plumages
_________
Geese in V-formation
What's going on up there?
"Autumn … and geese fly high overhead in V-formation. But what about that V-formation, angling outward through the sky? This phenomenon – a kind of synchronized, aerial tailgating – marks the flight of flocks of larger birds, like geese or pelicans.
Most observers believe that each bird behind the leader is taking advantage of the lift of a corkscrew of air coming off the wingtips of the bird in front. This corkscrew updraft is called a tip vortex, and it enables the geese to save considerable energy during long flights. The V-formation may also enhance birds' ability to see and hear each other, thus avoiding mid-air collisions. Small birds probably do not create enough of an updraft to help others in the flock and don't fly in vees."  More at: http://birdnote.org/show/geese-v-formation
_______
On This Day:
OPEC states declare oil embargo, Oct 17, 1973:
"The Organization of the Petroleum Exporting Countries (OPEC) implements what it calls "oil diplomacy" on this day in 1973: It prohibits any nation that had supported Israel in its "Yom Kippur War" with Egypt, Syria and Jordan from buying any of the oil it sells. The ensuing energy crisis marked the end of the era of cheap gasoline and caused the share value of the New York Stock Exchange to drop by $97 billion. This, in turn, ushered in one of the worst recessions the United States had ever seen.
In the middle of 1973, even before the OPEC embargo, an American oil crisis was on the horizon: Domestic reserves were low (about 52 billion barrels, a 10-year supply); the United States was importing about 27 percent of the crude petroleum it needed every year; and gasoline prices were rising. The 1973 war with Israel made things even worse. OPEC announced that it would punish Israel's allies by implementing production cuts of 5 percent a month until that nation withdrew from the occupied territories and restored the rights of the Palestinians. It also declared that the true "enemies" of the Arab cause (in practice, this turned out to mean the United States and the Netherlands) would be subject to an indefinite "total embargo." Traditionally, per-barrel prices had been set by the oil companies themselves, but in December, OPEC announced that from then on, its members would set their own prices on the petroleum they exported. As a result, the price of a barrel of oil went up to $11.65, 130 percent higher than it had been in October and 387 percent higher than it had been the year before.
Domestic oil prices increased too, but shortages persisted. People waited for hours in long lines at gas stations—at some New Jersey pumps, lines were four miles long!--and by the time the embargo ended in March 1974, the average retail price of gas had climbed to 84 cents per gallon from 38 cents per gallon. Sales of smaller, more fuel-efficient cars skyrocketed. At the same time, declining demand for the big, heavy gas-guzzlers that most American car companies were producing spelled disaster for the domestic auto industry."
_______
Loma Prieta earthquake strikes near San Francisco, Oct 17, 1989:
"An earthquake hits the San Francisco Bay Area on this day in 1989, killing 67 people and causing more than $5 billion in damages. Though this was one of the most powerful and destructive earthquakes ever to hit a populated area of the United States, the death toll was quite small.
The proximity of the San Andreas Fault to San Francisco was well-known for most of the 20th century, but the knowledge did not stop the construction of many un-reinforced brick buildings in the area. Finally, in 1972, revised building codes forced new structures to be built to withstand earthquakes. The new regulations also called for older buildings to be retrofitted to meet the new standards, but the expense involved made these projects a low priority for the community.
On October 17, the Bay Area was buzzing about baseball. The Oakland Athletics and San Francisco Giants, both local teams, had reached the World Series. The first game of the series was scheduled to begin at 5:30 p.m. at San Francisco's Candlestick Park. Just prior to the game, with the cameras on the field, a 7.1-magnitude tremor centered near Loma Prieta Peak in the Santa Cruz Mountains rocked the region from Santa Cruz to Oakland. Though the stadium withstood the shaking, much of the rest of San Francisco was not so fortunate.
The city's marina district suffered great damage. Built before 1972, on an area of the city where there was no underlying bedrock, the liquefaction of the ground resulted in the collapse of many homes. Burst gas mains and pipes also sparked fires that burned out of control for nearly two days. Also hard hit by the quake were two area roads, the Nimitz Expressway and the San Francisco-Oakland Bay Bridge.
Both roads featured double-decker construction and, on each, the upper level collapsed during the earthquake. Forty-one of the 67 victims of this disaster were motorists on the lower level of the Nimitz, who were killed when the upper level of the road collapsed and crushed them in their cars. Only one person was killed on the Bay Bridge--which had been scheduled for a retrofitting the following week--because there were no cars under the section that collapsed.
Other heavily damaged communities included Watsonville, Daly City and Palo Alto. More than 10 percent of the homes in Watsonville were completely demolished. The residents, most of whom were Latino, faced additional hardship because relief workers and the Red Cross did not have enough Spanish-speaking aides or translators to assist them.
The earthquake caused billions of dollars in damages, and contributed in part to the deep recession that California suffered in the early 1990s."
----------
From me:  I remember both these occurrences very well.
I was working for Phillips Petroleum, Dallas in 1973 and I remember the impact it had on everyone.  Gas stations would sell their allotment in about an hour, and then close down, leaving long lines of gasless customers.
When that earthquake was announced, I was living over in Cut and Shoot, TX, (http://www.tshaonline.org/handbook/online/articles/hlc65) and the TV pictures of the squashed cars and collapsed freeways were devastating. 
It was almost like a 'where where you when JFK was shot' moment, I remember it so well. 
Sorry folks, there is no way I could live in California.
_______
Yesterday:
The other day, one of my bags of groceries was left at the store. I called them right away, and they told me to bring my receipt and they would refund or replace the items.  As I had bought the items the other day, so that I wouldn't run out, now I was out, so yesterday became a shopping day instead of waiting until today. 
We offloaded the recycling paper, then went to a thrift shop.  Jay was very pleased to find a Western belt with silver buckle and conchos, a clip-on phone holder, and some athletic shoes.  I didn't buy anything there. 
Once we had bought groceries at Krogers, and more kitten milk at Petsmart, we headed home in the drizzly rain.  Jay had bought ice cream, so usually he would have insisted that I took him home first, but we had it in one of the 12v. refrigerators in my van. He knew that I had to feed the kitten her bottle with kitten milk and baby cereal in it, so he unloaded everything while I fed her.  The kitten seems to be getting more content each passing day.