For "Summary Saturday", News, Some New, and Some Old:
Two Black Holes May Inhabit Same Star Cluster
 Wikimedia Commons
"Astronomers have made an unexpected discovery of two black holes inside an ancient cluster of stars in the Milky Way.
The research describes the detection of two black holes that are about 10 to 20 times heavier than our Sun in the globular cluster named M22.
Black holes, so dense that even light can't escape them, are what is left when a massive star reaches the end of its life and collapses in on itself.
Black holes are antisocial: Not only do they gobble gas from the stars that orbit them, but according to theory, they also kick one another out of their homes. Now, however, astronomers say they have spotted two separate black holes that inhabit the same cluster of stars, suggesting more black holes await discovery—both in this cluster and in others." Read Full Article ››
_______
US military death toll in Afghanistan hits 2,000 after confused firefight.  Sunday 30 September 2012
Exchange of fire kills two Americans and three Afghan soldiers, marking 2,000th US death in the conflict.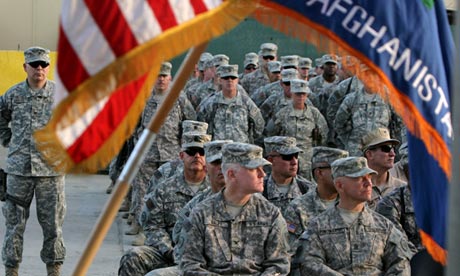 American soldiers in Kabul: the partnership between the US and Afghan forces is under strain. Photograph: Musadeq Sadeq/AP
"Two Americans were killed in Afghanistan during an exchange of fire between Nato-led forces and the Afghan army that may have been the result of a misunderstanding, as the death toll of US military and civilian personnel passed 2,000.
It was the latest setback for the coalition after the United States said joint operations with Afghan forces were returning to normal."  More at: http://www.guardian.co.uk/world/2012/sep/30/us-death-toll-afghanistan-2000
______
 Chile's Pacific paradise endangered by goats, cats
ROBINSON CRUSOE ISLAND, Chile — "It's still a natural paradise far out in the Pacific, with thick jungles and stunningly steep and verdant slopes climbing out of the sea. But much of the splendor in the tiny Chilean islands that likely inspired Daniel Defoe's "Robinson Crusoe" castaway novel is being eaten away.
Their main enemies are the plants and animals imported by humans: Not only goats and rabbits, but cats, rats, mice and the carnivorous coati, a type of raccoon native to the American tropics. The cats are particularly adept at hunting the hummingbirds, whose numbers have dropped to as low as 1,000, in part because they didn't evolve in ways that made them fear feline predators.
Skeptics wonder if it's worth spending millions of dollars to preserve a few birds and plants on islands so small that they don't appear on many maps. But Hugo Arnal, the South America director for Island Conservation, says "the cost of inaction is much more expensive."  Without the dense jungles and unique trees and hummingbirds, tourists won't come, topsoil will blow away and fresh water for the 700 islanders will dry up. Supplying their town with food and essentials would become much more expensive for Chile's navy, which currently sails to the island once a month."    More at: http://www.huffingtonpost.com/huff-wires/20120919/lt-chile-robinson-crusoe-island/     And another interesting article at: http://www.geographical.co.uk/Magazine/Juan_Fernandez_-_AUg_10.html
_______
v3.02:bugs  v3.0: Vibrate Mode!     .. and a new icon thanks to Peter Baldwin"
_______
Floors that Can Make You and Your Children Sick
"Soft, flexible plastic flooring, such as vinyl or those padded play-mat floors for kids (often used in day cares and kindergartens, too), are typically made from polyvinyl chloride (PVC), which contain dangerous phthalates
A new study conducted by Swedish researchers found levels of certain phthalates were higher in the urine of babies that had PVC flooring on their bedroom floor
PVC flooring has been linked to chronic diseases, including allergies, asthma and autism
The phthalates emitted from PVC floors are endocrine-disrupting chemicals that have been linked to a wide range of developmental and reproductive "gender-bending" effects that are particularly dangerous to infants and children
When choosing flooring materials for your home, and especially for your child's bedroom, avoid PVC whenever possible"
More at: http://articles.mercola.com/sites/articles/archive/2012/09/26/phthalates-in-floors-affect-childrens-health.aspx?e_cid=20121004_WNL_art_2
_______
Postal Service Holds Back on Closings
WASHINGTON — "The United States Postal Service said Wednesday that it would keep hundreds of small post offices open by reducing business hours or offering stamps and packaging in grocery stores, whittling down its ambitious plan to streamline its services and balance its books by closing thousands of post offices.
"The plan today will ensure rural communities will be served by the Postal Service," Mr. Donahoe said. "It balances reducing cost with the need to serve rural America." 
The agency had originally targeted rural post offices because they are expensive to run and generate little revenue. Some of the smallest rural post offices earned an average of $15,000 annually, but cost $114,000 to operate, the Postal Service said."   More at:  http://www.nytimes.com/2012/05/10/us/politics/postal-service-holds-back-on-closures.html?_r=0
______
Walking to Protect Glacier's Water
"Pauline Matt dreamed that the water was dying and that she had the power to stop it. Her dream was not far from the truth, with fracking arriving on the Blackfeet Indian Nation and adjacent to Glacier National Park in Montana. Instead of allowing the dream to paralyze her, she kept herself moving—literally—by organizing the six-day, 80-mile Chief Mountain Water Walk to help focus the eyes of the nation on this corner of Montana.
Eighty miles doesn't necessarily sound like a particularly long distance; on I-90 in Montana, it would take only about an hour to drive. But when you're on foot—and you factor in vehicles flying by at 70 m.p.h., August temperatures pushing three digits, baking pavement, and the fact that Pauline has long qualified for AARP membership—80 miles begins to feel like a very long way indeed."  More at: http://www.parkadvocate.org/walking-to-protect-glaciers-water?p=1600
______
On This Day:
Babe Ruth sets a World Series record, Oct 6, 1926:
"On October 6, 1926, Yankee slugger Babe Ruth hits a record three homers against the St. Louis Cardinals in the fourth game of the World Series. The Yanks won the game 10-5, but despite Ruth's unprecedented performance, they lost the championship in the seventh game. In 1928, in the fourth game of another Yanks-Cards World Series, Ruth tied his own record, knocking three more pitches out of the same park."
______
Natchez Trace Parkway arches are complete, Oct 6, 1993:
"The last segment of the Natchez Trace Parkway's Double Arch Bridge is put into place on October 6, 1993. The $11 million, 1,572-foot–long bridge carries the parkway over Route 96 near Franklin, Tennessee. It was the first precast segmental concrete arch bridge to be built in the United States.  (These bridges are more cost-efficient than traditional ones, because workers at the bridge site simply need to assemble concrete pieces that have already been cast.)
The Natchez Trace Parkway is not just famous for its sleek, modern bridge; on the contrary, the road has been around and in use for thousands of years. It was a well-worn trail through Choctaw and Chickasaw territory (along with a handful of prehistoric Native American mounds) that connected the southern Mississippi River with the salt licks of central Tennessee.
Starting at the end of the 18th century, the Trace became the primary route north for the famous "Kaintucks," farmers and boatmen who floated produce, coal and livestock from the Ohio Valley down the Mississippi to markets in Natchez and New Orleans. Once they got there, they sold their boats for lumber and trudged back home. (The 500-mile trip from Natchez to Nashville took about 35 days on foot; on a horse, it only took about 20 to 25 days.)  In 1800, the Natchez Trace became a national mail road. It became obsolete, however, once steamboats made it possible for people and goods to travel up the Mississippi River as well as down.
Since 1938, the National Park Service has been paving the Natchez Trace a little bit at a time, turning it into a scenic modern highway. At the Franklin crossing, engineers had to figure out how to elevate the bridge over Route 96 and the densely wooded valley below while preserving the natural beauty of the site. Engineer Eugene Figg settled on an open, double-arched bridge that supports its deck without spandrel columns, preserving most of the view across the valley.
The first arch is symmetrical and has a span of 582 feet and a rise of 145 feet. (That is, the bridge is 145 feet above the highway beneath it.)  The second arch, thanks to the elevated topography at the bridge's southern end, is not symmetrical: It has a span of 462 feet and a rise of 102 feet. The arches are made of 122 hollow boxes, each precast nearby in Franklin. They were assembled in what engineers call "progressive cantilever," with steel cables holding them together until each one was finished. The foundation and vertical piers were put together more traditionally: They were cast on-site as they were built.
The bridge officially opened on March 22, 1994 and the Natchez Trace Parkway was finally complete."
______
Yesterday:
Finally, someone is coming to see the Toyhauler-Stealth-Cargo-Trailer! 
As it has just been sitting locked up on the side lot, Ray and I went in there to dust, and sweep the floor.  We put the mattress, bedspread, and decor cushions back in it.
I don't know where they live, but the lookers are going to stop here in the afternoon, after they have been to the Huntsville Fair On The Square.
We saw a few more things that need to be done to the trailer, so Ray is going to come over, and do them while I am at church today.