For "Winged Wednesday":
Saw-billed Hermit
"The Saw-billed Hermit is a striking hummingbird, with a buff eyebrow, orange throat with dark stripe down the middle, and densely streaked breast. It is heavy for a hummingbird, weighing in at around ten grams. Its straight, hooked-tip bill has tiny serrations, which gives the bird its name.
Like other hermits, Saw-bills are "trap-line" feeders, meaning that they visit plants for nectar along a fairly long, linear route.  Although still considered fairly common within its limited range, this hummingbird is suspected to be declining because of habitat loss caused by agricultural and urban expansion, road-building, and mining. It's Atlantic Forest habitat is one of the most threatened ecosystems in the world, and has lost over 90% of its original area in recent years.
More information on the Saw-billed Hermit, including its ecology, population, and population trends, is needed for this species to be adequately conserved, but protection of remaining habitat is key for this and other birds of the Atlantic Forest.
ABC supported conservation of the Saw-billed Hermit by helping purchase more than 500 acres of Atlantic Forest habitat to increase the size of the Reserva Ecologica Guapiaçu. This reserve now protects around 11,000 acres for this and other Atlantic Forest inhabitants.  If you interested in visiting this reserve, see Conservation Birding's website!"
Help ABC conserve this and other birds and their habitats!
____________
Public Asked to Give Birds a Break During National Fishing and Boating Week
Nesting Least Tern by Tom Grey
"As National Fishing and Boating Week is celebrated June 2 - 10, American Bird Conservancy (ABC) is asking boaters and fishermen to be mindful of nesting birds while enjoying their outdoor activities. ABC is urging them to "Fish, Swim, and Play from 50 Yards Away" from nesting birds.
Sometimes, disturbed birds will signal you that you are getting too close by flying or swooping unusually close or even dive-bombing your head, or by high-pitched or more frequent vocalizations.  So, even if you were unaware that there are nesting birds nearby, if you see or hear these kinds of behaviors, you need to move away. Both you and the birds will be better for it.
Ray says that boaters should avoid anchoring close to islands where birds are clearly nesting, and they should be watchful of children unintentionally disturbing nests as well as pets such as dogs, who in just a few seconds, can run through a colony and virtually wipe out a whole year's worth of young birds."    More at: http://www.abcbirds.org/newsandreports/releases/120605.html
____________
Whooping Crane Shot – $10,000 Reward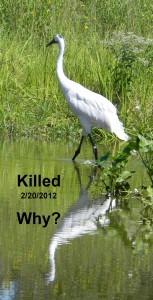 "The Whooping Crane Conservation Association will pay a reward not to exceed $10,000 to anyone who provides information which leads to the conviction of any individuals responsible for the killing of a whooping crane which took place on the afternoon of Friday, April 20, 2012 along 354th Avenue, approximately 17 miles southwest of Miller, S.D.
The purpose of the reward is to encourage the public to share information they might have about criminal activities involving whooping cranes. Federal, State, Provincial, and other public law enforcement personnel, and criminal accomplices who turn "states" evidence to avoid prosecution, shall not be eligible for this reward. If more than one informant is key to solving a specific case, the reward will be equally divided between the informants."       More at: http://whoopingcrane.com/whooping-crane-shot-10000-reward/
________________
A Red-Knot Celebrity Is Back in Town
"B95, a red knot, is thought to be at least 19 years old and to have logged more than 350,000 miles.
On Monday morning, Patricia M. Gonzalez, an Argentine biologist, was standing on the balcony of a house in Reeds Beach, N.J., peering through a telescope at shorebirds. She spotted a bird with an orange band around its leg, possibly suggesting that it had been tagged in South America.
It was then that she realized that B95, a legendary red knot, was walking across the sand in front of her. "My hands were shaking and my heart was beating fast," said Dr. Gonzalez, who works for the Global Flyway Network and the Fundación Inalafquen in Rio Negro, Argentina, and is collaborating with a local conservation group in Delaware Bay." More at: http://green.blogs.nytimes.com/2012/05/29/a-red-knot-celebirity-is-back-in-town/
____________
Birds of the Mississippi River Delta
"John Fitzpatrick, Director of the Cornell Lab of Ornithology, takes us on a bird-tour of the Mississippi River Delta. The Louisiana wetlands that they call home are fast disappearing."
____________
Identifying Shorebirds
"When you're ready to take on the challenge of shorebird identification, this video will give you some simple tips to begin a lengthy but rewarding journey."
____________
"I couldn't believe what I was looking at. A painted bunting in Chicago? In January?! These birds belong in the humid swamps of the Gulf Coast, not the frigid streets of the Windy City. Yet there could be no doubt of what I was looking at, as this painted bunting was lying dead in a tray at the Field Museum among 140 other species of birds that have been collected as window kill below the skyscrapers and apartment buildings of Chicago.
Taping designs or stripes on windows saves birds
In a 2001 study, researchers found that turning off the lights at night in an area of high bird window kill density reduced songbird deaths by 83%!  This finding led to the start of the nationwide "Lights Out" campaign which encourages cities to turn off there their decorative lights during the summer months.  So turning off the lights when you leave work or in your house at night is a great way to reduce your energy usage and protect migrating songbirds!"  More at: http://www.savingcranes.org/whats-new/2012/05/reducing-bird-collisions/
_____________
Help Improve the Lives of Laying Hens
"New legislation would give egg laying hens currently relegated to tiny battery cages more space. It would also create a labeling system that would empower the consumer to make more informed choices."
TAKE ACTION HERE:  https://secure.humanesociety.org/site/Advocacy?cmd=display&page=UserAction&id=5583
_____________
Crow and Dog playing with Ping Pong Ball
MAY 2012  "..ok...a lot of questions...here are some answers :
The wings are NOT clipped .....I did not train the crow, I just found it near the woods as a very little bird and no parents seen for over 1 hour...Told the dog (yes, she is old but NOT fat...its a lot of hair...) that we have a new friend...Showed it how to fly (no, I did NOT run over the grass flapping my arms...) When it could fly, it was gone for a while, but then came back nearly every day for playing and asking for food..(sometimes it brought stolen things from the neighbors that I had to take back ;-)" 
_____________
As for our 'Water-Winged' Friends:
Trout on the Fly,  How trout eggs are hatched:  
Download the video>>>
The video is in the Microsoft Windows Media Player Format (mpg). The size of the mpg file is 50M and 8:36 minutes long. Right click in video window for full screen, Esc to escape. 
"DNR operates a hatchery in northern Oconee County that produces many of the trout you'll find in the cold-mountain creeks around the area. Find out more about the Walhalla State Fish Hatchery."
They stay here for over a year before released.  THEN:
"The S.C. Department of Natural Resources' Freshwater Fisheries Section stocked about 13,000 brown and rainbow trout in the Lower Saluda River Dec. 13, 2011 using a helicopter and specialized lift bucket. The stocking benefits South Carolina's $14 million trout fishery."
_______________
On This Day:
President Jackson rides the Iron Horse, Jun 6, 1833:
"In Ellicott's Mills, Maryland, President Andrew Jackson boards a Baltimore & Ohio Railroad train for a pleasure trip to Baltimore. Jackson, who had never been on a train before, was the first president to take a ride on the "Iron Horse," as locomotives were known then.
The steam locomotive was first pioneered in England at the beginning of the 19th century by Richard Trevithick and George Stephenson. The Baltimore & Ohio Railroad began operation in 1828 with horse-drawn cars, but after the successful run of the Tom Thumb, a steam train that nearly outraced a horse in a public demonstration in 1830, steam power was added. By 1831, the Baltimore & Ohio Railroad had completed a line from Baltimore to Frederick, Maryland. Two years later, Andrew Jackson gave railroad travel its presidential christening.
The acceptance of railroads came quickly in the 1830s, and by 1840 the nation had almost 3,000 miles of railway, greater than the combined European total of only 1,800 miles. The railroad network expanded quickly in the years before the Civil War, and by 1860 the American railroad system had become a national network of some 30,000 miles. Nine years later, transcontinental railroad service became possible for the first time."
____________
First drive-in movie theater opens, Jun 6, 1933:
"On this day in 1933, eager motorists park their automobiles on the grounds of Park-In Theaters, the first-ever drive-in movie theater, located on Crescent Boulevard in Camden, New Jersey.
The popularity of the drive-in spiked after World War II and reached its heyday in the late 1950s to mid-60s, with some 5,000 theaters across the country. Drive-ins became an icon of American culture, and a typical weekend destination not just for parents and children but also for teenage couples seeking some privacy. Since then, however, the rising price of real estate, especially in suburban areas, combined with the growing numbers of walk-in theaters and the rise of video rentals to curb the growth of the drive-in industry. Today, fewer than 500 drive-in theaters survive in the United States."
____________
D-Day, Jun 6, 1944:
Although the term D-Day is used routinely as military lingo for the day an operation or event will take place, for many it is also synonymous with June 6, 1944, the day the Allied powers crossed the English Channel and landed on the beaches of Normandy, France, beginning the liberation of Western Europe from Nazi control during World War II. Within three months, the northern part of France would be freed and the invasion force would be preparing to enter Germany, where they would meet up with Soviet forces moving in from the east.
With Hitler's armies in control of most of mainland Europe, the Allies knew that a successful invasion of the continent was central to winning the war. Hitler knew this too, and was expecting an assault on northwestern Europe in the spring of 1944. He hoped to repel the Allies from the coast with a strong counterattack that would delay future invasion attempts, giving him time to throw the majority of his forces into defeating the Soviet Union in the east. Once that was accomplished, he believed an all-out victory would soon be his.
On the morning of June 5, 1944, U.S. General Dwight D. Eisenhower, the supreme commander of Allied forces in Europe gave the go-ahead for Operation Overlord, the largest amphibious military operation in history. On his orders, 6,000 landing craft, ships and other vessels carrying 176,000 troops began to leave England for the trip to France. That night, 822 aircraft filled with parachutists headed for drop zones in Normandy. An additional 13,000 aircraft were mobilized to provide air cover and support for the invasion.
By dawn on June 6, 18,000 parachutists were already on the ground; the land invasions began at 6:30 a.m. The British and Canadians overcame light opposition to capture Gold, Juno and Sword beaches; so did the Americans at Utah. The task was much tougher at Omaha beach, however, where 2,000 troops were lost and it was only through the tenacity and quick-wittedness of troops on the ground that the objective was achieved. By day's end, 155,000 Allied troops--Americans, British and Canadians--had successfully stormed Normandy's beaches.
For their part, the Germans suffered from confusion in the ranks and the absence of celebrated commander Field Marshal Erwin Rommel, who was away on leave. At first, Hitler, believing that the invasion was a feint designed to distract the Germans from a coming attack north of the Seine River, refused to release nearby divisions to join the counterattack and reinforcements had to be called from further afield, causing delays. He also hesitated in calling for armored divisions to help in the defense. In addition, the Germans were hampered by effective Allied air support, which took out many key bridges and forced the Germans to take long detours, as well as efficient Allied naval support, which helped protect advancing Allied troops.
Though it did not go off exactly as planned, as later claimed by British Field Marshal Bernard Montgomery--for example, the Allies were able to land only fractions of the supplies and vehicles they had intended in France--D-Day was a decided success. By the end of June, the Allies had 850,000 men and 150,000 vehicles in Normandy and were poised to continue their march across Europe.
The heroism and bravery displayed by troops from the Allied countries on D-Day has served as inspiration for several films, most famously The Longest Day (1962) and Saving Private Ryan (1998). It was also depicted in the HBO mini-series Band of Brothers (2001)."
___________
George Orwell's Nineteen Eighty-four is published, Jun 6, 1949:
"On this day, George Orwell's novel of a dystopian future, Nineteen Eighty-four, is published. The novel's all-seeing leader, known as "Big Brother," becomes a universal symbol for intrusive government and oppressive bureaucracy."
___________
Yesterday:
While I was in town on Saturday for Adoption Day, I picked up a new $10 U-shaped bulb for the little Bug Zapper that is in the front yard.  I don't want to have to light a bug repellent thing, or spray myself with nasty DEET, just to take Misty outside for a few minutes.  I was hoping that the Zapper might get some of them, before they got me.  Ray went to replace the bulb and he found out that someone had unplugged the Zapper.  That was pitiful, as much as I have really suffered from skeeter bites lately.  Neither of us had unplugged it.
After that, Ray caulked the trim that he had re-installed on the outside corner of the cargo trailer with Dicor.  Then he did some touch-up painting on the trailer's dinette table and bed base.  When in toyhauler mode, the undersides of the table and bed base will be seen, and they needed a second coat of paint.   I still haven't been able to buy the right size matching hardware for anchoring them.  I wanted brass, but I might have to go with just ordinary ones.  I'll check at one more place today.
When Jay clipped 6-7" off the hedge the other day, it was difficult to see what had been cut, and what hadn't.  Now that the cut parts have turned brown, I spent quite a bit of the morning picking out the dead twigs with leaves.  Even at dusk, I was picking some more out, while I was waiting for Misty to do her thing in the back yard, and I didn't get bitten by a mosquito once.  Maybe co-incidence, as I didn't think the Zapper in the front, would affect the back yard, too.  There has been a bat house in the side yard for a couple of years, but it shows no signs of being inhabited.
It was another hot day, so Prime had to come in from the screen porch about 10.30 AM yesterday.