For "Winged Wednesday":
Bermuda Petrel
"Bermuda's only endemic breeding species, this nocturnal, ground-nesting seabird once numbered more than half a million individuals. Its folk name, Cahow, refers to the bird's eerie calls.
Human settlement in the early 1600s brought with it deforestation, exploitation of the bird as food, and introduced pigs, rats, cats and dogs, all of which soon decimated its population.
For 300 years the petrel was considered extinct, but a dead specimen was found in 1935, and 18 nesting pairs were rediscovered in 1951. Thanks to intensive conservation management, the population had increased to 53 breeding pairs by the 1990s.
A major threat to the species continues to be lack of suitable breeding habitat. Hurricanes can flood nest burrows and erode suitable nesting areas, and sea-level rise resulting from climate change will likely exacerbate these impacts. Competition for nest sites with White-tailed Tropicbirds and rodent predation also lower nesting success.
An intensive Cahow Recovery Program was begun in 1961, and is today managed by the Bermuda Department of Conservation Services. The 2011-2012 nesting season saw a record number of 56 chicks successfully fledging. This year the program reached a critical milestone's 101 nesting pairs of petrels."    Read more about the conservation successes and challenges remaining for the Cahow.
Help ABC conserve this and other birds and their habitats!
Listen to a two-minute broadcast about the Bermuda Petrel
Photo: Brian Patteson; Range Map, ABC
_____________
Ten Amazing Things About the World's Tiniest Backyard Birds
"There are eight species of hummingbirds that nest in the U.S. and about two dozen who live here or visit. For those in the eastern half of America, the Ruby Throat is what you will see. The West, particularly the Southwest, has many more species.
Here are ten things about hummingbirds that are truly awesome: http://blog.nwf.org/2012/05/ten-amazing-things-about-the-worlds-tiniest-backyard-birds/
_____________
Loons Go Fishing
The fly-fisherman has some competition!
"You're fishing on a northern lake, when a black-and-white shape torpedoes under your boat. Alerted by the sound of your reel, a Common Loon follows the trout in hot pursuit. If the fish is small, the loon may take it right off the end of your line. If you succeed in bringing the fish to hand, the loon will wait for your release, hoping to make a meal of the tired fish. The Common Loon has learned to take advantage of the human."
Sign up for the BirdNote podcast and listen anytime!   Support More Shows Like This From: http://www.birdnote.org/show/loons-go-fishing
_____________
New Interactive Web Map to Help Reduce Bird Mortality From Wind Development
(Washington., D.C.) "A new, interactive web-based map, created by American Bird Conservancy (ABC)—the nation's leading bird conservation organization, is now available, and has the potential to dramatically reduce bird impacts from wind turbines. Open the map.
Wind Map Screen Shot ©American Bird Conservancy. Click to open the Web map.
"Using Google Earth as a platform, the map highlights more than 2,000 locations in the United States where birds are likely to be particularly vulnerable to impacts from wind energy development. Key sites are colored either orange or red to indicate their relative importance to birds.
Birds can be impacted by wind power both through direct collisions and by displacement from nesting, foraging, or transit areas. The map addresses both of these issues by identifying both concentrated migratory flight paths and key habitat locations.  The map also provides extensive background data for each location, including details of ownership, habitats, land use, bird species, and conservation issues.
"This map offers a way to prevent millions of bird deaths from wind power, while at the same time providing ample opportunity for the prudent development of this potentially bird-smart energy source. Careful siting of wind energy remains the single most important factor in reducing bird deaths from wind power, and this map provides a means to do just that," said Mike Parr, Vice President of ABC. "ABC strongly supports bird-smart wind energy development" he added." More at: http://www.abcbirds.org/newsandreports/releases/120503.html
____________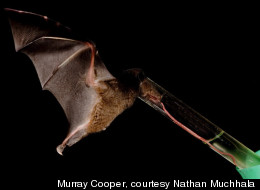 Bats have wings, too:   Tube-Lipped Nectar Bat's Tongue Is Longer Than Its Body.
"The bat is camera-worthy thanks to one attribute in particular: its incredibly long, wormlike tongue.  The 2.5-inch bat sports a 3.5-inch tongue — the longest (relative to body length) of any mammal in the world. If humans were similarly proportioned, we'd have 9 feet of flesh spilling out of our mouths.
To capture this striking footage of the bat plunging its tongue into nectar-laden flowers, the NatGeo team cut a tiny hole into the base of a flower and installed a special slow-motion camera inside, which slowed the action by 40 times.  "NatGeo cameras capture this unusually graceful bat for the first time ever."
http://channel.nationalgeographic.com/channel/
______________
The Beauty of Pollination. Birds, Bees, Bats, Butterflies pollinating.
We are all dependent to each other. Taken from Louie Schwartzberg TED talk
____________

So also on "Winged Wednesday" included are some fish, as fish have water wings:
Biologists Electroshock Threatened Fish to Save Them. The New Mexico trout are at risk from wildfire fallout.

ALBUQUERQUE, N.M. (AP) - "Biologists are trying to save a threatened trout in southwestern New Mexico from the post-wildfire ravages, even as crews nearby and around the West struggle to contain blazes that have charred hundreds of square miles of forested countryside.
 
A team used electroshocking devices to temporarily stun the Gila trout so they could quickly be scooped into a net. From there, the fish were being put into a tank to be ferried out of the wilderness via helicopter to a special truck that was waiting to drive them to a hatchery in northern New Mexico for safe keeping.  The first load of trout was brought out Friday and the work would continue into Saturday, said Art Telles, a biologist and staff resource officer with the Gila National Forest.

The fish are imperiled by the wildfire aftermath - choking floods of ash, soil and charred debris that are expected to come with summer rains.
"When we have hot fire in some of these drainages, that can move ash and sediment after the rains start and that is pretty deadly to trout," he said." More at: http://weather.aol.com/2012/06/16/biologists-electroshock-threatened-fish-to-save-them/#page=1%3Ficid
____________
On This Day:
Smithson's curious bequest, Jun 27, 1829:
"In Genoa, Italy, English scientist James Smithson dies after a long illness, leaving behind a will with a peculiar footnote. In the event that his only nephew died without any heirs, Smithson decreed that the whole of his estate would go to "the United States of America, to found at Washington, under the name of the Smithsonian Institution, an Establishment for the increase and diffusion of knowledge." Smithson's curious bequest to a country that he had never visited aroused significant attention on both sides of the Atlantic.
Smithson had been a fellow of the venerable Royal Society of London from the age of 22, publishing numerous scientific papers on mineral composition, geology, and chemistry. In 1802, he overturned popular scientific opinion by proving that zinc carbonates were true carbonate minerals, and one type of zinc carbonate was later named smithsonite in his honor.
Six years after his death, his nephew, Henry James Hungerford, indeed died without children, and on July 1, 1836, the U.S. Congress authorized acceptance of Smithson's gift. President Andrew Jackson sent diplomat Richard Rush to England to negotiate for transfer of the funds, and two years later Rush set sail for home with 11 boxes containing a total of 104,960 gold sovereigns, eight shillings, and seven pence, as well as Smithson's mineral collection, library, scientific notes, and personal effects. After the gold was melted down, it amounted to a fortune worth well over $500,000. After considering a series of recommendations, including the creation of a national university, a public library, or an astronomical observatory, Congress agreed that the bequest would support the creation of a museum, a library, and a program of research, publication, and collection in the sciences, arts, and history. On August 10, 1846, the act establishing the Smithsonian Institution was signed into law by President James K. Polk.
Today, the Smithsonian is composed of 19 museums including the recently announced National Museum of African American History and Culture, nine research centers throughout the United States and the world and the national zoo. Besides the original Smithsonian Institution Building, popularly known as the "Castle," visitors to Washington, D.C., tour the National Museum of Natural History, which houses the natural science collections, the National Zoological Park, and the National Portrait Gallery. The National Museum of American History houses the original Star-Spangled Banner and other artifacts of U.S. history. The National Air and Space Museum has the distinction of being the most visited museum in the world, exhibiting marvels of aviation and space history such as the Wright brothers' plane and Freedom 7, the space capsule that took the first American into space. John Smithson, the Smithsonian Institution's great benefactor, is interred in a tomb in the Smithsonian Building."
_____________
Route 66 decertified, Jun 27, 1985:
"After 59 years, the iconic Route 66 enters the realm of history on this day in 1985, when the American Association of State Highway and Transportation Officials decertifies the road and votes to remove all its highway signs.
Measuring some 2,200 miles in its heyday, Route 66 stretched from Chicago, Illinois to Santa Monica, California, passing through eight states. According to a New York Times article about its decertification, most of Route 66 followed a path through the wilderness forged in 1857 by U.S. Navy Lieutenant Edward Beale at the head of a caravan of camels. Over the years, wagon trains and cattlemen eventually made way for trucks and passenger automobiles.
The idea of building a highway along this route surfaced in Oklahoma in the mid-1920s as a way to link the state to cities like Chicago and Los Angeles. Highway Commissioner Cyrus S. Avery touted it as a way of diverting traffic from Kansas City, Missouri and Denver. In 1926, the highway earned its official designation as Route 66. The diagonal course of Route 66 linked hundreds of mostly rural communities to the cities along its route, allowing farmers to more easily transport grain and other types of produce for distribution. The highway was also a lifeline for the long-distance trucking industry, which by 1930 was competing with the railroad for dominance in the shipping market.
Route 66 was the scene of a mass westward migration during the 1930s, when more than 200,000 people traveled from the poverty-stricken Dust Bowl to California. John Steinbeck immortalized the highway, which he called the "Mother Road," in his classic 1939 novel "The Grapes of Wrath."
Beginning in the 1950s, the building of a massive system of interstate highways made older roads increasingly obsolete, and by 1970, modern four-lane highways had bypassed nearly all sections of Route 66. In October 1984, Interstate-40 bypassed the last original stretch of Route 66 at Williams, Arizona, and the following year the road was decertified. According to the National Historic Route 66 Federation, drivers can still use 85 percent of the road, and Route 66 has become a destination for tourists from all over the world.
Often called the "Main Street of America," Route 66 became a pop culture mainstay over the years, inspiring its own song (written in 1947 by Bobby Troup, "Route 66" was later recorded by artists as varied as Nat "King" Cole, Chuck Berry and the Rolling Stones) as well as a 1960s television series. More recently, the historic highway was featured prominently in the hit animated film "Cars" (2006)."
___________
Yesterday:
Jay was feeling better and wanted to work, so even though it was already nearly 9.30AM, Misty and I went to get him.  He was going to put a blue cichlid fish (http://en.wikipedia.org/wiki/Cichlid) in the lake, as it was beating up on the other ones in his tank.
Well, you know me, I wasn't going to let that poor fish suffer in that nasty lake, so we rounded up an old aquarium, brought it and the fish up here.  We rinsed and disinfected the aquarium with salt, plus the filter, pump, tubing, etc., as it hadn't been used for ages, and found a place to put it in the grooming room. We had to be very careful not to use any buckets or anything that had been washed with soap or bleach, so I found some 3lb coffee canisters, and we used those for filling the tank.  We didn't have any de-chlorinator, but Ray was going into town so he picked some up. In the meantime we had a little air pump on the container that the fish was in.  As all but Bettas, need pumped air.  (http://en.wikipedia.org/wiki/Siamese_fighting_fish).  When Ray returned with the de-chlorinator, I put some in the tank water, and transferred the fish.
After I saved the fish, Jay said that I won't go to heaven, I will be at Rainbow Bridge taking care of the animals who are waiting for their parents!! (http://www.indigo.org/rainbowbridge_ver2.html )
All that took quite a while, but we take out a lot of more of the lumber that was stored in Pugsy, the vintage motor home, and put it away. 
Little Binkie was absolutely excited to see Jay, as he has been feeding her for about a year, so I could see her in her true character, and knew she wasn't really happy here.  Binkie was glad when her Dad's ex-wife came to my house, and said that she was back, and she would take care of Binkie.  I hope she doesn't let her stay out in the afternoon heat anymore, like the room mate did.   I could tell that Binkie was missing her Dad, as when I had her in my back yard, she would look at every big truck that when by yesterday.