For "tRaVersing or RV Day":
Sinkin' Roof.     Posted by RV Doctor
"I have a roof air conditioner that is causing the RV roof to sink in. It's on an older RV and water is pooling around the base and causing a leak. What can I do to re-brace the roof and raise it back to normal?"
Tom, (Shinglehouse, PA)
"Tom, the constant jostling and the weight of a roof top air conditioner can take its toll on many of the older RVs still on the road today. It is quite common to find the roof area around the air conditioner sunken or sagging, especially on those RVs with "soft" roof construction. The typical result is a good-sized pool of water around the unit that often culminates in water leaking into the roof area.
It will first be necessary to determine the rafter spacing. On most soft roofs the rafter positions are very evident. Measure the distance between the centers of each rafter. It will usually be either sixteen or twenty-four inches. Next, completely remove the air conditioner. Uhh, be sure all the electricity is properly turned off and locked out first!
Keep in mind, the AC's rubber seal will, in all likelihood, be ruined when removing the unit, so be sure to have a replacement on hand before starting. Take care when lifting the unit off the roof. Old sealants may cause the unit to stick to the roofing material often creating tears in the metal. Be sure to clean off the old gasket and any sealant from around the 14-inch opening and remove any staples through the roofing material around the opening.
Next, cut a piece of ¾-inch plywood – twenty-eight inches wide by however long is necessary to span two adjacent rafters. Usually there is one rafter fairly close to the opening and another, sixteen or twenty-four inches away. Position the plywood flat on the roof, centered directly over the opening, making sure it straddles one rafter in front of the opening and one rafter aft of the opening.
Next, from inside the RV, mark around the opening. Cut and remove that 14-inch square opening out of the plywood. You will now have approximately a 28" X 34" piece of plywood with an approximate 14-inch square cutout somewhere in the middle. Now, mark and cut the plywood in half longitudinally down a centerline resulting in two, 14" X 34" pieces of plywood with a "U" shaped opening in each piece.
Insert each piece into the roof cavity through the 14-inch hole, underneath the sheet metal yet on top of the existing rafters. Slide each piece into position on either side of the 14" opening taking care not to disrupt the roof insulation in the process. After both pieces are in position under the metal roof and on top of the rafters, secure the roof metal to the reinforcement material around the 14-inch opening only.
Next, apply new sealant and a new gasket, and then reinstall the air conditioner. This repair will not only effectively raise that sunken mounting position, but will also provide a much better supporting foundation for the weight of the air conditioner and possibly eliminate future water leaks." From: http://www.rvdoctor.com/2009/10/sinkin-roof.html
-------------  And another fix:
Fix your roof air conditioner sag
"The underlying cause of a sagging roof needs to be looked at. If the situation has gone on a long time, and water has infiltrated, you may have a serious problem. Rotten roof framing can be a very expensive (or if you're a really good do-it-yourselfer) very time consuming fix. The first order of business is to pull that heavy roof-top unit aside (we'll describe that in a moment) and inspect the roof itself. If you find any evidence of rot, you've got serious issues. If the roof is sound, you may be able to make a fix yourself.
RV a/c units are basically a sandwich affair: The heavy mechanical parts, including the compressor unit, are mounted above the RV roof. The mechanical portion pumps air down into the coach through a hole in the roof that is about the size of an RV roof vent hole.
Two schools of though prevail on the matter. One says while you have the a/c unit loose, replace the unit's roof gasket with two new ones. Our experience says while one is definitely good, two ain't necessarily twice as good. Two gaskets may gave a little extra loft, it probably won't be enough. We approach the matter by shimming up the roof height around the air conditioner mooring point."
Complete instructions at: http://www.rvtechtips.com/2012/04/fix-your-roof-air-conditioner-sag.html
__________
Rhino Linings Introduces Long-Term RV Roof Repair and Restoration Product
SAN DIEGO, CA (June 1, 2012) -- "Rhino Linings Corporation ("Rhino Linings"), a leading manufacturer and distributor of spray-on protective linings and coatings, is helping to revolutionize the recreational vehicle (RV) repair industry. RV owners and service providers now have an alternative RV roof repair system that costs significantly less than replacing the previous rubber or vehicle roof every few years, requires minimal resources and needs little to no maintenance.
"Rhino Eco-Coat has proven to be an excellent RV roof repair and restoration solution," states Pierre Gagnon, President and CEO of Rhino Linings Corporation. "Our product demonstrations have generated great interest in the RV and insurance industry and are quickly becoming an effective way to educate and introduce RV service businesses, insurance companies and consumers to a cost-effective and long-lasting RV roof repair and restoration solution.""        More at: http://www.rhinolinings.com/newsevents/press-releases/2012/rhino-linings-introduces-long-term-rv-roof-repair-and-restoration-product
__________
Posted by RV Doctor
"Hey Doc, what can we do to keep mice out of our RV when it is in storage?" Jeff C., (Iowa Park, TX)
"I thought I read an article you wrote about keeping mice from entering your RV under-carriage, I thought it was something   you could spray on. Any help?" Joe G., (Bellingham, WA)
"Well Jeff and Joe, I had an opportunity to test a Canadian product called Mouse Free, vicariously, through one of my beta-testers in the field. Howard and Linda Payne (rv-dreams.com), agreed to try it out, under my direction, since they were going to store their RV on a farm out in the countryside of KY while traveling overseas. Field mice had been a problem at this location in the past so I thought it would be a great proving site for the test.
From all appearances, I liked what I saw and heard while speaking with the company at a few RV shows and was anxious to see if it was worth the effort for the do-it-yourselfer.
Here's what Howard and Linda had to say":     Rest of article at: http://www.rvdoctor.com/2012/05/preventing-critter-infestation-during.html
___________
Tips and tricks
"In every household today there's a drawer--probably in the kitchen. Into it all manner of useful items are tossed--keys to who-knows-what. A screwdriver. That corkscrew you'll need for the occasional corked bottle of wine. A couple of accessory cords for appliances. Screws and nails. Most of us call this dreaded catch-all "the junk drawer." But really, you don't keep "junk" in the drawer, it's useful stuff--you just don't need it every day.

I have a spot in my brain labeled "junk drawer." It's not junk, it's more a potpourri of useful information, kept there to be trotted out as need it. Technical tips and ideas, too small to be an article on their own, but nevertheless information RVers may find useful."
Here are some of the tips: http://www.rvtechtips.com/2012/02/tips-and-tricks-in-two-parts.html
___________
Can you motorhome fulltime without a toad?
"Many fulltime RVers hit the road with a travel trailer or fifth wheel. At days-end, they unhitch and have a "round town" vehicle ready for use. But for fulltimers who live in a motorhome, the decision has to be faced: Do we have a "toad" car to get around, or can we do without a car?
If you see yourself leaning toward going toadless but are concerned with getting around, what alternatives are there? Many RVers have found a motorcycle or motor scooter is just the ticket. If light enough, an inexpensive platform plugged into the motorhome's hitch receiver can accommodate a two-wheeler. If age and health isn't a burden, others find bicycling--even walking--can be both practical and health promoting at the same time. If you camp close to public transportation, "doing the bus," can be an inexpensive alternative to car ownership. If you don't need a toad often, there's always the car rental option. Call Enterprise--they'll pick you up--even at the national park campground.
Your particular RV lifestyle can have a lot to do with the answer, "to toad, or not to toad." RVers who say they get along well without a toad vehicle are generally those who are on the road a lot, not spending much time in any one place. They find they can pick up groceries and do the laundry "between stops." RVers who tended to spend days or weeks at a time in one spot were the ones who most often noted the need of a toad car."     More at: http://www.fulltimerver.com/2012/05/can-you-motorhome-fulltime-without-toad.html
___________
More blacks are camping in RVs, By Rusty Carter
JAMES CITY - "Clarence "Doc" Jones bought his first recreational vehicle 15 years ago because he was angry.
"True story," laughed the vice president of the Virginia Camping Cardinals 120 members who rolled in 50 RVs to American Heritage Campground for a weekend rally. It's the largest club of its kind on the East Coast, with primarily minority families.
Jones runs a salvage business in Middlesex County. He recalled the day he bought the rig at a salvage auction.
"I had won several bids, and after winning another, one of the other bidders said, 'Doc, I figured you'd be broke by now.' That made me mad. The auctioneer told us he had two more vehicles for bid. One was a Lexus and the other an RV. I decided I was going to buy them both just to prove I wasn't broke."
The RV was barely a year old but had suffered light fire damage when the ceiling air conditioner malfunctioned. "I took it home, cleaned it up and replaced the air conditioner," Jones noted. "Then I told my wife that on our next vacation we were going camping."
With that, they were hooked. The details vary, but the allure is the same across a club that enjoys the outdoors………
Nationwide, however, relatively few blacks go camping in RVs. In a speech to the Texas Association of Campground Owners, Larry Brownfield, a development consultant for KOA Campgrounds, said, "We've got to be aggressively targeting ethnic diversity."
He cited 2010 Census data noting that whites make up just 66% of the U.S. population, yet a 2009 Outdoor Foundation survey said whites account for 87% of American campers. "It's a wakeup call for us.""
Complete article at: http://www.vagazette.com/articles/2012/04/26/news/doc4f9724da21997991133778.txt
____________
Denali visitor has three legs.
National Park Service photo
"Denali National Park has a mystery on its hands--or paws. It's a returning visitor that's been hanging around near the entrance to the park for a few weeks. His (or her) name is Tripawed. The mystery? What happened to Tripawed, the three-legged grizzly bear.
Tripawed was first spotted around Denali last July, at that time sporting a nasty looking right front leg wound. Speculation was the bear had tangled with a snare meant for a lynx or wolf, but got away from it. Tripawed spent the summer hanging around the park entrance, traveling as far as 15 mile on the Denali Park Road. When fall came, the bear vanished, presumably denning up for the winter.
The first reported sighting of the tri-ped bruin this spring was by a driver who reported the bear crossed the park highway, gracefully vaulting a guardrail. Evidently the healed up wound is not slowing Tripawed down. Park officials were concerned the bear might have problems in bear-world, getting enough to eat, defending itself, or preparing a den for winter. Tripawed's return seems to indicate that despite disabilities, life goes on.
One wag suggested to an rvtravel staffer that Tripawed was recently seen in a local beer joint. When asked by the bartender about his presence, the bear replied, "I'm looking for the man that shot my paw!"
_____________
50 pot bundles found stuffed under RV's floor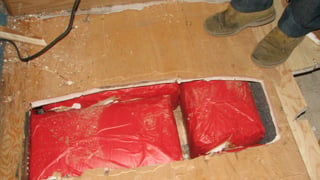 Courtesy of Customs and Border Protection
TUCSON, AZ (CBS5) - "As many as 50 bundles of marijuana were found by federal inspectors hidden under the floor of a recreational vehicle entering the U.S. through the Lukeville Port.  Customs and Border Protection officers assigned to the Tucson Field Office arrested two Shepherd, MT, residents, Barbara Muhs, 53, and her son, Marvin Triggs, 33. 
Officers referred the RV for a secondary inspection. When officers used a non-intrusive X-ray to inspect the RV, they said they noticed irregularities throughout the vehicle floor.  A closer inspection revealed 50 packages of marijuana weighing nearly 1,200 pounds and valued at more than $588,000 hidden under the flooring.   The drugs and vehicle were seized. The couple was turned over to U.S. Immigration and Customs Enforcement's Homeland Security Investigations." From: http://www.kpho.com/story/17519048/50-pot-bundles-found-stuffed-under-rvs-floor
____________
On This Day:
U.S. Constitution ratified, Jun 21, 1788:
New Hampshire becomes the ninth and last necessary state to ratify the Constitution of the United States, thereby making the document the law of the land.
By 1786, defects in the post-Revolutionary War Articles of Confederation were apparent, such as the lack of central authority over foreign and domestic commerce. Congress endorsed a plan to draft a new constitution, and on May 25, 1787, the Constitutional Convention convened at Independence Hall in Philadelphia. On September 17, 1787, after three months of debate moderated by convention president George Washington, the new U.S. constitution, which created a strong federal government with an intricate system of checks and balances, was signed by 38 of the 41 delegates present at the conclusion of the convention. As dictated by Article VII, the document would not become binding until it was ratified by nine of the 13 states.
Beginning on December 7, five states--Delaware, Pennsylvania, New Jersey, Georgia, and Connecticut--ratified it in quick succession. However, other states, especially Massachusetts, opposed the document, as it failed to reserve undelegated powers to the states and lacked constitutional protection of basic political rights, such as freedom of speech, religion, and the press. In February 1788, a compromise was reached under which Massachusetts and other states would agree to ratify the document with the assurance that amendments would be immediately proposed. The Constitution was thus narrowly ratified in Massachusetts, followed by Maryland and South Carolina. On June 21, 1788, New Hampshire became the ninth state to ratify the document, and it was subsequently agreed that government under the U.S. Constitution would begin on March 4, 1789. In June, Virginia ratified the Constitution, followed by New York in July.
On September 25, 1789, the first Congress of the United States adopted 12 amendments to the U.S. Constitution--the Bill of Rights--and sent them to the states for ratification. Ten of these amendments were ratified in 1791. In November 1789, North Carolina became the 12th state to ratify the U.S. Constitution. Rhode Island, which opposed federal control of currency and was critical of compromise on the issue of slavery, resisted ratifying the Constitution until the U.S. government threatened to sever commercial relations with the state. On May 29, 1790, Rhode Island voted by two votes to ratify the document, and the last of the original 13 colonies joined the United States. Today the U.S. Constitution is the oldest written constitution in operation in the world."
___________
Yesterday:
Misty and I took our walk-about around here, as Jay and his mother were off doing something. 
Some things are 20% off on Wednesdays at the Health Food store, and I was getting low on Xylitol and virgin coconut oil, so it was time to go shopping. After picking those up and looking at other things in the store, most of which were so expensive so I need to do more research before buying them, I went on one of my rare trips to Walmart.  I did buy another hasp for the cargo trailer's bed, but it still isn't what I really want. As I had gone in through the back door of Walmart, I couldn't get anything that needed weighing, so I went to Krogers for those.  Walmart doesn't have much in the way of organic veggies, anyway.
A quick stop at our favorite thrift shop, as I was going by there anyway, and I bought a nice white and cobalt blue china container for rings, or whatever. They had new colorful floral headband with visor things.  I can't stand to wear hats, so I thought this might be good for keeping the sun out of my eyes.  There I found another Bible for Jay, he doesn't like the KJ version with thees, and thous in it.
I also got another straw duck for my collection. My last collection was stolen.  Inside this case is some of my shell collection. A few of my shells are so huge they won't fit in there, or even on the top.
As I didn't have Jay with me, I wasn't rushed and could look at lots of items. I must have walked a couple of miles in the different stores, so I was ready for a nap when I got home.
Today, there is going to be a mini get-together of RV-Dreamers at Conroe's China Buffet, as Arlene, (http://roamingwhenwecan.blogspot.com/) Lynette and Mac (http://macandnette.blogspot.com/) and I are meeting there.  I had better start getting ready. 
Now the sunlight will start getting shorter again, as today is the longest day.