News, Some New, Some Old: 
Moose Up A Pole!
"In one of those only-in-Alaska stories that will shock even the sourest of sourdoughs, a trophy-sized bull moose was accidentally strung up in a power line under construction to the Teck Pogo gold mine southeast of Fairbanks.
The moose apparently got its antlers tangled in electrical wire before workers farther down the line pulled the line tight about two weeks ago.
The moose was suspended 50 feet in the air when workers, recognizing something was wrong, backtracked and found it.
The moose was alive when it was lowered to the ground but was later killed when officials from the Alaska Department of Fish and Game decided against tranquilizing it to remove the wires because they were worried the moose, already stressed, would die and the meat would not be salvageable as a result of the drugs." More at:  http://www.strangezoo.com/content/item/103259.html
____________
Wild Bison to Return Home to Tribal Lands
"This winter, after 20 years, the tribes and NWF succeeded in convincing the state of Montana to transfer 68 Yellowstone bison to the Fort Peck and Fort Belknap Tribes.
This has been one of the hardest nuts to crack in wildlife conservation history. Many other large mammal species that had depleted in numbers have been restored, but not bison. By restoring bison to tribal lands and other former habitats across the country, we're also revitalizing a landscape, habitat, and a diversity of wildlife. Simultaneously, we're helping to re-establish Native peoples' cultural and historic connections to wildlife and the land.
This is a win-win proposition for the tribes, the state of Montana, and the millions of Americans nationwide who want bison back where they belong. The return of wild bison to tribal lands is a major milestone in efforts to restore an iconic North American species to the landscape and restore an important element of Native American culture."   More at: http://blog.nwf.org/2012/02/wild-bison-to-return-home-to-tribal-lands/       and:      http://www.nwf.org/News-and-Magazines/Media-Center/News-by-Topic/Wildlife/2012/01-31-12-Tribes-prepare-for-homecoming-of-wild-bison-from-Yellowstone.aspx
___________
Never Forget! 
"Picture is precious and the story behind it - we should never forget!   God bless Marine LCPL Carpenter and his family!
I have to say, to me, this is the most touching, heart wrenching, meaningful photo I have seen.
Meet Landon.  His father, Marine LCPL Carpenter, gave his life defending our country in Afghanistan earlier this year, a month before his son was born.
Baby Landon's Mom wants his story to be known. Take a moment to share this photo with your friends and reflect on the price of freedom.  Never forget that price of freedom."
_____________
Poo-powered Beetle
"We often hear alternatives fuel sources referred to as "clean," but that's not exactly the case for this modified 2004 Volkswagen Beetle. The Bio-Bug has been converted to run on methane gas generated during sewage treatment. As our guest from Geneco waste solutions in Bristol, England so eloquently put it, this is a "poo-powered car." In case you were wondering, that's the smell of sustainability in the air."
__________
Youcef Nadarkhani, Iranian Pastor, May Face Execution For 'Apostasy From Islam' (REPORT)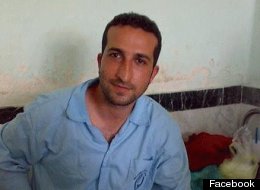 "Youcef Nadarkhani, an Iranian pastor who in 2010 was found guilty of apostasy and sentenced to death for refusing to recant Christianity, may have received a final execution order, according to the American Center for Law and Justice and Fox News.
Neither Human Rights Watch nor Amnesty International could verify the information for The Huffington Post, but the White House on Thursday afternoon issued a statement condemning the reports and calling on Iran to release Pastor Nadarkhani.
"This action is yet another shocking breach of Iran's international obligations, its own constitution, and stated religious values," the White House statement read. "The United States stands in solidarity with Pastor Nadarkhani, his family, and all those who seek to practice their religion without fear of persecution -- a fundamental and universal human right." "  More at: http://www.huffingtonpost.com/2012/02/23/youcef-nadarkhani-iranian-pastor-death-execution_n_1297262.html
"Pastor Youcef's situation – an innocent man convicted and sentenced to death for becoming a Christian – has not been this dire since we first brought his case to your attention last year." From: http://aclj.org/iran/execution-orders-issued-pastor-youcef-nadarkhani
____________
"Terrible events in Honduras and Mexico highlight the terrible state of criminal justice in this world. Thankfully, God will soon bring a government of real and effective justice.
"Remember the prisoners as if chained with them," the Bible instructs us (Hebrews 13:3). The author of Hebrews may have been thinking of fellow Christians unjustly incarcerated and suffering terrible conditions. But the principle of praying for others includes praying for our enemies, so why not the many people in the world's prisons? Many are there unjustly. Do we pray for them too?     Over the past few days, remembering prisoners has been easier—but not pleasant.
Horror in Honduras
First there was the gruesome tragedy at a prison in the Central American nation of Honduras. Last Tuesday night, Feb. 14, a fire broke out inside the Comayagua farm prison, located north of the Honduran capital, Tegucigalpa. It was rumored that a prisoner may have set fire to his mattress; whatever the case, the fire burned rapidly and took the lives of some 355 terrified male inmates, some by suffocation and others by burning.
Reports gave indications of the horror. The overcrowded prison, built for 500 but housing some 856 inmates, became the scene of sheer terror as the prisoners struggled desperately to escape the burning death trap, locked in their cells and unable to avoid the flames. While rescuers desperately searched for keys to the locked cells, inmates screamed for help and ran for the bathrooms, in the futile hope that water from the showers would save them from the flames.
"Prisoners perished clutching each other in bathtubs and curled up in laundry sinks. 'It was something horrible,' said survivor Eladio Chica, 40, as he was led away by police Wednesday night, handcuffed, to testify before a local court about what he saw. 'I only saw flames, and when we got out, men were being burned, up against the bars, they were stuck to them'" (CBC News).  
Riot and jail break in Mexico
Just a few days later, on Sunday, Feb. 19, a riot broke out in a Mexican prison in Apodaca, Nuevo León, home to incarcerated members of rival drug gangs. Reports are that 44 people died in violent encounters between members of the Zetas and the Gulf Cartel, turf rivals in the bitter and violent Mexican drug wars.
With the apparent acquiescence of guards and prison officials, members of the Zetas stormed the area that housed members of the Gulf Cartel, 44 of whom died at the hand of their rivals, who came armed with clubs, stones and sharp objects.
Biblical justice didn't include prisons
This doesn't make for pleasant reading. Many prisons throughout the world are centers of misery, traps filled with human degradation, abuse, violence, corruption and denial of basic human rights. No wonder the Bible instructs us to remember the incarcerated and to pray for them!
Yet it never had to be so. A study of biblical principles of law and justice reveals something interesting. In Old Testament times, there was no provision for incarceration under the law of Moses.  Fines, corporal punishment and capital punishment—as well as a benign system of short-term indentured servitude for paying off debts—were all prescribed in the Old Testament laws. But no imprisonment! Why?"
Learn more at: http://cogwa.org/blog/entry/remember-the-prisoners     Posted by Ralph Levy on February 22, 2012
_____________
On This Day:
African American congressman sworn in, Feb 25, 1870:
"Hiram Rhoades Revels, a Republican from Natchez, Mississippi, is sworn into the U.S. Senate, becoming the first African American ever to sit in Congress.
During the Civil War, Revels, a college-educated minister, helped form African American army regiments for the Union cause, started a school for freed men, and served as a chaplain for the Union army. Posted to Mississippi, Revels remained in the former Confederate state after the war and entered into Reconstruction-era Southern politics.
In 1867, the first Reconstruction Act was passed by a Republican-dominated U.S. Congress, dividing the South into five military districts and granting suffrage to all male citizens, regardless of race. A politically mobilized African American community joined with white allies in the Southern states to elect the Republican party to power, which in turn brought about radical changes across the South. By 1870, all the former Confederate states had been readmitted to the Union, and most were controlled by the Republican Party, thanks in large part to the support of African American voters.
On January 20, 1870, Hiram R. Revels was elected by the Mississippi legislature to fill the Senate seat once held by Jefferson Davis, the former president of the Confederacy. On February 25, two days after Mississippi was granted representation in Congress for the first time since it seceded in 1861, Revels was sworn in.
Although African Americans Republicans never obtained political office in proportion to their overwhelming electoral majority, Revels and some 15 other African American men served in Congress during Reconstruction, more than 600 served in state legislatures, and hundreds of African Americans held local offices."
____________
Cassius Clay defeats Sonny Liston, Feb 25, 1964:
"On February 25, 1964, underdog Cassius Clay, age 22, defeats champion Sonny Liston in a technical knockout to win the world heavyweight boxing crown. The highly anticipated match took place in Miami Beach, Florida. Clay, who later became known to the world as Muhammad Ali, went on to become the first fighter to capture the heavyweight title three times.
Liston was a reserved, feared fighter, a decade older than Cassius Clay, and had been world heavyweight champ since defeating Floyd Patterson in 1962. By contrast, Clay was a mouthy underdog who had won a gold medal in the light heavyweight division at the 1960 Olympics in Rome. While training for their fight, Clay, a natural self-promoter, taunted Liston and boasted to reporters that he would win by knockout. Clay came out strong during the fight, using speed and footwork to his advantage against the slower Liston. After the sixth round, Liston, who was suffering from cuts and bruises under his eyes and an apparent injured shoulder, announced he couldn't continue. Clay won the match by technical knockout and then announced to the world, "I am the greatest!"
On May 25, 1965, the two fighters met in Lewiston, Maine, for a rematch. The bout ended with a highly controversial first-round knockout for Clay, who by then had become a member of the Nation of Islam and taken a Muslim name, Muhammad Ali. Some people claimed Liston threw the fight, possibly because he was controlled by the Mafia or because he feared retaliation from Black Muslim extremists.
In 1967, while America was at war in Vietnam, Ali refused for religious reasons to join the Army. As a result, he was convicted of draft dodging, stripped of his title and banned from boxing for three years. In 1971, the U.S. Supreme Court reversed his conviction and Ali reclaimed the heavyweight crown on January 28, 1974, at the "Rumble in the Jungle" in Zaire against champion George Foreman.
In February 1978, Ali lost the title to Olympic gold medalist Leon Spinks. In a rematch seven months later, Ali defeated Spinks in 15 rounds and to reclaim the heavyweight crown. He then retired. Two years later, he made a brief, unsuccessful comeback before retiring permanently in 1981. Ali's career record includes 56 wins, 5 losses and 37 knockouts."
More about Ali: "In his retirement, Ali has devoted much of his time to philanthropy. He announced that he has Parkinson's disease in 1984, a degenerative neurological condition, and has been involved in raising funds for the Muhammad Ali Parkinson Center in Phoenix, Arizona. Over the years, Ali has also supported the Special Olympics and the Make a Wish Foundation among other organizations."      From: http://www.biography.com/people/muhammad-ali-9181165
_____________
Yesterday:
It was a completely different day from the day before.  It was chilly, and very windy. "If you don't like the weather in TX, wait a day!"
Ray came over to do two things to the cargo trailer, but in both cases the parts had completely vanished from where they were supposed to be.  That's aggravating!  So he did some other touch-up jobs in the trailer.  Then he sprayed the weeds in the lawn, as the last stuff hadn't worked. 
After the dog's walk, Jay and I got the last of the flea market items moved to their new home at the back of the Puddle Jumper's carport.  We made a three tiered display shelf out of table-clothed door slabs on milk crates, and then covered it all with a tarp.    Now it is all handy, but out of the way, if I decide to do the flea market thing one Sunday.