For "Winged Wednesday":
Fuertes's Parrot
"The beautifully-colored Fuertes's Parrot, also known as the Indigo-winged Parrot, was thought to be extinct for 90 years, but was rediscovered in 2002 by ABC's Colombian partner, Fundación ProAves. A small population of 60 individuals was found living in fragmented and unprotected high-Andean cloud forests of Quindio Department.
Since then, concerted action has protected the tiny range of the Fuertes's Parrot. ProAves and other conservation groups have established a series of reserves known collectively as the Threatened Parrot Corridor. Together these reserves cover roughly 19,000 acres of key habitat, and protect approximately 70% of the Fuertes's Parrot population as well as populations of four other species of imperiled parrots: the Yellow-eared Parrot, Rusty-faced Parrot, the Golden-plumed Parakeet, and the Rufous-fronted Parakeet.
A nest box program has been initiated in the reserves and has helped bolster the Fuertes's population significantly.
We need your help to protect the remaining unprotected habitat in this area. Check out more about this project here, and support additional conservation for this rare parrot of the Andes! "
____________
International Programs
"ABC AT WORK: Helping
Our Partners Help Birds
ABC plays a number of key roles in bird conservation efforts in Latin America and the Caribbean; we bring together local, national, and
international groups, facilitate access to the most up-to-date information, and provide specialized biological and planning expertise. One recent example of ABC's pivotal engagement in the region is the conservation of the endangered Yellow-billed Cotinga.
We picked this area because satellite imagery showed that it contained several areas where mangroves and forests grew side by side (important because the cotingas nest in mangroves and feed on forest tree fruits, so land where both habitats are adjacent is where we are most likely to find them). Combined with Jones' and Gallo's excellent general knowledge of the area and its avian biodiversity, we were able to plan systematic bird surveys across the peninsula that were most likely to reveal populations.
Not only did we locate good numbers of cotingas along the Sierpe during this trip – including several in a single fruiting tree – but surveys by Jones and Gallo over the next two years
provided significant distribution data, including a completely new site for the cotinga along the Esquinas River.
We had trained Jones and Gallo on the use of various data recording methods, including ebird (www.ebird.org), a Web database system used by birders and scientists to record bird sightings. With this training, they were able to make information on the new cotinga site available to the entire
conservation community. Already, data from the new satellite
transmitters is beginning to reap benefits. We are learning that the cotingas use riparian corridors that connect mangrove and forest habitat to move between the two. This will be a key piece of information as we work with our partners to develop a Yellowbilled Cotinga conservation plan. The plan will determine the best habitat on which to focus our conservation efforts in the Sierpe estuary, and will help guide Osa Conservation in their  management of Santa Cecilia property, a key tract of land in the Esquinas River watershed." — Daniel J. Lebbin, Conservation Biologist, ABC.        From Page 11-12 of: http://www.abcbirds.org/newsandreports/birdconservation_pdf/MagWinter12.pdf
About the Cotingas: http://www.abcbirds.org/newsandreports/botw/yellow_billed_cotinga.html
________________
Albino Hummingbird.
Phyllis sent me this: A rare treat... a ruby-throated albino hummingbird.   Something that is seldom seen and almost NEVER photographed.
Here is Audubon's article about it: http://magblog.audubon.org/family-captures-albino-hummingbird-stunning-photographs Enjoy!
_________________
Two Bald Eagle Families homeless: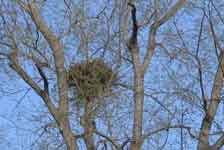 "A Missouri father and son were sentenced in federal court today for illegally destroying two bald eagle nests on their farm property in Ray County, MO.
"It is a tragic loss," said James Persson, special agent with the U.S. Fish & Wildlife Service, "especially the long-established, very large nest."  The two nests sat in trees on farm property owned by Ronald L. Gibson, 70, and Todd A. Gibson, 49, both of Norborne, MO.
Persson said the larger nest had been on the property for at least a decade and had become quite a draw for people who would come to the intersection of J Highway and Missouri River Road every spring to watch the mating pair and their offspring. Missouri Conservation Agent Tammy Pierson described the nest as bigger than the bed of a pick-up truck.
"They are often ten feet around," said Pierson. "This was the largest nest I had ever seen."  Her federal counterpart agreed.  "The loss of these birds does have an exponential factor," Persson said, "and I can't replace it.""    More and video at: http://www.kctv5.com/story/16594087/two-bald-eagle-nests-destroyed-by-loggers?autoStart=true&topVideoCatNo=default&clipId=6672345
_______________
A Long Flame of Wings

"Rather than being a wholly destructive force for birds, wildfire actually benefits many avian species."

Black-backed woodpecker. Courtesy Wind Cave National Park
"In 1969 the Ad Council produced a Smokey the Bear campaign announcement that begins, "In the time it takes to grow a tree, you can grow a country." As the camera slowly pans up a tall ponderosa pine, famous American songs and speeches play, from a Revolutionary War fife to the radio broadcast of Pearl Harbor. At the tree's crown, you listen to the launch of a lunar mission: "3, 2, 1, zero, ignition." Then, suddenly, you plunge to the forest floor—with a match—where dry needles sprout into a flame. "It only takes a minute to wipe out a century," says the narrator. "A flash, and nothing—and even the birds won't come anymore."
"We've come a long way since that public service announcement," says Vicki Saab, a wildlife biologist at the Rocky Mountain Research Station in Bozeman, Montana. After decades of full-bore fire suppression, scientists and forest managers have begun to recognize that big blazes are ecologically indispensable—and that, after the flames die down, birds arrive in droves. In fact, some avian species depend on freshly burned forests, while others soon follow as food sources and nesting habitat become available in the newly enriched environment. Some species actually depend on the early arrivals, like black-backed woodpeckers, to pave the way. Nowhere is that more evident than in the dry, lightning-riddled coniferous forests of the Rocky Mountains, where vast tracks of forest burn every year.
Of course, "there are winners and losers after fire," says Saab. If treetops burn completely in a "crown fire," canopy dwellers like the mountain chickadee must seek out new habitat. But woodpeckers win big. In pursuit of bark and wood-boring beetles, they rapidly move into large areas of scorched trees.""   Rest of Article, by Nick Neely at: http://archive.audubonmagazine.org/web/firebirds/
____________
"A birder may have a target bird so elusive that the bird becomes a kind of "jinx bird." But there was a real bird by that name! The bird once called the "jynx" is known today as the Eurasian Wryneck. When a wryneck is threatened, it twists its head like a snake and hisses. This behavior led to the wryneck being invoked in witchcraft to put a spell or a jinx on someone.

Wrynecks and woodpeckers
Photo by Steve Round
"There are many species of woodpeckers, but only two wrynecks, worldwide, but only three woodpeckers and one wryneck (a rare migrant) in the UK.
Woodpeckers are small to large birds, mostly boldly-patterned, sharing features such as a sharp, chisel-like bill, round head, broad wings and a stiff tail, often used as a prop when perched upright on a tree. They also have two toes facing forwards and two back to give a better grip on rounded branches.
Wrynecks are well-camouflaged, brown birds with shorter bills and normal tails."
_____________
On This Day:
First Teddy bear goes on sale, Feb 15, 1903:
"On this day in 1903, toy store owner and inventor Morris Michtom places two stuffed bears in his shop window, advertising them as Teddy bears. Michtom had earlier petitioned President Theodore Roosevelt for permission to use his nickname, Teddy. The president agreed and, before long, other toy manufacturers began turning out copies of Michtom's stuffed bears, which soon became a national childhood institution.
One of Theodore Roosevelt's hunting expeditions provided the inspiration for the Teddy bear. Ironically, though he was an avid conservationist, Roosevelt-led hunting trips often resulted in excessive slaughter, including one African trip during which his party killed more than 6,000 animals for sport and trophies. However, the idea for the teddy bear likely arose out of one of Roosevelt's more compassionate acts.
Reports differ as to the exact details of the inspiration behind the teddy bear, but it is thought that while hunting in Mississippi in 1902, Roosevelt came upon an old injured black bear that his guides had tied to a tree. (The age, sex and state of health of the bear remain contested.) While some reports claim Roosevelt shot the bear out of pity for his suffering, others insist he set the bear free. Political cartoonists later portrayed the bear as a cub, implying that under the tough, outdoorsy and macho image of Roosevelt lay a much softer, more sensitive interior."
_____________
Victory at last for Earnhardt at Daytona, Feb 15, 1998:
"On February 15, 1998, after 20 years of trying, racing great Dale Earnhardt Sr. finally wins his first Daytona 500, the National Association for Stock Car Auto Racing (NASCAR) season opener and an event dubbed the "Super Bowl of stock car racing." Driving his black No. 3 Chevrolet, Earnhardt recorded an average speed of 172.712 mph and took home a then-record more than $1 million in prize money. Following his victory, crews from competing teams lined the pit road at the Daytona International Speedway in Daytona Beach, Florida, to congratulate Earnhardt, who drove his car onto the grass and did several celebratory doughnuts, or circles.
Earnhardt, whose tough, aggressive driving style earned him the nickname "The Intimidator," was born on April 29, 1951, in Kannapolis, North Carolina. The son of a racecar driver, the younger Earnhardt dropped out of high school to follow in his father's footsteps. He went on to become one of NASCAR's most successful and respected drivers, with 76 career victories, including seven Winston Cup (now known as the Sprint Cup) Series championships, a record he shares with Richard Petty. Despite his success as a driver, victory at the Daytona 500--a 200-lap, 500-mile event first held in 1959--eluded Earnhardt for years. At the 1997 Daytona 500, Earnhardt's car flipped upside down on the backstretch; however, he managed to escape serious injury.
His win in February 1998 represented Earnhardt's sole Daytona victory. Tragically, on February 18, 2001, Earnhardt died at the age of 49 during a crash at that year's 43rd Daytona 500. After being cut from his car, he was taken to a hospital where he was pronounced dead of head injuries. As it happened, the race which cost Earnhardt his life was won by Michael Waltrip, who was driving for the Dale Earnhardt Inc. (DEI) racing team. Earnhardt's son, Dale Jr., also a DEI driver at the time, took second place. Three years later, on February 15, 2004, Dale Earnhardt Jr. won his first Daytona 500, with an average speed of 156.341 mph."
____________
Yesterday:
Jay and his mother went to the doctor's.  So I had some time to catch up on laundry, I thought. 
But that wasn't to be as the power went out about 9.00AM. So I caught up on some phone calls and went through a pile of junk mail. Each place that had my name, address and/or account number was torn off, to be shredded later. Then the 2011 receipts were packed in a marked Ziploc bag to be stored in a filing cabinet. The oldest year was taken out of that filing cabinet and shredded when the power came back on. It took a while to shred that year, as I still had real paper bank statements coming in the mail back then! 
Just a drizzle early morning, but when the sun came out the cats could spend some time on the porch as it was a warmer day.