For "Travel Tuesday", let's see even more of the area around Fredericksburg in the Texas Hill Country.
"The Texas Hill Country is the heart of Texas. Texas has plenty of beautiful natural attractions, including forests, plains, deserts, mountains, ocean fronts, drylands, wetlands and almost every eco system loved by man. The Hill Country of Texas is known as the backyard playground for Texans that like to have fun, enjoy nature, hang out, live and retire. We like our big cities like Austin and San Antonio, but we also love our smaller towns like Bandera, Fredericksburg, Gruene, Kerrville, Luckenbach, Marble Falls, New Braunfels, and Utopia. If your lucky enough to live here, then you understand what we mean, if your fortunate enough to vacation here then you share why we love it. Even if you simply visit or pass thru, you will see why we feel blessed to be the best of Texas."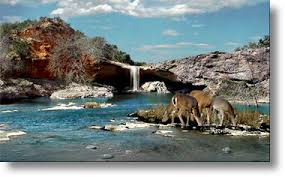 Hill Country Beginnings
"Many folks believe that several ice ages and a few eons ago, a sea floor rose, pushing the water aside. As it did, the floor buckled into hills made of limestone, which were the remains of shellfish and corals of ages earlier. Others say that was just the birth pains of the Texas Hill Country when God's hand created it "in the beginning." In a nation that touts its New England fall colors, its Rocky Mountains, and the big trees of the West Coast, the Hill Country of TX was to become an American secret.
A hundred years ago with the coming of the automobile and more leisure time, the people of Texas came looking for the rolling hills and the drop-off valleys. They established summer camps for their children and vacation cabins for themselves. The Hill Country was still something of private information. But now Texas has become one of the two most populated states in the nation and more people are discovering a quiet region in their midst where the water runs clear and the winds blow fresh. The Texas Hill Country has become the most popular destination spot in the USA for vacations, retirement or just plain old country living and enjoyment.
The Texas country is famous for its cattle country. These hills are people country. People can hike, hunt, fish, swim, camp, or just socialize. On the other hand, walk off out of sight and out of earshot and find a live oak to sit under and lean back against. A river-cut valley runs at your feet. Overhead the blue skies carry a fleet of small clouds. And you relax, doing nothing, except realizing how lucky you are to let the world go look after itself while you breathe deeply and let your mind wander through the hills of TX which surround you. These are the famous hills of Texas, come and explore what God has prepared." More at: http://www.texashillcountry.com/
_____________
Pedernales Falls, TX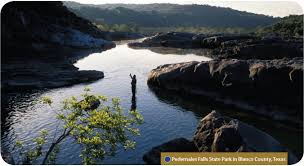 Pedernales Falls State Park, Blanco County
"Wilderness is the star attraction at Pedernales Falls State Park. A river with rocky limestone falls, hiking trails, remote campsites with RV hook-ups for the comfort-minded and bird watching opportunities are among the assets of the park.
Just 40 miles from Austin and 68 miles from San Antonio, Pedernales Falls State Park hosts an average of 100,000 to 200,000 visitors each year. June is generally the busiest month, according to Park Superintendent Bill McDaniel. The park's natural beauty and proximity to tourist destinations like Lyndon B. Johnson National and State Historic Sites in Johnson City; Fredericksburg.   Blanco and Guadalupe River State Parks; and Enchanted Rock State Natural Area make this Hill Country retreat a popular stop for nature lovers.
Pedernales Falls State Park hosts an average of 100,000 to 200,000 visitors each year.
In 1970, the Texas Parks and Wildlife Department purchased 5,211 acres from the Circle Bar Ranch in Blanco Country. In its naturally wild state, the park's visitors could hike to see the eight-mile stretch of the Pedernales River, which turns into a raging torrent when sufficient rain falls nearby or upstream. Today, the park is sparsely developed, but has a park headquarters building with a store, water treatment facility, bird viewing station and restrooms with and without showers. A 69-site camping area with electricity, water and RV hook-ups, a primitive camping area with room for 20 groups and a youth group camping area add facilities for overnight stays. Trails include 19.8 miles for hiking and mountain biking; 10 miles for horseback riding; and 14 miles for backpacking.
Financially, the park collects more revenue than it spends, and thus provides surplus revenue to the park system. A staff of 11 is aided by "park hosts" – volunteers who stay in the park for free in exchange for aiding park visitors and helping with basic maintenance. The volunteer program has been important in helping to keep the parks operating during times of restricted funding. Volunteers stay for a minimum of one month and have access to a laundromat and email. Volunteers often travel to nearby Johnson City and other communities to buy groceries, supplies and meals.
One new staff position plus some funding for seasonal and hourly staffing, will be added as a new allocation of funding becomes available. A water treatment project will also be funded.
Outdoor activities and the chance for peace and quiet bring visitors to the park.   Campers may want to bring their binoculars to view birds. Over 150 bird species have been spotted at Pedernales Falls State Park, and the endangered golden-cheeked warbler comes to nest in cedars in mid-March. A volunteer built a bird blind after Park Superintendent McDaniel saw a sanctuary in Florida. The glass-fronted blind holds bird identification materials, a list of birds spotted and room for about 15 people to gather. Water and food help attract the birds. Sometimes other wildlife partakes of the bounty. Typical Hill Country wildlife – deer, coyotes and armadillos – also live in the wooded areas of the park and may be seen near the blind.
Bird and wildlife watching can help the local and state economies. Wildlife watchers in Texas spent an average of $686 in 2006, according to a survey conducted by the U.S. Fish and Wildlife Service. On each day of a trip, they spent an average of $32, averaging about 14 days away from home. In total, trip-related spending in Texas totaled $424.2 million. Another $2.5 billion was spent on equipment and other supplies.
Fishing, swimming and mountain biking are allowed, but you need to bring your own horse if riding on a trail is your preferred activity. Occasionally, public hunts for deer or feral hogs are allowed, but none have been held in the last few years. If the park is opened for a public hunt, all guests must leave and the park is closed to non-hunters for the duration of the hunt.
Pedernales Falls State Park may be reached by traveling 9 miles east of Johnson City on FM 2766, or by traveling west of Austin for 32 miles on U.S. 290, then north on FM 3232 for 6 miles. The 4,860acre park stretches along both banks of the Pedernales River for 6 miles and for an additional 3 miles along the south side of a rugged and picturesque gorge known as the Pedernales Falls."
Credit: Dk6
"The flood-prone Pedernales River winds its way through 5,212-acre Pedernales Falls State Park for 6 miles, including a vast limestone gorge filled with deep pools, small rapids, shell and gravel "beaches" and seasonal waterfalls. From the river overlook, visitors can appreciate the awesome power of water and, if they choose, venture down into the gorge to sit by the water's edge or explore. Swimming, wading and tubing are not permitted in this area due to strong currents and extremely slick rock; several miles of river frontage, accessible from the camping areas, are open to water recreation.
Featuring more trail mileage than most Texas State Parks, Pedernales 19.8 miles of hiking and mountain biking trails, 10 miles of equestrian trails and another 14 miles trails open to only to hiking and backpacking. Among the park's trails is the 7.5 mile Wolf Mountain Trail, a favorite among hikers, backpackers and mountain bikers. Other activities in the park include camping, picnicking, fishing, birding and nature study. Developed (RV) and primitive tent campsites are available; access to the primitive campsites requires a 2 to 3 mile hike. Numerous springs, intermittent streams and waterfalls are located throughout the park, nurturing ferns and other plant life.
Over 150 bird species have been observed at the park, including osprey, bald eagle and numerous songbirds, such as the endangered golden-cheeked warbler. To enjoy the park's avian diversity, visit the bird viewing station, a handicapped-accessible 15-person observation area featuring birdfeeders and a bird bath with dripper. The feeders are stocked with food from November through March and the bath is maintained year-round. Other wildlife includes white-tail deer, armadillo and raccoon."
http://www.tpwd.state.tx.us/spdest/findadest/parks/pedernales_falls/
____________
Wolf Mountain Trail
A good portion of the Wolf Mountain Trail is an old jeep trail.
"For non-Texans, Hill Country comes as a surprise: A verdant rolling landscape of oak-dotted hills and vineyards, it sooner resembles California wine country than the arid Texas of Western lore. Within 45 miles of Austin, hikers can walk through lush forests and past springs at Pedernales Falls State Park."
There are several creek crossings on the hike, but none of them will provide much of an obstacle.
"Upon entering the park continue driving approximately 3 miles to the turn into the parking area for primitive camping that also refers to the Wolf Mountain Trail. We recommend getting there early on nice days as the parking area can fill up quickly."
Jones Spring is near the halfway point of the hike and is a pleasant place to take a rest.
"Get Hiking: The park's Wolf Mountain Trail is one of the region's most beloved hikes, winding past fern-lined canyons, the ruins of a settler's house, beautiful views over the Pedernales River Valley, and finally to the mother of all Hill Country vistas at the peak."  More at: http://www.texashiking.com/Locations/ShowLocation.aspx?LocationID=1481
There is so much to see and do in TX, that it would take a lifetime to see it all.
_____________
On This Day:
Earthquake causes fluvial tsunami in Mississippi, Feb 7, 1812:
"On this day in 1812, the most violent of a series of earthquakes near Missouri causes a so-called fluvial tsunami in the Mississippi River, actually making the river run backward for several hours. The series of tremors, which took place between December 1811 and March 1812, were the most powerful in the history of the United States."
______________
Beatles arrive in New York, Feb 7, 1964:
"On February 7, 1964, Pan Am Yankee Clipper flight 101 from London Heathrow lands at New York's Kennedy Airport--and "Beatlemania" arrives. It was the first visit to the United States by the Beatles, a British rock-and-roll quartet that had just scored its first No. 1 U.S. hit six days before with "I Want to Hold Your Hand." At Kennedy, the "Fab Four"--dressed in mod suits and sporting their trademark pudding bowl haircuts--were greeted by 3,000 screaming fans who caused a near riot when the boys stepped off their plane and onto American soil.
Two days later, Paul McCartney, age 21, Ringo Starr, 23, John Lennon, 23, and George Harrison, 20, made their first appearance on the Ed Sullivan Show, a popular television variety show. Although it was difficult to hear the performance over the screams of teenage girls in the studio audience, an estimated 73 million U.S. television viewers, or about 40 percent of the U.S. population, tuned in to watch. Sullivan immediately booked the Beatles for two more appearances that month. The group made their first public concert appearance in the United States on February 11 at the Coliseum in Washington, D.C., and 20,000 fans attended. The next day, they gave two back-to-back performances at New York's Carnegie Hall, and police were forced to close off the streets around the venerable music hall because of fan hysteria. On February 22, the Beatles returned to England.
"On the airplane, I felt New York," Ringo Starr said many years later. "It was like an octopus....I could feel, like, tentacles coming up to the plane it was so exciting." For the better part of a year leading up to their arrival in America on this day in 1964, the Beatles had been adjusting to the hysteria that seemed to greet them wherever they went. 
But on the ride into Manhattan, Ringo says, they were as giddy as some of the fans who surrounded their limo as it approached the Plaza Hotel. "It was madness! They were all outside and there's barriers and horses and cops all over the place...with the four of us sitting in the car, giggling. I'll speak for everybody—we couldn't believe it! I mean, I'm looking out the car saying, 'What's going on? Look at this! Can you believe this?' It was amazing."
The Beatles' music remained relevant to youth throughout the great cultural shifts of the 1960s, and critics of all ages acknowledged the songwriting genius of the Lennon-McCartney team. In 1970, the Beatles disbanded, leaving a legacy of 18 albums and 30 Top 10 U.S. singles.
During the next decade, all four Beatles pursued solo careers, with varying success. Lennon, the most outspoken and controversial Beatle, was shot to death by a deranged fan outside his New York apartment building in 1980. McCartney was knighted by Queen Elizabeth II in 1997 for his contribution to British culture. In November 2001, George Harrison succumbed to cancer."
--------------
From Me: 
The Beatle's music had a beat that was catching.  In 1963, my 20 month old daughter Wendy and I were staying in London, waiting for our immigration visa to immigrate to the US. We were supposed to arrive here before Thanksgiving, but we all know what happened on the 22nd. of November that year.  Everything seemed to stop when Kennedy was shot. Our visa was delayed so we didn't get here until the 18th. December.  I can still see little Wendy just dancing and jiggling every time she heard the Beatles.  And the beat goes on….
____________
First human satellite, Feb 7, 1984:
"While in orbit 170 miles above Earth, Navy Captain Bruce McCandless becomes the first human being to fly untethered in space when he exits the U.S. space shuttle Challenger and maneuvers freely, using a bulky white rocket pack of his own design. McCandless orbited Earth in tangent with the shuttle at speeds greater than 17,500 miles per hour and flew up to 320 feet away from the Challenger. After an hour and a half testing and flying the jet-powered backpack and admiring Earth, McCandless safely reentered the shuttle.
Later that day, Army Lieutenant Colonel Robert Stewart tried out the rocket pack, which was a device regarded as an important step toward future operations to repair and service orbiting satellites and to assemble and maintain large space stations. It was the fourth orbital mission of the space shuttle Challenger."
____________
Queen Elizabeth II
February 6, 2012 - "This week marks the 60th anniversary of Queen Elizabeth II's accession to the throne of Great Britain. She has set a marvelous example of service."
_____________
Yesterday:
After Misty and Maddie's walk, Jay and I sorted out more of the yard sale items.  We reloaded the van, so it would hold more boxes of the articles to be donated.
Someone had put hospital table out on the curb as the table top was broken.  We brought it here and put the sturdy metal base on my grooming table top.  Their trash was my treasure.  It was a good trash day.