This video reminded me of two important safety rules:
"First, the little pups should be on something less slick, as you can see they are leery of walking on that slippery floor, and it is bad for their bone development, as they can't walk properly.
Secondly, very small balls are fine for little pups to play with, but they have to be removed when a larger dog shows up.  Many a dog has got one caught in it's throat, and some have even asphyxiated."
____________________
Dog Tips
For a cheap and easy puppy chew toy, freeze a clean, wet washcloth. Once frozen, the texture often appeals to gnaw-inclined pups.
________________
"If you find an animal you think needs help, do not
automatically pick it up. Please check the list below to find out what you should do. If the animal needs to be brought to the wildlife hospital, keep it in a cardboard box with a lid or a closed paper bag in a warm, dark and quiet place until you can bring it to the museum. DO NOT FEED OR HANDLE WILD ANIMALS whether or not you bring them to the wildlife hospital."
Wildlife solutions
"Nuisance animals are only a "nuisance" to the person who needs a solution.
Many animals live very close to their human neighbors and this can cause real, or perceived, problems. Humans can learn to share their world with wildlife. Following are some humane solutions to problems that are commonly encountered in our area. If you have found an injured or orphaned animal click here.
Mammals
Birds and reptiles
________________
Cpl. Kory Wiens And His Military Dog Cooper, Both Killed In Iraq, To Be Honored By Fort Carson Dog Park Naming
DENVER — "Cpl. Kory Wiens was so fond of Cooper, the military dog he worked with, that he planned to stay in the Army long enough to adopt him when the Labrador retriever's bomb-sniffing career was over.
Even though their time was cut short when Wiens and Cooper were killed by an improvised bomb while patrolling in Iraq in 2007, they remain together in death and in memory: their ashes were buried together in Wiens' hometown of Dallas, Ore. And on Friday, an infantry post in Colorado dedicated a dog park in their honor."
More at: http://www.huffingtonpost.com/2011/10/28/colo-army-post-honors-sol_n_1063387.html
________________
"Military working dogs first gained widespread attention after people learned that a dog named Cairo participated in the SEAL Team 6 mission that led to Osama bin Laden's death. Before that, few civilians realized that dogs served in combat, let alone that they could parachute out of helicopters and sniff out everything from bombs to bad guys."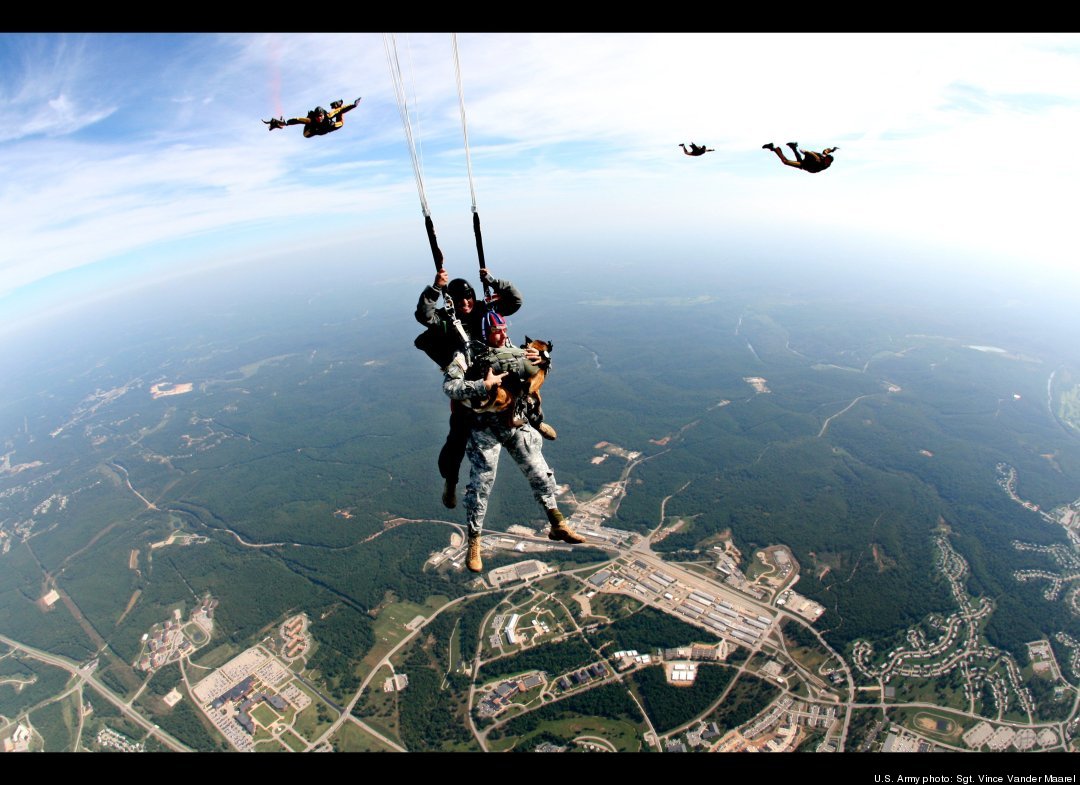 U.S. Army 1st Sgt. Chris LaLonde, his military working dog Sgt. Maj. Fosco and jumpmaster Kirby Rodriguez perform the military's first tandem airborne jump with a canine from an altitude of 12,500 feet.
___________
Microchipping Works!
Montreal Dog Turns Up In B.C. Interior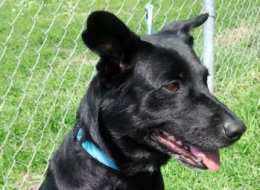 Suki 'aka Pollux' will be flying home to Montreal after wandering across the country to B.C. 
MONTREAL - "A Montreal pooch who disappeared last year has miraculously turned up some 4,500 kilometers away in Kamloops, B.C.
The black Labrador named Pollux is afraid of the water and detests the rain, yet she took an adventurous turn upon fleeing through a gate mistakenly left open at her east-end Montreal home last June 20.
Her owner, Isabelle Robitaille, said the family had searched high and low and given up hope they'd ever find the dog they had saved from the SPCA in 2005.
Then on Canada Day 2011, they received a shocking phone call from the SPCA in Kamloops: a dog with a tracking chip containing her information was found in B.C.  Photos sent by the shelter confirmed it. Pollux was alive and well although a bit leaner than before.  "They told me she was in excellent condition," Robitaille said.
From: http://www.huffingtonpost.ca/2011/07/06/montreal-dog-turns-up-in-bc_n_891279.html?icid=main%7Chtmlws-main-n%7Cdl1%7Csec3_lnk1%7C218115
________________
"Can a baby deer and a frisky dog be friends? Maybe … if the dog learns how to share his toys!"

EMBED-Dog and Baby Deer Fight Over Ball -
___________________
"Some of you won't like hearing this, but making sure your dog doesn't stick his head out the car window during travel is also important for reducing the risk of eye injury or infection."
__________________
Find out the best dog breed for your lifestyle.
"With over 160 recognized dog breeds, finding the perfect dog breed for you can be a challenge. Luckily, the American Kennel Club divides breeds into seven variety groups to make your choice easier.

The seven groups of dog breeds are: Sporting -- which includes pointers, retrievers, setters and spaniels; Hound -- which features beagles, bassets, dachshunds and greyhounds; Working -- such as akitas, boxers, doberman pinschers and Saint Bernards; Terrier -- which includes the Airedale, cairn terrier and Scottish terrier; Toy -- which features Chihuahuas, Pomeranians and pugs; Non-Sporting -- such as chow chows, bulldogs, dalmatians and poodles; and Herding -- which includes collies, German shepherds and Old English sheepdogs.
Think you already know which is the best fit for you? Take this quiz! You just might be surprised."
Find the Right Dog Breed for You!    http://www.pawnation.com/2010/09/08/quiz-find-the-best-dog-breed-for-your-personality-and-lifestyle/
________________
On This Day:    Nov 28, 1520:
Magellan reaches the Pacific
"After sailing through the dangerous straits below South America that now bear his name, Portuguese navigator Ferdinand Magellan enters the Pacific Ocean with three ships, becoming the first European explorer to reach the Pacific from the Atlantic.
On September 20, 1519, Magellan set sail from Spain in an effort to find a western sea route to the rich Spice Islands of Indonesia. In command of five ships and 270 men, Magellan sailed to West Africa and then to Brazil, where he searched the South American coast for a strait that would take him to the Pacific. He searched the Rio de la Plata, a large estuary south of Brazil, for a way through; failing, he continued south along the coast of Patagonia. At the end of March 1520, the expedition set up winter quarters at Port St. Julian. On Easter day at midnight, the Spanish captains mutinied against their Portuguese captain, but Magellan crushed the revolt, executing one of the captains and leaving another ashore when his ship left St. Julian in August.
On October 21, he finally discovered the strait he had been seeking. The Strait of Magellan, as it became known, is located near the tip of South America, separating Tierra del Fuego and the continental mainland. Only three ships entered the passage; one had been wrecked and another deserted. It took 38 days to navigate the treacherous strait, and when ocean was sighted at the other end Magellan wept with joy. His fleet accomplished the westward crossing of the ocean in 99 days, crossing waters so strangely calm that the ocean was named "Pacific," from the Latin word pacificus, meaning "tranquil." By the end, the men were out of food and chewed the leather parts of their gear to keep themselves alive. On March 6, 1521, the expedition landed at the island of Guam.
Ten days later, they dropped anchor at the Philippine island of Cebu—they were only about 400 miles from the Spice Islands. Magellan met with the chief of Cebu, who after converting to Christianity persuaded the Europeans to assist him in conquering a rival tribe on the neighboring island of Mactan. In fighting on April 27, Magellan was hit by a poisoned arrow and left to die by his retreating comrades.
After Magellan's death, the survivors, in two ships, sailed on to the Moluccas and loaded the hulls with spice. One ship attempted, unsuccessfully, to return across the Pacific. The other ship, the Vittoria, continued west under the command of Basque navigator Juan Sebastian de Elcano. The vessel sailed across the Indian Ocean, rounded the Cape of Good Hope, and arrived at the Spanish port of Sanlucar de Barrameda on September 6, 1522, becoming the first ship to circumnavigate the globe."
__________
Yesterday:
We left before yesterday's program on WGN was broadcast, so here it is now:   http://youtu.be/f9Y5u4EuhWA.  "God's Roadmap".    "What is your purpose in life? Where are you headed on life's road? How do you know which way to go? Your Creator offers a roadmap!."  I watched it when I got home as it is also online at Beyondtoday.tv.  It can also be seen on your Nook, Kindle and iPad.
Misty and I went to get Jay early, so Misty had her walk-about down there, while we were waiting for him.
After packing a lunch, and loading a few more things in the van, Jay and I were off to the flea market in the loaded down van.  We found our assigned table which was in a high traffic area, and set things up.
We definitely had too much stuff for one table, but there wasn't enough room to put up the other two we had brought with us as we were right were the people cut through from the main building.  
There were some things that we forgot to pack in the van; the rest of the display baskets for separating the hardware items, my signs to show how much the items were in each basket, and my four-pocket money apron.  I had to resort to wearing a new two-pocket kitchen apron that was really for sale.   
Dizzy-Dick and his wife stopped by my table, and he took my picture in that mismatched get-up!!  
Then the man next to us had to leave around noon, so he said we could use his table.  Once the tool and hardware type things were separated from the other junk items on the next table, they sold a lot better. 
I had arrived there in a jacket, but by about 1.00PM I was glad that I had brought my lined long coat, as the 35 mph wind gusts were getting chilly, but I wasn't cold at any time.
With the cold wind, some venders started leaving about 2.00PM, but at 3.00 PM they have a $50 drawing, and if that vender is still there, they win it.  The clothes and purses weren't doing well, so I started packing them, and the racks first.   The winning number was broadcast over the loud speakers but it wasn't our table number.  People were still buying the hardware items, like cabinet handles and sandpaper disks, so those were last to be packed.   We had several empty boxes when we packed up the residue.  Jay was ready to leave, so we arrived home about 4.00PM. 
The temps went down to 29 overnight, so I was glad that I had brought the flowering aloe in last night.  After being on my feet most of the day, I think that the electric mattress pad on my bed helped so I am not stiff and sore this morning.
It would take many Sundays to get all my yard sale items sold, so I don't know if it was easier to take some of the stuff there for a few hours rather than having a yard sale here for several days.