Some news, old and new:
Drugged-Up Turkey: Antibiotic Use On Farms Linked To Rising Rates Of Drug-Resistant Infections "As families across America adorned their dinner tables with plump, juicy turkeys this Thursday, they've likely given little thought to what their food previously consumed.
By the end of this year, an estimated 248 million turkeys will have been raised in the U.S., approximately 83 percent on farms that produce more than 60,000 turkeys each and most eating a diet that includes low doses of antibiotics. This common agricultural practice results not only in more meaty birds, according to experts, but also in greater risks to public health.
"Antibiotic use in animals comes back to haunt people," said Stuart Levy, a Tufts University microbiology professor who focuses on antibiotic resistance. He recently co-authored a review of the evidence showing how animal antibiotics affect human health -- via direct contact and indirectly via food, water, air and anywhere manure goes.
Levy and other experts warn that the widespread use of antibiotics to treat sick livestock, prevent the spread of disease in cramped conditions or simply promote animal growth has fueled the proliferation of antibiotic-resistant bacteria, which is making many infections in humans harder to treat. As The Huffington Post reported in August, some human infections now resist multiple antibiotics.      
More at: http://www.huffingtonpost.com/2011/11/23/turkey-antibiotics-drug-resistant-infections-thanksgiving_n_1110745.html?icid=maing-grid10%7Chtmlws-main-bb%7Cdl6%7Csec3_lnk2%7C115461
________________
Black Friday Crowds!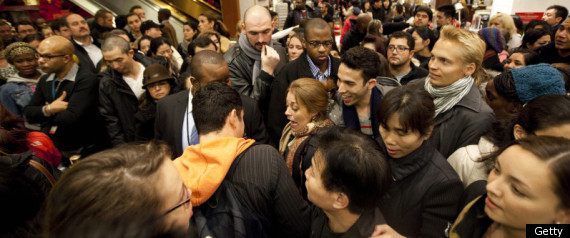 Not where I would want to be.
___________________
Occupy Wall Street Takes On Black Friday Amid Skepticism "Occupy Wall Street demonstrators gathered in New York City on Nov. 17. Various Occupy groups around the country are planning to stage anti-corporate events on Black Friday.
With Black Friday heralding the start of the shopping season, a bevy of groups identified with the Occupy Wall Street movement are asking consumers to reconsider their spending habits.
But unlike other high-profile Occupy efforts of late -- such as last week's march across the Brooklyn Bridge, in which thousands of activists participated, it's unclear whether the pushback against Black Friday shopping will serve as a show of strength for the movement.
"I don't think that they're going to gain any traction out of this one," said Stephen Hoch, a marketing professor at the Wharton School of Business at the University of Pennsylvania. "If I was them, I wouldn't be investing a whole lot of energy in using this as a poster child for what's wrong with our country."
Black Friday, otherwise known as the day after Thanksgiving, serves as the unofficial start of the November-December holiday shopping corridor, one of the busiest times of year for retailers. About 152 million people are expected to shop this Friday, in what has become an annual tradition of shoppers mobbing stores in the hopes of getting limited-time deals.
This November, a number of Occupy Wall Street groups have publicized plans to oppose Black Friday in one form or another."
More at: http://www.huffingtonpost.com/2011/11/24/occupy-wall-street-black-friday_n_1111064.html
______________
Black Friday: Occupy Protests Discourage Shopping On One Of Retail's Biggest Days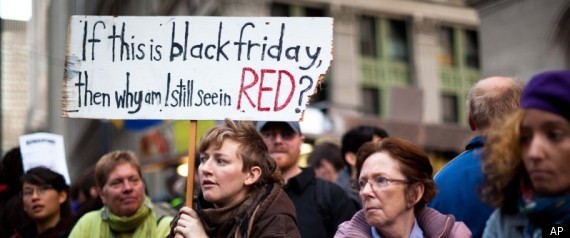 11/25/11 SAN FRANCISCO -- "Anti-Wall Street protesters took their message about corporate greed to Black Friday shoppers, staging demonstrations in commercial areas around California on one of the busiest days of the year for retailers and bargain-hunters.
In San Francisco, a few dozen people in tony and touristy Union Square used signs to spread an anti-consumerism message. One, 9-year-old Jacob Hamilton, held a sign that read, "What is in your bag that's more important than my education?"
Some of the protesters from the Occupy movements in San Francisco and Oakland clashed with police when they briefly blocked the city's iconic cable cars until officers pushed them out of the street.
Later in the afternoon, some of the participants in what protesters called "Don't Buy Anything Day" sat down in the middle of Market Street, San Francisco's main thoroughfare, and blocked traffic while chanting, "Stop shopping and join us!""
More at: http://www.huffingtonpost.com/2011/11/25/black-friday-occupy-_n_1113638.html?ref=occupy-wall-street
_____________
On This Day:
Archaeologists enter tomb of King Tut, Nov 26, 1922:
"In Egypt's Valley of the Kings, British archaeologists Howard Carter and Lord Carnarvon become the first souls to enter King Tutankhamen's tomb in more than 3,000 years. Tutankhamen's sealed burial chambers were miraculously intact, and inside was a collection of several thousand priceless objects, including a gold coffin containing the mummy of the teenage king.
When Carter first arrived in Egypt, in 1891, most of the ancient Egyptian tombs had been discovered, and the majority of these had been hopelessly plundered by tomb raiders over the millennia. However, Carter was a brilliant excavator, and in the first years of the 20th century he discovered the tombs of Queen Hatshepsut and King Thutmose IV. Around 1907, he became associated with the Earl of Carnarvon, a collector of antiquities who commissioned Carter to supervise excavations in the Valley of the Kings. By 1913, most experts felt there was nothing in the Valley left to be uncovered. Carter, however, persisted in his efforts, convinced that the tomb of the little-known King Tutankhamen might still be found.
King Tutankhamen was enthroned in 1333 B.C. when he was still a child. He died a decade later at the age of 18 and thus made only a faint impression on the history of ancient Egypt. In the 13th century B.C., Tutankhamen and the other "Amarna" kings were publicly condemned, and most records of them were destroyed--including the location of Tutankhamen's tomb. A century later, in the 12th century B.C., workers building a tomb for Ramses VI inadvertently covered Tutankhamen's tomb with a deep layer of chips, further protecting it from future discovery."
After World War I, Carter began an intensive search for Tutankhamen's tomb and on November 4, 1922, discovered a step leading to its entrance. Lord Carnarvon rushed to Egypt, and on November 23 they broke through a mud-brick door, revealing the passageway that led to Tutankhamen's tomb. There was evidence that robbers had entered the structure at some point, and the archaeologists feared they had discovered yet another pillaged tomb. However, on November 26 they broke through another door, and Carter leaned in with a candle to take a look. Behind him, Lord Carnarvon asked, "Can you see anything?" Carter replied, "Yes, wonderful things."
It was the antechamber of Tutankhamen's tomb, and it was gloriously untouched. The dusty floor still showed the footprints of the tomb builders who left the room more than 3,000 years before. Apparently, the robbers who had broken into Tutankhamen's tomb had done so soon after it was completed and were caught before moving into the interior chambers and causing serious damage.
Thus began a monumental excavation process in which Carter carefully explored the four-room tomb over several years, uncovering an incredible collection of several thousand objects. In addition to numerous pieces of jewelry and gold, there was statuary, furniture, clothes, a chariot, weapons, and numerous other objects that shed a brilliant light on the culture and history of ancient Egypt. The most splendid find was a stone sarcophagus containing three coffins nested within each other. Inside the final coffin, made out of solid gold, was the mummified body of the boy-king Tutankhamen, preserved for 3,200 years. Most of these treasures are now housed in the Cairo Museum."
______________
FDR establishes modern Thanksgiving holiday, Nov 26, 1941:
"President Franklin D. Roosevelt signs a bill officially establishing the fourth Thursday in November as Thanksgiving Day.
The tradition of celebrating the holiday on Thursday dates back to the early history of the Plymouth and Massachusetts Bay colonies, when post-harvest holidays were celebrated on the weekday regularly set aside as "Lecture Day," a midweek church meeting where topical sermons were presented. A famous Thanksgiving observance occurred in the autumn of 1621, when Plymouth governor William Bradford invited local Indians to join the Pilgrims in a three-day festival held in gratitude for the bounty of the season.
Thanksgiving became an annual custom throughout New England in the 17th century, and in 1777 the Continental Congress declared the first national American Thanksgiving following the Patriot victory at Saratoga. In 1789, President George Washington became the first president to proclaim a Thanksgiving holiday, when, at the request of Congress, he proclaimed November 26, a Tuesday, as a day of national thanksgiving for the U.S. Constitution. However, it was not until 1863, when President Abraham Lincoln declared Thanksgiving to fall on the last Thursday of November, that the modern holiday was celebrated nationally.
With a few deviations, Lincoln's precedent was followed annually by every subsequent president--until 1939. In 1939, Franklin D. Roosevelt departed from tradition by declaring November 23, the next to last Thursday that year, as Thanksgiving Day. Considerable controversy surrounded this deviation, and some Americans refused to honor Roosevelt's declaration. For the next two years, Roosevelt repeated the unpopular proclamation, but on November 26, 1941, he admitted his mistake and signed a bill into law officially making the fourth Thursday in November the national holiday of Thanksgiving Day."
_________________
Winter storm paralyzes southern New England, Nov 26, 1898:
"A powerful early winter storm batters the New England coast on this day in 1898, killing at least 450 people in New York, Connecticut and Massachusetts.
It was Thanksgiving Day when strong winds, in excess of 40 miles per hour, began blowing from the Atlantic Ocean across the New England coast. This was followed, in short order, by gales from the other direction. Equally strong winds roared across upstate New York from the west.
Blizzard conditions disrupted the entire area. Transportation became impossible; some trains were halted by 20-foot snow drifts. Communication was interrupted as the wind and snow brought down telephone and telegraph lines. In some towns and villages, residents were forced to dig tunnels through the snow from their front doors to the streets. In New York City, 2,000 workers attempted to clear the key streets and avenues.
Boston was perhaps worst hit by the storm. Approximately 100 ships were blown ashore from the city's harbor and another 40 were sunk. About 100 people died when a Portland-based steamer sank near Cape Cod. Bodies and debris filled the harbors and nearby beaches.
The storm is thought to have killed at least 450 people, though due to the wide extent of the storm and the poor record-keeping of the time, it is impossible to determine exactly how many people died."
______________
Yesterday:
Jay and I started out by repotting a great big flowering Aloe succotrina that was given to me many years ago. 
It is crooked as it has grown too tall for the shelves on the screen porch, and it needed to be outside where it can straighten up.  It is not an Aloe barbadensis, the medicine plant, http://www.globalherbalsupplies.com/herb_information/aloe_vera.htm  like the other aloes that I sell.
As it is in a pot, I can bring it inside for any freezing nights.
Finally, I got off the fence and made a decision to do something.   It was to take a few of the best small items to display on a table at Olde Security Flea Market on Sunday only.  Just one van-ful to see how it goes.  If it does well, we can do it for the other two Sundays before the holiday.
Saturdays, I don't work, and the kittens will be going to Adoption Day with another foster mom today.   As soon as she picks them up, around midday, Jay and I are going to drive over to Security, see what's available, and book a table for Sunday.
So, yesterday, we got all the boxes with the remainder of 390 items that I bought in the bargain baskets at Lowe's, down from the storeroom attic.  I have two small folding clothes racks and two medium size tables, which we loaded in the van.  My 8' yard sale tables won't fit in my van, and all the folding card tables already have stuff on them in the RVport.  This is our 'staging area' for right now.
We washed the plastic display bins, put the boxes in them, and loaded them in the van, too.   We picked out a few winter clothes, as it will be chilly on Sunday, so they might sell.  Another big bin we loaded has a bunch of comforters and blankets in it.  I can barely see out of the back window!
So the van is all ready to go on Sunday.