It's "Winged Wednesday" with some art thrown in.
Critical Habitat Revised for Marbled Murrelet in Northwest
Marbled Murrelet chick, U.S. Forest Service
(Washington, D.C., October 7, 2011) "The U.S. Fish and Wildlife Service (FWS) has announced a revision of Critical Habitat designations in southern Oregon and northern California for the Marbled Murrelet, a bird listed as threatened under the Endangered Species Act. The decision implements one of two proposals to remove Critical Habitat, and leaves out the other that had raised concerns with American Bird Conservancy (ABC) and other bird conservation organizations.
In December 2009, ABC and other environmental groups sent a letter to FWS opposing proposed changes in two counties in east-central Oregon. The letter said "…[we] are particularly concerned about the reduction of 62,700 acres [of Critical Habitat] in Lane and Douglas counties. This area is currently occupied by murrelets and the proposal is not supported by sound science."
Based on these and other public comments and peer review, FWS concluded that the proposed reduction of Critical Habitat in Douglas and Lane Counties, Oregon is not adequately supported by current scientific literature and information. Accordingly, current Critical Habitat designations remain based on the best available scientific information.
"This decision reflects the best available science," said Steve Holmer, Senior Policy Advisor at American Bird Conservancy. "We appreciate the changes made by the U.S. Fish and Wildlife Service to ensure areas of critical importance to the Marbled Murrelet will remain protected."
The Critical Habitat revision in southern Oregon and northern California, however, was judged to be appropriate, based on the best available scientific information, which indicates the likely distribution of nesting birds is not as far inland as was delineated in 1996. FWS indicates that the best available information indicates the inland range of the murrelet from the Pacific Ocean is defined by the hemlock/tanoak habitat zone, rather than specific distance from the coast. Accordingly, they are removing approximately 189,700 acres of Critical Habitat in southern Oregon and northern California.
The Washington, Oregon, and California population of the Marbled Murrelet was federally listed as threatened in 1992. Critical Habitat was designated in 1996. In 1997, FWS approved a recovery plan for the Marbled Murrelet that specified actions necessary to halt the decline of the species.
The Marbled Murrelet is a small diving seabird of the alcid family, which also includes guillemots, auklets, puffins, and razorbills. Murrelets spend most of their lives foraging at sea in near-shore areas. They consume a diversity of prey species including small fish and invertebrates.
Some murrelets nest on the ground along rocky coasts, but others nest in the trees of old-growth forests up to 50 miles inland. The presence of platforms (large branches or deformities) used for nesting is the most important characteristic of the nesting habitat of this tree-nesting population. The presence and abundance of mature and old-growth forests, large core areas of old-growth, low amounts of edge habitat, reduced habitat fragmentation, proximity to the marine environment, and forests that are increasing in stand age and height are critical to the murrelet's survival."
From:
http://www.abcbirds.org/newsandreports/stories/111007.html
_________________
Buildings Using Bird-Friendly Design Now Eligible for LEED Credit
The GSA Field Office in Houston, Texas is a LEED-Certified building that is also bird-friendly. Photo by Timothy Hursley
(Washington, D.C., October 31, 2011) "American Bird Conservancy (ABC), the nation's leading bird conservation organization, in cooperation with the
U.S. Green Building Council (USGBC)
, and Bird-safe Glass Foundation, have enabled architects, designers, developers, and building owners pursuing LEED green building certification to earn credit for incorporating design strategies that reduce bird collisions.
USGBC's LEED (Leadership in Environment and Energy Design) green building rating system is the preeminent program for the design, construction, and operation of high-performance green buildings worldwide.
"Building collision is among the leading causes of bird mortality in the United States, so it is exciting to see the foundation being laid to reduce the threats that buildings pose to avian populations. We are delighted that, with the creation of this pilot credit, architects across the country will now have the chance to be recognized for making buildings truly green," said ABC Bird Collisions Program Director Dr. Christine Sheppard.
"Incorporating design strategies that reduce the impact our built environment has on wildlife is a logical extension of the philosophy upon which we've built the LEED rating system for the past decade," said Brendan Owens, Vice President, LEED Technical Development, USGBC. "The LEED Pilot Credit Library allows us to expand the range of issues LEED addresses while staying true to our mission."
Up to one billion birds die each year from building collisions in the United States alone.
During the day birds are at risk from collisions with reflective and transparent windows, which they cannot see. At night, birds become attracted to lighted areas and may become diverted from natural migration paths toward city environments.
Massive collision threats await them there, and take a huge toll on birds, both in the evening and during the daylight hours. Additionally, under some conditions, such as when especially bright lights (e.g., industrial spotlights) are in use, birds may fly in circles within these "light fields" until they collide with each other or the building, or fall to the ground from exhaustion.
However, there are solutions. Some newer, high-performance green buildings still use large expanses of glass, but are also bird friendly because they incorporate additional architectural elements. The technologies and strategies described in the Bird Collision Deterrence Pilot Credit address such issues as indoor and outdoor lighting design and operation, building façade requirements, performance monitoring, and threat factors. The credit emphasizes creating "visual noise," that birds can perceive and thereby avoid hitting glass. This means modifying glass reflectivity, color (including UV), texture, or opacity.
"We hope to integrate bird safety into the very definition of a green building. We want to encourage innovative designs by architects, and stimulate market-driven solutions by increasing demand for new products, such as glass that is visible to birds but not to people—perhaps the ultimate high-tech solution to bird collisions with windows," Sheppard said."
More at:
http://www.abcbirds.org/newsandreports/releases/111031.html
------------------------
YOU CAN SAVE BIRDS FROM FLY
ING INTO WINDOWS!
Wood Thrush killed after colliding with a window.
"We can drastically reduce bird collisions with windows
by following the guidelines offered by ABC's
collisions flyer
to help save songbirds such as the Wood Thrush
.
Millions of birds die every year flying into windows, because they can't tell reflections from trees, plants
and sky. Most of those windows are on houses."
http://www.abcbirds.org/abcprograms/policy/collisions/pdf/collisions_flyer.pdf
_________________
Conservation Through Birding
Birders as a Commercial Force For Conservation
Birder at the Alaska Maritime National Wildlife Refuge by FWS
"Birdwatching is one of the most popular and fastest growing pastimes in America. The U.S. Fish and Wildlife Service
calculates
that some 47.7 million Americans watch birds, up 18% from 2001. That's approximately one in five of the adult U.S. population, and more than the number of people who play golf!
Not surprisingly, there is a vast industry associated with birdwatching; from makers and retailers of bird seed and feeders, to optics and camera companies, birding software designers, and providers of birding tours. Add to that the indirect benefits assocoiated with bird-related tourism (from airline seats to hotels and restaurants etc), and what you have is a $31 billion-per-year industry.
That commercial power can also be used for conservation good to protect birds and their habitats. ABC encourages birders to
subscribe to BirdWire
, ABC's news and action alert email service, so that you can be informed of pressing conservation issues and lend your support by taking action on behalf of birds. With the support of birdwatchers across the country, we can create a powerful conservation force, and help ensure that common birds remain common and that threatened birds are provided with the protection they need to thrive again.
If you are traveling abroad, stay at a lodge that supports bird conservation. Visit the
Conservation Birding Website
for a list of fantastic birding locations where your visit will help protect birds and their habitats.
When you go birding, don't forget to let people know "a birder was here". Sign guest books at wildlife refuges and other birding locations. This helps refuge and park officials estimate the number of people visiting for birds and helps them justify budgets and park usage.
You can also leave behind a calling card at businesses you patronize during your trip to tell the owners that birders are helping to support them and will return as long as bird habitats are maintained.
A birder's business cards are available for download here.
Birders and Science
Birders can also take part in a variety of citizen science projects that collect their bird observations. The data they collect can help build an understanding of bird populations and where changes are occurring. Some of the best-known surveys include the Breeding Bird Survey and Christmas Bird Count. One problem, however, is a lack of consistency between many data gathering projects in both method and analysis. ABC has produced a guide to monitoring for the Northeast region called the
Northeast Bird Monitoring Handbook
, which can help with consistency of study design for bird monitoring projects across the nation.
Birders' Networks
There are many listserves that primarily carry rare bird reports which can also be a useful resource in networking. Visit
Birdingonthe.net
for more information. The
American Birding Association
also offers a range of information on its website, including directories of bird clubs, festivals, birding trails and listserves. A plethora of both volunteer and paid positions can also be found at the
Ornithological Societies of North America jobs page
.
Please Follow the Rules
When out birding, please adhere to the
American Birding Association's code of ethics
. This code focuses on not stressing birds or their habitats through birding activities, as well as respecting other birders, property, and laws. "
From:
http://www.abcbirds.org/conservationissues/birding/index.html
_______________
Click Here to Thank President Obama!
"Today, 11/1/2011, history was made.
Using the Antiquities Act for the first time in his presidency, President Obama proclaimed Fort Monroe in Hampton, Virginia, our country's newest national monument. This proclamation is the culmination of years of advocacy. Rich in history, this former Army base is now the newest unit of our National Park System.
Please take a moment to thank the president for his historic action
.
Fort Monroe and the Old Point Comfort Peninsula are national treasures that encapsulate many critical milestones in our nation's history. The first documented Africans in Virginia were traded for food by Dutch sailors there in 1619. The star fort was built in the 1800s with construction overseen by Robert E. Lee. At Fort Monroe, Edgar Allen Poe wrote "Annabel Lee" while serving in the military here; both Chief Blackhawk and Jefferson Davis were imprisoned within its walls; and Harriet Tubman nursed the sick at the fort's hospital.
During the Civil War, Union-controlled Fort Monroe became known as Freedom's Fortress. When Confederate General Charles Mallory sent an emissary to seek the return of three enslaved African Americans who had escaped to the fort in search of freedom, Union General Benjamin Butler declared the men "contraband of war" and refused. The three men were soon followed by thousands, beginning an exodus for freedom that continued throughout the Civil War.
Take Action
: Please take a minute to send a personal thank you to President Obama for declaring Fort Monroe a national monument.
When the opportunity first arose more than five years ago to take steps to preserve Fort Monroe, it was a group of local citizens who first took up that challenge. They believed that Fort Monroe's future was in its storied past. They were joined by grassroots advocates--
like you
--who wrote letters, made phone calls, and attended public meetings, urging decision makers to make Fort Monroe a national monument."
_________________
Yesterday:
Misty and I went down to pick up Jay to do a few little things to the cargo trailer, but he said that I needed to groom Maddie instead. Her hair had grown so long, as his mother, Claudia wanted her to have long hair like a show Yorkie. But even with regular brushing she would get little tangles, and get her nails caught up in it. Then she would be stuck like that, whimpering, until someone rescued her.
It took nearly all morning to scissor her without clipping her with clippers, as Claudia didn't want it too short. It was time for her Revolution,
http://www.revolutionpet.com/revolutionpet.aspx
, as we saw a flea, but I was out of it.
Usually, I get it from my SPCA boss, but with her husband being so sick with cancer she had forgotten to order any lately. So in the afternoon Jay and I went to a vet in Conroe to get some. The vets usually like people to use a different heartworm/flea protection on dogs, but we use it because it also prevents mites, such as ear mites and mange mites, so we know they are mite free when they get adopted. It is great for cats as it keeps them heartworm and flea free. Yes, cats can get heartworms, too.
As we we going right past the Assistance League Thrift Shop, we stopped there. I bought a crystal toothpick holder, a royal blue ceramic dish, and some coasters made from prints of Monet paintings. I like anything to do with Monet. I have several Monet prints on my living room walls. And Constable in other rooms.
Monet:
http://www.claudemonetgallery.org/
and Constable:
http://www.john-constable.org/
paintings are all I have here, as they are usually landscapes, not modern zig zags!
These are about their most famous, so you have probably seen them around:
Water Lilies by Claude Monet.
Monet spent some time in England, so I also have prints of his paintings of the Houses of Parliament, and London 1872, showing St. Paul's Cathedral and The Embankment.
"THE HAYWAIN" by John Constable. This is a cart being rolled through the pond to make the wooden wheels swell to fit the metal bands. A cart's three thousand mile check up!
When I went back to visit England in 1981, a relative took me to "Constable Country",
http://www.microscopy-uk.org.uk/mag/indexmag.html?http://www.microscopy-uk.org.uk/mag/artjul04/dwconstable.html
and I saw the famous Willy Lott's Cottage in the left of this picture,
http://en.wikipedia.org/wiki/Willy_Lott's_Cottage
, so his paintings have a special interest for me.
I had an oil painting that an aunt had painted of Willy Lott's Cottage, so I gave that to my brother to take back to his daughter in England, when they were here last year.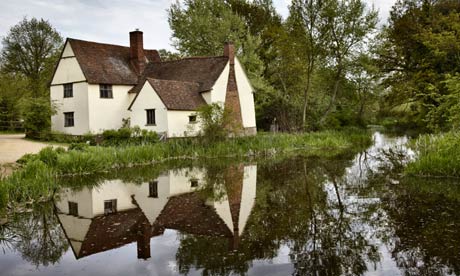 Willy Lott's House at Flatford and the River Stour, Suffolk. Photograph: Arnhel de Serra/NTPL
We had "Tea" at a lovely old tea room in Dedham, too.
Essex Rose Tea Room at Dedham.
I lived in that area for many years before I immigrated to the US, but I didn't see the local sights until I went back to visit. We should all check out our area, you never know what you will see.
Another chilly start, 41°, and then a lovely 79° sunny day, but again no rain yesterday.