For "Traveling Tuesday", some desert spots:
Visit these high desert locations on your way south this winter, or on the way back north.
"This is the time of year when RVers are either putting the rig in mothballs for the winter or thinking about heading south to their snowbird hangout. If you are in the latter group and usually plan to head south in one continuous flight, driving 300 or more miles every day until you get to your destination, try a new plan this year.
Many RVers tend to think of their RV year as consisting of two time periods, summer and winter, missing out on the two "shoulder" seasons between the two. These time periods can add another level of enjoyment to your RV calendar if you use them to visit and explore those places that are either too hot in the summer or too cold in the winter.
And fortunately, many of these shoulder locations lie between your summer location and your winter haven so that can become part of your trip south–or north in the Spring, taking the stress of long days on the road. These locations are mostly in the high desert, at altitudes between 2,000 and 5,000 feet, and are missed as you rush past like a migrating goose.
Here are some suggestions to explore on your journey south this winter."
Red Rock Canyon State Park:
"Red Rock Canyon State Park features scenic desert cliffs, buttes and spectacular rock formations. The park is located where the southernmost tip of the Sierra Nevada converge with the El Paso Range. Each tributary canyon is unique, with dramatic shapes and vivid colors.
Historically, the area was once home to the Kawaiisu Indians, who left petroglyphs in the El Paso mountains and other evidence of their inhabitation. The spectacular gash situated at the western edge of the El Paso mountain range was on the Native American trade route for thousands of years.
During the early 1870s, the colorful rock formations in the park served as landmarks for 20-mule team freight wagons that stopped for water. About 1850, it was used by the footsore survivors of the famous Death Valley trek including members of the Arcane and Bennett families along with some of the Illinois Jayhawkers. The park now protects significant paleontology sites and the remains of 1890s-era mining operations, and has been the site for a number of movies.
After wet winters, the park's floral displays are stunning. This winter was very dry so the wildflowers should be sparse this year, but the beauty of the desert, combined with the geologic features make this park a camper's favorite destination. Wildlife you may encounter includes roadrunners, hawks, lizards, mice and squirrels.
Camping in developed sites only in Ricardo Campground. The campground is tucked up against the base of dramatic desert cliffs, with 50 primitive campsites, potable water, pit toilets, fire rings, and tables. Bring your own firewood, or purchase it from a ranger or at the visitor center. There are no RV hook-ups or showers. A maximum of 8 people is allowed per site (there are no group sites).
Camping is first-come, first served; there is no reservation system. The campground can fill up on weekends in the spring and fall, especially if the weather is nice or on holiday weekends, so arriving on a Thursday evening or Friday morning is recommended."
http://www.parks.ca.gov/?page_id=631
--------------
"In California's Mojave Desert at 2,277 feet, this state park has spectacular white and red rock formations, trails to the top for great views of the surrounding desert, and a side trip to the Burro Schmidt tunnel, where Schmidt carved a tunnel with nothing but hand tools and his burro through a mountain to shorten the route from his gold mining operation to the market.
The campground is tucked up against the base of dramatic desert cliffs, with 50 primitive campsites, potable water, pit toilets, fire rings, and tables–no hook-ups and no reservations. Plan to arrive during the week as it fills on weekends. The park is 25 miles northeast of Mojave on Highway 14, near Cantil, 120 miles north of Los Angeles, via Interstate 5."
--------------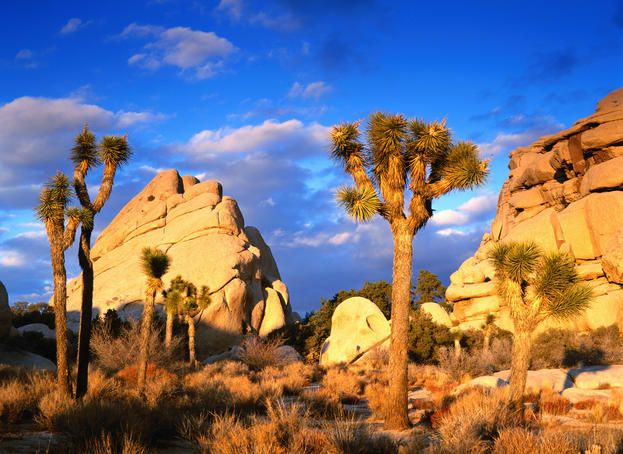 "Joshua Tree National Park – If you've always skipped this park larger than the state of Rhode Island because of its altitude of 3,000 to over 5,000 feet, you have missed a spectacular desert park. The park's scenery, signature Joshua Trees, history of mining and ranching, pre-historic Native American petroglyphs, and several campgrounds–some with full hookups–make this park a must-see. East of Palm Springs via ST 62 (main north entrance) or via I 10 (southern entrance)."
--------------
"Valley of Fire State Park – This is another park defined by its rock formations, both white and red rock carved by wind and rain into fantastic shapes and outcroppings. There are also hundreds of petroglyphs left by Native Americans that hunted through the area. Two campgrounds (photo) with 73 total sites–some with water and power hookups–nestle in among the rocks and have shaded tables, grills, and restrooms. The park is about 55 miles northeast of Las Vegas by I 15 then east at Exit 75."
-----------------
"Sedona to Phoenix – This area between Flagstaff at 7,000 feet and Phoenix with an average elevation around 1,000 feet is, at 4,500 feet, a perfect shoulder season fit for those headed to the popular Phoenix area for the winter. The area is surrounded by National Forests with lots of boondocking and forest service campgrounds, colorful deep red rock formations, and great scenery. Special locations include the old mining town of Jerome, Tuzigoot National Monument–an ancient pueblo site, Montezuma's Castle National Monument, and Aqua Fria National Monument.
There are many more great shoulder season destinations, but you can't do them all in one year. These will get you hooked."
From:
http://blog.rv.net/2011/11/visit-these-high-desert-locations-on-you-way-to-the-desert-this-winter/
______________
On This Day:
Baby Fae dies, Nov 15, 1984:
""Baby Fae," a month-old infant who had received a baboon-heart transplant, dies at Loma Linda University Medical Center in Loma Linda, CA.
The infant, named Baby Fae by doctors to protect her parents' anonymity, was born with hypoplastic left-heart syndrome, an almost always fatal deformity found in newborns in which parts or all of the left side of the heart is missing. A few days after Baby Fae's birth, Loma Linda heart surgeon Dr. Leonard L. Bailey convinced Baby Fae's mother to allow him to try the experimental baboon-heart transplant. Three other humans had received animal-heart transplants, the last in 1977, but none survived longer than 3 1/2 days. Bailey argued that an infant with an underdeveloped immune system would be less likely to reject alien tissue than an adult.
On October 26, Bailey performed the world's first baboon-to-human heart transplant, replacing the 14-day-old infant's defective heart with the healthy, walnut-size heart of a young baboon. Baby Fae survived the dangerous operation, and her subsequent struggle for life received international attention. After living longer than any other human recipient of an animal heart, Baby Fae's body made a concerted effort to reject the alien transplant. Doctors were forced to increase dosages of an immuno-suppressive drug, which caused kidney failure.
Ultimately, doctors were defeated by the swift onset of heart failure, and on November 15 Baby Fae died, after holding on for 20 days."
______________
First stock ticker debuts,
Nov 15, 1867

:
"On this day in 1867, the first stock ticker is unveiled in New York City. The advent of the ticker ultimately revolutionized the stock market by making up-to-the-minute prices available to investors around the country. Prior to this development, information from the New York Stock Exchange, which has been around since 1792, traveled by mail or messenger.
The ticker was the brainchild of Edward Calahan, who configured a telegraph machine to print stock quotes on streams of paper tape (the same paper tape later used in ticker-tape parades). The ticker, which caught on quickly with investors, got its name from the sound its type wheel made.
Calahan worked for the Gold & Stock Telegraph Company, which rented its tickers to brokerage houses and regional exchanges for a fee and then transmitted the latest gold and stock prices to all its machines at the same time.
In 1869, Thomas Edison, a former telegraph operator, patented an improved, easier-to-use version of Calahan's ticker. Edison's ticker was his first lucrative invention and, through the manufacture and sale of stock tickers and other telegraphic devices, he made enough money to open his own lab in Menlo Park, New Jersey, where he developed the light bulb and phonograph, among other transformative inventions."
________________
Yesterday:
Apart from doing laundry, and washing pet blankies, the taking care of two spoiled dogs took a lot of my time.
Maddie just loves to bark at cats and keeping her quiet was quite a feat. She is also very 'needy', wants to sit on my knee, and then wants down again.
Muffie just lays on my bed, minding her own business most of the time.
Their breakfasts and dinners are a major operation. When they are here, Bobbiecat and my poor old Misty eat in my bathroom.
Muffie eats hers in the computer room the other side of a baby gate going to the kitchen where Maddie eats. If Maddie can see another dog in her peripheral vision she eats better. She is very persnickety, so they brought steamed chicken breast for her, but I got some Organix canned dog food down her, too.
I have to keep Misty away from the other animal's food as she is not at all picky. She will eat anything, thank goodness, but that has enlarged her waistline.
Then Maddie and Muffie chased each other around the kitchen island, making the rugs all pleated and scrunched up. I had to be careful where I walked. Maddie took a rest on my bed after that!
Finally about 8.30 PM the 'parents' came, after making their deposits at the casino, and picked up their 'babies'.
Prime got back down on the floor for the first time in two days.