Red Cross, Other Relief Groups Spread Thin: 'The Disasters Just Keep Coming'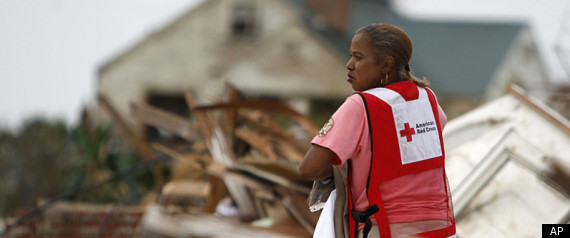 "Confronted with an unprecedented string of tornadoes, floods and wildfires, the American Red Cross and other relief groups are scrambling to raise money fast enough to meet the demand for help.
"The disasters just keep coming," said Red Cross spokesman Roger Lowe, reporting that the organization has spent $41 million thus far responding to the seven-week onslaught while raising $33.6 million to cover the costs.
Those figures were tallied before the latest violent storm system rampaged through a wide swath of the Midwest starting late Tuesday.
No single one of the recent disasters – not even the cataclysmic tornado in Joplin, Mo., on Sunday – poses a challenge on the scale that the Red Cross confronted after Hurricane Katrina in 2005. However, Red Cross officials said the period that began March 31 is unique in their memory for the sheer number of major natural disasters in such a short span.
During that period, the Red Cross has launched 29 separate relief operations in 22 states, responding to wildfires in Texas, flooding along swollen rivers, and the rash of tornadoes that have killed more than 500 people. More than 9,200 Red Cross disaster-responders have been deployed; they've served more than 2.1 million meals and snacks, and opened more than 200 shelters.
Lowe said costs are running high in part because of the long-term effects of many of these home-destroying disasters. For example, he said 93 people were still living in Red Cross shelters in Alabama, where tornadoes wrecked their homes a month ago.
"The public truly has been very generous, but the series of tornadoes and floods is really stretching our resources," Lowe said. "The fundraising is not keeping up with our extended needs, and we don't know how long we need to be providing shelter, food, mental health assistance.""
More at:
http://www.huffingtonpost.com/2011/05/26/red-cross-disaster-relief_n_867619.html?icid=main%7Chtmlws-main-n%7Cdl2%7Csec3_lnk3%7C214395
________________
Joplin Tornado: Officials Work To Identify The Deceased And Reduce Number Of People Missing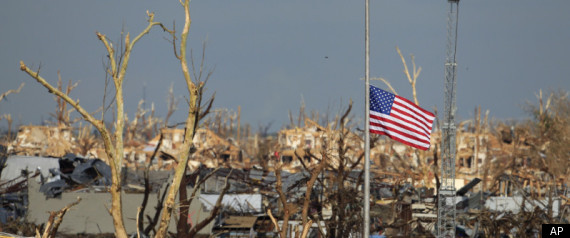 "JOPLIN, Mo. — The death toll from the massive tornado that devastated Joplin, Mo., reached 132 Friday, a city spokeswoman said, while the state worked to pare down the list of people missing and unaccounted for since the storm.
Joplin city spokeswoman Lynn Onstot confirmed to The Associated Press that the death toll had risen by six from the previous day, shortly before state officials announced that the missing list had been trimmed to 156 people.
Officials were working around the clock to account for everyone on the list, Missouri Department of Public Safety deputy director Andrea Spillars told a morning news conference.
Spillars said at least 90 people on the original list had been located alive. But at least six were identified as among the dead, and some new names had been added to the scroll of the missing.
Authorities had said they believed many of the missing were alive and safe but simply hadn't been in touch with friends and family, in part because cell phone service has been spotty. But they also cautioned that they believed some of those originally listed may have been killed in the storm.
Search and rescue crews remained undeterred, with 600 volunteers and 50 dog teams out again."
More at:
http://www.huffingtonpost.com/2011/05/27/joplin-tornado-death-toll-identify-deceased_n_868035.html
_______________
Tornado Dog Crawls Home On Broken Legs Almost 3 Weeks After Deadly Alabama Storm (VIDEO)
"If a tornado picked you up, threw you across the sky, and set you down in an unfamiliar place far away from home, and you broke two legs in the process, could you find your way back? That's exactly the incredible story of Mason, a terrier mix in Alabama."
"This little guy makes the animals from
Homeward Bound
look like they achieved nothing.
Almost three weeks after deadly tornadoes ripped through Alabama, this dog finally returned home. With two broken legs.
Mason was blown away during the storms. He had been hiding in a garage when the storm picked him up and blew him away on April 27th. Perhaps most astounding was the extent of Mason's injuries.
"They've not been able to be in alignment so neither one of them have healed, so he had to crawl on two broken legs to get home," said veterinary Dr. Barbara Benhart. "This is probably the most dramatic we've seen as far as an injury in an animal that's survived this long," said Phil Doster, an animal-shelter worker.
The owners had all but given up on finding the dog when they returned home on Monday, but there he was, sitting on the front porch. The distance and lengths he traveled to get home remain a mystery."
From:
http://www.huffingtonpost.com/2011/05/25/tornado-dog-crawl-home-alabama-storm_n_867125.html
My thoughts: The owners must be in dire straights, as they turned this faithful little doggie over to the shelter, I hope that is only temporary!
_______________________
It's FREE, and it helps, so please don't forget to click:
http://www.theanimalrescuesite.com/clickToGive/home.faces?siteId=1&link=ctg_ths_home_from_bcs_thankyou_sitenav
The Hunger Site has given over 773,349,246 cups of food since June 1999.*
· Learn About The Hunger Site
· Send a Free E-Card!
· About Our Charitable Partners
· Easy Ways to Link to Us
_____________________
President Barack and First Lady Michelle Obama in Europe.
In Ireland:
"Hello Dublin. Hello Ireland. My name is Barack Obama, of the Moneygall Obamas, and I've come home to find the apostrophe that we lost somewhere along the way.
Someone once said broken Irish is better than clever English. So here goes; Ta athas orm le bheith in Eireann - I am happy to be in Ireland! "
http://www.telegraph.co.uk/news/worldnews/barackobama/8532484/Barack-Obamas-visit-to-UK-and-Ireland-day-one.html
In England:
"President Barack and First Lady Michelle Obama continued their European adventure on Tuesday, arriving in London to meet the royals...including
Prince William and Duchess Catherine of Cambridge!"
If you are interested in a minute by minute account of their visit, here it is:
http://www.telegraph.co.uk/news/worldnews/barackobama/8535086/Barack-Obamas-visit-to-UK-and-Ireland-as-it-happened-day-one.html
Then On To Poland.
Obama Poland Trip Strengthens Ties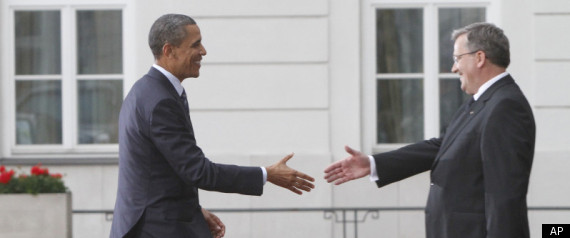 WARSAW, Poland — "President Barack Obama on Friday honored the memories of those slain in the Warsaw Ghetto uprising against Nazis, telling one elderly man that the memorial was a "reminder of the nightmare" of the Holocaust in which 6 millions Jews were killed."
More at:
http://www.huffingtonpost.com/2011/05/27/obama-poland-trip-strengt_n_868213.html
_______________
Yesterday:
Jay and I tackled the covering of the cargo trailer's back door jamb with metal. Ray and I had already pre-formed it over a 4x4.
Here it is installed over the top of the jamb:
Then, the hinge side with the stop installed:
We had to keep on closing the door, as we were installing it, to make sure it all fit properly.
Once Ray gets the door stop puttied and painted, it should look good.
----------
Two days ago, I had to change the orphan kitten's diet. Since they were weaned from the bottle, they have been eating Science Diet dry and canned food like little gannets, but were still skinny. I had never fed Science Diet before, as it doesn't have the best ratings, but I bought it on sale! The veterinarians push it because of their commission.
When I picked them up, they just didn't seem to have substance. They eat like crazy, and poop like crazy, as if their food is just going through them. They have been on a de-worming schedule, so it is not that. They have dry food available all the time, and canned food 4 times a day! I have raised a lot of kittens, and never had this problem before.
For now, I had to change them to 'Exclusive' Dry cat food, and the same canned cat food which is the only one finicky Prime will eat, as that is what I had.
Not the best, so more research is needed.
As soon as I changed their diet, they seem to be more playful, and tearing around more than they did.
Unsuccessfully, I tried to capture a picture of Precious 'killing' a stuffed toy yesterday.