For "Travel Tuesday", Lets visit Hallettsville in the Texas Prairies and Lakes Region
"The Texas Prairies and Lakes Region offers a wide variety of destinations & attractions, from the fast-paced cosmopolitan excitement of the Dallas/Fort Worth Metroplex with the best in shopping, dining & entertainment, to the beautiful lakes & laid-back country lifestyles found throughout the region. Discover the Excitement of the Texas Prairies & Lakes."
Welcome to Hallettsville,  City of Hospitality.
"Hallettsville is a city in Lavaca County, Texas, United States. The population was 2,550 at the 2010 census. It is the county seat of Lavaca County. It is the only place called Hallettsville in the world. Hallettsville is named for an early founding family that colonized this area. John Hallett had received a land grant from Stephen F. Austin in 1831 and after his death in 1836 his wife, Margaret Hallett, donated the land for the town's location.
This woman's life reads better than a novel.
Married to a seafaring man against her family's wishes, the newlywed Halletts traveled west with a wagon whose tongue was cut from a ship's mast and the sails serving as the wagon cover. He even brought his anchor.
A Veteran of San Jacinto along with one of his three sons, Mr. Hallett died, as did all the males in the family, leaving Mrs. Hallett alone with her only daughter. Fluent in Spanish and able to defend herself in two Indian dialects, she left Goliad where they had been living and returned to the original grant in Lavaca, opening a trading post and making friends with nearly everyone. She once cudgeled an Indian who was making a nuisance of himself. The Chief paid her a visit and she explained the injury should be regarded as "a knowledge knot". The Chief laughed. Upon her death in 1863, local Indians decorated her grave. Her grave is in the Founder's cemetery, a short distance from the Town Square.
Lavaca County is also the home of "The Archives War" in which the citizens of Hallettsville rode into Petersburg to liberate the county records, which had been removed in a disputed election over the official county seat. The Hallettsville "committee" rode into Petersburg where the Petersburgans were celebrating their "victory" with a barbecue. They not only reclaimed the records, but also ate the barbecue for their trouble. Petersburg never recovered from this, the greatest Texan humiliation, and faded into oblivion."
Lavaca County Courthouse, Hallettsville
"Hallettsville is the home of the Lavaca Historical Museum (open weekends 2-5) at 413 N. Main.  The Texas Championship Domino Hall of Fame(tournament held every January) shares space with The Texas Fiddler's Hall of Fame (Fiddler's Frolic held fourth week of April) at the Knights of Columbus Hall, Hwy 77 South. Both are open Mon - Fri 9am to 11am."
"Although the actual town involved in the real story of the "Chicken Ranch" is located a few miles north of Hallettsville on Highway 77, film makers chose the town's historic Lavaca County Courthouse square to serve as backdrop for the city scenes in The Best Little Whorehouse in Texas, the 1982 musical starring Burt Reynolds and Dolly Parton.
Hallettsville is also the featured location in the 2009 horror film titled Hallettsville, which stars Gary Busey and Derek Lee Nixon.
The town is mentioned in the Robert Earl Keen song "Armadillo Jackel" as the place where they pay $2.50 for dead armadillos.
Ripley's Believe It or Not! once called Hallettsville the "13 City" because in 1913 it had 13 letters in the name, a population of 1300, 13 churches, 13 newspapers, and even 13 saloons."
"In 1887 the San Antonio and Aransas Pass Railway built through the town, and Hallettsville became the principal trading center and shipping point for area farmers and ranchers. By 1892 the town owned an electricity plant and had established a waterworks supplied by artesian wells."
Ancestries: German (32.2%), Czech (20.6%), Irish (8.5%), English (3.9%), United States (2.7%), Scotch-Irish (1.5%).


--------
TEXAS STATE CHAMPIONSHIP STRAIGHT DOMINO TOURNAMENT

"The annual domino tournament is to determine the State Champion of Texas. From its humble beginning, this tournament has grown to be recognized as the finest competition of straight dominoes nationwide and is held in Hallettsville at the Knights of Columbus Hall.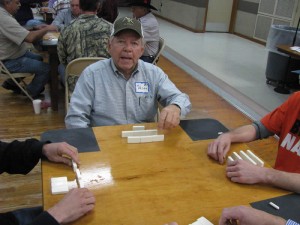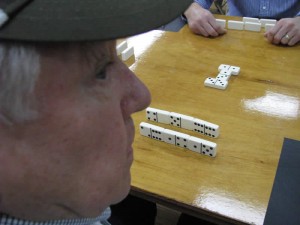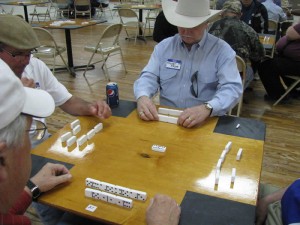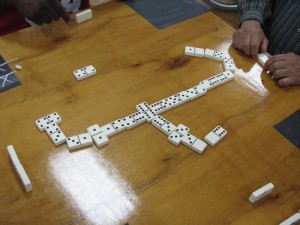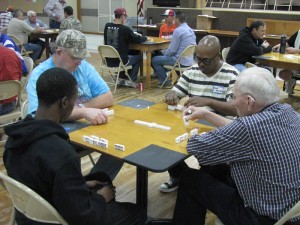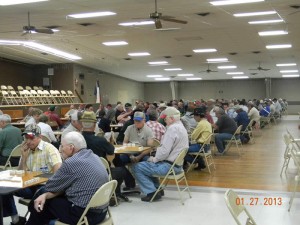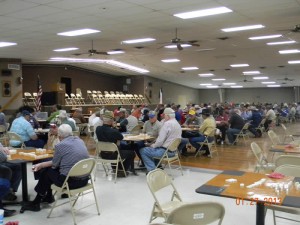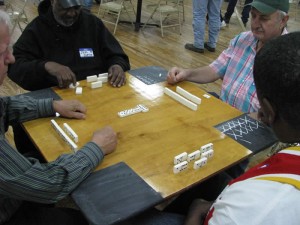 Historically dominoes played a key role in the lives of people of all walks of life living in Central Texas. Domino halls and taverns had tables located in every nook and cranny to accommodate the legions of faithful players. In 1952 a group of men joined together to formulate a plan to determine the best domino players at straight dominos. The initial tournament, held at the American Legion Hall in Hallettsville, drew 30 teams that engaged in fierce competition.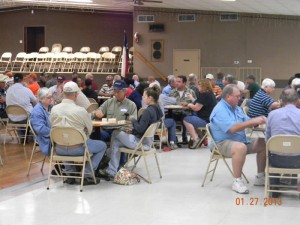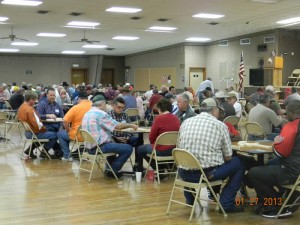 Today the tournament held in January draws approximately 200 participants from all parts of the country.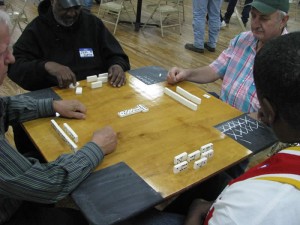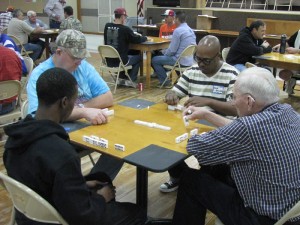 Sunday January 26, 2014
Straight Domino's
Double Elimination Partner Play
_______
On This Day:
Albert Schweitzer born, Jan 14, 1875:
"The theologian, musician, philosopher and Nobel Prize-winning physician Albert Schweitzer is born on this day in 1875 in Upper-Alsace, Germany (now Haut-Rhin, France).
The son and grandson of ministers, Schweitzer studied theology and philosophy at the universities of Strasbourg, Paris and Berlin. After working as a pastor, he entered medical school in 1905 with the dream of becoming a missionary in Africa. Schweitzer was also an acclaimed concert organist who played professional engagements to earn money for his education. By the time he received his M.D. in 1913, the overachieving Schweitzer had published several books, including the influential The Quest for the Historical Jesus and a book on the composer Johann Sebastian Bach.
Medical degree in hand, Schweitzer and his wife, Helene Bresslau, moved to French Equatorial Africa where he founded a hospital at Lambarene (modern-day Gabon). When World War I broke out, the German-born Schweitzers were sent to a French internment camp as prisoners of war. Released in 1918, they returned to Lambarene in 1924. Over the next three decades, Schweitzer made frequent visits to Europe to lecture on culture and ethics. His philosophy revolved around the concept of what he called "reverence for life"--the idea that all life must be respected and loved, and that humans should enter into a personal, spiritual relationship with the universe and all its creations. This reverence for life, according to Schweitzer, would naturally lead humans to live a life of service to others.
Schweitzer won widespread praise for putting his uplifting theory into practice at his hospital in Africa, where he treated many patients with leprosy and the dreaded African sleeping sickness. Awarded the Nobel Peace Prize for 1952, Schweitzer used his $33,000 award to start a leprosarium at Lambarene. From the early 1950s until his death in 1965, Schweitzer spoke and wrote tirelessly about his opposition to nuclear tests and nuclear weapons, adding his voice to those of fellow Nobelists Albert Einstein and Bertrand Russell."
_______
Yesterday:
Just catching up on more stuff around here.  I am overwhelmed with how am I going to get rid of all these parts, lumber and tools that I have accumulated over the years.  It seems that there is always something to fix, and they are needed.  There are still some carpentry jobs to be done, but I don't know when Jay will be here to complete them.
A lot of time was spent 'on hold', trying to make an appointment to see an ENT doctor. They don't have one at the clinic, so it seems I have to wait 2 weeks to see my doctor, just to get a referral.  My sinuses are my only health problem, so I should be grateful, especially at my age.
With the great weather, the cats spent some time out on the screen porch. They like to watch the birds at the feeder.  They still won't go near each other, but they will share that space.  The windows and doors were open most of the day.