For "Summary Saturday", News, Some New, Some Old, that you might not have seen:
""America's Worst Charities" is the result of a yearlong collaboration between the Tampa Bay Times and California-based The Center for Investigative Reporting, the nation's largest and longest serving nonprofit newsroom dedicated to watchdog journalism. CNN joined the partnership in March.
Scam artists show up in the wake of every disaster. Like vultures circling above road kill, they swoop in on any opportunity to take advantage of the disadvantaged, capitalizing on your compassion and manipulating your emotion.
Charities and nonprofits are the perfect vehicles in which these scammers can hide in plain sight. "Charitable organizations" run the gamut from upright and successful, to well meaning but incompetent, to corrupt, greedy and devious—and everything in between.
How do you know where a particular organization fits along this spectrum? We'd all like to think our hard-earned dollars are going to be used for the highest good, but how do we really know?
The Tampa Bay Times and the Center for Investigative Reporting (CIR) partnered with CNN in a yearlong investigation to evaluate America's charities and created a list of the 50 worst
As criteria, investigators used the percentage of funds charities spend on direct cash aid, compared to the percentage they pay solicitors; the worst 50 charities contribute less than four percent to cash aid
The IRS system of granting organizations "charitable" status (and therefore tax exemption) is flawed from the beginning; more than 99.8 percent of applicants are approved when they simply fill out a form
Many nonprofits are less charitable than for-profits, paying six-figure salaries to their CEOs while contributing relatively nothing to their supposed cause, so are simply exploiting the tax exemption
Tips are given for how to handle solicitation calls and avoid being scammed; resources are provided for researching the best charities."    PDF: Our list of the 50 worst charities    More at: http://articles.mercola.com/sites/articles/archive/2013/08/07/worst-us-charities.aspx      and http://www.tampabay.com/topics/specials/worst-charities1.page
_______
Unethical Scientists are Making Human-Animal Hybrids, Again
"How often we are told by "the scientists" that those outside the field have no business telling them what to–and more particularly, what not–to do. And yet, again and again and again, we learn that some scientists refuse to restrain themselves. 
A new story in Slate about scientists making human/animal hybrids is a case in point. From, "Manimal Rights," by Daniel Engber:
But the regulations try to draw the line at full hybrids–where animal eggs are fertilized with human sperm or vice-versa. And they also ban the use of chimeric animals with human brains. "  More at: http://www.lifenews.com/2013/05/15/unethical-scientists-are-making-human-animal-hybrids-again/
_______
Japan launches largest warship since World War II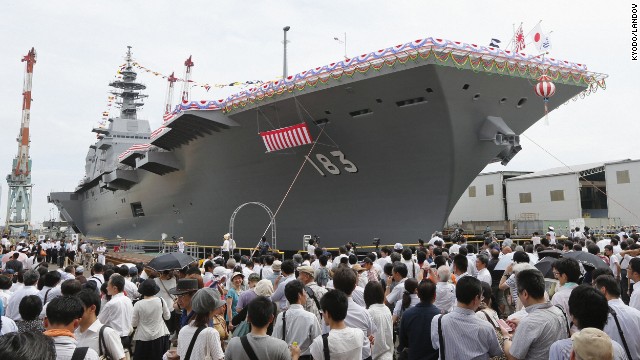 CNN) -- "Japan on Tuesday unveiled its largest warship since World War II, an 820-foot-long, 19,500-ton flattop capable of carrying 14 helicopters, according to media reports.
The ship, named the Izumo, is classified as a helicopter destroyer, though its flattop design makes it look like an aircraft carrier.  But the Japanese Defense Ministry says the ship is not intended to be used as an aircraft carrier and will not be used to launch fighter jets, state broadcaster NHK reported.
The launch of the $1.2 billion warship at a Yokohama dockyard comes at a time of increased military tensions between Japan and China over disputed islands in the East China Sea.  "The destroyer is aimed at better responding to various contingencies in waters near Japan," NHK reported."  More at: http://www.cnn.com/2013/08/06/world/asia/japan-new-warship/?iref=obinsite
________
Google In Hot Water Over Big Security Hole In Chrome
"Google Chrome, the most popular web browser in the U.S., lets you save passwords for websites, so that every time you want to visit Facebook, Tumblr or any other password-secure page, you don't have to type them out again. But as one software developer discovered on Tuesday, that convenience comes at a cost.
Whenever someone uses your computer and opens Chrome, he or she has complete access to all your saved passwords with a few clicks of the mouse. Elliott Kember, a developer at design and development studio Riot, first pointed out the lax security on Chrome in a blog post on Tuesday.
To get a sense of how open your passwords are in Chrome, copy and paste "chrome://settings/passwords" into Chrome and hit "Enter," to see Chrome's page for managing passwords."  More at: http://www.huffingtonpost.com/2013/08/07/google-chrome-security_n_3719233.html
_______
On This Day:
New state west of the Mississippi, Aug 10, 1821:
"Missouri enters the Union as the 24th state--and the first located entirely west of the Mississippi River.
Named for one of the Native American groups that once lived in the territory, Missouri became a U.S. possession as part of the Louisiana Purchase of 1803. In 1817, Missouri Territory applied for statehood, but the question of whether it would be slave or free delayed approval by Congress. In 1820, the Missouri Compromise was reached, admitting Missouri as a slave state but excluding slavery from the other Louisiana Purchase lands north of Missouri's southern border. Missouri's August 1821 entrance into the Union as a slave state was met with disapproval by many of its citizens.
In 1861, when other slave states seceded from the Union, Missouri chose to remain; although a provincial government was established in the next year by Confederate sympathizers. During the war, Missourians were split in their allegiances, supplying both Union and Confederate forces with troops. Lawlessness persisted during this period, and Missouri-born Confederate guerrillas such as Jesse James continued this lawlessness after the South's defeat. With the ratification of Missouri's new constitution by the citizens of the state in 1875, the old divisions were finally put to rest."
_______
Smithsonian Institution created, Aug 10, 1846:
"After a decade of debate about how best to spend a bequest left to America from an obscure English scientist, President James K. Polk signs the Smithsonian Institution Act into law.
In 1829, James Smithson died in Italy, leaving behind a will with a peculiar footnote. In the event that his only nephew died without any heirs, Smithson decreed that the whole of his estate would go to "the United States of America, to found at Washington, under the name of the Smithsonian Institution, an Establishment for the increase and diffusion of knowledge." Smithson's curious bequest to a country that he had never visited aroused significant attention on both sides of the Atlantic.
Smithson had been a fellow of the venerable Royal Society of London from the age of 22, publishing numerous scientific papers on mineral composition, geology, and chemistry. In 1802, he overturned popular scientific opinion by proving that zinc carbonates were true carbonate minerals, and one type of zinc carbonate was later named smithsonite in his honor.
Six years after his death, his nephew, Henry James Hungerford, indeed died without children, and on July 1, 1836, the U.S. Congress authorized acceptance of Smithson's gift. President Andrew Jackson sent diplomat Richard Rush to England to negotiate for transfer of the funds, and two years later Rush set sail for home with 11 boxes containing a total of 104,960 gold sovereigns, 8 shillings, and 7 pence, as well as Smithson's mineral collection, library, scientific notes, and personal effects. After the gold was melted down, it amounted to a fortune worth well over $500,000. After considering a series of recommendations, including the creation of a national university, a public library, or an astronomical observatory, Congress agreed that the bequest would support the creation of a museum, a library, and a program of research, publication, and collection in the sciences, arts, and history. On August 10, 1846, the act establishing the Smithsonian Institution was signed into law by President James K. Polk."
_______
Temperatures in UK top 100 F for first time during European heat wave, Aug 10, 2003:
"On this day in 2003, the United Kingdom records its first-ever temperature over 100 degrees Fahrenheit. Throughout the month, an intense heat wave scorched the European continent, claiming more than 35,000 lives.
August 2003 was the hottest August ever recorded in the northern hemisphere and broke all previous records for heat-related deaths. France was the worst hit, with almost 15,000 victims, followed by Germany, where approximately 7,000 people died. Thousands also died in Spain and Italy. A majority of the victims were elderly, very young, or chronically ill."
BUT,
The Hottest Day on Earth, was 100 Years Ago, July 1913
"In July 1913, Death Valley was in the grips of an extreme heat wave, with temperatures of 125 degrees or higher for more than a week. On July 10, the area entered the history books when the mercury climbed to a blistering 134 degrees Fahrenheit (57 degrees Celsius) at Furnace Creek, California, breaking the record for the highest temperature ever recorded."
_______
Yesterday:
Ray and I cleared up the lumber that was left over from the contractors finishing the roof framework for my screen porch.  Then we put away a bunch more lumber that had accumulated in the space between the houses, where the RVport used to be, while all this construction was going on.
Ray painted some of the framework of the front porch extension, as it will be easier to do it now rather than when the roof is installed.  That roof is the next step.
Carefully, I measured what could legally be put in the space where the RVport used to be.  It is between my house and the guest house, but as each lot has to have 5 ft. easement, one has to be careful.  I called the county, and found out that I can put up one of those metal carports as it isn't really a permanent building.  If, and when I sell my house, that carport can be easily removed off the easement, or left there to accommodate the buyers.   I have already talked to the local Eagle carport company, and should have that signed and sealed next week.
Then we measured and found out that a lean-to 6' x 18' greenhouse can be built on the side of the storeroom, behind the new metal carport.  It would not be in the easement.  But so as not to encroach on that metal carport, the door to the green house can be in front of the guest house carport that is in front of the storeroom. That's where I park the Puddle Jumper.  Now we know what can be done, we can make plans to get it done one day.