For "Travel Tuesday", let's visit the Padre Island National Seashore on the Texas Gulf Coast.
"Home to some of the best beaches in America, the Texas Gulf Coast region draws millions of visitors to this Texas playground. Stretching some 350 miles from South Padre Island & the Rio Grande Valley, all the way to Beaumont & the Louisiana border, this region is renowned for its wildlife & natural beauty, as well as the home of America's space program. Discover the Beaches of the Texas Gulf Coast Region."
Padre Island National Seashore
The Longest Stretch of Undeveloped Barrier Island in The World
"Padre Island National Seashore separates the Gulf of Mexico from the Laguna Madre, one of a few hypersaline lagoons in the world.  The park protects 70 miles of coastline, dunes, prairies, and wind tidal flats teeming with life.  It is a safe nesting ground for the Kemp's ridley sea turtle and a haven for 380 bird species.  It also has a rich history, including the Spanish shipwrecks of 1554.
In addition to its 70 miles of protected coastline, other important ecosystems abound, including rare coastal prairie, a complex and dynamic dune system, wind tidal flats teeming with life, and the Laguna Madre, one of the few hypersaline lagoon environments left in the world. The National Seashore and surrounding waters provide important habitat for marine and terrestrial plants and animals, including a number of rare, threatened, and endangered species.
Situated along the Central Flyway, Padre Island is a globally important area for over 380 migratory, overwintering, and resident bird species (nearly half of all bird species documented in North America). Thirteen of these species are considered species of concern, threatened, or endangered
With urban sprawl, climate change, pollution, and other detrimental factors continuing to threaten wildlife, critical ecosystems, and wild places worldwide, Padre Island remains a place where nature can balance itself, and where people can always visit to experience true quiet, solitude and a night sky filled with bright starlight."
_______
History & Culture
The dunes shown is how Padre Island probably appeared to Native Americans and early European settlers hundreds of years ago. NPS Photo
"For almost its entire existence, Padre Island has remained undeveloped wilderness. Because the National Seashore endeavors to preserve Padre Island in its natural state, visiting the island is very much like stepping back into the past. With few exceptions, visitors can now see Padre Island as it has existed throughout most of its history and how it is described in the few extant descriptions by the early explorers.
Four nations have owned Padre Island at different times.
The first permanent settlement on the island was located on the island's southern tip. This area was established around 1804 by a Spanish priest, Padre Nicolas Balli, after whom the island is named. Prior to then, the only people known to have inhabited or visited the island were nomadic hunter-gatherers Native Americans, Spanish troops or ships, and the survivors of three shipwrecks on the island's shore in 1554."  More at: http://www.nps.gov/pais/historyculture/index.htm
_______
PADRE ISLAND SPANISH SHIPWRECKS OF 1554
"On April 9, 1554, they sailed independently with Antonio Corzo as captain-general. The combined cargoes of the four ships had an estimated value of a little over two million pesos or more than $9.8 million (1975 values). 
On April 29, three of the four vessels were lost in a storm on Padre Island. Only the San Andrés escaped, reaching Havana in such bad condition that it had to be scrapped and its cargo transferred to other vessels for the return to Spain. Approximately 300 people were on the three wrecked vessels. Perhaps one-half to two-thirds drowned before reaching the beach. 
Among the 400-year-old objects recovered from the wreck were a small solid-gold crucifix, one gold bar, several silver discs, cannons, crossbows, and three astrolabes. The latter, considered by some to be the most valuable objects recovered, were used in navigation and are extremely rare today.
A sailor takes a reading with an astrolabe. In the days before accurate maps, travel close to shore required sounding leads, and lines, and excellent lookouts. Once at sea, navigators used astrolabes to measure the height of the Sun or the North Star to determine latitude.
Also recovered were wrought-iron anchors, cannon, tools, ship's fittings and fastenings, and silver coin and bullion. Of particular interest were several items of aboriginal manufacture, including a mirror made from a polished iron pyrite nodule and prismatic blades of obsidian. The silver coin and bullion and a small amount of gold bullion comprised the
greatest part of the fleet's cargo, but such perishable items as cochineal, hides, and wool were also being shipped to Spain.
An enormous anchor from one of the shipwrecks.
The collection from the San Esteban is housed in the Corpus Christi Museum. The third wreck, the Santa María de Yciar, was destroyed in the 1950s when the Port Mansfield Channel was dredged."  More at: http://www.tshaonline.org/handbook/online/articles/etpfe
_______
Natural Features & Ecosystems
An aerial view of the island taken in September, 2000, looking south, with the Gulf of Mexico to the left. NPS photo
"The National Seashore is mostly prairie/grasslands with ephemeral marshes and ponds bordered on the east by the Gulf of Mexico and on the west by the Laguna Madre. The highest elevation is approximately fifty feet. The National Seashore is 70 miles long with 65.5 miles of Gulf beach. Most of the seashore is accessible only by four-wheel-drive vehicle.
The Gulf beach is composed of white sand and is less than a hundred feet wide, Much of it is firmly packed, except for a stretch of about forty miles which becomes increasingly soft towards the center and is composed to a large degree of shells.
 
Bordering the beach is a narrow dune ridge running throughout the park and almost the length of the entire island.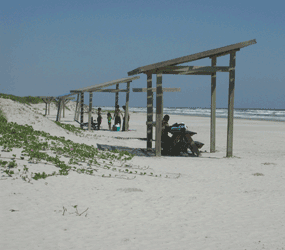 Sometimes natural or unnatural forces create breaches in the dune ridge and sand blows through creating "blowout" dunes, which may drift across the island at the rate of as much as 35 feet per year until they become vegetated. Sometimes dune fields form covering many acres. 
West of the dune ridge are the grasslands and marshes.
Few trees exist on the island. Those that do are mostly mesquite, live oak, or willow.
On the western shore of the island are extensive mudflats. "
_______
Wetlands, Marshes and Swamps
Ephemeral marshes west of the Malaquite Visitor Center. NPS photo
"At times much of the island is covered in marshes. The marshes are only temporary and are referred to as "ephemeral marshes". They form from rainwater or extreme tidal events during the wetter seasons and may stay for several months. Often the marshes are completely dry for a few months at a time. Because the water may be only a few inches deep while the grass is often over a foot high, unless cattails are growing in them, the marshes are often hidden from view.
The marshes are the main source of fresh water for wildlife on the island. Other than the marshes there are only three permanent freshwater ponds in the park, which are located in the northernmost ten miles of the park."
_______
Animals
NPS Photo
"Padre Island National Seashore provides a vast array of critical habitat types to an even more diverse spectrum of inhabitants. From the water's edge of the Gulf of Mexico to the shores of the Laguna Madre, many animals call Padre Island "home." Coyotes and deer roam the dunes, while songbirds flit in the grasslands. Jellyfish wash ashore and Ghost crabs scramble to dig in the sand until they reach water. Tiny invertebrates thrive in the mudflats where they often fall victim to the probing bills of wading birds. And sea turtles pull themselves ashore in order to lay their eggs in the warm sand.
Each creature that lives here plays a vital role in keeping ecosystems at Padre Island balanced. Of special concern are animals that face extinction due to human impacts, like sea turtles and birds that depend upon Padre Island for survival."
_______
Birds   
usgs.gov
"Over 380 species of birds may inhabit Padre Island National Seashore during each year. This is nearly half of all bird species that have been documented in North America! The National Seashore is a fabulous place for birds and bird-lovers because it is located on the Central Flyway, a major migration route on which birds travel during their migration to and from North, Central, and South America.  Migration routes of North America.  Notice how the Central Flyway crosses right over the Texas coast."    Junior Birder Information
Click here to view and/or print a list of Birds Sighted from October 2012 to March 2013.
More at: http://www.nps.gov/pais/naturescience/birds.htm
______
Crustaceans
Ghost crabs are nocturnal but can often be seen at dusk or occasionally during the day, particularly when the weather is cloudy.   Photo by Tracy Parris
"As you walk over the dunes towards the beach or sit at your picnic table eating lunch, you may catch a glimpse of a ghost crab scuttling across the sand or peering out of its cool, shaded burrow. While they are one of the most commonly seen crustaceans at Padre Island National Seashore, they are just one of 41 crustacean species that have been documented in the park. Crustaceans include such familiar animals as crabs, crayfish, lobsters, shrimp, and barnacles. Most species are aquatic, living in either fresh or salt water habitats, but some have adapted to life on land.
Economically, certain species such as lobsters, crab, and shrimp, have sustained cultures and commercial fishing-based communities for generations.
Click on any of the links below to learn more about the specific crustaceans that can most often be seen at the National Seashore."  More at: http://www.nps.gov/pais/naturescience/crustaceans.htm
_______
Fish
Spotted seatrout, caught off the beach. www.extremecoast.com
"The following 149 species of fish have been documented at the National Seashore by our Resources Management staff. They are sorted alphabetically by common name." 
More at: http://www.nps.gov/pais/naturescience/fish.htm
_______
Mammals
White-tailed buck in tall grass. Photo by Phil Slattery
"The most commonly seen mammals at the National Seashore are coyotes, spotted ground squirrel, kangaroo rats, and deer, others, such are opossum and raccoon are seldom seen, and a few, such as badgers and bobcats are rarely encountered. Following are a few details over the more commonly-occurring mammals in the park.
The spotted ground squirrel is frequently seen scurrying in the dunes around the Malaquite Visitor Center. 
The coyote is a doglike mammal commonly seen at night or early morning and might be sighted crossing the road or searching the beach for food. 
The white-tail deer (shown above) is a reddish-brown, hoofed mammal. This shy animal is active just before sunset and just after sunrise.  There is an estimated 3 million deer in the state and 360,000 are harvested each year, a $20,000,000 business.
The size of a small dog, the raccoon has a length of 18 to 28 inches and weighs 12 to 35 pounds.  This carnivore is active at night and forages for insects, snakes, frogs, fish, birds, nuts and fruit, and garbage. 
The South Texas pocket gopher is a large, pale-drab rodent with a relatively long, scant-haired tail.  The gopher can be found burrowing in the deep, sandy soil of Padre and Mustang Islands. Its diet consists largely of roots, stems and leaves of grasses which are often seized from below and pulled into the burrow. 
The Padre Island kangaroo rat is primarily nocturnal and spends time in burrows during the day. Seeds are the main food item of the kangaroo rat and occasionally insects will be eaten. 
The black-tailed jackrabbit is a large, long-eared hare, who prefers sparsely vegetated grasslands and desert scrubs. During the hot parts of the day the jackrabbit sleeps in a scratch at the base of a shrub or in a tall stand of grass. It is active at twilight and well into the night." 
More about each animal at: http://www.nps.gov/pais/naturescience/mammals.htm
_______
Other Life Forms
"Red tide is a naturally occurring, higher than normal concentration of the microscopic algae Gymnodinium breve (JIM-NOH-DIN-EE-UHM BRAY-VAY). This organism produces a toxin that affects the central nervous system of fish so that they are paralyzed and cannot breathe.
Red tide algae reproduce in dense concentrations called "blooms", which are visible as discolored patches of water, often reddish in color, and which are characterized by a weak, ammonia-like odor. Red tide blooms often result in thousands of dead fish washing up on Gulf beaches.
Harmful algal blooms, or HABs, occur nearly every summer along the nation's coasts. Often, the blooms turn the water a deep red.
Red tide is a natural phenomenon not caused by humans. When temperature, salinity, and nutrients reach certain levels, a massive increase in Gymnodinium breve occurs. No one knows the exact combination of factors causing red tide, but some experts believe high temperatures combined with a lack of wind and rainfall are usually at the root of red tide blooms. There are no known ways that humans can control it, however many scientists around the world are studying red tide.
It's important to remember that red tide has happened before and the Texas marine environment has always recovered."  More at: http://www.nps.gov/pais/naturescience/otherlifeforms.htm
_______
Environmental Factors
"The average rainfall is 37 inches. The warm climate is characterized both by periods of drought and periods of heavy rain. Prevailing southeasterly winds averaging 12 miles per hour, but which can normally range between 5 and 25 mph, bring salt spray and moisture laden air from the Gulf of Mexico. Hurricanes sometimes inundate the island with saltwater and can cut washover channels from the Gulf to the Laguna Madre in less than a day or two.
Every year over 1,000 volunteers pick up over 150 tons of trash from along the Padre Island shoreline either as individuals or in organized clean-ups. NPS photo
Padre Island's location in the northwest corner means that the southeasterly winds prevailing in the Gulf blow many objects, both natural and artificial, onto its shore as well as creating longshore currents which can bring much material for good or bad. Probably the most serious damage to the National Seashore's environment is done by trash, which washes onto the beaches from offshore. The trash comes from a variety of sources including the shrimping industry, offshore natural gas platforms, and washing out of rivers and streams surrounding the Gulf. Much of the trash is either plastic or styrofoam." More at: http://www.nps.gov/pais/naturescience/shoreline-trash.htm
_______

Did You Know?

"Padre Island National Seashore has a wheelchair designed for use on loose sand available for loan at no charge. Users must leave a driver's license or their personal wheelchair at the information desk while the beach wheelchair is on loan. More...
Metal detecting is prohibited at Padre Island National Seashore as well as at all other units of the National Park Service. More...
Beaches in Texas are considered public highways and therefore all vehicles on them must be street-legal and licensed. More...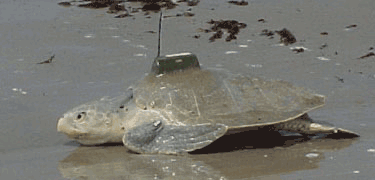 Kemp's ridley sea turtles are both the smallest and the most endangered sea turtles in the world. Padre Island National Seashore is one of only a few places in the world where Kemp's ridley sea turtles come to nest. More...
Eighteen species of birds found at Padre Island National Seashore are state or federally listed as endangered, threatened, or a species of concern. More...
The wreck of three Spanish ships near the southern end of Padre Island in 1554 was the greatest disaster to hit the Spanish fleet in the New World up to that time. More...

The white-tailed deer on the island are not considered the island's largest native mammal because they are believed to come across the Laguna Madre from the mainland. Coyotes are considered the island's largest native mammal. More...
The Laguna Madre is one of only six lagoons in the world that is hypersaline (saltier than the ocean). More..."
_______
Interpretive programs
Ranger Programs (June 1 - September 2, 2013)
Beach Walks, Hidden Treasures, Deck Talk, Sand Sculpting, Hatchling Releases, Junior Ranger Program.
More at: http://www.nps.gov/pais/planyourvisit/interp-programs.htm
_______
Kemp's Ridley Sea Turtles Scramble to the Sea
"Ever think the closest you might get to seeing a baby sea turtle would be watching Finding Nemo?  Well, during the summer in South Texas, hatchling releases at Padre Island National Seashore allow visitors to watch the sea turtle hatchlings crawl across the sand, catch their first wave and head out into the big blue.
I recently attended a release and was able to experience first-hand how something as simple as watching a baby turtle travel across of 20 feet of sand and seaweed can be a once-in-a-lifetime experience.
A Kemp's ridley hatchling makes its way towards the Gulf of Mexico. Photo: National Park Service
All five species of sea turtles in the Gulf of Mexico are endangered. The most endangered, and the smallest, is the Kemp's ridley sea turtle. Their hatchlings, which are just 1.5 inches long and weigh only half an ounce, make up the majority of turtles released at Padre Island National Seashore.
The Kemp's ridley hatchling releases are just one part of a long-term success story. Historically low numbers of Kemp's ridley turtles in Texas and Mexico in the 1970s prompted an international effort to assist in the recovery of the species.  Collecting turtle eggs for food was banned and efforts were made to reduce the numbers of turtles drowned in fishing nets. These recovery efforts included relocating hatchlings from Mexico to Texas, where they were allowed to imprint on the remote barrier island beaches of the Padre Island National Seashore. All these efforts seem to have made a difference, as the number of nests documented on the Texas coast has increased from just six in 1996 to 209 in 2012.
While clearly on the road to recovery, the Kemp's ridley still is a long way from to returning to population levels that would lead to removal from the Endangered Species List.
Adult Kemp's ridleys in the northern Gulf of Mexico prefer waters off the coast of Louisiana, and many turtles were found oiled in this region during 2010. Scientists are trying to understand the impacts of the oil still lingering in the region and sea turtles in this area are still being found dead in very high numbers. NOAA is investigating but information about the cause of these deaths has not been publicly released.
Hatchling release at Padre Island National Seashore draws a crowd. Photo: National Park Service
In addition, discoveries made during the oil spill response efforts indicate that shrimpers often fail to place turtle excluder devices in their fishing nets or install them properly, causing turtles to drown.
A recent report from Datu Research points to the significant contributions wildlife tourism—such those who travel to South Texas to view sea turtle hatchling releases—on local economies.
In Texas alone, more than 7.7 million wildlife tourists visit the state each year, generating nearly $800 million in tax revenue.
In the end, protecting and enhancing habitat for this truly charismatic marine species will benefit coastal economies as well."  From:   http://blog.nwf.org/2013/08/kemps-ridley-sea-turtles-scramble-to-the-sea/   By Wildlife Promise
Show your love of wildlife with symbolic a sea turtle adoption today!
_______
On This Day:
First victim of Memphis yellow-fever epidemic dies, Aug 13, 1878:
"On this day in 1878, Kate Bionda, a restaurant owner, dies of yellow fever in Memphis, Tennessee, after a man who had escaped a quarantined steamboat visited her restaurant. The disease spread rapidly and the resulting epidemic emptied the city.
Yellow fever originally came from West Africa and was brought to the United States on slave ships.  Jaundice is also a typical symptom, which is how yellow fever got its name. If a victim dies, it usually happens within two weeks. Survivors can feel the effects for months.  In the 19th century, it was not known that mosquitoes carried yellow fever.
In July 1878, an outbreak of yellow fever was reported in Vicksburg, just south of Memphis. Memphis officials reacted by stopping travel to the city from the south. However, William Warren, a steamboat worker, somehow slipped away and into Kate Bionda's restaurant on the shore of the Mississippi on August 1. The next day he needed hospitalization and was sent to President's Island for quarantine, where he died. Kate Bionda, the first Memphis resident to get yellow fever, died on August 13. After that, yellow-fever infections spread quickly throughout Memphis.
An average of 200 people died every day through September. There were corpses everywhere and near continual ringing of funeral bells. Half of the city's doctors died.
The epidemic ended with the first frost in October, but by that time, 20,000 people in the Southeast had died and another 80,000 had survived infection. In the aftermath, open sewers and privies were cleaned up, destroying the breeding grounds for mosquitoes and preventing further epidemics.  Today, yellow-fever outbreaks still occur in Africa and South America."
_______
Mickey Mantle, Yankee legend dies, Aug 13, 1995:
"Former New York Yankees star Mickey Mantle dies of liver cancer at the age of 63. While "The Mick" patrolled center field and batted clean-up between 1951 and 1968, the Yankees won 12 American League pennants and seven World Series championships.  Mantle was elected to the Baseball Hall of Fame in 1974 in his first year of eligibility.
Mantle's father and son both died in their 30s, the result of Hodgkin's disease. Mantle was sure the same fate would befall him, and joked he would have taken better care of himself if he knew he would live. In 1994, after years of alcoholism, Mantle was diagnosed with liver cancer, and urged his fans to take care of their health, saying "Don't be like me." Although he received a liver transplant, by then the cancer had spread to his lungs, and he died at just after 2 a.m. on August 13, 1995, at the Baylor University Cancer Center in Dallas.
At the time of his death Mantle held many of the records for World Series play, including most home runs (18), most RBIs (40) and most runs (42)."
_______
Yesterday:
Ray had to take Shay somewhere, and I was supposed to groom a dog.  So I turned on the AC and TV in the grooming room, gave the floor another sweep, got out clean towels, put on my grooming smock, and was all ready, but it didn't show up.
Several phone calls were made about roofing for the porch.  After I found out how much the translucent polycarbonate would cost, plus the shipping, I'll just go with white metal R-panel.  It is $35 a panel less!  I can run up the road 5 miles to Muellers and pick it up myself.  It will look just the same from the road.
I looked at more Park Model travel trailers online, while drinking some homemade grape-apple-greens-carrot-celery juice, but nothing new is listed for sale.  Just FEMA trailers, and I don't want one of them.  I want a nicer one that that, with bigger windows.
More phone calls and messages left about installing the roofing.  While waiting for contractors to call me back, which they didn't, Misty, Nala and I spent a quiet day.