For "Travel Tuesday", Let's visit Tyler, TX again.  There is so much to do and see in Tyler that the first post couldn't cover it all: http://pennys-tuppence.blogspot.com/2012/11/tyler-tx-tyler-roses-fall-foliage-trade.html
Tyler is in the Texas Piney Woods region of TX:
"Experience the warmth and Southern hospitality of the Texas Piney Woods Region. This beautiful forest land offers visitors a glimpse of the history of the Republic of Texas and early statehood times. The Texas Piney Woods offers some of the best fishing, down home cooking, championship golf and family activities in the Lone Star State. Discover the Southern Hospitality of the Texas Piney Woods Region."
A quick look at how the beautiful Azalea Trail event got started in Tyler, Texas.
_______
A quick look at the largest park in the Tyler Parks and Rec system
_______
A tour of Faulkner Park with Tyler Parks & Recreation Director Stephanie Rollings
_______
A walking tour of Noble E. Young Park with Stephnie Rollings, Parks Director for the city of Tyler
_______
A summer's day walk in Tyler's historic historic Bergfeld Park with Tyler Parks and Recreation Director Stephanie Rollings.
_______
A look at the history of the Tyler Carnegie Library for the Half Mile Of History Program.
From: http://parksandrec.cityoftyler.org/
_______
Tyler, Texas: Big Teddy Bear Statues
Children's Park features two large stone teddy bear sculptures, playing doctor or something.
"The Children's Park in Tyler is about to get bigger. Plans to add more space for children to play and a prayer garden were unveiled today at a meeting of the Parks Board.
This is the park that has those big teddy bear statues that kids love to play on and also the cascading waterfalls. The park at Broadway and Dobbs is only developed to the north of a little creek that runs through it. But there is still space for growth to the south of the creek before you get to Dobbs. This will be the park's new area."  More at: http://www.cbs19.tv/Global/story.asp?S=14337596&clienttype=printable
--------
Behold, children are a gift of the Lord. Psalm 127:3
"What started as a mother's effort to honor the memory of her unborn son is touching the lives of families, in ways not fully expected.

The Children's Park, at the corner of Dobbs Street and Broadway Avenue, is becoming such a preferred place for gathering, supporters are planning to expand.
"What we didn't anticipate is the large number of people who visit," founder Jennifer Carson said. "We can have anywhere between 250 and 300 people visiting at one time. It's wonderful."
The Children's Park originally was designed for small numbers, serving as a type of memory garden to honor the lives of all children.

The 2.2-acre park is filled with the names of children, living and deceased, engraved along the sidewalk and on plaques.
Bronze statues pay tribute to the forever young.
So many people seem to find peace in the park, they want to mark significant life events in the tranquil surroundings — weddings, special occasions and events.
"We're so thankful the city has embraced it like they have," Ms. Carson said. "Now that we've been here for a while, we can see how the park is being used.""   More at: http://www.city-data.com/forum/tyler/1239450-childrens-urban-park-tyler-plans-expansion.html
_______
Caldwell Zoo in Tyler
"Caldwell Zoo is the culmination of one man's vision and love of children. It started in 1937, when David King Caldwell opened a Child Development Laboratory at his home. The playschool—complete with parrots, monkeys, squirrels and more—was a huge hit that soon grew to host a variety of animals and span a patchwork of buildings and land.  Mr. Caldwell's vision of a proper zoo for the children of east Texas was realized in 1953, when Caldwell Zoo officially opened on the site it occupies today.  The Caldwell Zoo also houses the largest African elephant in North America."
Click on their site to hear and see some amazing animals:
http://www.caldwellzoo.org/index.htm
_______
Whispering Pines in Tyler to join up with Jellystone
"Whispering Pines RV and Cabin Resort will become the fifth Texas campground to join the Jellystone Park Camp-Resort network of family focused campgrounds. The official start date is Jan. 1.
The 30-year-old park has 133 RV sites and 18 park model cabins. Don and Jan Tardy acquired it in May. "I like the concept of Jellystone Park and I want to emphasize the fact that we are a park that caters to families," said Don Tardy.
Jellystone Parks are known for offering family activities that include crafts, games, "hey rides," birthday parties, and daily appearances by cartoon character Yogi Bear.

The Tardys run the park with their adult children Colt and Bree Perrin. They already have a head start on the family activities and amenities, including two salt water swimming pools and a fishing pond stocked with perch, bass and brim. And they have other plans.
"We're about to add five more cabins and we have plans for other activities, including laser tag and a zip line," Don Tardy said. "We will also put in a beach around our pond and add paddle boats, which we hope to have done by summertime. We also hope to eventually have a train."
Whispering Pines also has four large meeting rooms with separate kitchens to accommodate large groups. Other amenities include basketball, horseshoe, ping pong, shuffleboard and volleyball courts, a camp store and a poolside cafe."  From:  http://www.texasrver.com/2012/12/whispering-pines-in-tyler-to-join-up.html
______
Grave of Shorty the Squirrel, Tyler, Texas
Died 1963
"Shorty lived outside the Smith County courthouse for 15 years. He was a panhandler and a beggar, but beloved by the town -- and particularly by Miss Geneva Pillow, who fed him daily.
The citizens of Tyler honored Shorty with free medical care, a special pedestrian crossing, and a lower speed limit on Broadway -- all with the goal of prolonging his life. But no squirrel lives forever (or even for very long) and Shorty died in 1963.
He was buried in a park across the street from the courthouse, his grave surrounded by a brick wall, marked by a Georgia granite headstone engraved with his likeness. A replacement squirrel was quickly run over by a car (another testament to Shorty's genius for survival). With no one to fill his snack-grubbing shoes, Shorty's legend grew. Paul Harvey told his story on the radio. He became even more famous in death than in life.
After a rough patch in the 1990s, when Shorty's tombstone was stolen twice and not recovered, a new marker was placed over his grave. We hope it's still there."
_______
Brookshire's World of Wildlife Museum in Tyler, TX

"Brookshire (grocery store) family museum started in 1975 features 450 stuffed and mounted animals in wildlife representing animals from around the world,  and aquatic scenes from Africa and North America. Also antique trucks and a replica grocery store. 
The best part? It's all FREE.
After venturing through the deserts of Africa and the forests of North America, browse through Brookshire's Country Store, which is filled with grocery items and fixtures reminiscent of an old fashioned 1920s grocery store.
Don't miss the excitement of the playground areas as well. Climb aboard a 1952 model fire engine or jump into the driver's seat of a McCormick Deering farm tractor. After you've played off all that energy, you'll want to grab a bite to eat under one of the museum's picnic areas as well.
Brookshire's World of Wildlife Museum and Country Store was founded by Wood T. and Louise Brookshire in order to "provide continuing enjoyment and education for children so that they may see and appreciate the wild animals of the earth." That's just what they did as they opened the first museum in 1975. After expanding, the museum moved to its current location in 1990."  From: http://livability.com/tyler/tx/attractions/brookshires-world-wildlife-museum-tyler-tx
_______
Culture in Tyler, TX
"The Tyler Museum of Art will be a destination for people seeking a dynamic culturally enriching experience in the visual arts."
History  In April 1952, the Tyler Service League formed the first Community Arts Committee. Because there was not an art museum within one hundred miles of Tyler, they knew there were many children who had no opportunity to see and experience works of art. "Picture Ladies" from the Tyler Service League took prints to 5th and 6th grade classrooms, rotating the prints once each week.
This program continued and in 1960 they purchased the property known as the Jamie T. Smith home and established an art center there... "    Learn More   http://www.tylermuseum.org/about_us.aspx
Tyler Museum of Art in Tyler, TX. Todd Bennett
________
ROSE SEASON
Each October thousands of visitors flock to Tyler for the excitement and pageantry of the Texas Rose Festival. For the entire month of October, Tyler celebrates the Rose Season with a plethora of activities that range from family fun to educational and cultural events. We welcome you to come and enjoy all Tyler has to offer during this special season.
Nestled in the piney woods of East Texas a short 90 minute drive from Dallas, Tyler is home to the largest municipal rose garden in the United States. Known for its natural beauty, Tyler celebrates it rose growing history during the month of October when the roses are at their peak bloom.
In addition to the Rose Garden, which features more than 32,000 bushes and 600 cultivars, the Rose Season presents horticulture workshops, tours of the renown Chamblee Rose Center specializing in Earthkind® Roses, a Texas Music Festival, the Tyler Rose Marathon, garden tours, the Arts, Crafts and Plant Sale, and so much more.
The highlight of the Season is the Rose Festival, Texas' most beautiful event. You'll be overwhelmed by the unbelievable aroma of hundreds of thousands of roses growing in manicured beds in the Rose Garden. Enjoy "tea with the Queen"; relive the past in the beautiful Rose Museum and be enchanted by courtly costumes at the Queen's Coronation. When your eyes have taken it all in, treat your ears and tap your feet as the bands march by in the Rose Festival Parade. Come see why everyone who visits the Texas Rose Festival leaves saying, "I'll be back!"   From: http://www.visittyler.com/roseseason.php
--------
I hope you enjoyed another visit to Tyler, TX.
_______
On This Day:
Volcanic eruption buries Caribbean city, May 7, 1902:
"On this day in 1902, Martinique's Mount Pele begins the deadliest volcanic eruption of the 20th century. The following day, the city of Saint Pierre, which some called the Paris of the Caribbean, was virtually wiped off the map.
Caught up in the midst of an important election, residents of Saint Pierre failed to heed the mountain's warnings and evacuate. The nearby residents mistakenly believed that the only danger from the volcano was lava flow and that if lava started to flow, they would have plenty of time to flee to safety. In fact, some people came from outside the city to view the action, even after ash from the eruption began to block roads.
On May 7, activity on the volcano increased dramatically and the blasts grew significantly stronger. Overnight, there were several strong tremors and a cloud of gas with a temperature of more than 3,000 degrees Fahrenheit spilled out of the mountain. Finally, a tremendous blast in the early morning hours sent an avalanche of boiling ash down the side of the mountain.
The city of Saint Pierre was buried within minutes and virtually everyone died instantly. There were only two reported survivors--one was a prisoner held in an underground cell.   15 ships in the harbor were capsized by the eruption. One ship managed to stay afloat with half the crew surviving, although most suffered serious burns.  Vulcanologists are still unsure about exactly what causes volcanic eruptions and how they can be predicted."
_______
German submarine sinks Lusitania, May 7, 1915:
"On the afternoon of May 7, 1915, the British ocean liner Lusitania is torpedoed without warning by a German submarine off the south coast of Ireland. Within 20 minutes, the vessel sank into the Celtic Sea. Of 1,959 passengers and crew, 1,198 people were drowned, including 128 Americans. The attack aroused considerable indignation in the United States, but Germany defended the action, noting that it had issued warnings of its intent to attack all ships, neutral or otherwise, that entered the war zone around Britain.
On January 31, 1917, Germany, determined to win its war of attrition against the Allies, announced that it would resume unrestricted warfare in war-zone waters. Three days later, the United States broke diplomatic relations with Germany, and just hours after that the American liner Housatonic was sunk by a German U-boat. On February 22, Congress passed a $250 million arms appropriations bill intended to make the United States ready for war. In late March, Germany sunk four more U.S. merchant ships, and on April 2 President Wilson appeared before Congress and called for a declaration of war against Germany. On April 4, the Senate voted to declare war against Germany, and two days later the House of Representatives endorsed the declaration. With that, America entered World War I."
_______
Yesterday:
Ray came over here to clean some more of the cargo-camping trailer.  The winter winds and rain hadn't been kind to it, and it was covered in algae, the vintage motor home is, too. 
The day before, Jay had started to mess with all the lumber that had come from the tearing down of the RVport, and it was scattered around in the side yard.  I put on some gloves, and sorted it all out onto racks. At noon, Jay came by on his ATV and was amazed that I had done it all by myself. (Actually Ray helped me with two long 2" x 8" boards.)
My SPCA boss, Kenya called, and asked if I wanted to pick up "Holly", my new old kitty at 3.30.  Did I! You betcha!   I arrived early, and so had her foster mom.  We took her in to a room at Petco, and she was very friendly towards me, which amazed her foster mom, as Holly is a very shy, reserved cat.  She got into my carrier willingly.  She is a large, solid and heavy cat, so the heavy carrier wasn't easy for me to get in and out of the van.
I knew that I would have to keep her closed up in my bathroom until she overcomes her shyness, and gets used to the sights and smells here.  She is scared of dogs, especially as she is declawed, so it might take a while.  She started out by hiding in the linen cupboard.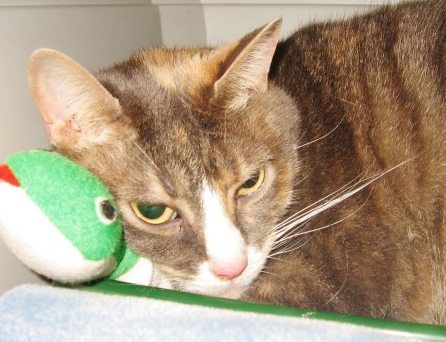 I haven't been able to get a good look at her, but she is a smoky color with light orange specks, and a white triangle on her nose.  This is a picture from her webpage:  http://search.petfinder.com/petdetail/12859428
I checked on her three times during the night, and she was hiding in different places in my bathroom.  Each one was at floor height, so she hasn't found the best place up at the window.  She didn't eat her dinner, but she let me reach into her hidey places and pet her, so I hope she comes around soon.
The picture doesn't seem to show her real color, so I hope I can take some of her today.