For "Summary Saturday", News, Some New, Some Old:
Man-Made Disasters, "An Era of Tornadoes: How Global Warming Causes Wild Winds"
"Our hearts go out to the people of Moore, Oklahoma. You cannot watch footage of the devastating effects of this tornado on the communities, the families and the children of this town without wiping away tears.
Oklahoma is God country. But, I've got news for you. God had nothing to do with this disaster. We often turn to God in times of hardship and distress to simply ask why to questions that have no answers. But, this is not one of those times. Here there really is an answer if we are brave enough to ask the right questions.
Recent studies published in Nature and Science conclude that extreme weather events (heavy rainfall events and heatwave intensity) are linked to climate change. And the heat buildup in the deep ocean helps explain why.
Since the 1950s, the world's oceans have accumulated close to 95 percent of all the additional heat related to global warming. Because warm ocean surfaces evaporate faster than cool ones and the warmed atmosphere holds more water vapor, the warming and water vapor fuel storms. (MIT climate modeler Kerry Emanuel, for example, has demonstrated that Hurricane Katrina would not have been as strong as it was in 2005 if it had occurred in 1980, when the atmosphere and sea surfaces were cooler.)
So global warming is thus causing climate change, including altered weather patterns, and the engine of change is the heat building up deep inside the world's oceans. Water is warming, ice is melting, and water vapor is rising. How does this help explain tornadoes?
For tornadoes, we have clear ideas on how they form and have some idea about how their strength may be linked to global warming.
It's all about contrasts and gradients. Warmer temperatures over land surfaces create low-pressure systems (since hot air rises, creating "lows"), while cold fronts from the north come with high pressures. Weather "flows downhill," as it were--from highs to lows. When temperature and pressure gradients between highs and lows increase (as they do naturally in spring), the clash can twist to form tornadoes. The greater the contrasts, the greater the force of the twisters.
Nobody is saying that any one weather event like a single tornado has definitely been caused by climate change, but weather patterns are shifting making extreme weather all the more commonplace."
More at: http://www.huffingtonpost.com/john-r-talbott/manmade-disasters_b_3311715.html
______
View Different Areas Before And After Oklahoma Tornado
Moore, Oklahoma
_________
Skagit River Bridge Collapse after truck hits span
SKAGIT COUNTY, Wash. — "It was shortly after 7 p.m. when Dan Sligh and his wife Sally were near the Interstate 5 bridge over the Skagit River. The semi-truck ahead on the far right seemed too wide for the bridge span, and Sligh told his wife so.
"We started slowing down, and about that same time another semi-truck came up on the left side," he told KIRO 7. "It almost looked like he pinned that truck over to where he couldn't swerve."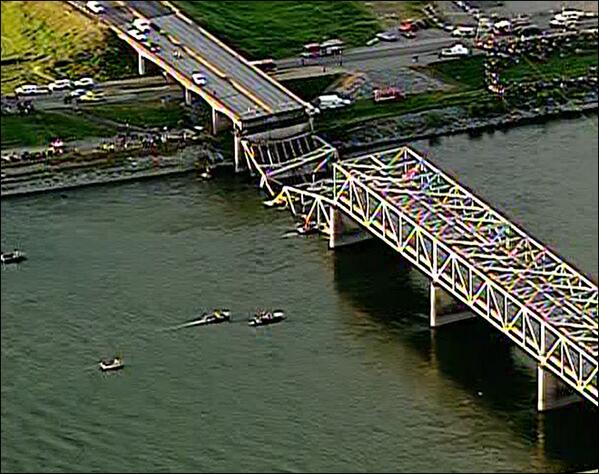 "He hit the bridge about 3 or 4 feet wider than the actual bridge was, and there was a big puff of dust. I hit the brakes, (but with) the weight of the trailer and everything else we went right off the bridge as it collapsed into the Skagit River."   More at: http://www.kirotv.com/news/news/i-5-skagit-river-bridge-collapses-people-vehicles-/nX2d5/
______
Sanctuary Residents Prepare for Possible Emergency.
With the crate door closed, Tonka shows no signs of stress. With conditioning, Tonka has become familiar with his transfer crate.
"Sanctuary residents are trained to enter and exit their transfer crates to facilitate ease of transfer in case of disaster or medical emergency.
We condition our animals to feel comfortable in their transfer crates by:
Making the transfer crates a part of their regular habitat so they are very familiar with the smell, feel, and appearance of them.
Feeding them inside the crates.
Routinely closing them into the crates while we clean or perform habitat maintenance so they understand they may need to stay inside of it for long durations.
Rotating the animals between habitats every few weeks using the transfer crates and other equipment that would be used to transport them off property in case of emergency.   
More at: http://www.humanesociety.org/news/news/2013/05/ffawc-prepares-for-emergency-situation-051313.html
-------
Condition Your Pets
From me:  This is why it is important for your pet to be familiar with his traveling carrier.  Make the carrier into a comfy den for your pet.  Are you and your pet ready?  In a weather event, where would your pet(s) be?  How would you move them to safety?  Do you have carriers handy?  Would your pet panic if confined to it?
The foster cats here are fed in their big cages, so it's a good place to be.  Often, they stay in there, even when the doors are open. They are closed up in their cages when we are working  in the mornings, so that they can't accidentally get out of an open door.  This conditions them not to be scared of being confined in an emergency.  They are loose the rest of the time. 
-------
Basic Disaster Supplies Kit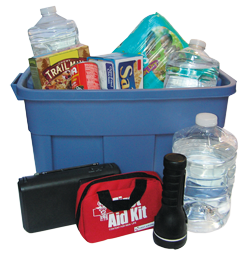 "Since you do not know where you will be when an emergency occurs, prepare supplies for home, work and vehicles.   Your disaster supplies kit should contain essential food, water and supplies for at least three days.
Keep this kit in a designated place and have it ready in case you have to leave your home quickly. Make sure all family members know where the kit is kept.
Additionally, you may want to consider having supplies for sheltering for up to two weeks."
http://www.ready.gov/basic-disaster-supplies-kit
______
Nature Works - The Amazing Oyster Reef.
Oysters protect the land from storms.
"It's a bird, it's a plane, it's Super Oyster! Travel to the Gulf of Mexico to learn how the humble oyster protects us from storms, supports a thriving fishing industry, and still mages to taste great with a splash of lemon.
Watch close encounters of the natural kind! Explore the fascinating realms of nature and science and see how nature really works to benefit us."
See more at: http://www.natureworkseverywhere.org/ 
-------  AND MORE ABOUT OYSTERS:
Clearing the Murky Waters: Where Are we Headed with Oyster Restoration?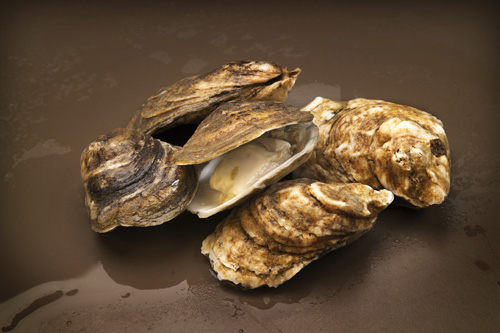 "Oysters. Famous for being a delicious morsel, with a succulent, creamy texture. Less famous for being an ecological cornerstone in our estuaries.
But that's exactly what they are. While sitting quietly on the ocean floor, a single oyster can vacuum up to 50 gallons of water a day through its little bivalve body. Which means those little guys can make a big difference.
When oysters filter water they remove particles, which they then either eat or deposit on the sediment. Either way, the water becomes clearer. And clearer water means more chance for seagrass and other vegetation to grow on the sea-bed, bringing a cascade of benefits for nature and for people.
Clear waters also mean better recreation for swimming, boating and fishing, and fewer toxic blooms and hypoxic events.  Great, right? It would be if we still had our wild oyster reefs left… which we almost don't." 
More at: http://blog.nature.org/conservancy/2012/10/11/clearing-the-murky-waters-where-are-we-headed-with-oyster-restoration/
--------
Time-lapse: Oysters Filtering Water
_____
Supreme Court Suit Filed over HPV Vaccine Tragedy in India
"Some of the girls died. Some suffered serious adverse effects. Some of the girls developed autoimmune diseases that would require lifelong care. The manufacturers themselves acknowledged adverse events such as anaphylactic shock, seizures and paralysis, motor neuron disease, blood clots, eye, ear and vascular problems and even death, and problems affecting the nervous system, the immune system, the musculoskeletal system, the blood and lymphatic system, the respiratory system,the gastrointestinal system and the vascular system.
No monitoring of the program was done. No course correction was made. After vaccination, the girls were dumped with no follow up." More at: http://www.greenmedinfo.com/blog/supreme-court-suit-filed-over-hpv-vaccine-tragedy-india
_______
Dr. Robin Silver, a long-standing advocate for the River, walks along the San Pedro.
"Our attorneys have taken legal action—a a series of cases challenging inappropriate groundwater depletions by the U.S. Army's Fort Huachuca—to keep water in the river until a balance can be struck between the needs of the river and the local communities. While we have had success through the years, the San Pedro River is unfortunately one of those places where the effort to achieve a lasting solution has been difficult.
Champions of the San Pedro now have a great opportunity to change that tide and secure meaningful protection for the river into the future. A challenge was filed this week to a 7,000-unit suburban development planned for the upper San Pedro valley which had been given the go-ahead by the state of Arizona. This development would be fueled by groundwater pumped from the San Pedro watershed and will, if built, drain the remaining flows from the river. The challenge seeks to deny the planned groundwater pumping, force the state to acknowledge the authority of water rights granted to the San Pedro Riparian National Conservation Area and, by doing so, keep the river alive."  More at: http://earthjustice.org/blog/2013-may/defending-arizona-s-ribbon-of-life
______
Groups Take Action in Court to Defend the Roan Plateau
Well pads on Colorado's Roan plateau.
Countering efforts of oil and gas company to develop unique landscape
Denver, CO — "In June of last year, Judge Krieger of the U.S. District Court for Colorado struck down BLM's earlier plan for the Roan Plateau, and ordered the agency to consider more protective approaches for managing this special place. BLM is complying with that order and began a new environmental review process earlier this year. Only Bill Barrett Corporation's (BBC), which in 2009 proposed to turn the top of the plateau into an industrial zone of 3,000 natural gas wells, has challenged Judge Krieger's ruling.
While the Bureau of Land Management (BLM), which manages the plateau, is already moving forward to consider a new management plan for the Roan, BBC is seeking to halt BLM's effort
"We offered a common-sense middle-ground approach that would have allowed development to occur in appropriate places while protecting the top of the Roan Plateau from drilling," said Marc Ross of Rock the Earth.
"There are few areas in Colorado like the Roan Plateau," added Pete Maysmith, Executive Director of Conservation Colorado Education Fund. "The District Court was correct in ruling that the Bureau of Land Management has to do a better job of analyzing the significant environmental impacts that will come if the Plateau is opened up to heavy industrial drilling. The sooner this case is dismissed the sooner a common-sense plan for the Plateau can be developed which will protect this treasured landscape for future generations to enjoy."  More at: http://earthjustice.org/news/press/2013/groups-take-action-in-court-to-defend-the-roan-plateau
_______
On This Day:
Babe Ruth hits last home run, May 25, 1935:
"On May 25, 1935, at Forbes Field in Pittsburgh, Pennsylvania, Babe Ruth hits his 714th home run, a record for career home runs that would stand for almost 40 years. This was one of Ruth's last games, and the last home run of his career. Ruth went four for four on the day, hitting three home runs and driving in six runs.
Ruth died of throat cancer on August 16, 1948. His record for career home runs was not broken until Hank Aaron hit his 715th home run on April 8, 1974, 39 years later."
_______
Grizzly bear is classified as a "threatened" species, May 25, 1975:
"In 1975, the grizzly bear--once the undisputed king of the western wilderness--is given federal protection as a threatened species under the Endangered Species Act.
Before the Anglo-Americans began invading their territory, the grizzly bear inhabited most of the country west of the Mississippi from Mexico north to the Arctic Circle. Its only serious competitors for food were the Native Americans, who considered it a sacred animal-although they did hunt the bear as a test of strength and its long claws were prized symbols of status.
Because of the grizzly's fearsome size and aggressive nature, most early European explorers of the West noted their encounters with the animal. During their expedition to the Pacific, Lewis and Clark encountered many of the bears and were awed by their impressive speed and power. On July 1, 1805, while the expedition was making the slow portage around the Great Falls of the Missouri River in Montana, Lewis wrote in his journal that grizzlies were all around their camp. "We have therefore determined to beat up their quarters tomorrow," he continued, "and kill them or drive them from their haunts about this place."
Because of such hunting and the general destruction of their habitat, the grizzly began to disappear in concert with the settlement of the West. California, which is estimated to have once been home to 10,000 grizzlies and placed the animal's image on its state flag, no longer had any of the bears by 1924. During subsequent decades, grizzlies gradually disappeared from their native homes in Texas, Nebraska, Oklahoma, Kansas, Arizona, New Mexico, Oregon, Utah, the Dakotas, and probably Colorado and Washington. Outside of Alaska, by the 1970s small populations of bears remained only in a few isolated wilderness areas and national parks in Montana, Wyoming, and Idaho.
In a last ditch effort to halt the decline, Congress designated the grizzly a threatened species on this day in 1975. Protected from hunting and trapping, grizzly populations have slowly begun to recover. However, there are still probably fewer than 1,000 grizzlies in the lower 48 states today, nearly half of them in Glacier and Yellowstone National Parks. Recently, plans to reintroduce the species into two wilderness areas in Idaho and Washington have met with controversy. The future of the grizzly bear will depend on human willingness to share their habitats with the bears and set aside areas of wilderness large enough for them to survive."
_______
Yesterday:
Misty and I drove down to Jay's to pick him up, and had a short walk down there as he was actually ready!
Jay has long arms, so he could reach the screws from the 8' step-ladder to dismantle the mess of boards and roofing that he had screwed over my front entry porch.  Most of it was gone by lunchtime.  I carried the boards and roofing and put them away, then sorted out all the screws that had been taken out. 
Ray removed some old vinyl striping off the door of the cargo-camping trailer. Someone had painted over it, and it didn't look nice, so now the door can be painted again without the outline of the old vinyl stripes showing.
It felt like it was going to rain, but never did. It was another muggy day.