For "Summary Saturday", News, Some new, Some Old:
Newtown Officials Ask Gift-Givers To Stop Sending
Packages
"The officials are asking people to temporarily stop sending gifts. They say once they process the "warehouses full of items," they'll detail the best ways to help.
Meanwhile, the United Way of Western Connecticut announced Wednesday that a fund established after the shooting to support Newtown has grown to $3.5 million."  More at: http://www.huffingtonpost.com/2012/12/26/newtown-gifts_n_2366658.html
_______
Mayan temple damaged in tourist 'apocalypse' frenzy
"Tourists flocking to Guatemala for "end of the world" parties have damaged an ancient stone temple at Tikal, the largest archeological site and urban centre of the Mayan civilization."
Temple II, which is about 38 meters (125 feet) high and faces the central Tikal plaza, is one of Tikal's best known structures Photo: ALAMY
""Sadly, many tourists climbed Temple II and caused damage," said Osvaldo Gomez, a technical adviser at the site, which is located some 550 kilometres (340 miles) north of Guatemala City.
"We are fine with the celebration, but (the tourists) should be more aware because this is a (UNESCO) World Heritage Site," he told local media.   Gomez did not specify what was done, although he did say it was forbidden to climb the stairs at the site and indicated that the damage was irreparable.
Friday marked the end of an era that lasted 5,200 years, according to the Mayan "Long Count" calendar. Some believed the date also marked the end of the world as foretold by Mayan hieroglyphs."    More at:  http://www.telegraph.co.uk/news/worldnews/maya/9764209/Mayan-temple-damaged-in-tourist-apocalypse-frenzy.html
_______
FDA Sued for Withholding Data on Antibiotic Use in Food Animals
"The Government Accountability Project (GAP) has filed a lawsuit against the FDA after the agency refused to release data on the amount of antibiotics sold for use in food animals
The US uses nearly 30 million pounds of antibiotics annually in food production. Livestock antibiotic use accounts for 80 percent of the total antibiotics sold annually
Antibiotics such as penicillins and tetracyclines are routinely added to animal feed in order to make the animals grow faster. Non-medical use of antibiotics in food animals is a major driving force behind the rampant development of antibiotic-resistant bacteria
In other parts of the world, such as the European Union, the use of antibiotics as growth promoters in animal feed has been banned for years
You can help protect yourself and your family -- and prompt change in the consumer realm -- by purchasing only antibiotic-free meats that were raised on high-quality organic farms."    Complete article at: http://articles.mercola.com/sites/articles/archive/2012/12/19/gap-sues-fda.aspx
_______
Diabetes Drug Can Increase Your Risk of Cancer
"Several studies of the newest blockbuster drug for diabetes, Januvia, have implicated these very common drugs to cause a number of different cancers. They will likely be removed from the market but perhaps not until they've killed many
There simply is no reason these dangerous drugs should ever be used as they fail to treat the cause of the disease. Anyone on them now ideally should stop taking them and follow a healthy eating plan, which will radically improve, if not completely resolve, their diabetes
Acknowledged side effects of Januvia and Janumet, include anaphylaxis and acute pancreatitis—both of which can be lethal. Anaphylaxis is in fact such a grave hazard with this drug that it actually carries a black box warning for lactic acidosis: "If acidosis is suspected, discontinue Janumet and hospitalize the patient immediately."
This new class of drugs inhibit the enzyme DPP-4 which also happens to be a tumor suppressor. Studies have shown that when you suppress DPP-4 (which is precisely what these drugs do), cancer cells are allowed to proliferate. According to Januvia's drug information, the drug inhibits the DPP-4 enzyme for 24 hours, and you take it daily, effectively permanently blocking the activity of a tumor suppressor gene
None of the safety studies on Januvia addressed its impact on tumor growth prior to approval
Januvia is now the number one best-selling drug in the oral diabetes market. Should such a blockbuster drug be proven to be connected to cancer, it's a HUGE loss not only to Merck, but several other major pharmaceutical companies that have developed similar drugs. Drug companies like Merck could make MASSIVE amounts of money from these clearly dangerous drugs while cancer slowly and quietly grows in patients taking them."  More at: http://www.setyoufreenews.com/2012/12/20/newest-blockbuster-diabetes-drug-can-increase-your-risk-of-cancer/
_______
FAIL: Merck's Statin Drug Found No Better Than Coconut Water
"In a 2008 study published in the journal Food Chemistry & Toxicology titled, "Comparative evaluation of the hypolipidemic effects of coconut water and lovastatin in rats fed fat-cholesterol enriched diet," the beverage coconut water was found as effective as a popular cholesterol-lowering drug in positively modulating blood lipid levels in rats. 
Statin Drugs: Defrauding the Public of Their Money & Health
When the water of a coconut is at least as effective as the drug that started the "statin revolution" in 1987 - Merck's branded lovastatin extract known as Mevacor - you know that the 30 billion dollar statin drug industry is based on a fundamentally erroneous premise: namely, that synthetic patentable chemicals are superior to natural ones, and therefore can be sold for usuriously high mark-ups."   More at: http://www.greenmedinfo.com/blog/fail-mercks-statin-drug-found-no-better-coconut-water
_______
What you can do about the 40% of food that is wasted
A recent report by the Natural Resources Defense Council (NRDC) states:
"Getting food from the farm to our fork eats up 10 percent of the total U.S. energy budget, uses 50 percent of U.S. land, and swallows 80 percent of all freshwater consumed in the United States. Yet, 40 percent of food in the United States today goes uneaten. This not only means that Americans are throwing out the equivalent of $165 billion each year, but also that the uneaten food ends up rotting in landfills as the single largest component of U.S. municipal solid waste where it accounts for almost 25 percent of U.S. methane emissions. Reducing food losses by just 15 percent would be enough food to feed more than 25 million Americans every year . . ."      More at: http://blog.rv.net/2012/12/what-you-can-do-about-the-40-of-food-that-is-wasted/
_______
This week's amazing fact: David Douglas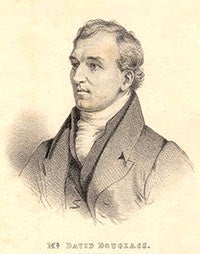 "In 1825, David Douglas sailed along the west coast of the United States and up the Columbia River. Only 26-years-old, the young botanist from London was on a quest—a lifelong dream: Study the New World's plant life. Since a boy, Douglas had been obsessed with plants, and by the age of 21, he was appointed to the Royal Botanical Gardens in Scotland.
As the ship approached land, one particular tree captivated David. As he reported, "So pleased was I that I could scarcely see [anything] but it." He couldn't wait to see the tree up close, and when he did, he pronounced it "one of the most striking and truly graceful objects in nature." It was only fitting that this famous tree would later bear his name—the Douglas fir.
David spent the next two years exploring the Northwest, finding new plants and shipping more than 500 species back to England. William Hooker, one of the world's leading botanists, described David as a man of "great activity, undaunted courage,… and energetic zeal." The Native Americans were immensely impressed with David's endurance, but they also questioned his sanity. They called him "Man of Grass," because he would hike from first dawn to dusk collecting plants that he couldn't eat! His collecting adventures took him 12,000 miles on foot, horseback, and canoe. There are more plants named for Douglas, over 200, than for any other person in the history of science.
On an 1829 trip to North America, Douglas made a discovery that eventually changed the history of the New World. While collecting specimens in California, he pulled a plant from the ground that contained flecks of gold, which clung to the roots. But as David packed the plant for shipment, he saw only the plant. That's how gold was first discovered in California in 1831—not by loggers in Sutter creek, but by the botanists in London who unpacked David's shipment of plants and saw gold on the roots.
David Douglas had only one purpose in life. Nothing, not even gold, could distract him from his mission. And this mission was well established by the time he was 11 years of age. That is the sort of focused energetic zeal that God wants from us today!
1 Timothy 6:12 "Fight the good fight of faith, lay hold on eternal life, whereunto thou art also called, and hast professed a good profession before many witnesses.""
_______
On This Day:
U.S. Army massacres Indians at Wounded Knee, Dec 29, 1890:
"On this day in 1890, in the final chapter of America's long Indian wars, the U.S. Cavalry kills 146 Sioux at Wounded Knee on the Pine Ridge reservation in South Dakota.
The conflict at Wounded Knee was originally referred to as a battle, but in reality it was a tragic and avoidable massacre. Surrounded by heavily armed troops, it's unlikely that Big Foot's band would have intentionally started a fight. Some historians speculate that the soldiers of the 7th Cavalry were deliberately taking revenge for the regiment's defeat at Little Bighorn in 1876. Whatever the motives, the massacre ended the Ghost Dance movement and was the last major confrontation in America's deadly war against the Plains Indians.
Conflict came to Wounded Knee again in February 1973 when it was the site of a 71-day occupation by the activist group AIM (American Indian Movement) and its supporters, who were protesting the U.S. government's mistreatment of Native Americans.  During the standoff, two Indians were killed, one federal marshal was seriously wounded and numerous people were arrested."
______
Germans raid London, Dec 29, 1940:
"On this day, German aircraft blanket incendiary bombs over London, setting both banks of the Thames ablaze and killing almost 3,600 British civilians.
The German targeting of the English capital had begun back in August, payback for British attacks on Berlin. In September, a horrendous firestorm broke out in London's poorest districts as German aircraft dropped 337 tons of bombs on docks, tenements, and teeming streets. The "London Blitz" killed thousands of civilians.
December 29 saw the widespread destruction not just of civilians, but of great portions of London's cultural relics. Historic buildings were severely damaged or destroyed as relentless bombing set 15,000 separate fires. Among the architectural treasures that proved casualties of the German assault were the Guildhall (the administrative center of the city, dating back to 1673 but also containing a 15th-century vault) and eight Christopher Wren churches. St. Paul's Cathedral also caught fire but was saved from being burned to the ground by brave, tenacious firefighters. Westminster Abbey, Buckingham Palace, and the Chamber of the House of Commons were also hit but suffered less extensive damage."
---------
From me:  I was living in London during the Blitz, and I remember it well.
______
Yesterday:
After checking my emails, and doing the usual jobs, I made up my mind that I would try to walk Misty all the way down to the mailboxes.  She had never been on a walk that long before, so I dragged her Outward Hound stroller along, just in case she got tired.  It's uphill all the way back, and after all, she will be 18 in April.  Ray came out of his door and asked me what I was doing, he thought it was a baby stroller!  He knows that I will care for pups and kits, but not babies.
We both made it down there in fine form, and she had a sniffingly good time.  It was a good thing that I had the stroller as there was a key in my mail box for one of the package lockers, and a big parcel was in it.  No, it wasn't a Christmas present, it was some free stuff that comes with my medical plan.  So I put it in the stroller, and hoped that I wouldn't have to carry it if I had to put Misty in there.  But she trotted along back to the house, tail a-wagging, and didn't even slow down walking up the hill.
The only time she rode in her stroller was when I went to Livingston Trade Days flea market to see Duncan, "The Dog Tag Man" and his dog Smokey. It was the safest way to walk around the flea market with my blind dog.  She liked that, she is always so interested in what is going on.
Ray came over to help me with some 'ladder jobs".  During the high winds a couple of the vinyl sheets that we put up on the screen porch for the winter had come loose, so we got those anchored up.  We also took some accurate measurements of the inside and outside dimensions of the cargo trailer for the ad. 
A big crack had evolved in Ray's utility room outside wall where it joins the guest house.  Blackie, the black cat, sleeps in there at night with an electric radiator.  We screwed a length of wooden trim all the way up on the inside of the wall, and filled it in with white Daptex Plus foam sealant on the outside.  It blends in with the white siding, so it is nearly invisible.   That should be warmer for Blackie.  We also used it to fill in some places around the frame of my back door in the garage.  We had done it before with that ugly yellow Great Stuff, which expanded so much that the door wouldn't close, so we had to dig it all out.  Daptex doesn't do that, and it is easy water clean-up.
I thought Misty would crash for a few hours after that long walk, but she didn't.  We ought to do that every day.