For " Winged Wednesday":
Beautiful Woodpecker
"This aptly-named Colombian woodpecker has a bold, red and yellow blaze along the back of its head and neck, cream-colored underparts with black barring, and a long, slightly curved, black bill. It was once considered a subspecies of the Golden-naped Woodpecker of Central America, but was declared a separate species in 2005 based on distinct differences in appearance and range.
Populations of the Beautiful Woodpecker appear to be stable, although it is considered scarce and local throughout its limited range, and faces threats from forest loss in these areas. It is able to feed from a variety of fruiting trees and is found throughout agricultural landscapes, particularly on shade cacao and coffee farms. It drills into decaying trunks and branches for termites, beetles, and other insects, and catches them on the wing as well.
One reliable site to see Beautiful Woodpecker is the Pauxi Pauxi Reserve in the eastern Andes, where birding groups regularly visit to find this species, along with other threatened birds such as the Saffron-headed Parrot and Black Inca. Pauxi Pauxi was recently expanded to 4,470 acres through several key land purchases, and forms part of the 25-mile Cerulean Warbler Corridor established by ABC and Colombian partner Fundación ProAves.
Help ABC conserve this and other birds and their habitats!
Photo: Benjamin Skolnik; Range Map, NatureServe
______
BirdNote Weekly Preview:
Woodpeckers, Pigeons, and Bitterns ...
Upcoming Shows
Pileated Woodpecker
SUNDAY
No Pounding Headache
by Bob Sundstrom
LISTEN NOW ►
Rock Sandpipers
MONDAY
Rock Sandpipers Are Tough
by Dennis Paulson
LISTEN NOW ►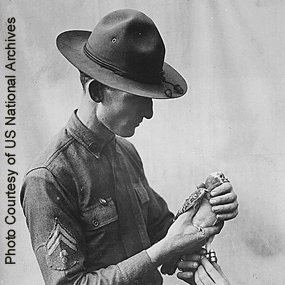 TUESDAY
Carrier Pigeons Go to War
by Bob Sundstrom
LISTEN NOW ►
Gray Partridge
WEDNESDAY
Twelve Days of Christmas
by Bob Sundstrom
LISTEN NOW ►
American Bittern
THURSDAY
American Bittern -
Thunder Pumper
by Bob Sundstrom
LISTEN NOW ►
FRIDAY
Solstice Fires
by Todd Peterson
LISTEN NOW ►
Bald Eagle
SATURDAY
Winter on the Columbia
by Bob Sundstrom
LISTEN NOW ►
_______
WSU helps Glen the eagle soar
SPOKANE, Wash. "Glen the eagle was found injured along Nine Mile Falls Road last June and was given just a 30-percent chance of surviving. Glen beat the odds, however, and was released back into the wild Tuesday.
Glen spent most of her recovery time down in Pullman at Washington State University's College of Veterinary Medicine where, until recently, doctors weren't sure she would ever return to the wild.
Despite all the odds Glen made a full recovery and was released Tuesday at the Little Spokane River Natural Area..  "I honestly never thought that bird would fly again," Dr. Nickol Finch said.
The 5-year-old bald eagle almost died last June when Robert Hutton found her on Nine Mile Road north of Spokane.  "At first I didn't know if she was going to make it. She actually fell asleep in the back of my truck on the way to the vet," Hutton said.  She was sick, not eating, and doctors gave her a 30-percent chance to live."  "The strongest survive. That's nature," Hutton said.  And like the country she represents, Glen did prove to be one of the strongest. But she still faced another challenge……."
More at: http://www.kxly.com/news/spokane-news/WSU-helps-Glen-the-eagle-soar/-/101214/17570622/-/4jpi81z/-/index.html
________
Florida Snake-Hunting Competition Targets Growing Problem for Birds and Other Wildlife
Burmese Python, Wikepedia
"There's a new twist in the long-running battle to control the Burmese pythons spread through the Florida Everglades: a state-sponsored python hunting contest, open to the public, with cash prizes for the winners.
Florida officials say the so-called "Python Challenge" will pay $1,500 each to the amateur and state-licensed snake hunter who catches the most pythons between January 12 and February 10, 2013. The beginner and licensed hunter who pulls in the biggest Burmese python will be paid $1,000.
By all accounts, there's no chance that the month-long hunt will rid the state of Florida of all its unwanted pythons which are thought to number in tens of thousands.  But sponsors and supporters of the hunt say it will help draw attention to the damage these big snakes are doing to the state's native ecosystems.
"There's a need to raise the sense of urgency here," said Darin Schroeder, Director of Conservation Advocacy for American Bird Conservancy, one of the nation's leading bird conservation groups.  "These snakes multiply quickly, are highly adaptable to new environments and they consume a large quantity and wide variety of prey, including mammals, amphibians, lizards, and threatened and endangered bird species."
Schroeder says fast-breeding and long-lived constrictor snakes have done tremendous ecological damage in the state of Florida, where people who originally bought the snakes as pets have released them into the wild. In a recent study, scientists collected more than 300 Burmese pythons in Everglades National Park and found that birds, from the five-inch-long House Wren to the four-foot-long Great Blue Heron, accounted for 25 percent of the python's diet in the Everglades.
Burmese pythons can grow up to 20 feet in length. The biggest python ever captured in the Everglades – last August – was 17 feet, 7 inches long and pregnant with 87 eggs. Last year, a different python made national headlines when it killed and ate a white-tailed deer."  More at: http://www.abcbirds.org/newsandreports/stories/121211.html
_______
Hatching Order Influences Birds' Behavior
Dec. 7, 2012 — "The hatching order of birds influences how they behave in adult life according to research from the Lancaster Environment Centre. Dr Ian Hartley and Dr Mark Mainwaring (LEC) are the authors of the study in Animal Behaviour, which looked at how the birds' behaviour was affected by the way their parents cared for them as hatchlings.
They found that the youngest members of zebra finch broods are more adventurous than their older siblings in adult life.
Dr Hartley said that the study showed for the first time that hatching order influences birds' "behavioural repertoires" in adulthood.
Hatching eggs over a period of time, rather than all at once, is known as "hatching asynchrony" and occurs when eggs are incubated as soon as they are laid. For a zebra finch, this means that birds born up to four days apart can share the same nest and must compete for food."  More at: http://www.sciencedaily.com/releases/2012/12/121207094343.htm
_______
Snowy owls take up residence in B.C.'s Lower Mainland for winter
Snowy owls rest on a dead tree on the shore of Boundary Bay in Delta, B.C., on Saturday, Dec. 1, 2012. 
VANCOUVER -- "Snowy owls from the Far North are wowing bird lovers in British Columbia's Lower Mainland.
About two dozen of the wide-eyed Arctic birds of prey have taken up winter residence in Boundary Bay regional park in Delta, B.C.
"I don't know quite what's happening in the snowy owl world but they're there," says Anne Murray, an amateur naturalist and author for Nature Guides B.C. "It looks like it's going to be another good year."
It's the second winter in a row that snowy owls have migrated en masse far south of their summer habitat in the North. Last year, more than 40 owls spent the winter in the Vancouver-area park, and there were reports of owls spotted as far away as Hawaii and Virginia."    More at: http://www.ctvnews.ca/sci-tech/snowy-owls-take-up-residence-in-b-c-s-lower-mainland-for-winter-1.1063148
_______
Killing Rats is Killing Birds
"Canada and the United States start to restrict the use of blood-thinning rat poison.
Owls that eat poisoned rats can be poisoned themselves.
Law-makers in Canada and the United States are making moves to restrict the use of rodent poisons based on blood thinners, as studies show that the toxins accumulate in birds of prey and other animals.
The chemicals in question are anticoagulant rodenticides (ARs), which work like the human blood-thinning drug warfarin. Warfarin is itself used as a rat poison, but is what environmental toxicologists call a first-generation AR, less lethal and less prone to bioaccumulation than its second-generation successors.
Ecologists have long known that pesticides such as DDT can build up in, and sometimes kill, animals that prey on target pests, but until recently scientists had not realized the degree to which this can also happen with second-generation ARs. "It seems that every time anybody goes out and gets a bunch of dead birds of prey and looks at their livers, they find surprisingly high incidence of these compounds," says John Elliott, an ecotoxicologist at Environment Canada in Delta."  More at: http://www.nature.com/news/killing-rats-is-killing-birds-1.11824
--------
California Urged to Ban Super-toxic Rat Poison
Rodent-killing Poisons Also Kill Foxes, Hawks, Other Wildlife
Red-tailed Hawk by Owen Deutsch
SAN FRANCISCO (December 11, 2012) "A coalition of environmental and public-health groups called on the California Department of Pesticide Regulation on Monday to end the use of super-toxic rat poisons in the state. These highly toxic rodenticides — known as second-generation anticoagulants — have been linked to the poisonings of wildlife, pets and children. The groups' request, in comments submitted to the department, echoes concerns of state wildlife officials about the need to restrict these dangerous products.
"Super-toxic rat poisons are silent, indiscriminate killers," said Jonathan Evans of the Center for Biological Diversity. "It's time to stop the bleeding and pull these poisons from the shelves."  More at: http://www.abcbirds.org/newsandreports/releases/121211.html
_______
On This Day:
"Bullitt" hits the silver screen in Sweden, Dec 19, 1968:
"On December 19, 1968, Warner Brothers releases the movie "Bullitt," starring Steve McQueen, in Sweden, some two months after its debut in U.S. theaters. Many critics consider "Bullitt" to be one of the greatest action movies ever made, not because of its script or special effects--the plot is impenetrable, the dialogue is fairly awful, and nothing explodes--but because of one sublime seven-minute car chase through the streets of San Francisco. In poll after poll, moviegoers have named that chase the best in film history.
In the movie, McQueen plays Frank Bullitt, a San Francisco police lieutenant charged with protecting a government witness in a mob trial. After his witness gets murdered, Bullitt sets off to find the hit men who did it. He spies their black 1968 R/T Dodge Charger in traffic and trails them in his 1968 "Highland Green" Ford Mustang GT 390 fastback. Once the driver of the Charger spots McQueen, the chase is on!
Moviegoers who are familiar with San Francisco will note that the chase is an implausible one, as it leaps from street to street and neighborhood to neighborhood. The two cars speed up and down San Francisco's hilly streets and past a number of far-flung landmarks, including Potrero Hill, Russian Hill and the Guadalupe Canyon Parkway. (The movie's director especially wanted to film on the Golden Gate Bridge, but the city refused to allow it.) The car chase is not interrupted by music or dialogue: All you can hear is the revving and clutching of the engines, whining and squealing tires, and the shots of the assassins' Winchester rifle.
The chase sequence took three weeks to film. Stunt coordinators used two identical Chargers and two identical Mustangs; the Mustangs, on loan from Ford, had to be modified so they could keep up with the more powerful Dodge cars. (While filming, the Chargers lost six hubcaps in all; careful viewers will note that different ones are missing at different times during the scene.) Steve McQueen, an accomplished driver, did some of his own driving, but he left the riskiest maneuvers to stunt driver and motorcycle racer Bud Ekins. Viewers can tell when McQueen is driving: When the Mustang's rearview mirror is visible in a shot, McQueen is behind the wheel; when it's not, Ekins is driving.
In 2001, Ford issued a new Mustang model it called the Bullitt GT. Some 6,500 of the cars were produced."
______
Last lunar-landing mission ends, Dec 19, 1972:
"The Apollo lunar-landing program ends on December 19, 1972, when the last three astronauts to travel to the moon splash down safely in the Pacific Ocean. Apollo 17 had lifted off from Cape Canaveral, Florida, 10 days before.
In July 1969, after three years of preparation, the National Aeronautics and Space Administration (NASA) accomplished President John F. Kennedy's goal of putting a man on the moon and safely returning him to Earth with Apollo 11. From 1969 to 1972, there were six successful lunar landing missions, and one aborted mission, Apollo 13. During the Apollo 17 mission, astronauts Eugene A. Cernan and Harrison H. Schmitt stayed for a record 75 hours on the surface of the moon, conducting three separate surface excursions in the Lunar Rover vehicle and collecting 243 pounds of rock and soil samples.
Although Apollo 17 was the last lunar landing, the last official Apollo mission was conducted in July 1975, when an Apollo spacecraft successfully rendezvoused and docked with the Soviet Soyuz 19 spacecraft in orbit around the Earth. It was fitting that the Apollo program, which first visited the moon under the banner of "We came in peace for all mankind," should end on a note of peace and international cooperation."
_______
Yesterday:
I spent a lot of time getting caught up emails, shredding junk mail, then filling out paper work, making copies for different agencies, and catching up on laundry.  Then I made some more almond butter in my auger juicer, with the blank in it, not the juicer insert.
That was when I wasn't watching Miss Priss, my foster kitten.  She can get into so much mischief.  She and Prime played a little, and napped in the sun on the screen porch, then Prissy would tear around amusing herself with the littlest things.  Every item is a game to her, so I have to keep an eye on her all the time.  Just like a toddler, if she is quiet, I have to go see what she is doing, and tell her not to.
It started out a bit chilly, and then turned into an 80 deg. day