For "Summary Saturday", News, Some new, some old:
What Neil Armstrong Really Taught the World.
"Give him the moon landing, sure, but astronaut Neil Armstrong's bigger accomplishment was showing Americans how to accept honest humility, writes Daniel Stone.
"For the distant past and forever into the future, only one man can ever lay claim to Neil Armstrong's title. The first human on another world, the former astronaut's life was defined by one mission, several tense moments, and one iconic quote—and with them, as much glory as he wanted for the rest of his life, which ended unexpectedly at 82 on Saturday."      Article at: http://www.thedailybeast.com/articles/2012/08/26/what-neil-armstrong-really-taught-the-world.html?utm_medium=email&utm_source=newsletter&utm_campaign=cheatsheet_morning&cid=newsletter;email;cheatsheet_morning&utm_term=Cheat%20Sheet
________
Neil Armstrong and the Right Stuff
"The first man to step on the moon set a life long example of humility."
Transcript at: http://www.ucg.org/beyond-today-daily/christian-living/neil-armstrong-and-right-stuff
_________
Hurricane Isaac Heroes: Father-Son Team Rescue 120 People In 12 Hours (VIDEO, PHOTOS)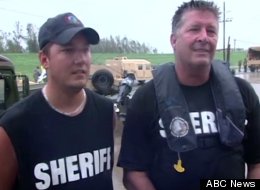 "Jesse Shaffer III lost his home in Plaquemines Parish, Louisiana, when heavy rains from Hurricane Isaac surged through the levee that protected their town and left thousands of residents stranded.
Determined not to helplessly sit back, reports ABC, Shaffer and his son, James Shaffer IV, each grabbed boats and set out to rescue their friends.
For the next 12 hours, while 80-mph winds, heavy rain, and rising floodwater conspired to make their lives difficult, the 53-year-old and his 25-year-old son rescued 120 people.
The father told ABC his most memorable rescue was plucking a family of five off their trailer's roof minutes before it was completely submerged. At the height of it all, he said the water rose at a rate of 1.5 inches per minute."  More at: http://www.huffingtonpost.com/2012/08/30/hurricane-isaac-father-son-rescue-people_n_1843914.html?icid=maing-grid10%7Chtmlws-main-bb%7Cdl24%7Csec3_lnk1%26pLid%3D199488
________
Hurricane Isaac 'drove Mississippi River backwards'
"The storm surge ahead of Hurricane Isaac made the Mississippi River run backwards for 24 hours.  US Geological Survey (USGS) instruments at Belle Chasse in Louisiana recorded the flow of the river, finding it running in reverse on Tuesday.
The flow reached nearly 5,200 cubic metres per second (182,000 cubic feet per second) upriver, with a height of nearly 3m (10ft) above average.  Normal flow is about 3,540 cubic metres per second in the opposite direction.
But in rare cases, strong winds and the waves that they create can drive water up the mouths of coastal rivers.  As the hurricane carried on across land, instruments from the USGS' national network at Baton Rouge, Louisiana - 150km (100mi) upriver - recorded a 2.5m (8ft) rise above normal height.  "This reversal of flow of the mighty Mississippi is but one measure of the extreme force of Isaac," said USGS director Marcia McNutt."        More at: http://www.bbc.co.uk/news/science-environment-19435026
________
U.S. IOU — $16 Trillion
"The U.S. national debt as of last Friday was $15.975 trillion. During the month of August, the national debt has risen by about $68 billion. In the month of July, the debt rose $77 billion. You get the idea.
The national debt will get a lot of attention in the final run-up to the fall elections. The Republicans will blame the Obama administration, and the Democrats will blame the Bush administration's large tax cuts. But as the executive director of the Concord Coalition told the New York Post, "[T]he truth is that [the national] debt has more to do with the collapse of the economy."  In the 15 minutes it has taken to type this up, the national debt has grown by nearly $26 million. Think about that."  More at: http://www.dailyfinance.com/2012/08/28/u-s-iou-16-trillion/?icid=maing-grid10%7Chtmlws-main-bb%7Cdl43%7Csec3_lnk2%26pLid%3D198316
________
Waste-Powered 'Poop Mobile' Unveiled By Japanese Toilet Maker TOTO (VIDEO)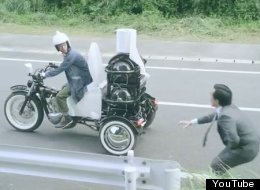 "An innovative hybrid project is turning heads across Japan, as the TOTO Bike Neo, known more causally as the poop-mobile, makes a high-profile pitch for environmental responsibility.
The three-wheeled bike is powered by biogas fuel made up of fertilized, purified livestock waste and gray-water, according to the International Business Times. Despite the eye-catching -- and decorative -- oversized-toilet seat, the bike does not actually run on excrement provided by the driver."  More at:  http://www.huffingtonpost.com/2012/08/30/waste-powered-poop-mobile-unveiled-toto_n_1843344.html?icid=maing-grid10%7Chtmlws-main-bb%7Cdl24%7Csec3_lnk3%26pLid%3D199488
________
Keep pets away from pesticides
"Pet owners should keep their animals away from the pesticides being sprayed to kill mosquitoes carrying the West Nile virus.
"When it comes to your pet's health, it's better to be safe than sorry," advised Dr. Barbara Hodges, DVM, MBA and Humane Society Veterinary Medical Association consultant. "Pet owners should maintain an ongoing dialogue with their veterinarians about the prevalence and prevention of insect-borne diseases, the selection and proper use of over the counter insect repellants and prescription medications, and the potential health effects and treatment of pesticide exposures for their companion animals."
Nearly 700 cases of West Nile virus in humans have been reported to the Centers for Disease Control (CDC) in 2012, the most cases since 2004. More than 80 percent of the cases have been reported from six states: Texas, Mississippi, Louisiana, Oklahoma, South Dakota, and California.
The virus can cause serious illness or even death in horses and other equine pets, so these animals should be properly vaccinated. Horses and other livestock be confined in covered barns and stables during pesticide spraying.
Cats and dogs do not seem to suffer from the disease, which is passed from birds to other species, including humans, by mosquito bites.However, heartworm disease is another mosquito-borne threat to dogs and cats, and, in areas with large mosquito populations, pet owners should consult their veterinarians about heartworm disease prevention options.
To protect pets from the West Nile virus pesticides, the HSUS staff recommends:
Close all windows and doors and turn off air conditioning units as an extra safety precaution during spraying (be sure temperatures inside are not harmful for pets).
Carefully clean water and food bowls, toys, and other pet items that may have been left outdoors and exposed to pesticides.
Carefully rinse pets' paws and other body surfaces after possible contact with pesticide residue remaining on sidewalks or lawns after spraying has concluded.
Take special precautions to ensure that puppies, kittens, elderly pets and pets with compromised immune systems are not inadvertently exposed to pesticides.
Although pesticide poisoning is unlikely, warning signs can include fever, vomiting, lethargy and neurological signs such as loss of balance or motor skills. If pets exhibit such symptoms, consult a veterinarian." From: http://www.theanimalrescuesite.com/clickToGive/ars/article/Keep-pets-away-from-pesticides154
________
Why Do We Get Chills With a Fever?
"It's one of the human body's great mysteries. Learn how you can shiver with chills in the midst of a burning fever.
We've all been there — as our bodies burn up with fever, we shiver with chills. It turns out that what feels like a bizarre internal thermostat malfunction is actually the body's way of fighting infection.
Viruses and bacteria multiply best at 98.6 degrees F. By rising the environmental temperature, even by just a degree or two, the body can stop a virus's ability to grow. That's why we get fevers."  More at: http://www.everydayhealth.com/cold-and-flu/why-do-we-get-chills-with-a-fever.aspx?xid=aol_eh-news_19_20120827_&aolcat=HLT&icid=maing-grid10%7Chtmlws-main-bb%7Cdl27%7Csec3_lnk3%26pLid%3D199417
________
On This Day:
First Anglo women settle west of the Rockies, Sep 1, 1836:
"On this day in 1836, Narcissa Whitman arrives in Walla Walla, Washington, becoming one of the first Anglo women to settle west of the Rocky Mountains.
Narcissa and Marcus Whitman, along with their close friends Eliza and Henry Spalding, had departed from New York earlier that year on the long overland journey to the far western edge of the continent. The two couples were missionaries, and Narcissa wrote that they were determined to convert the "benighted ones" living in "the thick darkness of heathenism" to Christianity. That summer when they crossed the continental divide at South Pass, Narcissa and Eliza became the first Anglo-American women in history to travel west of the Rocky Mountains. Toward the end of their difficult 1,800-mile overland journey, the two couples split up, with the Spaldings heading for Idaho while Narcissa and her husband traveled to a settlement near present-day Walla Walla, Washington, where they established a mission for the Cayuse Indians.
For 11 years the couples' missionary work went well, and they succeeded in converting many of the Cayuse to Christianity. But in 1847, a devastating measles epidemic swept through the area, killing many of the Cayuse, who had no immunity to the disease, while leaving most of the white people at the mission suspiciously unharmed. Convinced that the missionaries or their god had cursed them with an evil plague, in November of 1847, a band of Cayuse attacked the mission and killed 14 people, including Narcissa and her husband. Narcissa Whitman thus became not only one of the first white women to live in the Far West, but also one of the first white women to die there."
_________
Wreck of the Titanic found, Sep 1, 1985:
"Seventy-three years after it sunk to the North Atlantic ocean floor, a joint U.S.-French expedition locates the wreck of the RMS Titanic. The sunken liner was about 400 miles east of Newfoundland in the North Atlantic.
American Robert D. Ballard headed the expedition, which used an experimental, unmanned submersible developed by the U.S. Navy to search for the ocean liner. The Argo traveled just above the ocean floor, sending photographs up to the research vessel Knorr. In the early morning of September 1, Argo was investigating debris on the ocean floor when it suddenly passed over one of the Titanic's massive boilers, lying at a depth of about 13,000 feet. The wreck was subsequently explored by manned and unmanned submersibles, which shed new light on the details of its 1912 sinking."
________
Yesterday:
Around noon, I was supposed to take Jay to pay a bill in Conroe before my chiropractor appointment at 3.00pm.  I was just about ready, when he called to say that his mother was going to take him.  I was glad, as he was in one of his loud, overbearing moods, and must have been drinking. Later, she told me that she had a terrible time with him as he wouldn't stop talking loudly all the way to Conroe and back.
As I was all ready to leave, I left early hoping that maybe I could be seen early.  The chiropractor was a young man, and I think he was a little scared to work on an old lady like me, but he did do some good to my back. 
Something had stopped me from remembering not to make an appointment on a Friday afternoon!  I had noticed that the traffic was very bad on the northbound side of I-45 as I was going south, so I went home on SH 75.  I think everyone had the same idea, as the I-45 was at a standstill by then.  The afternoon sun made it VERY hot, and the traffic would stop, then go a few yards at 5 mph, and then stop again. My van's temperature gauge didn't like that at all, and so I had to turn the off the AC.  11 miles later, by the time I arrived home I was dripping wet, and ready to call it a day.