For Travel Tuesday":  
As Dee and Jim, http://tumbleweed-jimdee.blogspot.com/ are on their way there, let's talk about Athens, TX:
ATHENS, TX
"Athens, the "Black-Eyed Pea Capital of the World," is located thirty-five miles west of Tyler on State highways 19 and 31 and U.S. Highway 175 at the center of Henderson County. The county seat of Henderson County was first Buffalo (1846), then Centerville by election (1848), and finally Athens (1850); neither of the first two county seats was within the new county boundaries delineated in 1850. The earliest settlers, E. J. Thompson and Joab McManus, arrived early in 1850. Matthew Cartwright donated 160 acres for a county seat, and the commissioners had Samuel Huffer survey the streets, the city square, and 112 lots. The district court first met in October 1850 under an oak in the square, with Oran Milo Roberts presiding. The first courthouse, a sixty-five-dollar log building, was ready the next month. A jail of hewn logs was built in 1856 on the same site and cost $500."
"Athens, the seat of Henderson County, was founded in 1850, four years after Texas was annexed as a state by the U.S. The county was named for J. Pickney Henderson, the first governor of Texas, and Athens was named for the Grecian capital by the step-daughter of one of the town's founders in the hope that it could become the cultural center of Henderson County.
Start your tour in Athens, home of the hamburger and the world-famous black-eyed festival.  The hamburger had its beginning on Athens' interesting courthouse square in the l880s when Fletcher Davis, who owned a downtown cafe, invented the sandwich. The delicacy was so popular that in 1904 a group of Athens businessmen raised enough money to send the inventor to the St. Louis World's Fair, where the hamburger was introduced to the world.  For many years, the growing, processing, canning and eating of black-eyed peas was a major part of life in Athens--so much so that Athens became the black-eyed pea capitol of the world, eventually spawning an annual jamboree each July."
"Outlaws Bonnie and Clyde frequented a café on the south side of the courthouse square in Athens.   The B&B Cafe, established in the l930s and named for owners Walter and Clyde Barrow. Clyde's girlfriend, Bonnie, often accompanied him to the backdoor for a meal while the sheriff, Jess Sweeten, ate in the front."
______
Athens Farmer's Market, 2012
"The Market will take place each Saturday, May through October, in the city parking lot located in downtown Athens, one block north of the courthouse. Stay tuned for more information for the Farmer's Market November through April!  The weekly markets will feature the very best in local produce.
The Athens Farmer's Market is growing, growing, growing! Not only in produce, but in size! Visit Historic Downtown Athens, Texas for a day full of community support. The market has everything from baked goods (breads, fried pies, sweetbreads and pies), tamales, jams and jellies including strawberry pineapple, peach, blackberry, blueberry, wild plum, pickled vegetables, salsas, relishes and soups to locally handcrafted wines from Athens own Tara Winery.
Don't forget about organic free-range eggs, fresh grown herbs, local raw honey, granolas and sugar scrubs. The market also features local artisans handcrafted items such as wood cutting boards, screen printed t-shirts, handcrafted natural gemstone jewelry, girls tutu and hair bows.
Local produce includes, but is not limited to, organic carrots, organic greens, organic kohlrabi, mixed lettuces, purple and green okra, cabbages, onions, frozen shelled peas (black eye, red ripper and zipper cream), organic corn, new potatoes, unique Heirloom squashes, radishes, and turnips. The market still has peaches too!
Different eggplants and many varieties of delicious organic Heirloom tomatoes including Cherokee Purple, Hillbilly (yellow), and Black Krim, Sweet Beverly and Reisentraube."
_______
Top Ten Things To Do in Athens This Summer
1)      Athens Scuba Park
Explore underwater treasures in the beautiful blue waters of this spring-fed lake. Athens Scuba Park is open to scuba divers, snorkelers and swimmers.
2)      Texas Freshwater Fisheries Center
Located next to Lake Athens, the Texas Freshwater Fisheries Center offers 300,000 gallons of aquaria with native Texas fish, a daily dive show, fishing, tram tours, an alligator exhibit and wetland trails to go exploring. No fishing license is required and all bait and tackle are furnished.
3)      Lake Athens
This 1,799 acre lake is located on FM 2495 and offers a variety of water sport activities for outdoor enthusiasts and is best known for its largemouth bass. A boat ramp, marina, restaurant, and picnic area are also available.
4)      East Texas Arboretum & Botanical Society
One hundred acres of wooded beauty, trees, flowers, and wildlife await your discovery at the East Texas Arboretum. Walk along the spring-fed streams connected by a 115-foot suspension bridge and visit the historic Wofford House Museum, built in the 1800's.
5)     Henderson County Historical Museum
Located one block north of the downtown square, the museum is housed in the historic Faulk-Gauntt Building. First built in 1896 as a grocery store, exhibits on the first floor continue to emulate a turn-of-the-century dry goods store while the second floor is a recreation of an early law office, parlor, bedroom, bath, kitchen, and schoolroom.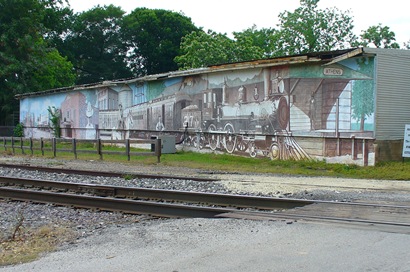 6)     Henderson County Regional Fair Park Complex
There's literally something happening at the fairgrounds nearly every weekend! Located on Hwy. 31 East, the complex sits on 68-acres and consists of a 4,500 person capacity arena which hosts rodeos, concerts, horse shows, livestock shows and more!
7)      Cain Center & Cain Park
Nestled in the heart of the beautiful 85-acre Cain park and surrounded by beautiful oaks and pines, the Cain Center is a complete fitness center offering complimentary access to visitors staying overnight in Athens hotels simply by showing their hotel room key. The park has an 18-hole disc golf course, walking/jogging trails, playground, and a catch and release fishing pond.
8)      Culture, Shopping & Entertainment
Downtown Athens is dotted with quaint art galleries boutiques and restaurants. After a day of shopping, take in a performance at the Henderson County Performing Arts Studio or attend a local concert.
9)      Berry Pickin', Winery Tours, and the Farmer's Market
In East Texas, summertime means time for berry pickin' and fresh produce from the Farmer's Market! The Farmer's Market is open from 8 a.m. to 12 p.m. each Saturday through the summer and is located in the city parking lot in downtown on N. Palestine Street. Tara Vineyard & Winery, located six miles north of Athens, offers winery tours and tastings every Saturday at 2:30 p.m. or by reservation.
10)  NY-TX Zipline Adventures
Atop the highest point in Henderson County at Shultz Mountain Ranch, the NY-TX Zipline Adventures has the longest zipline in Texas at over 900 feet and over 100 feet above the ground!
______
TFFC is a facility of the Inland Fisheries Division of the Texas Parks and Wildlife Department (TPWD), the state agency charged with the management and conservation of the natural and cultural resources of Texas.
TFFC Programs and Activities
_______
RV Parks & Campgrounds
Lake Athens Marina
5401 E. Marina Dr.
Athens, TX 75751
(903) 677-8774
Staway Ranch – Campgrounds & RV Park
10101 State Hwy. 31 East Murchison TX 75778
(903) 469-4477
Twin Lake RV Resort
9024 U.S. Hwy 175W Athens TX 75751
(903) 677-3326
Windsor Place
1506 West Corsicana St Athens TX 75751
(903) 675-3503
______
A walk through historic Athens
"It's obvious that as an exercise, walking has health benefits.  In addition, you'll find opportunities to travel and meet many friendly and interesting people from all walks of life.  You will see sights that you would normally miss when zooming by in a car. 
This 10K (6.5 mile), year 'round walk is sanctioned by the American Volkssport Association and offers trekkers, and visitors, the opportunity to learn a little of the history of Athens, Texas while making their journey.  During their quest, walkers will meander through quiet country lanes, quaint residential neighborhoods, a beautiful city park, and historic cemetery passing a total of thirteen markers registered with the Texas Historical Commission.  Restroom facilities are marked as well.
Please note that this is not a marked trail and caution is advised on high traffic streets. You can use this Google Map to review the walk." From: http://athenstx.org/things-to-do/a-walk-through-historic-athens
______
Near Athens is:
Cleveland Amory Black Beauty Ranch
"It all began because of a cat – The Cat Who Came for Christmas to be exact. Providing safe harbor to an abused kitten one Christmas Eve, renowned humorist and humanitarian Cleveland Amory unselfishly founded The Fund for Animals – an advocacy organization speaking for those who can't speak for themselves – animals.
In 1979, The Fund purchased 85 acres to house hundreds of burros rescued from the Grand Canyon. Today our Cleveland Amory Black Beauty Ranch is a national animal sanctuary that has grown to 1,300 acres with four lakes and a dozen ponds and brooks.
The ranch is America's largest and most diverse animal sanctuary, providing a permanent home to more than 1,300 domestic and exotic animals including chimpanzees, burros, horses, bison, camels, and many others.
These animals' histories are not always pleasant. The animals have been abused, injured, homeless, and threatened; they come to the ranch needing serenity, veterinary attention, and access to food and clean water. Here their needs are addressed, and they have a place to live out their natural lives.
The Cleveland Amory Black Beauty Ranch will soon be home to a horse rescue and adoption center, thanks to the generosity of the Doris Day Animal Foundation.
The ranch is a specialized operation located near Athens.  Staff and volunteers care for these animals year-round, and the facility is supported by generous donations from the public. Twice a year, the ranch gates are opened to welcome guests who can walk the grounds, take tours, and meet some of the animals they have read about." From: http://athenstx.org/things-to-do/cleveland-amory-black-beauty-ranch
________
And for the commercial break:

"Today, America remains divided along increasingly partisan lines. If there's one thing that's been shown to unite Republicans and Democrats, it's labeling of genetically engineered foods! That's right, a recent poll found that 89% of Republicans and 93% of Democrats believed in labeling of foods that contain GMOs (genetically modified organisms).
Incredibly, in 2007 then Senator Barack Obama made a campaign promise to label GMOs. Join us today to encourage First Lady Michelle Obama to call on President Obama to Unite America by renewing his pledge to "let folks know whether their food has been been genetically modified, because Americans should know what they're buying!".
Tell President Obama it's time to Unite America and Label GMOs!"
http://action.fooddemocracynow.org/sign/label_gmos_now_unite_america?akid=617.460401._iOMHd&rd=1&t=12
________
On This Day:
Western Roman Empire falls, Sep 4, 476:
"Romulus Augustus, the last emperor of the Western Roman Empire, is deposed by Odoacer, a German barbarian who proclaims himself king of Italy.
Odoacer was a mercenary leader in the Roman imperial army when he launched his mutiny against the young emperor. At Piacenza, he defeated Roman General Orestes, the emperor's powerful father, and then took Ravenna, the capital of the Western empire since 402. Although Roman rule continued in the East, the crowning of Odoacer marked the end of the original Roman Empire, which centered in Italy."
_______
Geronimo surrenders, Sep 4, 1886:
"On this day in 1886, Apache chief Geronimo surrenders to U.S. government troops. For 30 years, the mighty Native American warrior had battled to protect his tribe's homeland; however, by 1886 the Apaches were exhausted and hopelessly outnumbered. General Nelson Miles accepted Geronimo's surrender, making him the last Indian warrior to formally give in to U.S. forces and signaling the end of the Indian Wars in the Southwest.
Known to the Apache as Goyalkla, or "One Who Yawns," most non-Indians knew him by his Spanish nickname, Geronimo. When he was a young man, Mexican soldiers had murdered his wife and children during a brutal attack on his village in Chihuahua, Mexico. Though Geronimo later remarried and fathered other children, the scars of that early tragedy left him with an abiding hatred for Mexicans."
________
Edsel arrives in showrooms at last, Sep 4, 1957:
"On September 4, 1957--"E-Day," according to its advertising campaign--the Ford Motor Company unveils the Edsel, the first new automobile brand produced by one of the Big Three car companies since 1938. (Although many people call it the "Ford Edsel," in fact Edsel was a division all its own, like Lincoln or Mercury.) Thirteen hundred independent Edsel dealers offered four models for sale: the smaller Pacer and Ranger and the larger Citation and Corsair.
To many people, the Edsel serves as a symbol of corporate hubris at its worst: it was an over-hyped, over-sized, over-designed monstrosity. Other people believe the car was simply a victim of bad timing. When Ford executives began planning for the company's new brand, the economy was booming and people were snapping up enormous gas-guzzlers as fast as automakers could build them. By the time the Edsel hit showrooms, however, the economic outlook was bad and getting worse. People didn't want big, glitzy fin cars anymore; they wanted small, efficient ones instead. The Edsel was just ostentatious and expensive enough to give buyers pause.
At the same time, there is probably no car in the world that could have lived up to the Edsel's hype. For months, the company had been running ads that simply pictured the car's hood ornament and the line "The Edsel Is Coming." Everything else about the car was top-secret: If dealers failed to keep their Edsels hidden, they'd lose their franchise. For the great E-Day unveiling, promotions and prizes--like a giveaway of 1,000 ponies--lured shoppers to showrooms.
When they got there, they found a car that had a distinctive look indeed--but not necessarily in a good way. Thanks to the big impact ring or "horse collar" in the middle of its front grille, it looked (one reporter said) like "a Pontiac pushing a toilet seat." (Another called it "an Oldsmobile sucking a lemon.") And its problems were more than cosmetic. Drivers changed gears by pushing buttons on the steering wheel, a system that was not easy to figure out. In addition, at highway speeds that famous hood ornament had a tendency to fly off and into the windshield.
In its first year, Edsel sold just 64,000 cars and lost $250 million ($2.5 billion today). After the 1960 model year, the company folded."
_______
Yesterday:
First thing, I couldn't edit the Live Writer draft I had made the previous day. It just sat there and wouldn't do anything.  There was a problem with a video, which I couldn't delete.   After trying some things, I saved it as a draft in Blogger, and managed to delete the video there, but the journal never looks the same when it's edited in Blogger. Computers take up too much time!  Especially when they hiccup.
I took Misty for a little walk around here, as even though Jay wanted to work, I didn't want to go get him.  Ray, my renter and I had to sit down and do a couple of months bookkeeping, and I can't concentrate when Jay is milling around.  I never know what bright ideas he will come up with next.  He wanted to weedwhack, but one time he wasn't thinking and whacked off the plants on my dog's grave, so I usually do it myself, or keep a close eye on him.  Yes, Jay can be a liability, but he is my friend's son, and when is he is up here helping me, he isn't bothering her.  She still doesn't feel well since her liver transplant, and is especially sickened by the anti-rejection pills she has to take.  Jay stresses her a great deal, which is not good.  She stays in bed most of the day, I couldn't do that.
By the time Ray and I had our books straight so he would know how much to deposit in my account, it was lunch time.  In the afternoon, as usual, I was engrossed in reading the subject for the next day's journal.  Then before I knew it, what with changing sheets, laundry, dishwasher, making some Gouda cheese spread and some juice, etc, Misty was reminding me that it was time to feed the animals their dinner, and fix mine, too.  There went another day!